Dark rooms can sometimes get a bad rap. When designers talk about paint colors that bring light in, make rooms appear larger, or add color to make a room feel "fresh," lighter colors often rule the day. But they don't have to. In fact, bringing in a dark, rich color to a bedroom, living room, office, or bathroom can actually give the space added personality and depth that light colors cannot.
You can also decorate around the dark colors with furniture, lighter cabinets, and wall decor to break up the monotony of a dark color. Here are a few dark color palette ideas to inspire you to bring dark paint hues to any room.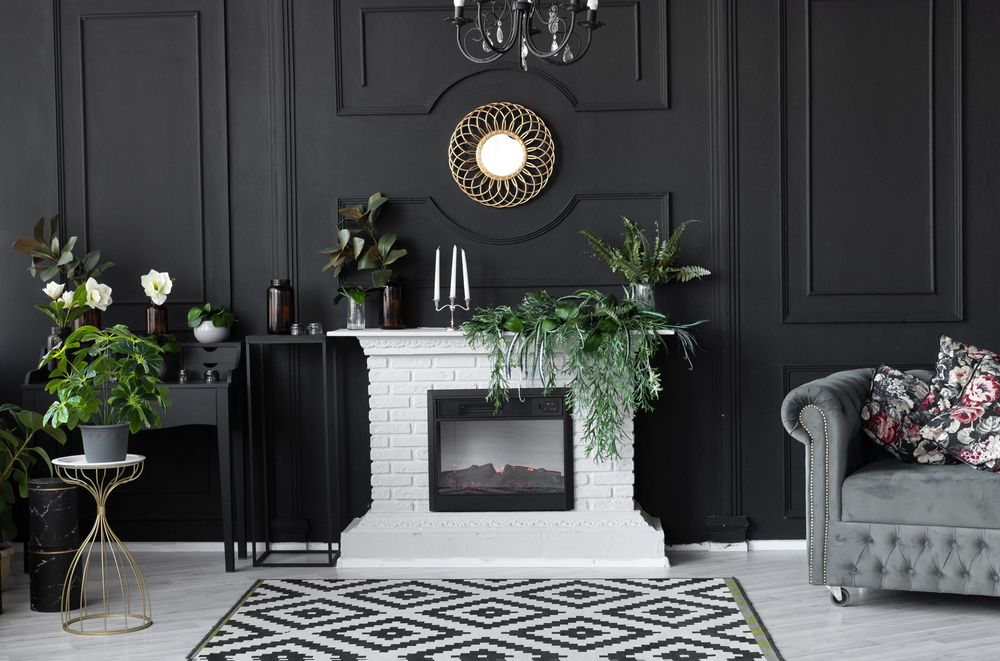 Feature walls
While the concept of a feature wall may feel dated, you can add modern textures if you want to dip your toes into the dark paint game. We love the dramatic moodiness that this black wall gives surrounding a stark white fireplace. For even more drama, you could add thin wood pieces to the wall before painting it, giving it texture and movement. If you want to try it out, check out this Benjamin Moore Wrought Iron color in matte to complete the look. If you're not sure about all black, you could add it to the lower half of a wall (again using a batten board or wainscoting), then keep the wall above it lighter.
Try a small room first
I have two rooms that bookend my kitchen — the mudroom and a small hallway leading to a walk-in pantry. I used this Hunter Green in both rooms but left the kitchen lighter, so as you look at the kitchen from the living room, both rooms surrounding it are dark. It offers just enough character to the entirety of the space without overwhelming the whole kitchen with a dark color.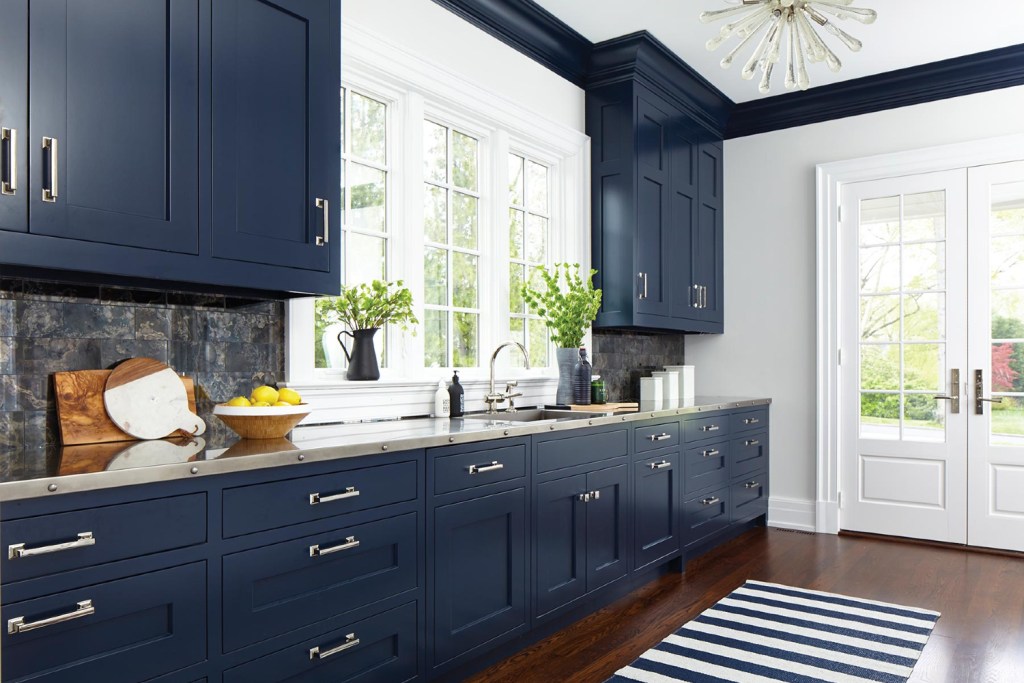 Try dark on cabinetry
If you really want to WOW, try installing (or painting old cabinets) with a dark paint color, like this navy above. Kitchens are where we spend most of our time eating, talking, entertaining, and many times, working. Why not bring character and moodiness into a space we use so often? You can keep the walls lighter around it and opt for a lighter countertop (though we love the stainless steel above) if you're worried about the space feeling too closed in.
These are just some of the ways you can begin to introduce dark colors into your home. Whether it's via paint, cabinets, or dark-patterned wallpaper, these colors add depth to a space and offer a fun alternative to the dull beige or white we often see in home design. We promise once you start using dark colors, you'll wonder why it took you so long.
Editors' Recommendations