Your bedroom should reflect your personal style while also providing you with a space to relax and rejuvenate after a long day. In order to make this special haven as restorative as possible, it's important to choose a color palette that helps you achieve a welcoming and comfortable environment. So, if you're looking for bedroom paint color ideas to help you create a certain aesthetic in your space, then we have a few schemes you need to see. Below are some amazing bedroom color ideas for every vibe and aesthetic so you can create the room of your dreams.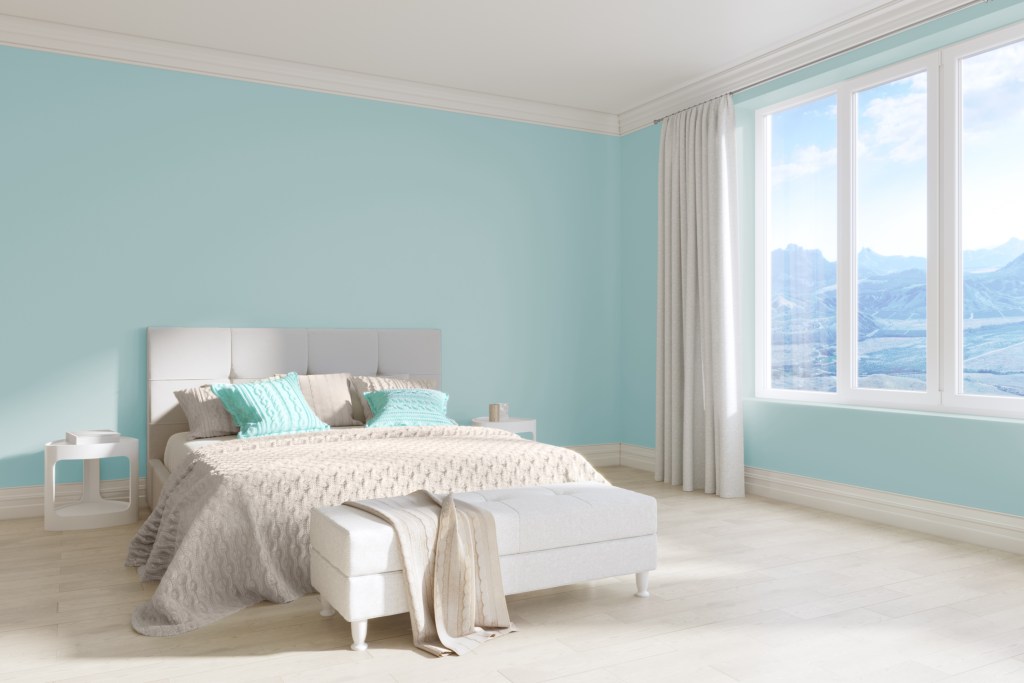 If you're looking for a spa-like sanctuary
For homeowners looking to create a spa-like sanctuary in their space, you can't go wrong with cool tones. Colors like white, pale cream, light blue, tan, and pale green are lovely choices for creating a space that serves as a relaxing retreat. Choose a light and gentle hue as the base of your color palette. For example, pale blue or light green are lovely choices because they inspire relaxation, reminding us of soothing waters and soft aesthetics. Pair these cool tones with white or cream to create the perfect spa-like sanctuary.
If you want to enhance the look of your bedroom wall colors to achieve a stunning spa aesthetic, be sure to adorn the space with candles, wood furniture, and a few plants to add a luxurious and relaxing touch to your room.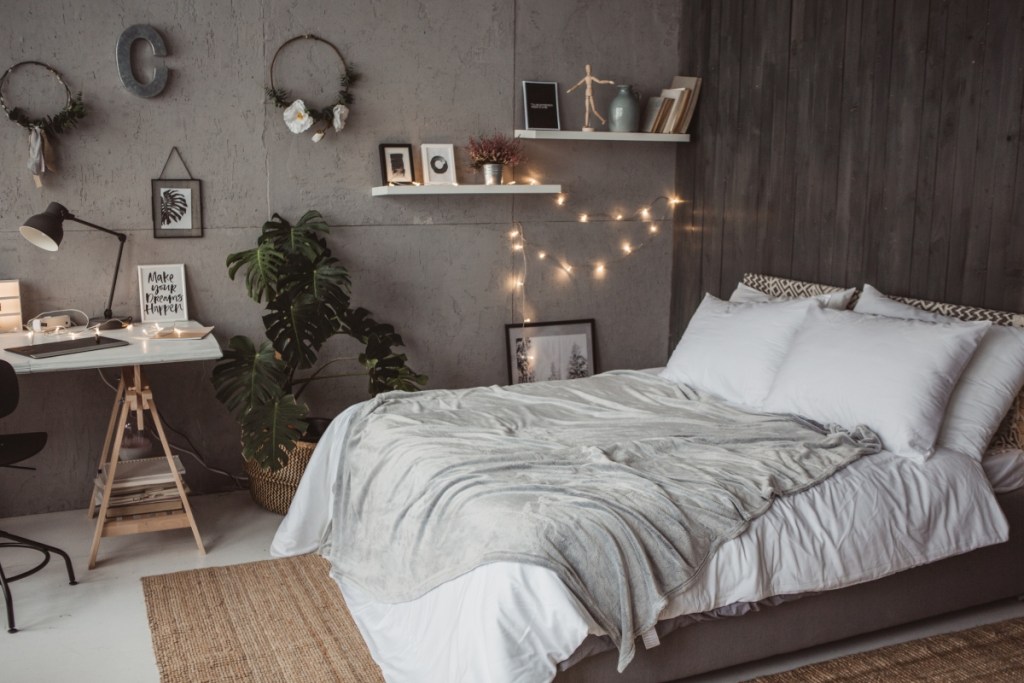 If you're craving a warm, romantic getaway
If you crave a romantic getaway, then you need to invite rich, intoxicating shades like velvety red, black, vibrant maroon, and rich chocolate browns to your space. To pull off a romantic color palette for your bedroom, start by choosing one or two intimate paint colors to use as accent or feature tones in your space. For example, you might favor the midnight appeal of a rich black color alongside a velvety maroon. Use off-whites and warm beige tones to create more depth in your space and allow your feature colors to stand out.
For added appeal, use a dark, vibrant shade on the wall by your bed and incorporate the look of your headboard into the design. This draws attention to the bed, making it a focal point in your design and enhancing the romantic nature of the space.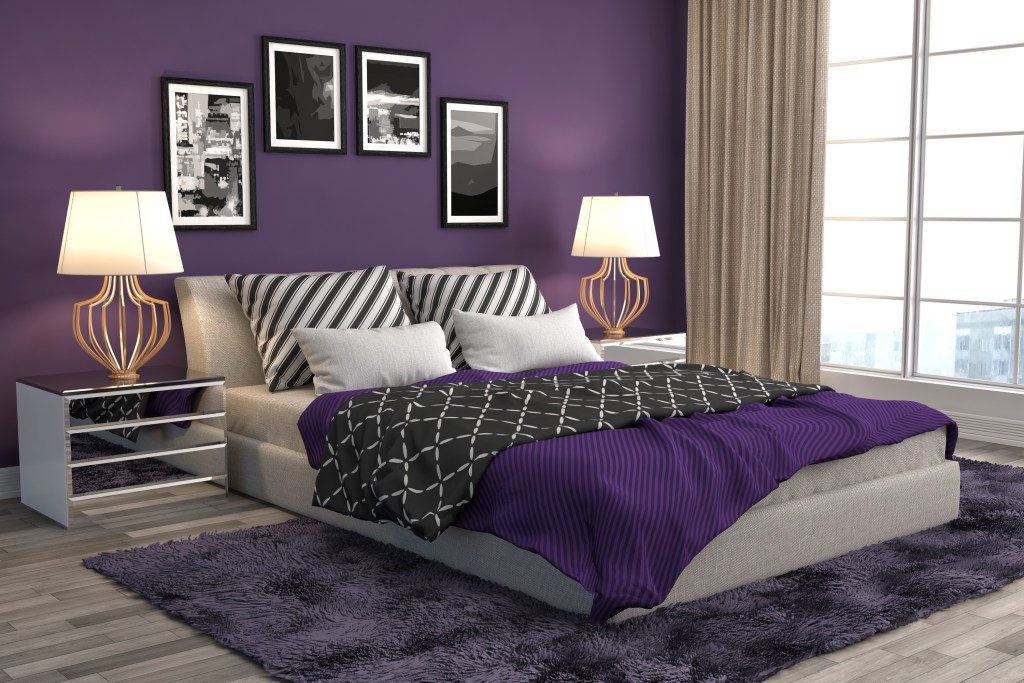 If you're looking for moody sophistication
If you want something darker or a bit moody, you might prefer nixing the light cream shades for something more organic and luxe. Black, dark jewel green, and jewel purple are fantastic shades for creating the ultimate moody space. Pair black with dark evergreen or jewel purple to create an elegant and luxurious atmosphere. Invest in ornate gold or silver details to increase the sophistication within your space.
For the best results when creating a moody setting for your bedroom, it's best to avoid stark whites or washed-out shades. Opt for vibrant colors in your palette and focus on blending rich tones to create a cohesive look. Additionally, use orange-based lighting in your space as opposed to bright white lighting to best achieve a moody aesthetic.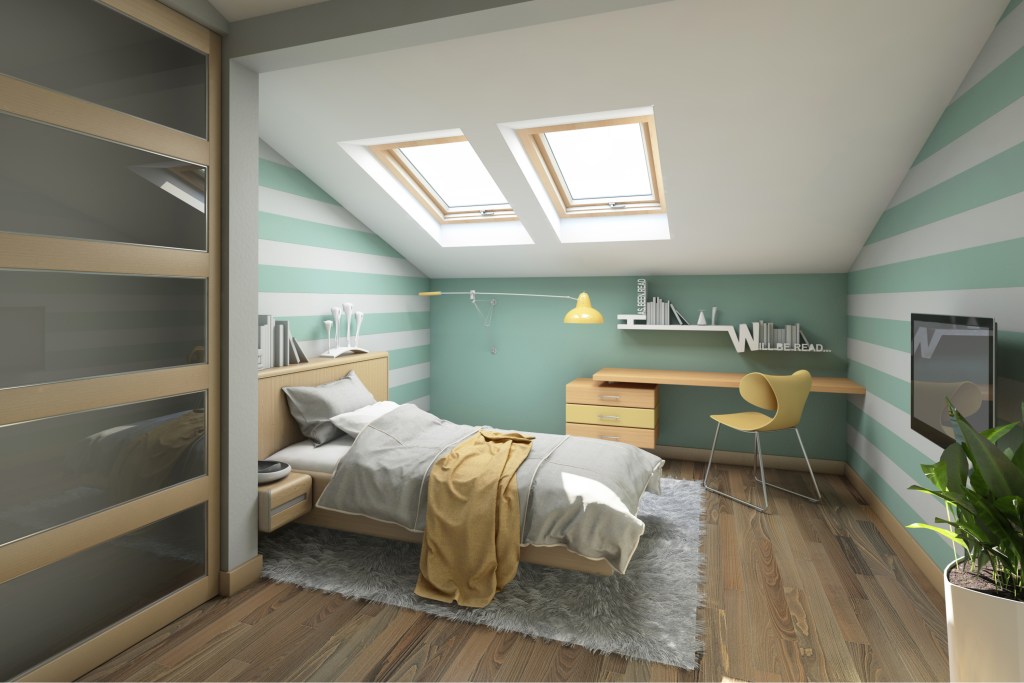 If you're aiming for a whimsical retreat
Moody color palettes aren't for everyone, so if you prefer more gentle, fairy-like aesthetics, then a whimsical palette could be what you need. Incorporate colors like lavender, mint, pale cream, and flowery yellows into your design. We recommend pairing two of these colors and then using white or off-white as an accent shade within your design. For example, you might use mint green and pale yellow on your walls and an off-white for the trim. This light, pastel color palette creates a whimsical atmosphere, fit for artistic homeowners or those looking for a more fanciful aesthetic. Cottage, farmhouse, and french-inspired design enthusiasts might find a pastel palette to be the perfect addition to their spaces.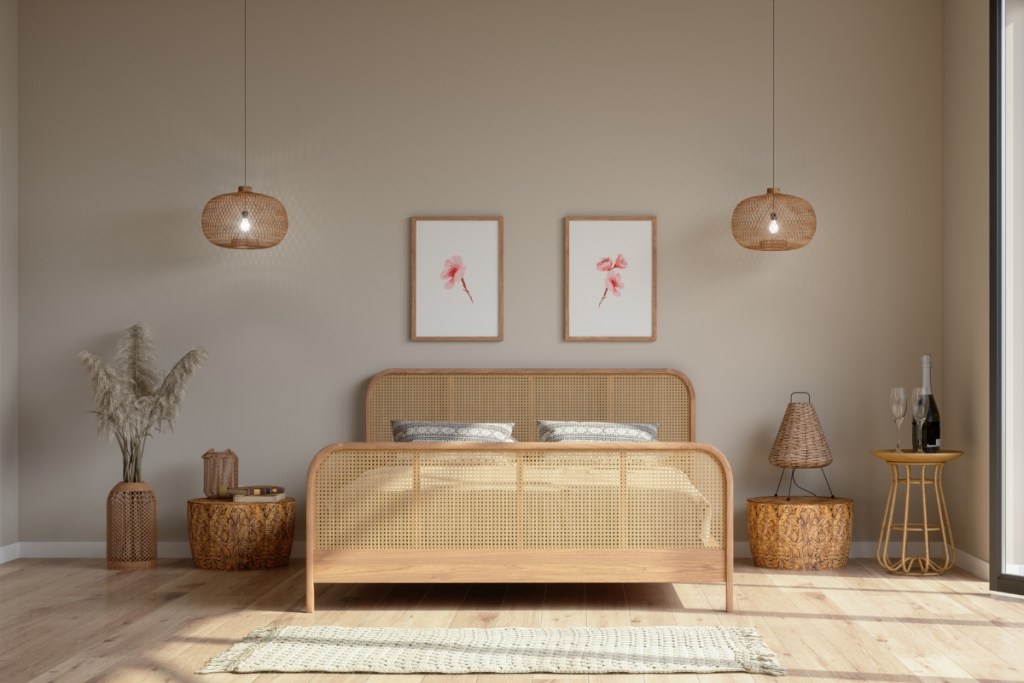 If you're interested in an earthy and lush environment
If you're interested in an earthy and lush bedroom environment, we recommend opting for a variety of browns, beiges, and greens. Best suited to boho, minimalist, and rustic designs, earthy tones can create a grounded and relaxing bedroom environment. Blend a range of brown shades to create a monochrome color palette. Or, use beige and off-white in a minimalist design with a few lush green plants as an accent color.
Boho styles might also enjoy using reddish-brown colors like terracotta in their spaces to capture the canyon-inspired aesthetic, which allows homeowners to connect with more earthy and grounded tones.
Depending on the mood you're trying to achieve, you'll want to change your color palette to reflect your personal style and needs. For example, opt for darker tones for romantic or moody vibes or seek out pastels and light tones for a more whimsical or relaxing setting. Get creative, and don't shy away from one or more colors for your bedroom. With a little bit of planning, you're bound to find a palette that captures the mood you desire.
Editors' Recommendations