Walls with one solid paint color have dominated home decor years, but just like all good trends, painting a bedroom two colors is having a bit of a renaissance. Why the resurgence? Paint is a sure-fire way to make a statement in any room, but when you want to infuse the space with even more individuality, a two-tone combo may be the way to go.
When you think of two-tone walls, what comes to mind? For most people, the answer is solid walls with white wainscoting. While that traditional application is still a popular look, there are also fresh, unique ways to bring this classic paint technique into your space. Let's explore some ways to paint a bedroom two colors that are sure to leave a lasting impression.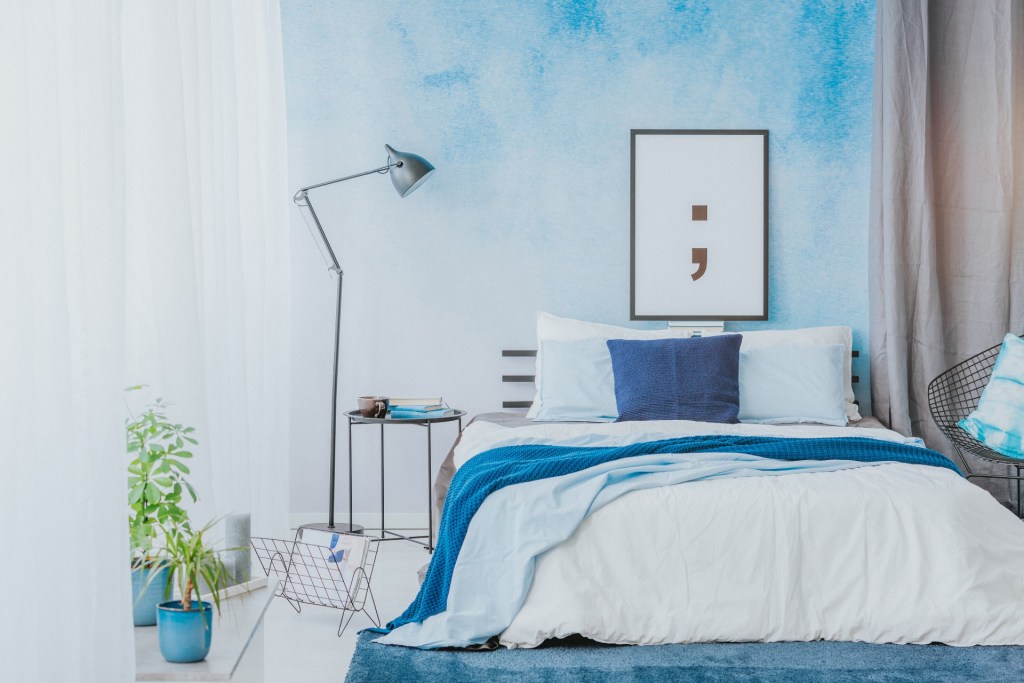 Pick your colors
There are a few ways to choose wall color combinations for bedrooms. Whites, creams, and grays are neutral tones that pair well with almost any color, making them great bedroom wall paint ideas. Blue and white is always a classic two-tone combo, but if you have a fabric, comforter, or quilt that you love, pick your favorite color from it to tie the design together. Another trick is to look back at a color wheel. You may remember this from elementary school art class, but you can also find it with a quick internet search. In general, colors beside one another on the wheel are more soothing when paired together, while those on opposite sides will offer a bolder look.
Mix it up
A classic way to paint a bedroom two colors is with wainscoting. Adding this classic architectural feature is a great way to bring dimension and character into any room. Styles range from traditional to modern based on the lines of the trim—curved and intricate or clean and flat. To give it a more updated look, try switching the colors around by painting the walls white or neutral and painting the wainscoting a color. Having the light hue on top is also a great way to give the room a fresh, airy quality while still infusing color into the space below.
Don't have wainscoting but still dig the idea of the contrast? There is no rule that says trim has to be white. For a different spin, leave the walls neutral-colored and try painting doors and trim in a different color like soft blue or light green.
Get graphic
If you like the look of a geometric or graphic print, a two-tone paint job is a great option. Implementing this on a single wall in your bedroom will bring attention to it, so it is an ideal way to draw the eye to where you want the feature to be. This look can be done using stencils specifically designed for the task and can be found doing a quick internet search.
If you are creative, you also can make your own design. This can be abstract or a repeat of a particular shape. It works better for a larger-scale project with fewer intricate lines. To get started, research the design you want and plan it out on paper. Paint one color, and once that layer is completely dry, map out your design with painter's tape and add a second coat.
Ombre
Ombre involves taking one color and letting it slowly dissolve into another. Adding this finish to your walls not only looks chic but is also a great way to give the illusion of airiness. It gives the space a truly unique look, and the ombre look is a relatively easy technique to achieve.
Spotlight
Bring attention to a particular feature in the room by painting a portion of the wall behind it a contrasting color. This works perfectly behind a bed where it can give the illusion of a headboard. It can also help to ground furniture that looks lost on a large expanse of wall. Painting the piece itself and a larger part of the wall behind it the same or a similar shade will have a more substantial visual impact. Think about the contrasting color as a frame around whatever you want to stand out.
Two-tone paint combos are an easy and inexpensive way to saturate your home with a one-of-a-kind style. Start by trying one in a smaller room or just on one wall to refine your technique. Once you have it down, you may be inspired to bring this trend into other spaces throughout your home. Need to know more about paint finishes? You can check out our satin vs. eggshell paint comparison to help you choose the right type of finish paint for every room.
Editors' Recommendations