Have you ever sat in a luxurious hotel room, ogling the fine linens and stunning composure of the space? From the perfectly tucked bedspreads to the finer details and sultry color palettes, hotel bedrooms radiate a sense of glamor that many of us crave to have in our own spaces. Have you ever thought of doing something similar in your home to achieve the luxury bedroom of your dreams? If so, then we have some good news for you!
Today, we're diving into some of the most elegant master bedroom ideas to help you transform your home. We're focusing on hotel room ideas that bring a luxe vibe to your home, allowing you to relax and rejuvenate in a space that feels opulent and delightful.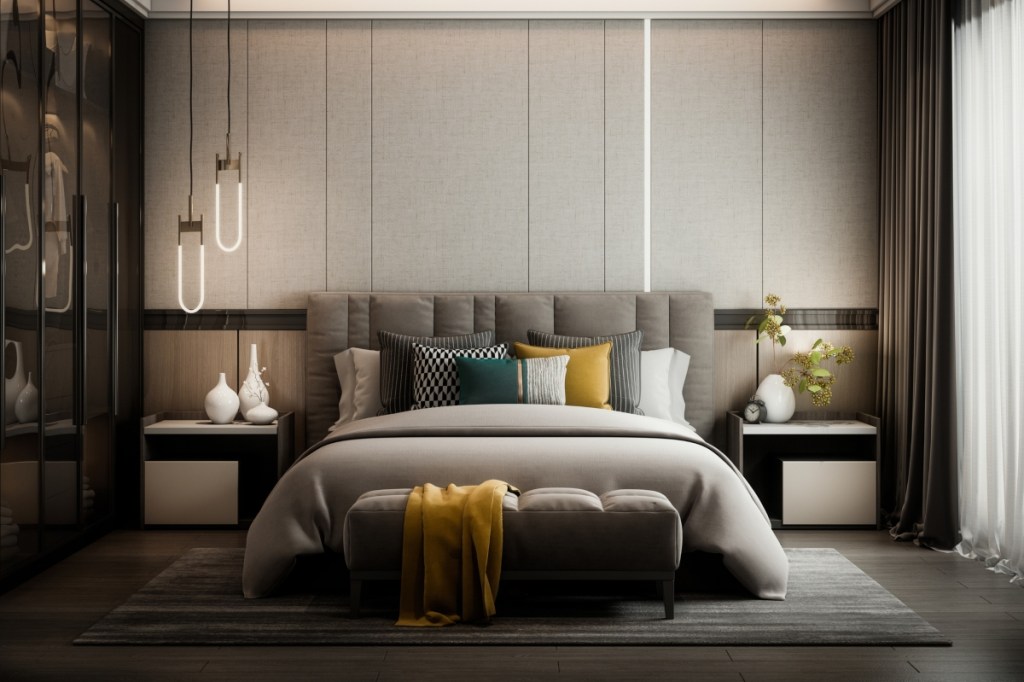 Try moody paint colors to make a statement
One of the best ways to create a sophisticated look in your master bedroom is to use a moody color palette to make a statement. Try to incorporate colors like slate gray, deep maroon, black, velvety purple, or a rich jewel green. These moody shades help elevate your room to a style that feels rich, chic, and sultry.
Try blending these moody tones with a few lighter hues, like cream, white, and soft gray, to enhance the appeal of the darker shades. Use the dark colors on a feature wall behind the bed or on a statement headboard to create a centerpiece in your room design. Investing in darker curtains, deeply toned patterned rugs, or dark-colored leather furniture can also help you create a sophisticated space.
Create a feature wall
Feature walls are a popular trend in many hotel rooms. So, if you're going for that elegant design style, you must take advantage of a feature wall in your room.
Use painted wood molding or planks to create a geometric feature wall. Doing so will add more dimension and depth to your space. Take it a step further by painting different sections of a wall to create a sultry appeal. Alternatively, you can use fabric to create a stunning wall look. Use different-sized wood panels and attach a gentle fabric to them to create a dazzling and elegant look.
When working with feature walls in your design, it's best to keep the color palette minimal. Let the unique architecture create a statement in the room and opt for neutral tones to further enhance the space's natural beauty.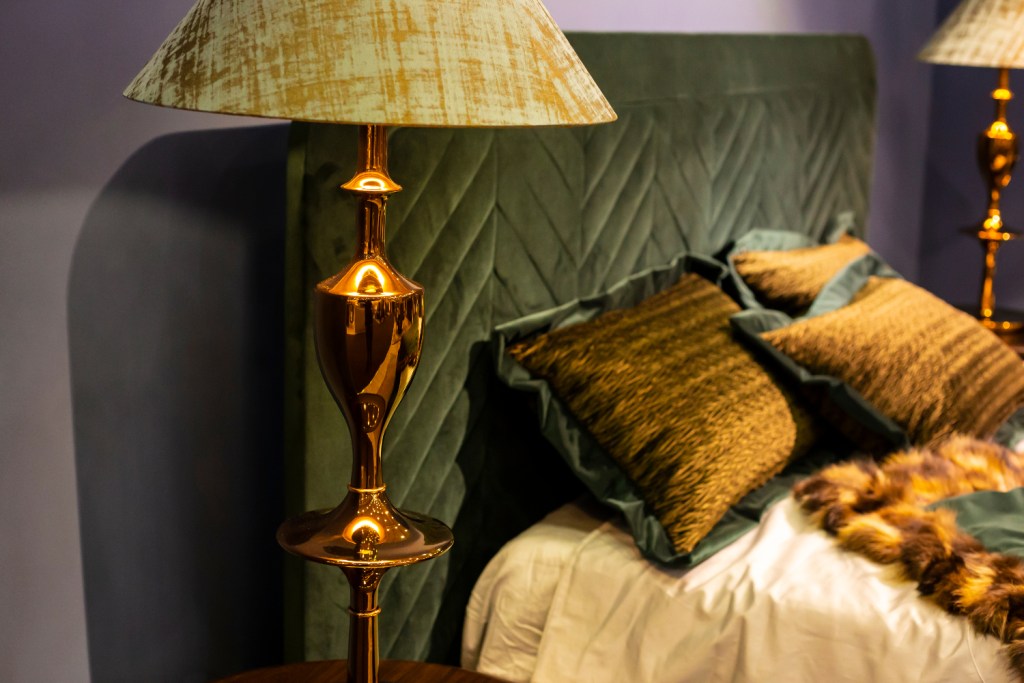 Use an oversized headboard
Oversized headboards are a great way to create a luxe feel. They make a statement in any room, and with so many styles to choose from, you're bound to find the perfect addition to your space.
For a soft touch, add a fabric headboard that helps accentuate the height of your room while also remaining subtle and inviting. Or, opt for a leather headboard for a more masculine approach that will feel rich and exuberant. If you prefer simplicity, try a modern wall-mounted headboard that suits your color palette. Lovers of vintage aesthetics or antiquary may favor upholstered headboards with ornate trim. No matter what you choose, be sure not to go overboard if you intend to pair your headboard with a feature wall.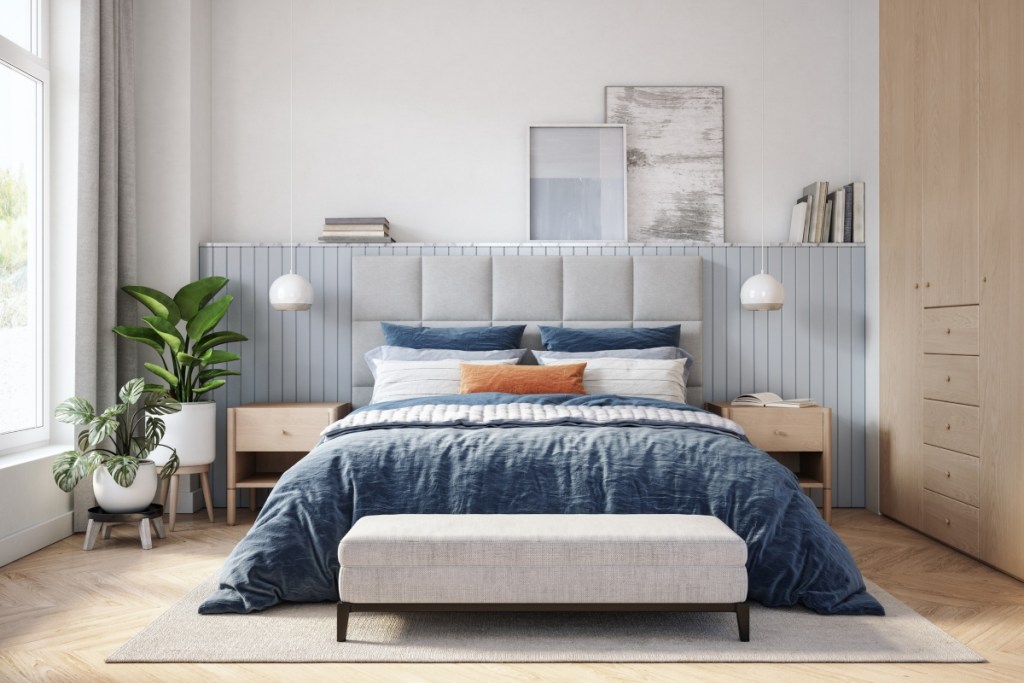 Indulge in Frette luxury linens
When it comes to top-of-the-line linens, you can't go wrong with Frette. Frette is a luxury brand that sells high-quality linens and is one of the go-to places for expensive, hotel-quality bed sheets. While their products can be costly, there's no denying that you'll receive some of the highest-quality bed sheets out there.
If you prefer something simple and refreshing, Frette's Hotel Classic sheet set is a must-have. And for a more elegant and vintage look, their Ornate Medallion Lace sheet set can offer more sophistication and grace. You feel the quality with Frette sheets; the fabrics are soft, delicate, and exude elegance.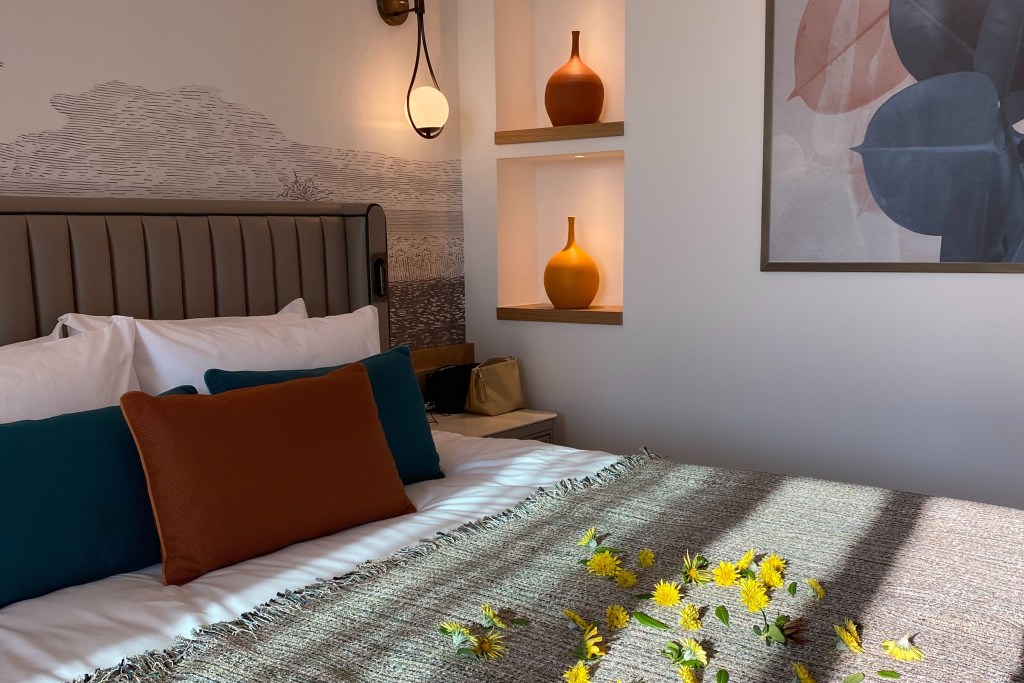 Use different textures to your advantage
If you want to pull off a luxurious master bedroom design, we recommend playing around with texture to achieve a natural and sophisticated look. Unfortunately, it's easy to get caught up in the quality of your design and streamline the materials used in your project. However, using too many similar shades or fabrics in your bedroom design can cause your space to look one-dimensional.
So, we recommend focusing on implementing different textures into your home to create a cohesive look. For a luxe feel, try to use authentic and ethically sourced furs, leather, or wood. These natural materials will enhance the mood of your space and create a more luxurious scene. Drape blankets over your bed. Layer your rugs and runners. And for a more expensive touch, add hints of leather furniture around the room. Pair these sturdy materials with delicate glassware or crystal chandeliers, and you'll have a rich and vibrant master bedroom.
Creating a luxe and elegant master bedroom is all about nailing the color palette and incorporating the right elements into your design. Keep your additions minimal, so you don't create a space that feels too abrasive or bold. Instead, opt for subtlety, but don't shy away from statement pieces like oversized headboards or feature walls. Be sure to choose quality materials in your design and have fun creating a luxurious space that will allow you to relax and retreat at the end of each day.
Editors' Recommendations