Embarking on a bathroom renovation is usually a pricey project, with the average cost coming in at around $10,000 or more. But, what if money wasn't an issue and you had a virtually unlimited budget for creating the luxury bathroom of your dreams? When the sky is the limit on bathroom budgets, the cost can exceed $100,000.
So what makes a bathroom a luxury bathroom? Is it the brands you choose for your project, names like Axor, Kallista, Stone Forest, and others? Or is it the little details, like rainforest showerheads, heated stone floors, or even 'his and hers' bathrooms on either end of a master suite?
Even if you can't afford to go full-on luxury for your bath renovation, you can still incorporate a few touches to achieve a luxe space.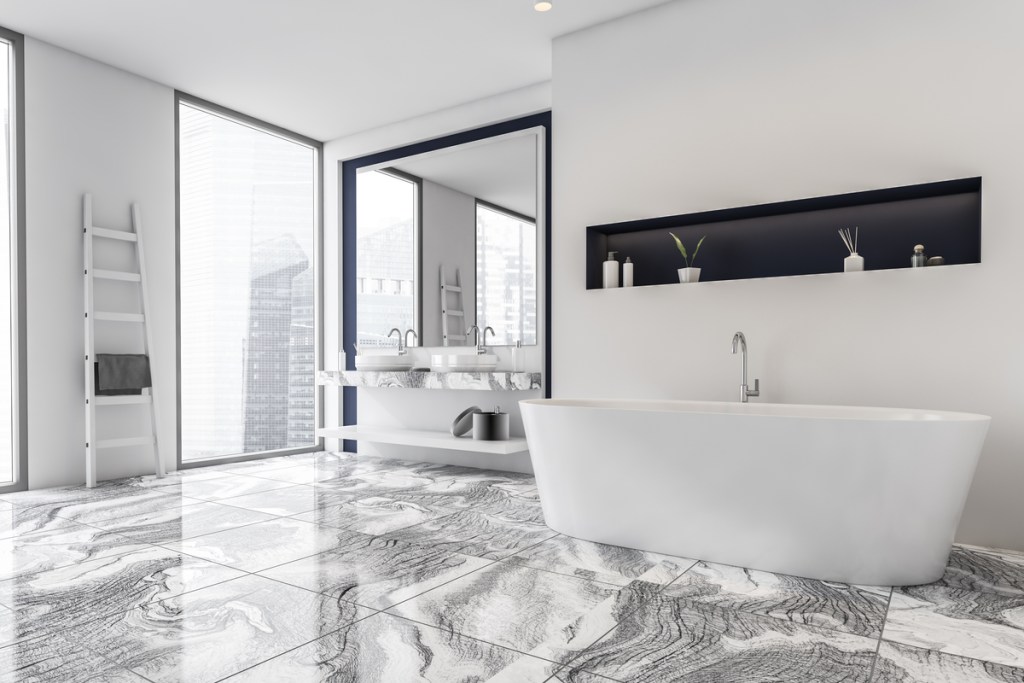 What is considered a luxury bathroom?
There are a few elements that are sure to transform your bathroom into a 5-star luxury bath:
Space
Obviously, a spacious bathroom is luxurious just by its sheer size, but even if your bathroom space isn't larger-than-average, luxurious bathrooms often create an illusion of space through the strategic spacing of fixtures and a minimalistic aesthetic.
Natural stone
Many luxury baths are rich with natural stone on walls, floors, and vanity tops. Carrara marble is often the stone of choice, although some homeowners opt for granite, travertine, quartz, limestone, and other stones.
A touch of the unexpected
Luxury designers take risks, adding elements that you may not see in an ordinary room. To make your bathrooms stand out, look for expansive spaces with staircases, tubs made from wood or carved from solid stone, or crystal chandeliers.
High ceilings
High ceilings give rooms a more spacious look, and cathedral ceilings do it on an even grander scale. Adding skylights will allow sunlight to stream into the room, giving the room an abundance of natural light.
5 luxe features found in the most decadent bathroom renovations
1. Statement showers
Whether your luxury design includes a tub or not, most high-end bathrooms include a statement shower, one that is spacious, spa-like, and a little bit decadent. When space is not an issue, homeowners sometimes opt for a Roman shower stall. Inspired by the historical designs of ancient Rome, these modern interpretations make the shower an alcove. Some even give the shower its very own room, rather than just a corner inside the room. Roman showers are most often door-free, with curved or partial walls that shield the rest of the bathroom from spraying water.
Showers that have shower doors almost always employ frame-free glass, giving the shower a clean, minimalist appeal that enhances the overall aesthetic.
2. Centerpiece tubs
Tubs inside luxury bathrooms are as much about design as they are about function. Commons bath styles featured in high-end bathrooms include sunken, clawfoot, and freestanding varieties. Each of these options won't fit in the average bathroom, so being space efficient is usually a priority. Homeowners who opt for a luxury bath often make it the focal point of their bathroom design.
3. Mirrors with built-in technology
For around $5,000, Electric Mirror's Integrity Lighted Mirror with Television features a TV screen feature at the bottom of the mirror that enables you to watch your favorite shows while getting ready in the morning or soaking in the bath after a long, hard day. In addition, a lit band around the edges provides perfect lighting for makeup application and grooming.
4. Spa-like showerheads
The most expensive showerheads can retail for more than $8,000. Axor's ShowerHaven model features 405 no-clog spray channels for total body coverage. There are other showerhead options that are far less costly, but just as luxurious, including rainforest mounts, hand-held options, built-in LED lights, sound systems, and more.
5. Toilet technology
An ordinary toilet has no place in a luxury bathroom. Luckily there are many high-end options at your disposal. For instance, Toto makes a one-piece toilet with an integrated bidet seat, that has a special ceramic glaze to keep your bowl clean, a quiet flush system, automatic features, a built-in air deodorizer, and a heated seat — what a luxury that would be on a chilly evening.
We hope these luxury bathroom ideas inspire your next bathroom renovation, whether or not you have an unlimited budget. Adding a few luxury touches will elevate the look of any bathroom and give you all the tools you need to pamper yourself in the designer bathroom of your dreams.
Editors' Recommendations