We all have several pairs of shoes, and they can be a real pain to store once we buy new pairs without discarding the old ones. Organizing shoe clutter — especially when dealing with a limited space at home — may prove challenging. But did you know that with good living room storage management, you can stow and organize them there? If you're short on closet space, check out these incredible shoe storage rack ideas for your living room.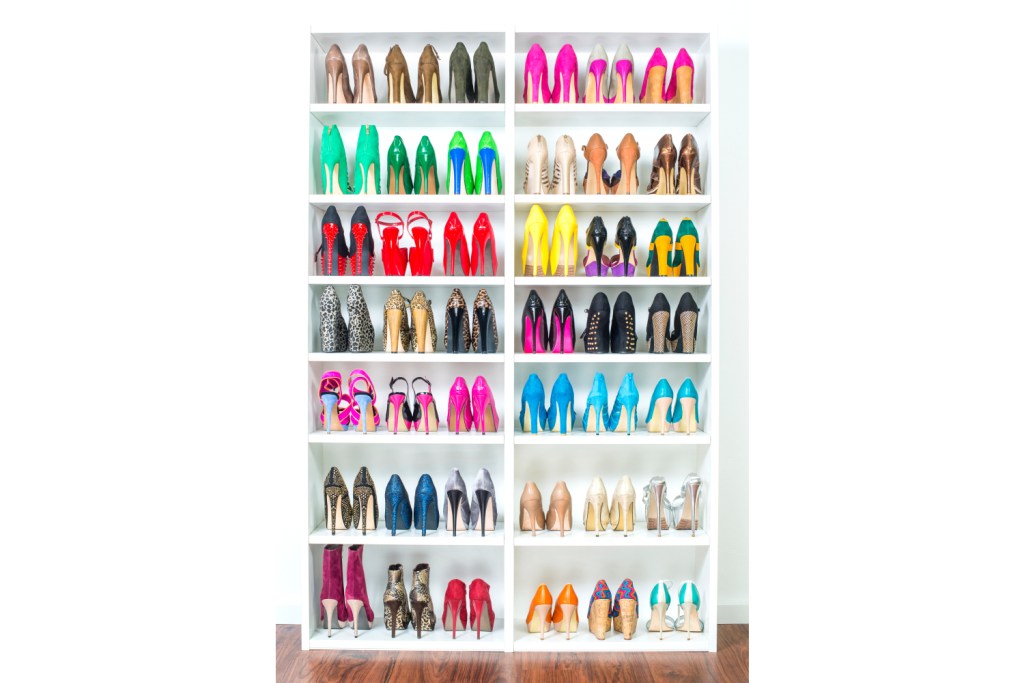 Use a multi-pair shoe rack with a ton of space
If you can't (or don't want to) break your habit of buying more shoes, you can still find a way to organize your collection. Shoe racks that hold multiple pairs — like 70 or more — are ideal for large families. These shoe racks tend to be very tall, which allows stacking pairs of shoes vertically rather than having several racks along the bottom of your room. Overall, this design makes for a clutter-free space without having to get rid of your favorite shoes.
Insider tips: Keep your children's shoes on the lower racks so they can easily access them. Also, if you have spare space in the shoe rack, add a couple of attractive storage baskets to the top shelf to store other accessories.
Take advantage of shelf space
Storage doesn't have to look "ugly" or boring. There are several storage solutions for different rooms that will work in hiding your shoes. Do you have shelves in your living room? At first, you may not consider storing your shoes up high on a shelf, but if the space is empty, why not put a few pairs at eye level (or even above)? If you have a few pairs of shoes that you keep in their boxes, even better, because the shelf will look organized while storing your shoes. You can also use your living room's shelving to showcase only your best-looking shoes, almost as art pieces.
Utilize the coat closet
If you'd prefer your shoes to be invisible — but still easily accessible when you want to run out to grab the mail — make space in your coat closet. An over-the-door solution will keep your shoes neatly tucked away without ruining the aesthetic of your living space, but close enough to still be functional. Alternatively, you could place shoe racks along the floor in the closet, stowed safely beneath any hanging jackets. You can even repurpose a bar cart for just this function.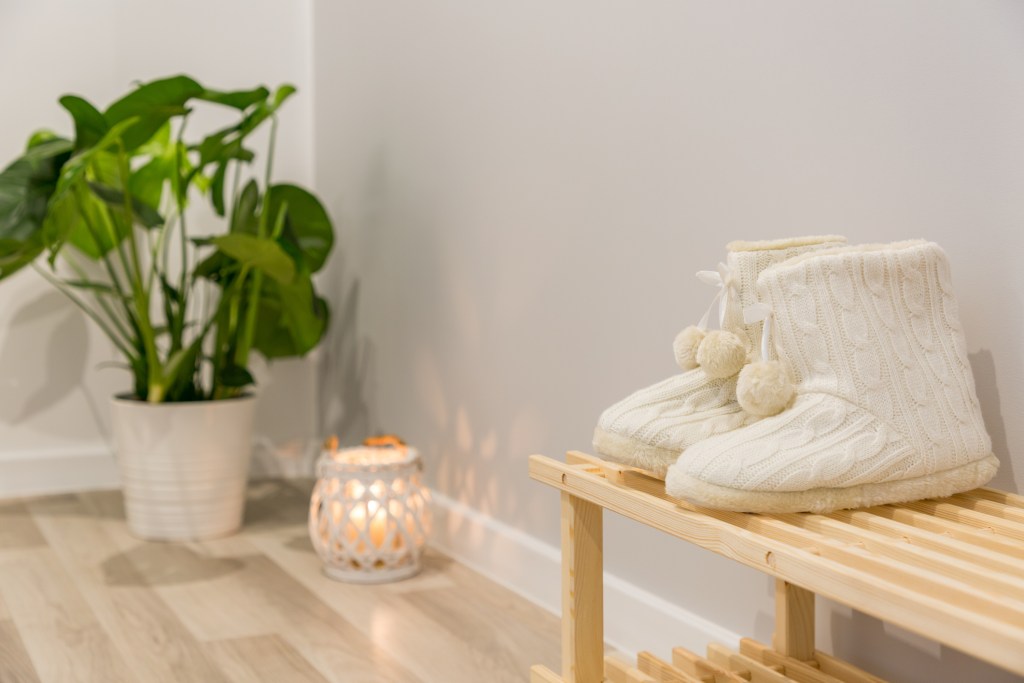 Choose the perfect fit
There are a variety of sizes to choose from when it comes to shoe storage: over-the-door, cubbies, freestanding, and more. When choosing between a few shoe storage options, consider how much free space you have to play with. You can look for an adjustable shoe rack that will expand or contract to fit the space you have. Then, as you add shoes or get rid of old pairs you don't wear, you can adjust the shoe rack accordingly. Or, you can measure your living room's height in the hopes of finding a floor-to-ceiling shoe rack that perfectly and snugly fits in the allotted space. Also consider placing one large shoe rack next to a smaller one to make the most of your available space, or find a brand that makes stackable shoe racks so you can mix and match however works best.
Consider your room's style
If you want your shoe rack to look stylish in your living room instead of just functional, you have a lot of options. Shoe racks can come in metal or plastic, but you can also shop around to find one in a bold color. There are also bamboo shoe racks, which may match the natural or minimalist aesthetic of your home. If you don't have too many shoes to store, consider a storage bench with built-in shelves. Your shoes can be stored on the shelves, and the bench will add seating space to the room.
There are so many incredible shoe storage rack products in stores and online. Decide what you need then shop around until you find the option — or options — that will perfectly fit your home and shoe collection.
Editors' Recommendations