It happens; you put all your time and energy into decorating the rooms you spend more time in and neglect the one you walk right through. Too often, entryways become a forgotten catchall space littered with shoes and devoid of any style. What you may not realize is for a small budget and in very little time, you can completely transform yours into one that functions much more efficiently and is an inviting glimpse of what is to come in the rest of your home. Here, we explore entryway bench decor ideas that will give your space its own identity.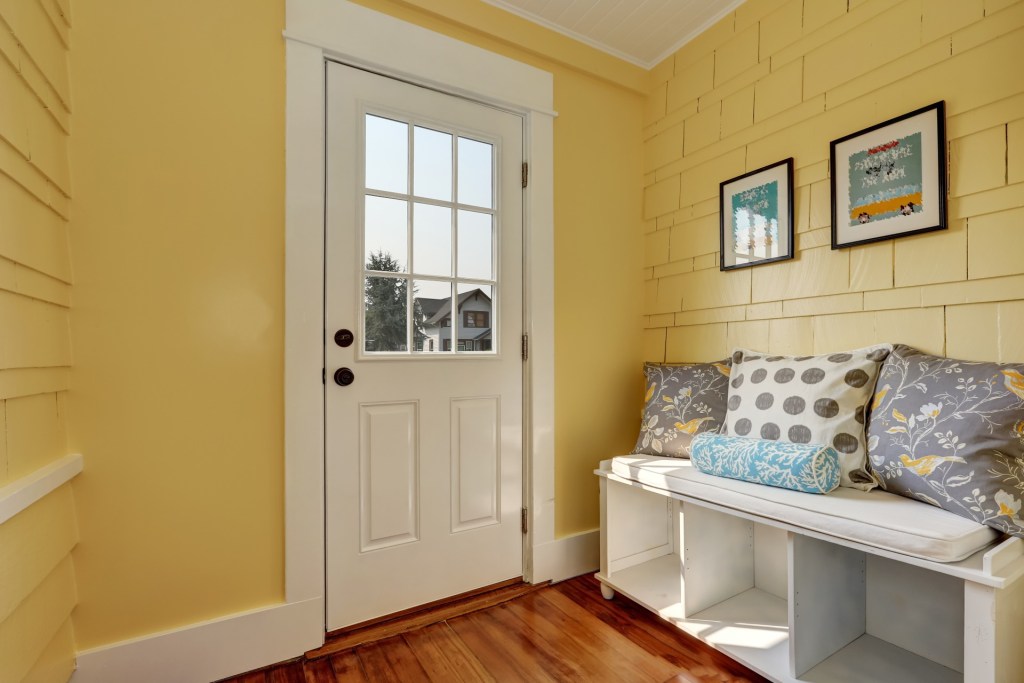 Declutter and design
Entryways come in all shapes and sizes — some are cavernous while others are just a small portion of a larger room. What they all have in common is that they are the first and last place guests see when they visit your home, so why not make them as welcoming and as functional as possible?
Before deciding which bench decor solution is right for your space, you need to clear out your current entryway space. This means collecting and sorting hats, bags, mail, and anything else. Determine what needs to stay and what can go. This will give you a good idea of how much storage is necessary and allows you to start with a blank canvas.
Now that you have a basic idea of what you want and need out of an entryway bench, it's time to decide how that will fit in with the rest of your home's design. Measure the space's dimensions and determine if there is anything else you want it to achieve. Do you need added storage? Is it more important the piece is fashionable or functional? What colors do you prefer? How easy will it be to clean when it inevitably gets dirty?
The bench you select should showcase your own unique style and be the first clue of what the rest of your home looks like. Is your home modern? Farmhouse chic? Rustic? There are benches for every taste and style, so make sure to find one that fits into your aesthetic.

A good fit for all
No matter the size and style of your entryway, there's a great entryway bench option for your home. These are our favorite styles for the most common entryways out there; use our ideas to flesh out your search parameters as you look for the perfect addition to your entryway.
For small spaces: Narrow benches with space underneath
Just because your space is petite doesn't mean it needs to be short on style. There are ways to make an entryway feel larger. The easiest is by adding elements that give the space a larger appearance. Look for a narrow bench with tapered legs and tuck decorative baskets underneath for added storage. Just above the bench, consider adding a mirror that is a similar size. This will reflect light and make the space feel much larger.
For open floor plans: Slanted lines and light colors
Open floor plans give the feeling of expansive space, but they can also be difficult to furnish. It is important to designate areas, so delineate your entryway space with a statement floor mat or rug and a light-colored bench with a slanted covered storage section underneath. To finish, add a mirror and hooks for guests to hang coats and bags.
For large foyers: Strong, solid lines
For foyer bench ideas, the key is to get the scale right. Nothing deflates a design more than putting a piece in that doesn't match the room's proportions. Look for benches that have strong, solid lines that will stand up to the room around it. Unlike a small space, it's important to bring in elements that will make a foyer feel cozier—add a striking piece of art or a gallery wall, accent pillows, or an interesting rug for even more impact.
For underused entryways: Closed benches with storage
The first question you should ask yourself is, why? You have the space, so why not use it? After all, entryways can be extremely functional portions of the home. Think about how you can utilize yours to work for you. A closed bench that opens to storage can offer a place for hats, gloves, and scarves. A mirror above with a shelf is the ideal place to house keys, mail, and other essentials.
By creating an entryway that is both charming and useful, you will have a space that will leave a lasting impression with guests and make you happy each time you return home. While your entryway might not be particularly spacious, you can still make the most of the space you have — and you'll thank us for that every time you clean or entertain!
Editors' Recommendations