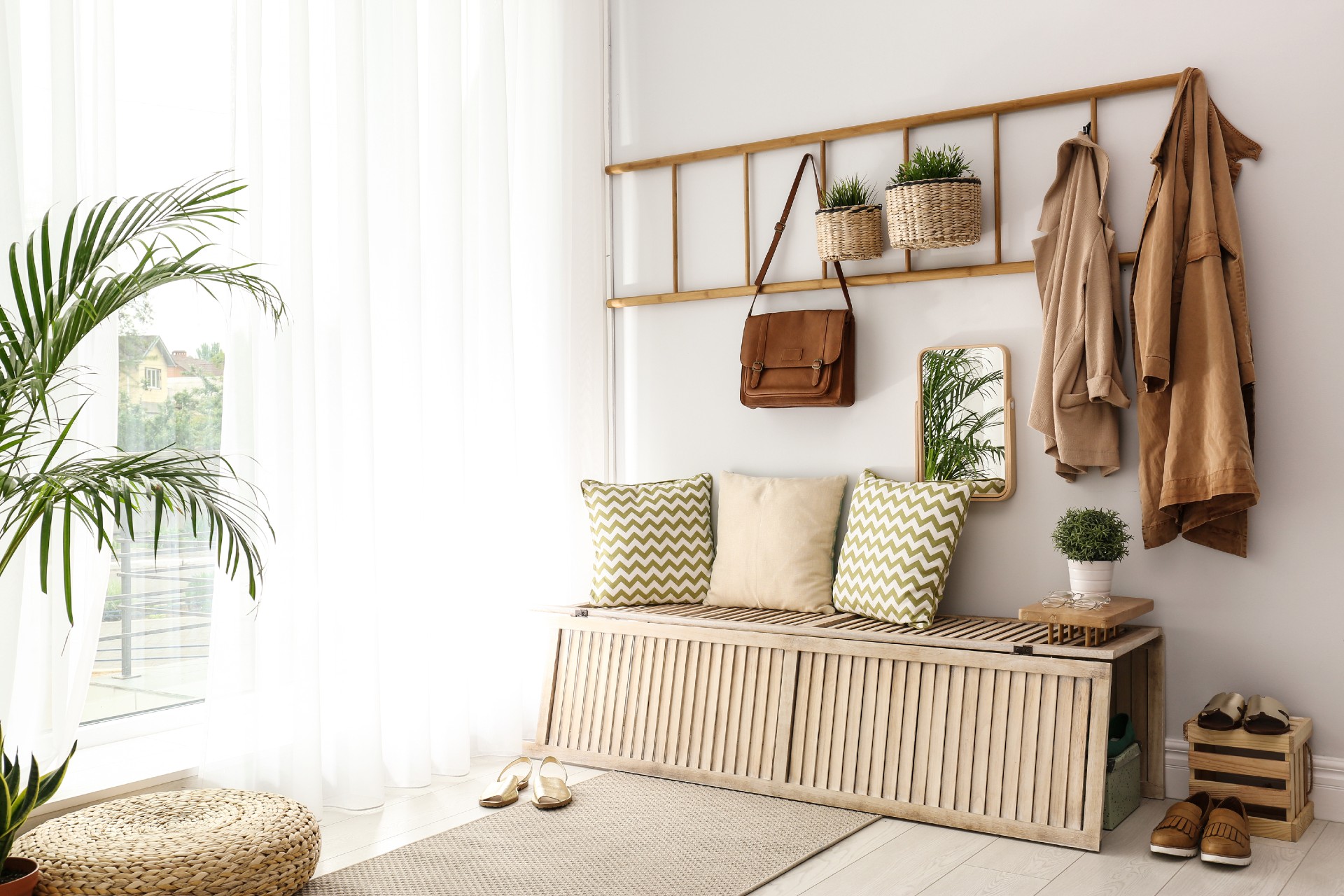 The entryway is a passage into your home — literally and figuratively. It is the first space you see when you arrive and the last one you see when you leave. For such a small space, it can leave a lasting impression. What does yours say about you? Is it a welcoming space with a place for everything? If the answer is no, you are not alone. Too often the entryway is a mess of shoes, coats, bags, and mail — a catchall space. But what if it doesn't have to be that way? What if you could tame the beast and create a space that was just as inspiring as the rest of your abode? The solution is to implement entryway-organization ideas that will transform it into a well-thought-out space that both functions well and looks great.
The first step to any organization project is going through everything in the space and deciding what to keep and what to toss. Everyday items can stay, but perhaps a dressy coat you only wear on special occasions can be stored in a nearby closet. The same goes for shoes, which tend to multiply in the entryway. Make sure to sort through mail and catalogs, and throw away anything that you don't need. Once you have streamlined what you have, group like items together. This will help determine how many things you need to find a place for when executing your entryway storage ideas, and ultimately, when purchasing storage essentials.
Get hooked
Functionally, an entryway needs to accommodate coats, jackets, handbags, backpacks, and so on. Installing several hooks will help keep items up off the floor — higher hooks for coats, lower ones for backpacks and bags. Small hooks also work well for keys. There are many options in sizes and finishes, so make sure to think about what will work best in your space.
Flexible storehouse
Small spaces love cubbies. They work well because they can be customized to accommodate many dimensions and are great for shoes, hats, gloves, bags, and so on. Modular cubbies can be stacked upward or outward. Since they come in a variety of colors and finishes, they not only offer storage but also work with many design styles. Add labels or stencil on names to give each family member their own.
If you prefer shoes to be out of sight and there is the real estate for it, consider a shoe cabinet. These are built to look like decorative furniture pieces, but instead of the "drawers" pulling open, they tilt out offering storage for multiple pairs of shoes.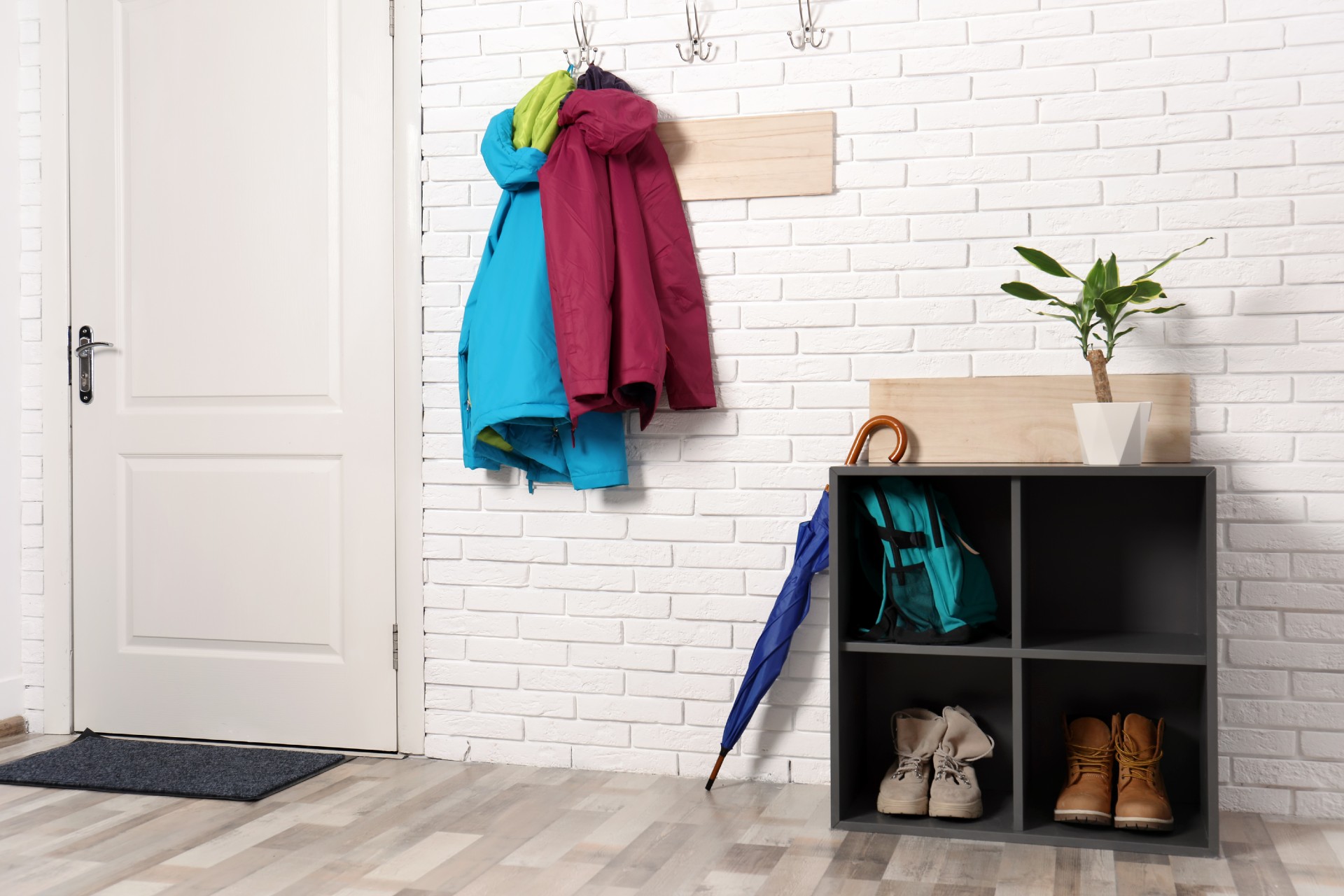 Manage the mail
Perhaps one of the most challenging things to keep on top of in any entryway is the never-ending flow of mail. The daily onslaught of catalogs, coupon booklets, and bills seem to come faster than you can sort through them. The key is to immediately toss what you don't need and install an attractive option to hold what you do. This will take some discipline at first, but staying on top of it will pay off in the end. Wall-mounted magazine holders and baskets work well.
Have a seat
Seating adds to any entryway. Having a place to put boots on and off is always a welcome addition. Benches are a popular choice. This is also an opportunity to add a stylish feature to the space. A cushion or small throw pillow will give it some pizzazz and make it feel like the entryway is not an afterthought but a true extension of the rest of your abode. Additionally, creative entryway bench solutions may answer your clutter issues, as many benches come with a storage built underneath.
Look up
If floor space is tight, think about adding higher shelves above. Baskets can be placed on them, each holding similar or each family member's items. This will keep everything in one place and make use of a part of the room that is otherwise unused.
Creature comforts
Adding in a few functional finishing touches will give bring style to the entryway. The entryway is the ideal place to add a mirror. Not only will this allow you to get a last look before leaving, it will also reflect light and make a tight space feel larger. And, a rug will protect floors and is a great opportunity to introduce visitors to your unique design flair. There are many indoor/outdoor options that are made to stand up to the wear and tear of the location.
Editors' Recommendations