The entryway to a home provides the first impression of the space and the people who live inside of it. Whether you want it to feel modern, industrial, or vintage, it should always feel spacious and inviting. Even if your entryway is less than roomy, with the right touches, it can radiate a beautiful feeling of grandeur.
Don't worry if you feel like your entryway is not big enough. The words "big" and "huge" do not outweigh the word "style." If you know how to put in the right touches, you can design a welcoming small entryway and make the space seem bigger than it actually is. Get ready to turn that small entryway into the grand entrance of your dreams.
Mirrors don't lie
Well, in this case, mirrors might help fudge the truth a little. This age-old tactic has been done and redone so many times because it works. Adding a mirror to your home's entryway creates a sense that space is larger. This trick can be done in any style and color you desire, so don't be afraid to put your creative spin on it. MyDomaine explains how to use mirrors when follow the feng shui concept.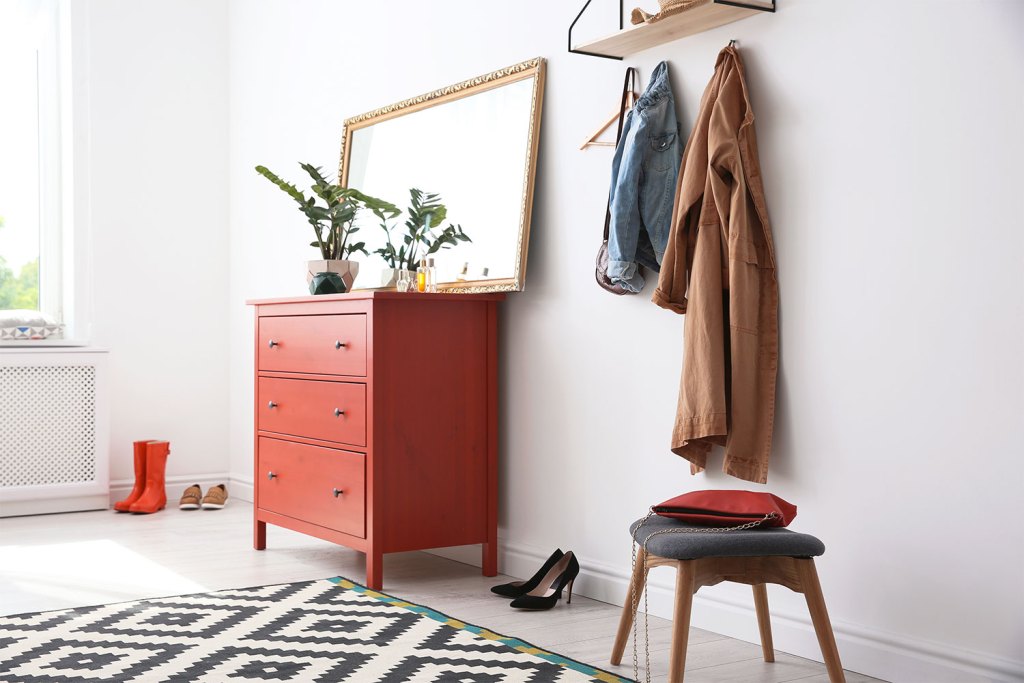 Add a dresser
Putting in a dresser might sound counterintuitive because it takes up some of the entryway space. If you add a sleek dresser to your home entryway, though, it can make the space feel like it's big enough to accommodate that piece of furniture. Also, a dresser draws the eye to it, so people will focus less on the size of the space and more on your incredible style sense. A dresser is also functional and will hold items you often grab when running out the door, like an umbrella, coat, hat, and keys.
Hook up your space
Adding hooks to your wall can be a great way to utilize the space and create a clean entryway. Typically, when a wall or corner is used, it makes the space feel larger because it can accommodate extra things. You can install some easy, beautiful hooks that can hold your hats, coats, bags, and more. HGTV suggests, "Coat racks, hall trees and hooks keep chaos at bay and create order in your entryway."
Bring in the light
A stunning chandelier can be all you need to make an entrance feel larger and more inviting. Remember to find something that is size-appropriate. A small chandelier or lighting fixture can make the small space feel large. Additionally, good lighting in a space makes it feel more welcoming.
Splash of color
You can add some color to your entryway in multiple ways. You can paint the entire entryway, have a feature wall, add a brightly colored feature piece, or paint just the ceiling. Whatever you decide, choose something that fits your style. A pop of color can make an entryway feel larger because you aren't drowning in white or beige walls. It makes the mood feel fun and will surely impress your guests.
Add a runner or rug
Runners are essentially long, narrow rugs. By picking the right one, you can make an entryway feel longer. Runners help to usher your guests into the rest of your home while also collecting dirt from outside, says HomedIt. Usually, long runners with a stripe pattern can elongate a space and make an entryway feel more connected to the rest of your home.
Have a seat
Putting a cozy bench or matching chairs in your entryway can make it feel super inviting. It allows guests to not feel rushed when coming in or going out. It also provides a great sitting area for when you are waiting for someone to get ready. Certain benches can also be used for storage if you have one with a drawer feature. Extra storage will ensure a cleaner, more organized entryway. Either way, a sitting area is welcoming, and it can make your entryway feel even more spacious.
The entryway is the first space people see when they arrive at your home and the last thing they notice as they head out. You want to have a spacious, fun area to enter through after a long day of work and exit through when you're ready to start the day. Making the entryway all your own with some styling tips will ensure it is everything you ever wanted.
Editors' Recommendations