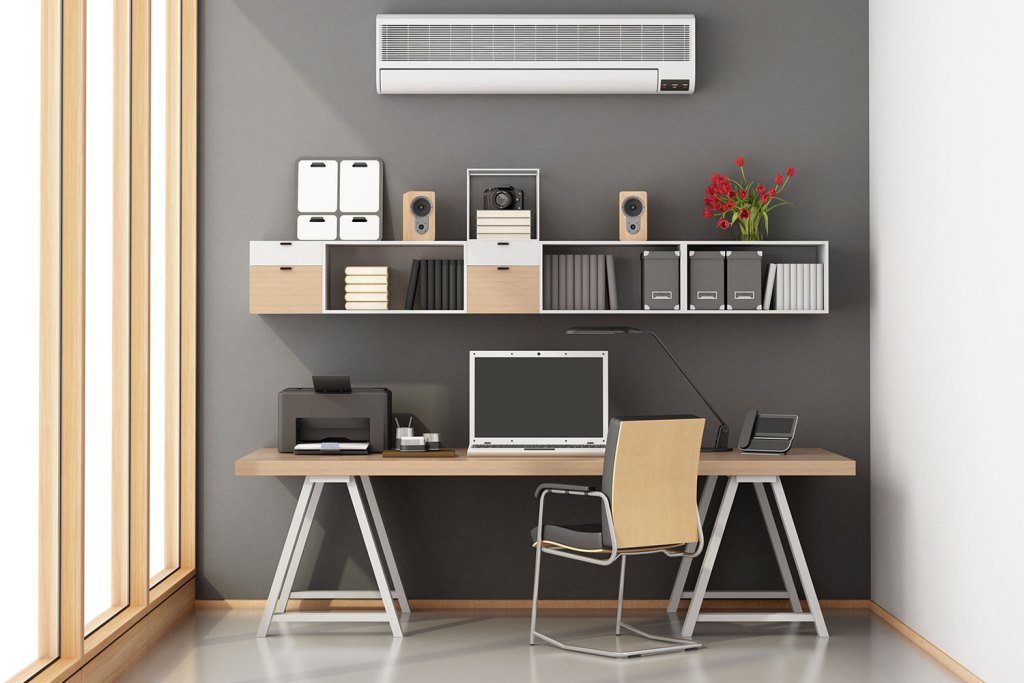 Printers are a functional and sometimes essential part of any home office. But one thing's for sure — they don't exactly blend into the background. A clunky printer may ruin your vision of a simple Scandinavian home office or coastal-themed reading room. If you're unsure where to hide a printer in your home office so it's not an eyesore, try these tips. You don't necessarily need a hidden printer cabinet (though that works, too) — just a little ingenuity.
Invest in an armoire or secretary desk
Traditional desks are practical, but they're not exactly discreet. An armoire desk keeps your desk supplies and miscellaneous gadgets out of view while saving you much-needed space. This white and natural oak-colored armoire has an overall measurement of 67.3 inches in height, 31.5 inches in width, and 20.3 inches in depth. More importantly, the interior cabinet measures 33.1 inches in height, 30.2 inches in width, and 19.7 inches in depth.
If you want a smaller desk, consider a secretary desk like this manufactured wood desk that you can place in any part of the home. It measures 30 inches in height, 31.49 inches in width, and 20.07 inches in depth, while the cabinet interior is 19.55 inches in height, 26.54 inches in width, and 18.98 inches in depth. Note that accurate printer measurements will help determine if it fits inside a specific desk cabinet you're considering.
Hide it in a rolling file cabinet
For even greater portability, a rolling file cabinet is an ideal choice. Think about it: You can move the cart with the printer in tow anywhere around the house. If you ever need to make extra space for parties or want to rearrange your workspace on a whim, you'll find that a wheeled cabinet is a worthy investment. This modern rolling file cabinet comes with a cubby box measuring 15.5 inches long, 12.25 inches wide, and 9.9 inches high. The whole box measures 16.4 inches long, 14.25 inches wide, and 13.8 inches high.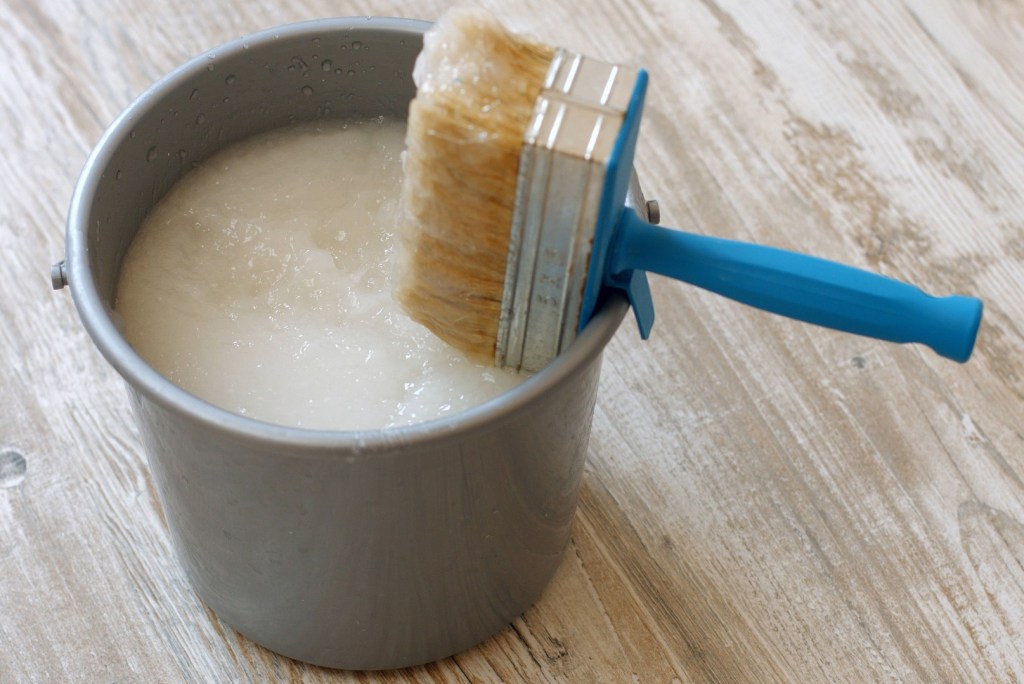 Cover it up with vinyl paper
Vinyl paper is usually reserved for furniture, walls, and novelty merchandise, but it may soon discover another career track in printer disguise. With numerous colors available, you can find the best hue your room calls for. Additionally, can opt for livelier prints like this geometric vinyl paper, which also comes in a floral pattern. Cutting out shapes for the front of the printer might be tricky considering the buttons and the paper exit. You can trace the outlines on white copy paper first, then trace it onto the vinyl sheet, and finally, cut out the shapes with a hobby knife — or you can simply cover the top and sides of the printer for a hassle-free cover-up.
Camouflage it on your bookshelf
On a similar note, you can camouflage your printer by strategically incorporating it into your bookshelf display. For instance, if your printer is black, place it on a shelf with dark book covers. Alternatively, if you have a white printer, place it against a white wall with a white bookshelf and light-colored book covers. Keeping cords out of sight will enhance this disguise.
Use an ottoman cabinet
If you want a completely covered printer, try an ottoman cabinet. No one will suspect this hand-woven ottoman cabinet with a flip-up lid is hiding it. For even more storage, consider an ottoman bench in a similar style, which measures 36.25 inches long, 16 inches wide, and 18 inches high, with the interior dimensions measuring 33 inches long, 13.6 inches wide, and 9.4 inches high. Granted, these cabinets are best for storing printers only when not in use, so if you don't need your printer often, these are suitable options.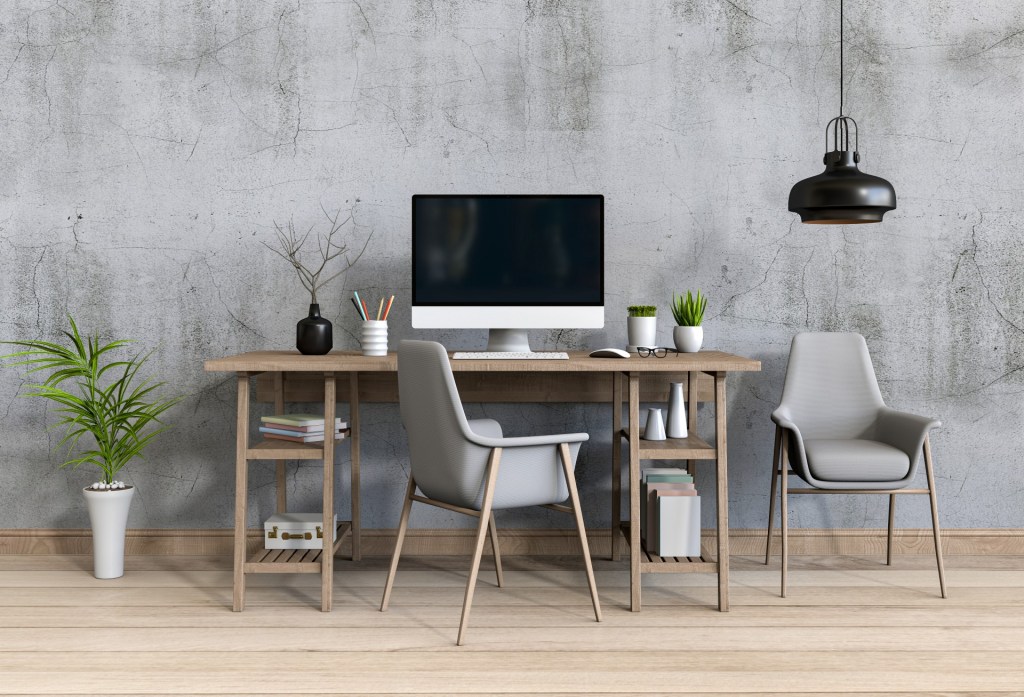 Install another shelf under your desk
Depending on your printer size and desk width, you may be able to get away with an extra shelf under your desk. This is a practical DIY solution if adding another piece of furniture isn't feasible in a tight room. A no-frills floating shelf is easy to install and costs less than another bookshelf. This one measures 15.7 inches by 5.9 inches by 1.5 inches and can hold up to 22 pounds.
Discover the magic of a dust cover
If you're somewhat of a crafts master (or if you'd like to be), take up the challenge and make your own dust cover. This lets you customize a cover that fits your home office. You can't go wrong with this simple DIY machine cover sewing pattern. And get this: You can choose any color, design, or material you want instead of settling for ready-made covers. On the other hand, if your printer is a similar size, check out this microwave cover that is available in 10 different colors and designs. It is only 11 inches long and 11 inches wide, so it might only cover the top of your printer.
Make a DIY shelf skirt
Craft a short skirt for your bookshelf by repurposing a doll bed skirt sewing pattern. If you aren't the best at sewing, reuse an old bed skirt by fitting it onto your bookshelf. This way, you conceal your bulky printer without having to buy more furniture. Another easy solution is putting up plain fabric to use as a curtain of sorts. Heavy-duty double-sided tape should keep the fabric in place. Using fabric is also an ideal option if you want a nonpermanent, cost-friendly fix.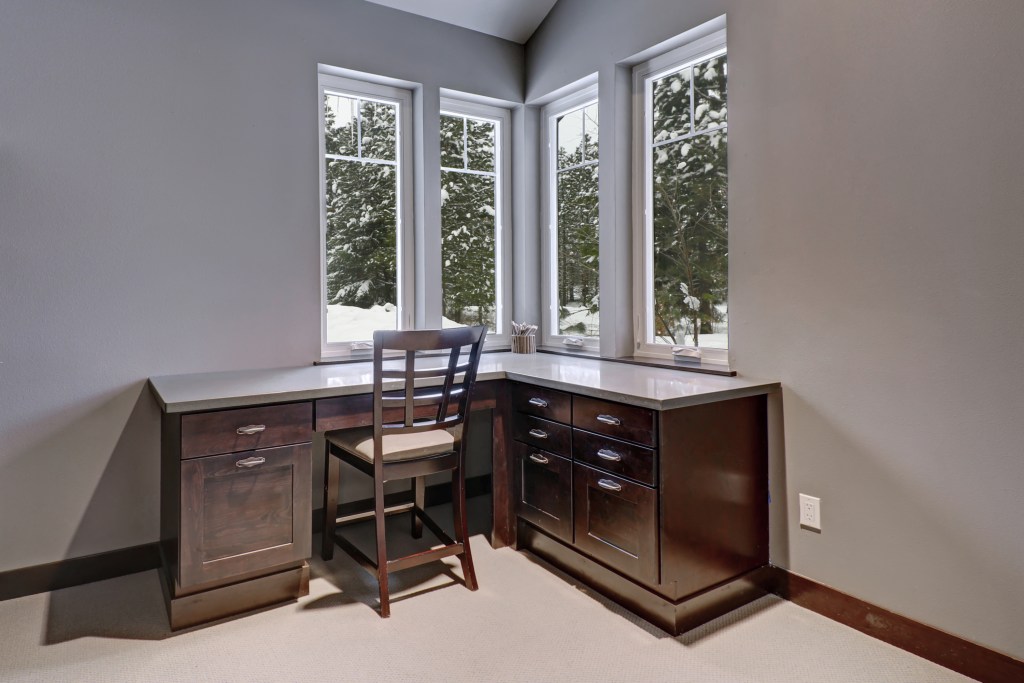 Keep it in a drawer
This might sound simplistic, but hiding your printer in your desk drawer is a guaranteed solution. Sliding drawers are preferred over swing-out doors, but the most important factor is size. Make sure that the drawer can hold your printer and that it closes comfortably. This L-shaped computer desk has a large bottom drawer measuring 19.6 inches high, 30.4 inches wide, and 28.4 inches deep. For a sleek look, this engineered wood desk can also hide printers with its drawer measuring 14.5 inches wide and 19 inches deep.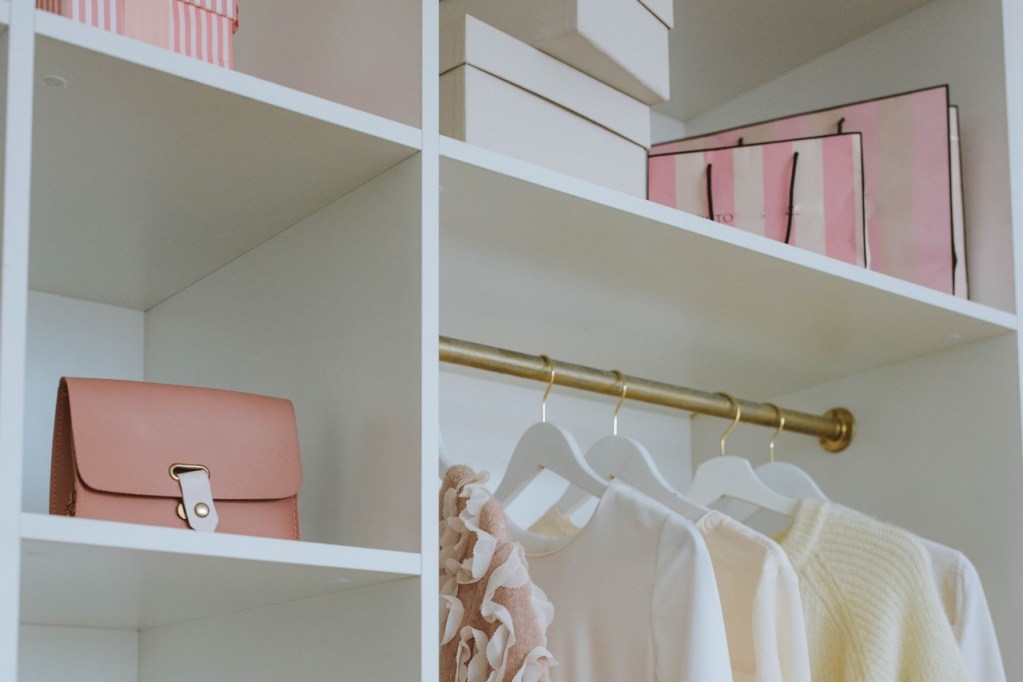 Hide it in a closet
Most home offices were once bedrooms that have now been converted with more and more people working from home. Why not move some old clothes or holiday decor and tuck it away in the closet instead? Most printers today are wireless, so if your home office lacks a dedicated closet space, find room in a bedroom or basement that has one and find space for your printer inside. Out of sight, out of mind!
Editors' Recommendations