Christmastime brings joy and cheer to everyone, and nothing kicks off the festivities more than decorating your home. If the decor in your house is modern, you may be having a hard time incorporating your traditional Christmas decorations with your aesthetic. If you're thinking about buying all new decorations and it's stressing you out, worry not. We have some modern Christmas decoration ideas that don't require you to start from scratch with your decorations — nor will they make your home look like some cold, sad version of the holiday spirit. It's absolutely possible to decorate for Christmas in a way that's both minimalist and warm.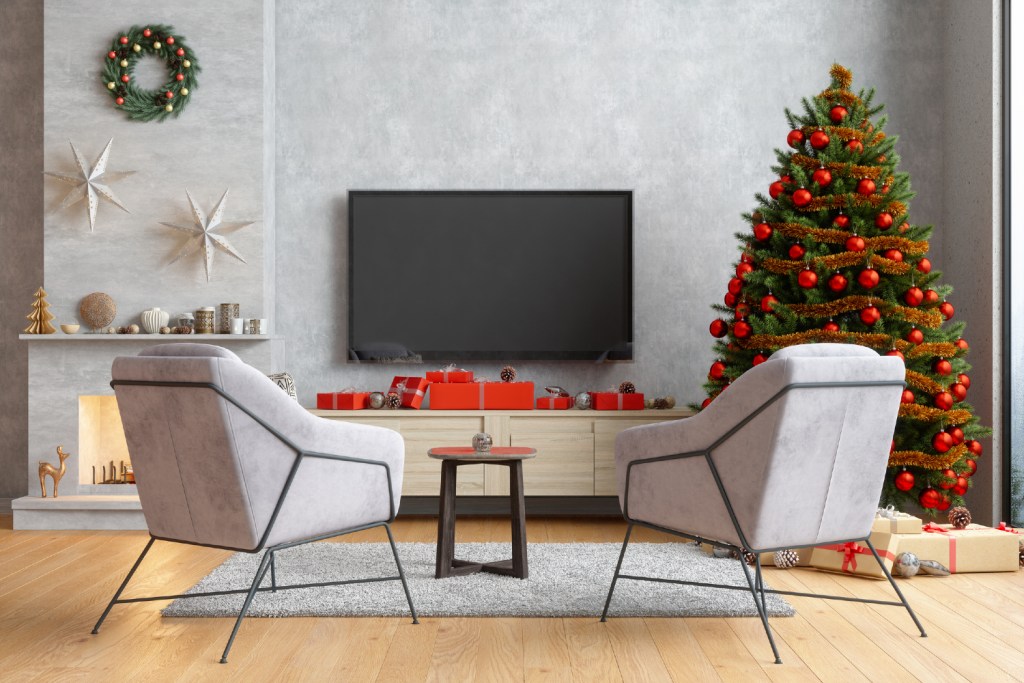 Less is more
Just because Christmas tends to be over the top when it comes to decorations doesn't mean you have to follow suit in your home. Creating an elegant and modern Christmas living room doesn't mean stuffing every ornament you possibly can on every open surface. A Christmas tree and a natural mantel decoration should do the trick if your decor is modern.
Don't have a mantel? Don't worry. Pairing a handful of candles with a few decorative trees here and there will do just fine — and if you don't want to worry about real flames, a bunch of battery-powered candles will give you the same feel.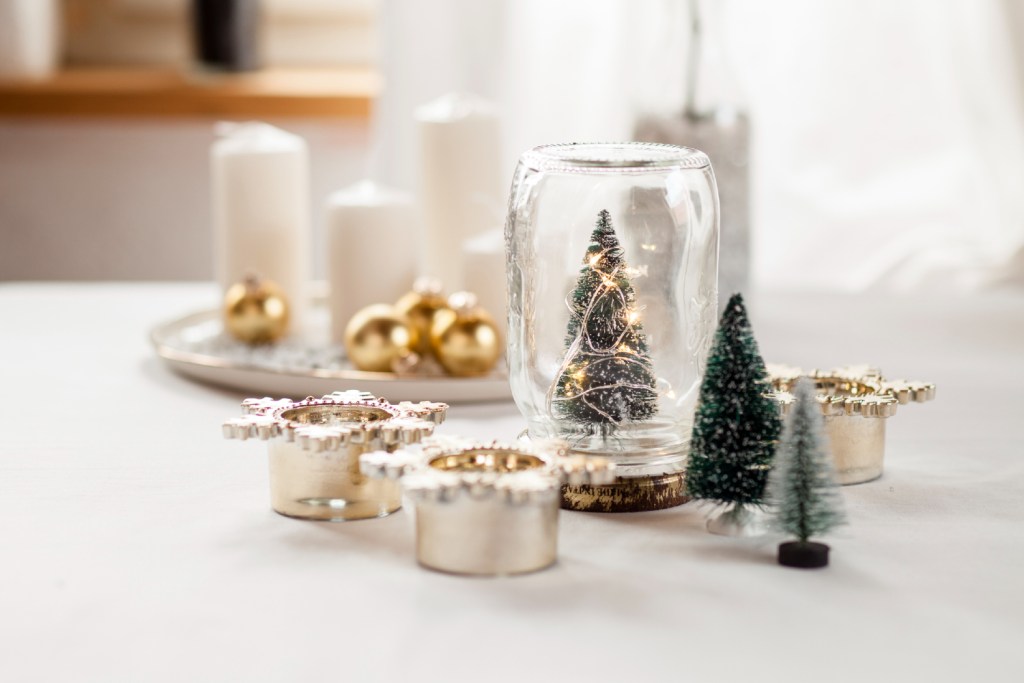 Monochromatic Christmas decor
Nothing says modern more than white, grey, and black and the best part is, these colors guarantee that the Christmas tree (and a few other decorations) will get all the attention. Adding candles and silver or gold touches will round out the luxurious look. Candles will reflect in the monochromatic colors and create a warm and welcoming ambiance as will the lights on the Christmas tree.
If most of your decor is white, white lights will warm the room and go with the vibe. If you have a lot of dark grey or black pieces, all red lights on the tree will give off a unique and cool look.
Tall Christmas trees
A lot of modern floor plans feature high or cathedral ceilings that just beg for a tall Christmas tree. Staging a tall, decorated Christmas tree between vertical windows will reflect natural light and mix with the lights from the tree to create a warm ambiance.
Remember, when decorating your tall Christmas tree, less is more — stick with one color of lights, preferably white, to keep it modern. Silver or gold bulbs and trimmings will accent the white lights beautifully and give off a warm glow.
If you don't have tall enough ceilings for a really tall tree, remember a skinny tree will appear taller than a round one and will give you the look of a tall, slender tree.
White tree with geometric bulbs
If you don't want a real Christmas tree but still want a modern look to complement your existing decor, consider buying an all-white Christmas tree. The white background will make any decorations you put on the tree pop and feel extra festive. Use metallic bulbs and decorations to round out the contemporary vibe.
If you want to buy new bulbs and elevate the modern feel of the white Christmas tree, geometrically shaped bulbs will really do the trick. Not only are they unique, but they will also complement the clean lines throughout the rest of the room.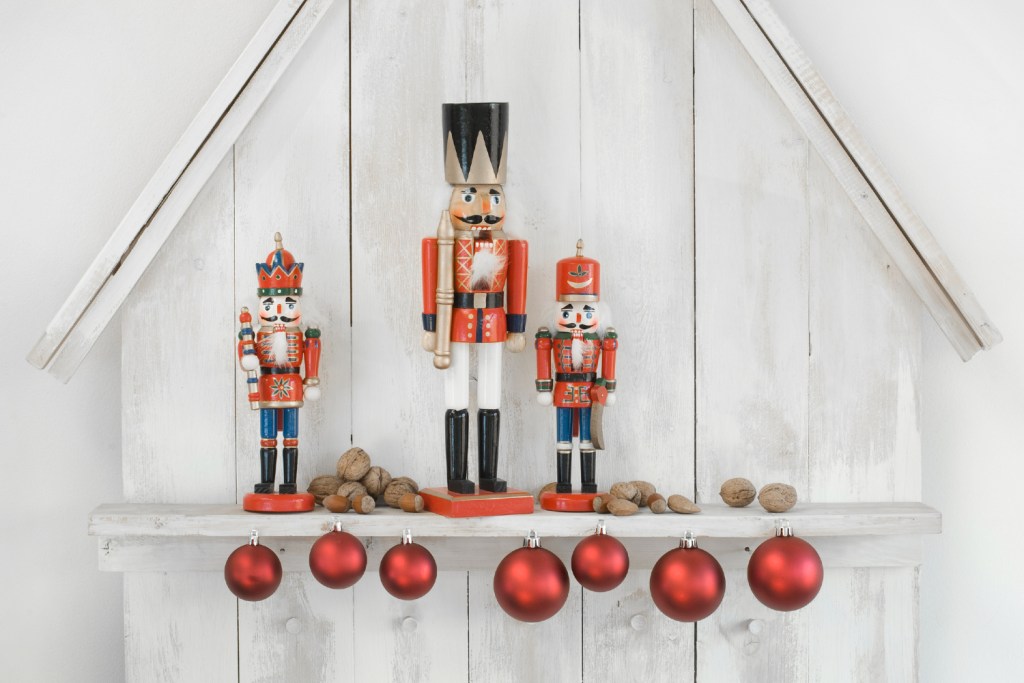 Stick with one theme
To achieve a modern look, stick with one theme when it comes to decorations. For example, instead of using trees, wreaths, and nutcrackers, choose one and run with it. Placing miniature trees all around the room will create a cohesive look without the jumble of adding other decorations to it. Also, tiny trees are very trendy right now, and they don't have to be traditional-style trees. Wooden or metal trees will be unique, and their geometric shape will pair well with the rest of your aesthetic. Not into tons of tiny trees? Consider using nutcrackers throughout the room instead. Nutcrackers are ultra-traditional, but when left to stand alone, they can make a modern statement.
Decorating for Christmas can be a joyous event if you don't take it too seriously. If your home is modern in decor already, it won't be too difficult to stick with the theme when it comes time to make things festive. Following a few guidelines — less is more, monochromatic or singular themes, and slender Christmas trees — will help you achieve the look without having to go out and buy new decorations each year. Pick a theme, or color, and commit to it — and remember, modern doesn't have to mean cold. You can create a warm and welcoming Christmas vibe even if you don't want to pack the room with decorations and traditional Christmas colors.
Editors' Recommendations