Green inspires a sense of peace and vitality in any room. For the bedroom, this color creates an oasis-like feel in which you can luxuriate in lush and invigorating details. If you're interested in curating a relaxing space using green as one of the primary colors within your palette, then you won't want to miss these phenomenal tips for creating a luxurious space. Below are some of the best green bedroom design ideas to help spark inspiration for your next remodel.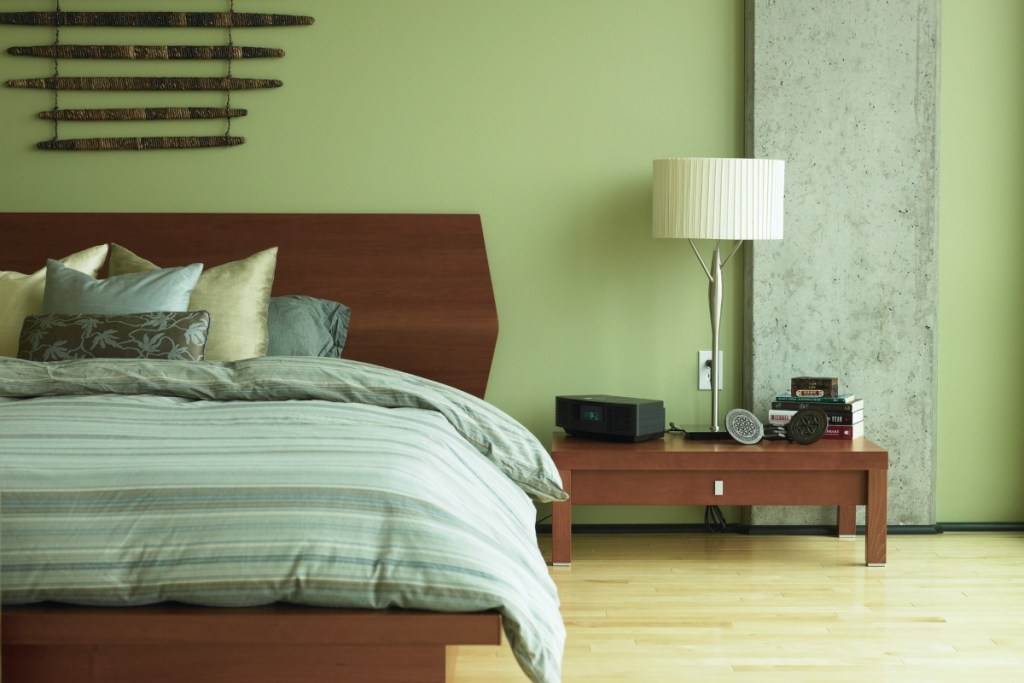 First, pick a green paint color
Before you begin diving into your design scheme, you'll want to pick the perfect shade of green. With so many options to choose from, you might feel overwhelmed. However, green is a color with plenty of personality and variety. So we recommend starting with the aesthetic you intend to curate in your space.
Muted greens
Muted greens are the perfect subtle touch to a bedroom that craves a gentle, soothing appeal. Shades like washed-out green, pastel green, or rich gray-greens can create a space that feels serene, cool, and refreshing. If you're looking to add a gentle touch to your room, or if you want a cool tone to offset richer and warmer colors within your palette, opt for a muted green that will amplify the natural ambiance of your space.
Avocado green
Avocado green is a lovely shade for those eager to add more flavor and vibrance to a space. Often better as an accent, avocado green can be the perfect addition to a bedroom in need of more light and personality. While it can look a bit brash in some homes, this lovely shade can brighten up your space and open doors for much creativity. Homeowners in favor of colorful bohemian and maximalist styles may find this color to be just what they're looking for.
Something bold
Alternatively, if you want something bolder, try an elegant emerald green. Emerald and jewel green tones are perfect for creating a dark, moody, and luxe space. Perfect for sprucing up a darker palette, this color can look stunning in a traditional or vintage-inspired room. Pair the color with dark accents for a richer and more sophisticated appeal.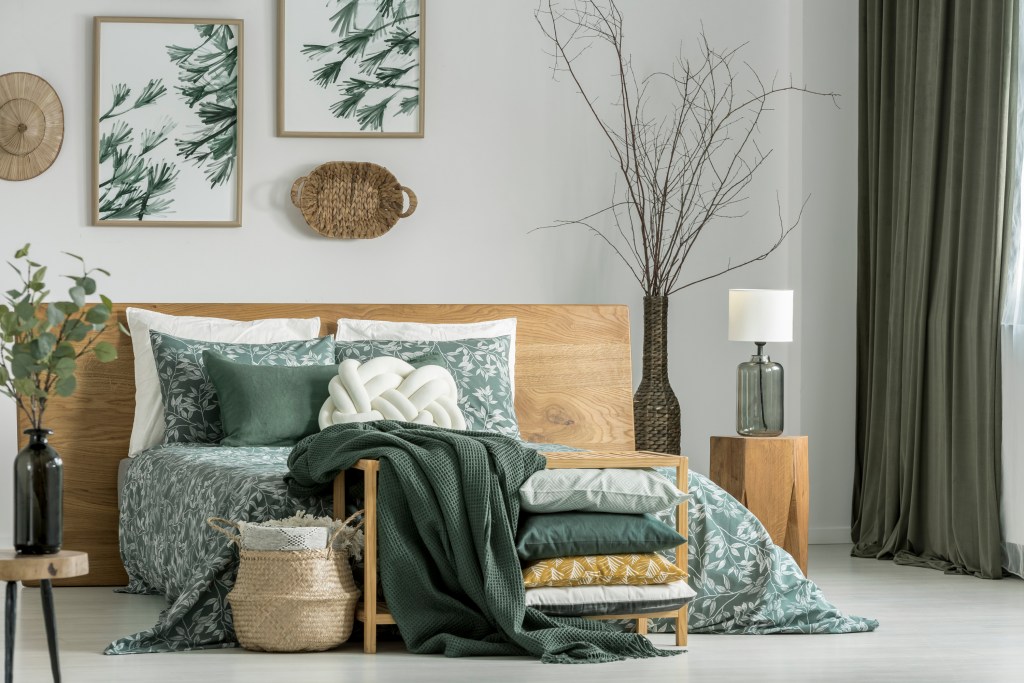 Create a natural aesthetic
One of the best aspects of using green in a color palette is that it creates a natural aesthetic. Nature lovers and those looking to create more authenticity in their design may find green to be the perfect shade for achieving a nature-inspired look. Below are some of our favorite methods for using green in a natural design.
Try a green and brown color palette
Green and brown were practically made for each other. With their roots quite literally in nature, these two hues can provide an authentic look that invites the outdoors in. Additionally, as a staple in biophilic design, green and brown shades allow homeowners the opportunity to create a lush and vibrant space within their homes that provides peace and tranquility.
Incorporate plants
Another way you can use green in your color palette is through the use of plants. Whether you opt for green around the entirety of the room, on an accent wall, or simply as an accent color, plants are a great companion to this lovely color. Green plants of all tints look stunning against a green backdrop and add more life and vitality to a space.
Use green as a neutral
An interesting trend we've seen recently is the use of green as a neutral. Often, pale, pastel, and muted greens have been used as the base color for a design. These light greens are the perfect neutral for pale pinks, rustic oranges, and reddish browns, allowing the other shades to pop against a green backdrop. Muted pinks also look stunning paired with these subtle greens. If you're interested in a soft design, try using a pale green as a base within your color palette and pair it with lovely red, orange, or pink accents.
Try a bold emerald green
As we mentioned earlier, emerald green is a great way to create a moody look. However, this color is far more versatile than many homeowners give it credit for! Try an emerald green accent wall surrounded by black accents for a sophisticated look. Neon signs, gallery walls, and curated statue decor pieces look beautiful when paired against this dark and vibrant shade. Additionally, you can always create a "living wall" in this color. A living wall is essentially a lot of vine plants paired together to create a biophilic space that truly accentuates this rich shade.
Opt for a fun wallpaper
If you're feeling bold, you could also opt for a fun green wallpaper. Whether you choose a geometric pattern or a pattern with plant leaves, green wallpapers can help add more color and personality to your bedroom. Use it as an accent wall or cover the whole room with wallpaper of your choosing. This is an excellent solution for people experimenting with their designs and moving away from flat paint colors.
Green is a versatile and wonderful shade to bring into your bedroom. With plenty of calming qualities, this relaxing hue can help you create an oasis out of your space. Try to use green in different ways, both as an accent and within your decor or textiles. And of course, don't forget to use plenty of plants for a natural and outdoorsy look!
Editors' Recommendations