Your master bedroom is your haven. It's where you go at the end of each day to relax, rejuvenate, and seek out a bit of solitude. To keep this space filled with serenity, you may want to consider an upgrade.
A master bedroom remodel can be the cure to a bland and depressing space, so take a look at these tips and tricks and get ready to ace your next master bedroom redesign!
Opt for an accent wall
If your master bedroom is too dark or a bit bland, shake things up with a fun paint job. We recommend adding more intrigue to your space by creating an accent wall that adds visual interest and prevents your walls from looking too bare.
When choosing which wall to place the accent color on, it's best to match it with the layout of your room. For example, a common practice is to create an accent wall behind the bed to pull the eye to the centerpiece of your bedroom. If you have a long room, place an accent wall at the end, making the room appear more proportional by visually shortening the space.
If you're feeling bold, step away from neutral tones and opt for a more exciting color. Maroons, deep blues, and even black are excellent choices for your accent wall.
Change up the color palette
While we're on the topic of color, let's discuss switching up your color palette. Rooms are often full of neutral colors that we know are tried and true. However, choosing a palette that is bolder, brighter, or non-traditional can make the home more exciting.
For a fun, bright room that's light and airy, opt for baby blue, warm cream, white, and slate grey hues. To bring on the drama, consider adding shades of burnt orange, deep green, white, or tan. Finally, round out a more rustic aesthetic with dark and earthy colors like black, tan, rich brown, and white. Otherwise, consider making a statement by picking one bright color to feature and accent it with neutrals to break up the monochromatic look. Bold colors like yellow, orange, green, blue, and red are best for this single-color design.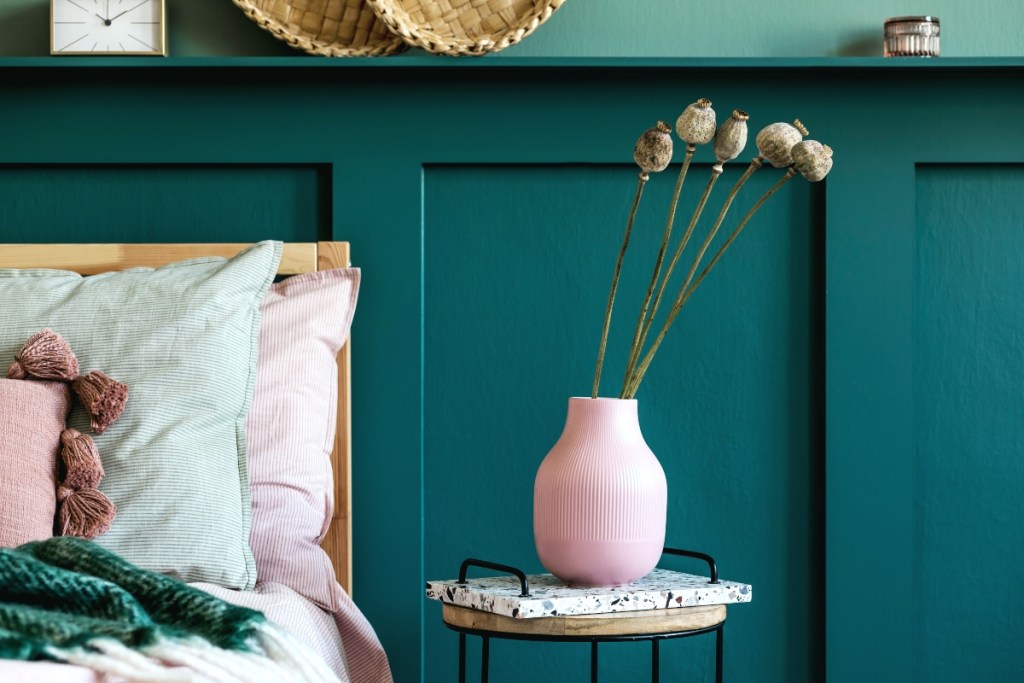 Try your hand at DIY wood paneling
For lovers of modern and contemporary home designs, paneling can give an air of elegance and sophistication to your master bedroom. As one of the more unique remodels on this list, paneling can add more dimension and interest to your space.
How to achieve your own DIY wood paneling:
Plan it out: Before you begin cutting and nailing planks to the walls, use a pencil to outline where the paneling will go in the room. Be sure to measure the wall to determine just how much wood you'll need to complete the project.
Gather your supplies: For most wood paneling projects, you'll need a level, nails or nail glue, a wood saw, sandpaper or electric sander, hammer, tape measure, paint, and of course, wood. Medium-density fiberboard wood paneling is one of the best options, but you can also opt for other forms of thin, decorated wood from your local home improvement store.
The big chop: Now, cut your wood to size, creating 90-degree angles at the corners so they align with each other as well as the baseboards. Be sure to sand down any rough edges on the wood as well as the walls where you will place the trim.
Creating your paneling: Last, use a nail gun, a basic hammer, and small nails to place the wood panels on the walls. If you're feeling especially crafty, create a stylish finish by painting the wood paneling any color of your choice.
Paint the floors
Restaining wood floors can update a space and restore your flooring to its former glory. However, your floors don't need to be natural wood tones. Play around with some of your favorite colors and patterns to give the room a more dramatic finish full of character. Painting your floors doesn't have to be an intense undertaking, either. Just be sure to sand the floors before diving in, and opt for floor-specific paint to achieve longer-lasting color.
With these few design tips, you can create a space that's mature enough to fit a master bedroom without sacrificing color and creativity. Push yourself to incorporate bolder colors, patterns, and textures to make it a true oasis that's as fun as it is functional.
Editors' Recommendations