You may not have the walk-in pantry of your dreams, but there's good news. You can still organize the pantry to make the most of the space you have. We've got 20 tips and tricks to make sure everything you need is always in reach.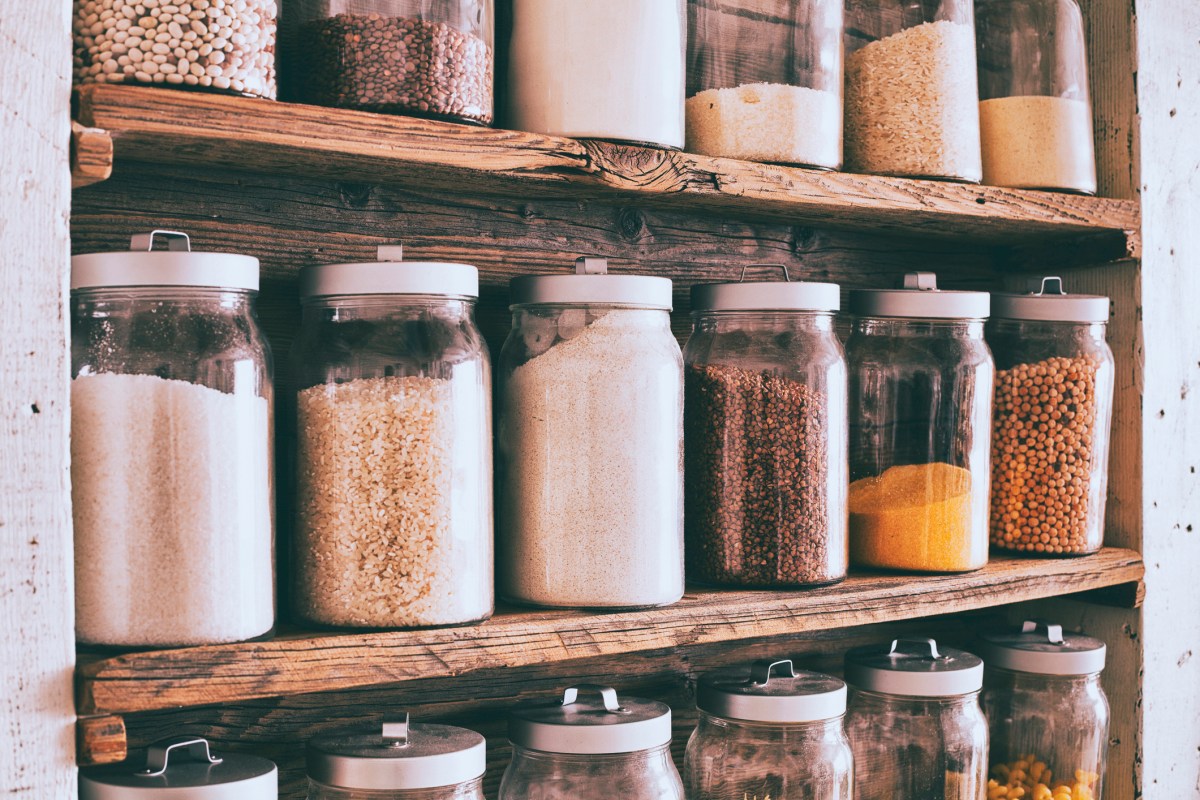 1. Use clear containers
Why should you bother pouring your food and supplies into another container? One big reason — visibility. You can control the height and depth of the containers you choose, unlike the original packaging, meaning everything can fit. Plus, you'll be able to see more at a glance, says The Kitchn.
2. Use space below shelves
If you've got space between things on the shelf and the next shelf up, you may be wasting potential storage. Hanging shelves, even thin ones, can potentially store flat containers like plastic wrap or tortillas, giving you a boost in organization. Plus, under-shelves are pretty easy to install yourself.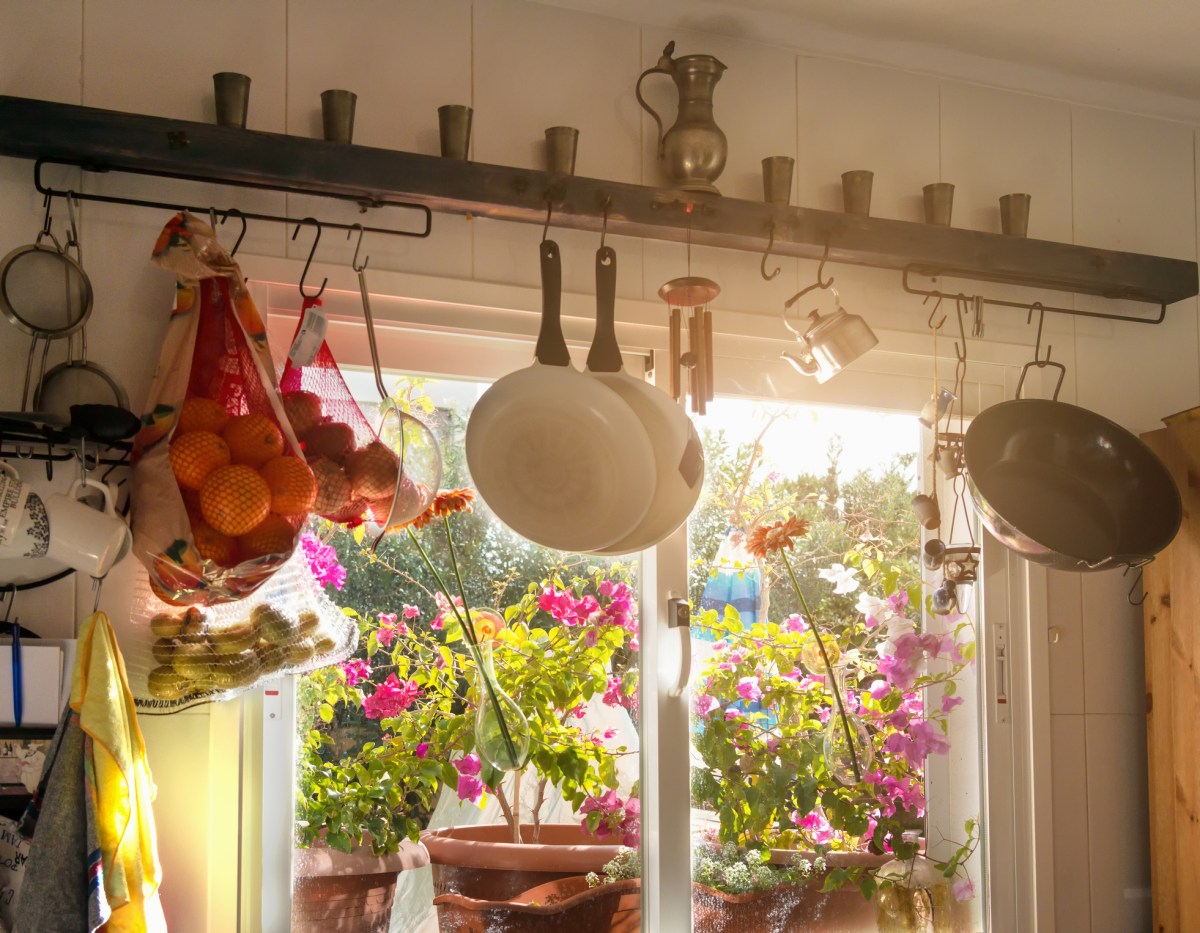 3. Add hooks
Hooks also provide storage space, allowing you to hang awkward things like oven mitts, grocery bags, and even sacks of onions. Items will be in reach, and you won't have a heart attack trying to get things to stack neatly in a drawer or on a shelf.
4. Use sliding drawers
If your pantry is just a few shelves in your cabinets, sliding shelves can help you use every inch of space. You'll be able to arrange things even toward the back while ensuring that every item stays clearly in eyesight — no more forgotten bags in the back.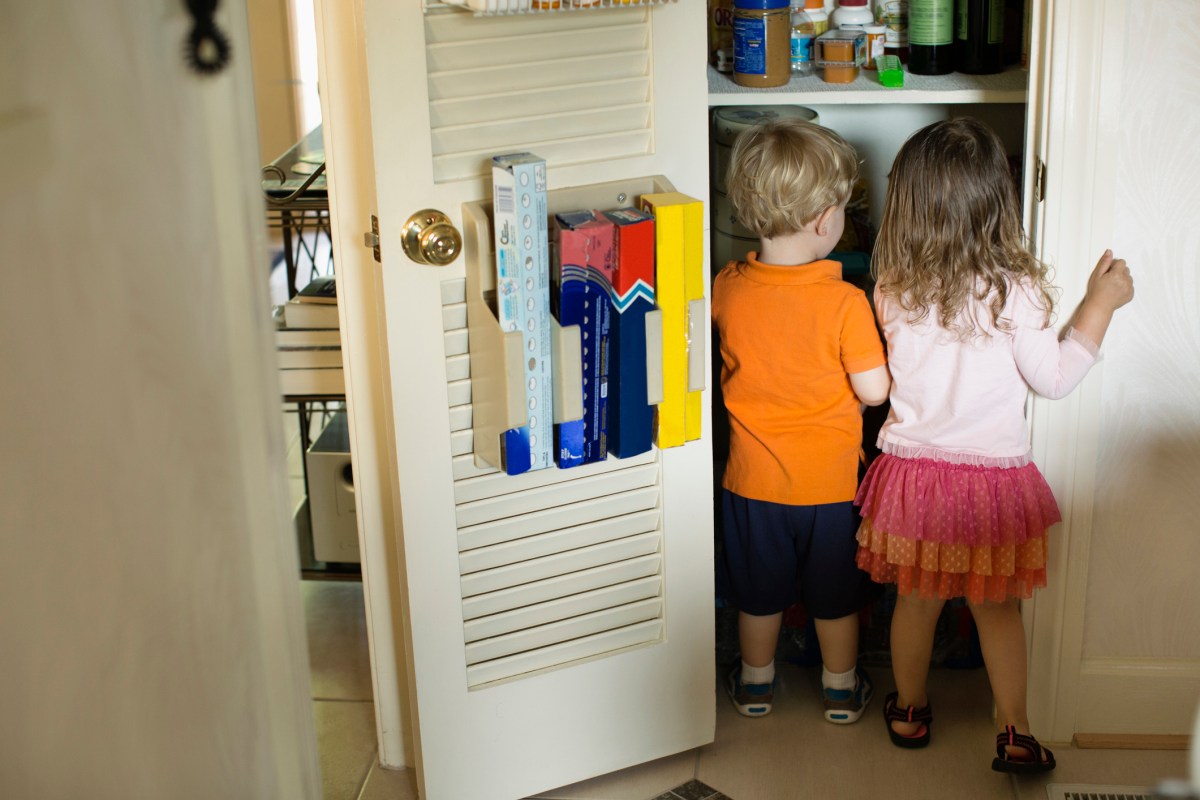 5. Use the door
If you can fit a door rack into your pantry, this can provide even more space to store things within easy reach. Even thin shelves can hold snacks, cans, or small cleaning supplies right where you need them most.
6. Plate racks for tupperware
Plastic storage lids are one of the biggest frustrations in a pantry. Stack your plastic storage by stacking like shapes and use a plate rack to help keep lids wrangled and right where you can see them.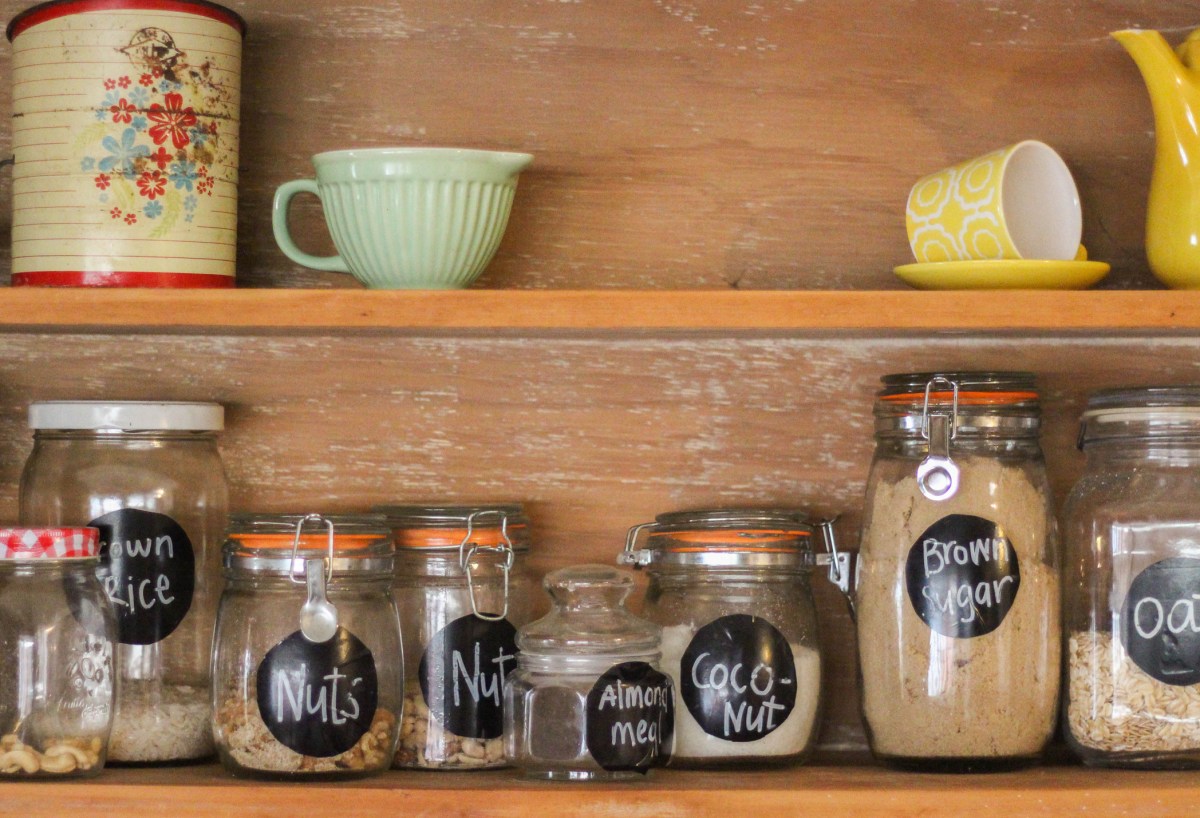 7. Invest in a labeler
Half the battle with small pantries is disorganization. Label makers are having a resurgence, and one could help make sure you always put things in the right place. Even if you label the shelf itself with the type of can or food, that gives you a boost of encouragement to keep everything in place.
8. Control the cans
Basket-style storage for cans allows you to better stack. While some cans fit neatly into each other, different sizes and styles make for a frustrating organization. Storing cans on their sides gives you better control over the stacks on your shelves.
9. Sort by category
It's easy for everything to get jumbled together, but sorting all your pantry items by category can make a world of difference. Even keeping cans separate — sweet from savory, for example — can help you take stock of what you have and need while keeping everything within reach.
10. Build a snack station
Everyone wants snacks within easy reach, and many times, moving things around is what throws all your organization out of whack. Make sure no one has the chance to rummage and undo your hard work by putting all the snacks at eye level and within easy reach.
11. Use chalkboards
Can't fit a hanging shelf on the back of your pantry door? Place a chalkboard there instead and use it to make lists, mark items that need restocking, or remind yourself to pick up a piece of fruit before that candy bar.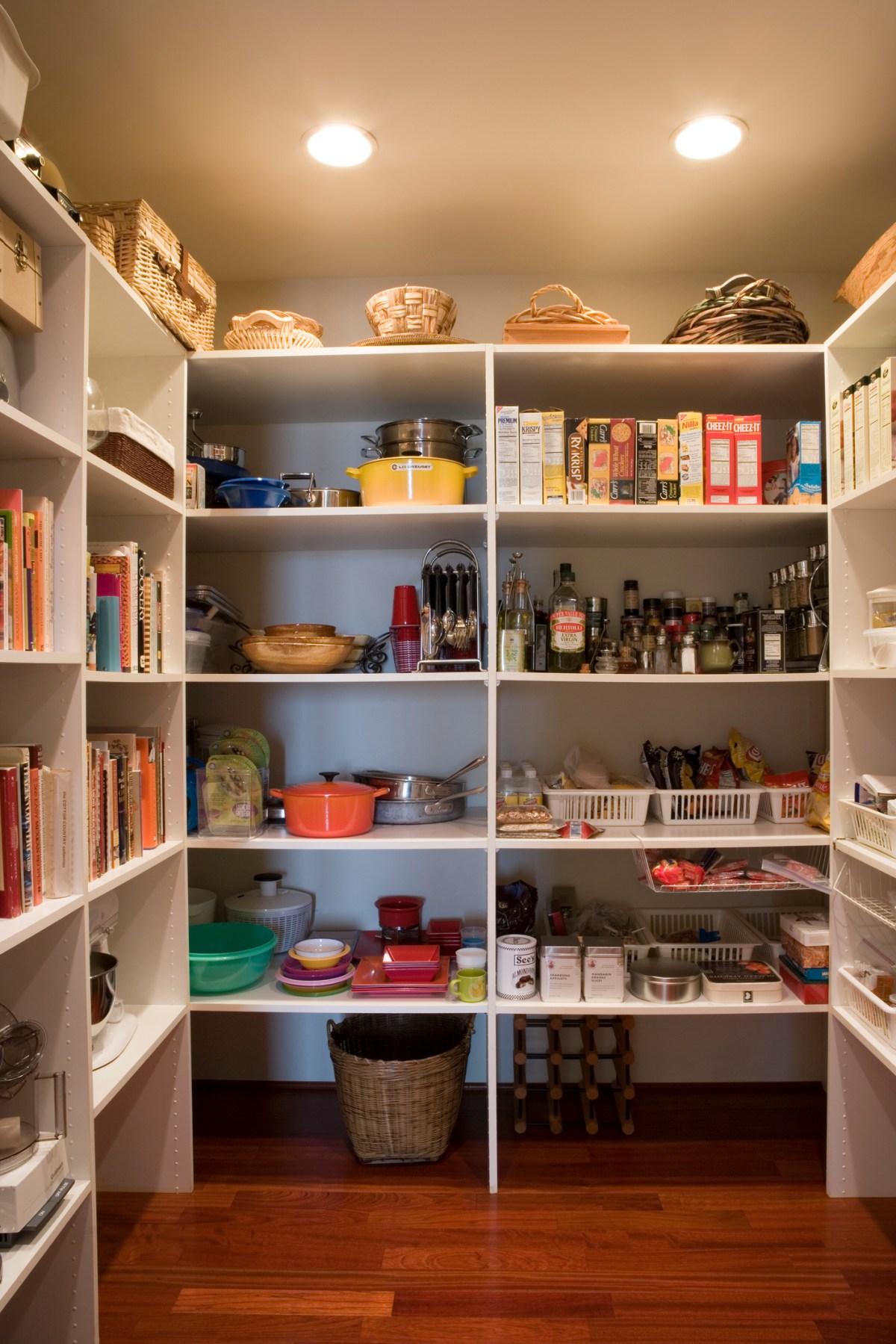 12. Use baskets or crates
Some things just aren't going to stack neatly on a shelf. Baskets and crates help keep things in check even when you can't get them to stack or look neat. Small bags, packages, or loose ends remain where you put them, and you won't be overwhelmed every time you look inside your pantry.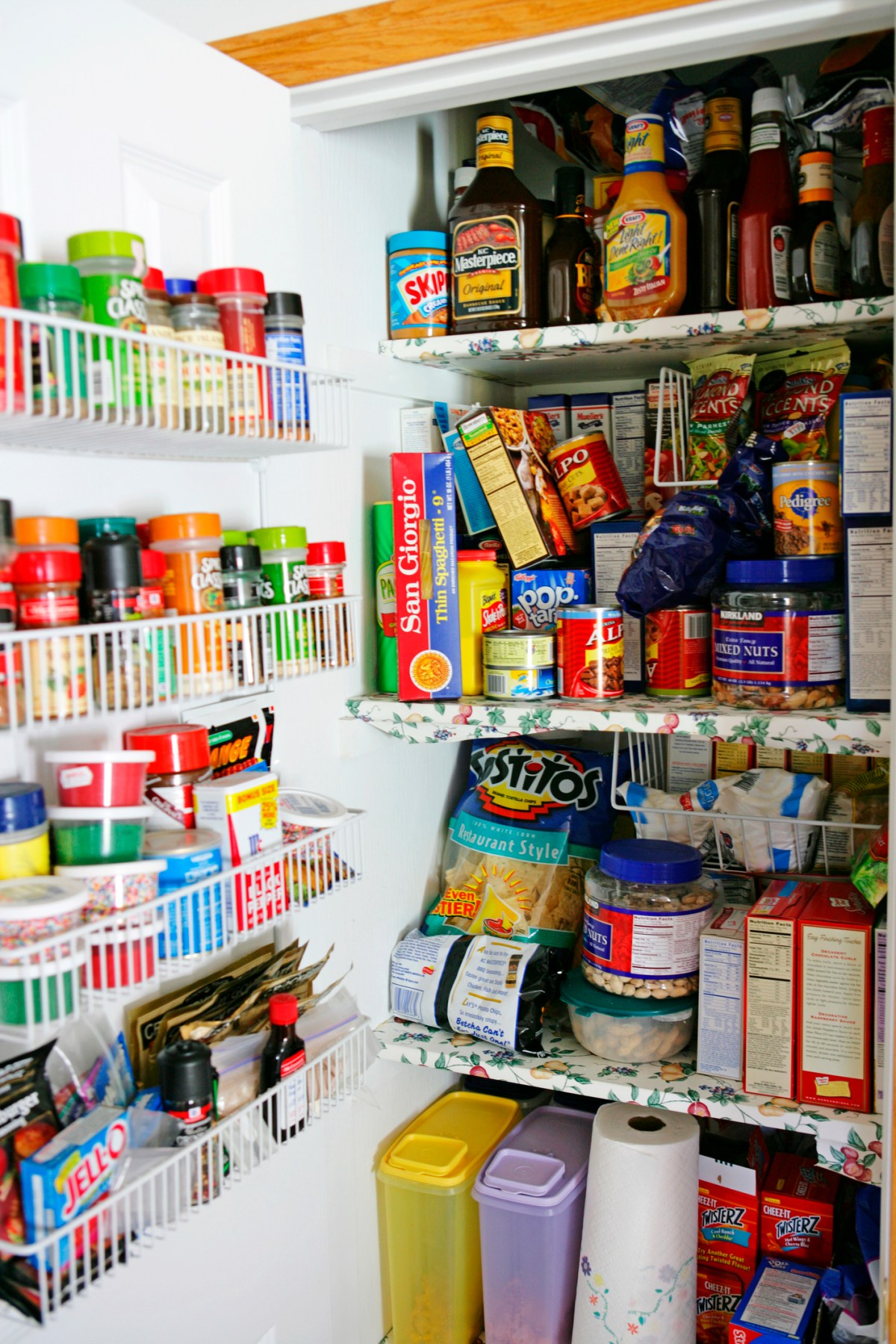 13. Install tiered shelves
If you've got deep shelves, things can get lost easily in the back. Investing in tiers helps keep everything in easy eye view. You can even use the underneath to store items you don't often need like holiday supplies or that candy you're hiding from your significant other.
14. Invest in a Lazy Susan
Another method for dealing with deep shelves is the Lazy Susan. These spinning shelves allow you a 360-degree view of what you've got on your shelves with zero moving things around to try to get to the back. The shelving is adaptable and easy to use. HGTV says it's a great investment.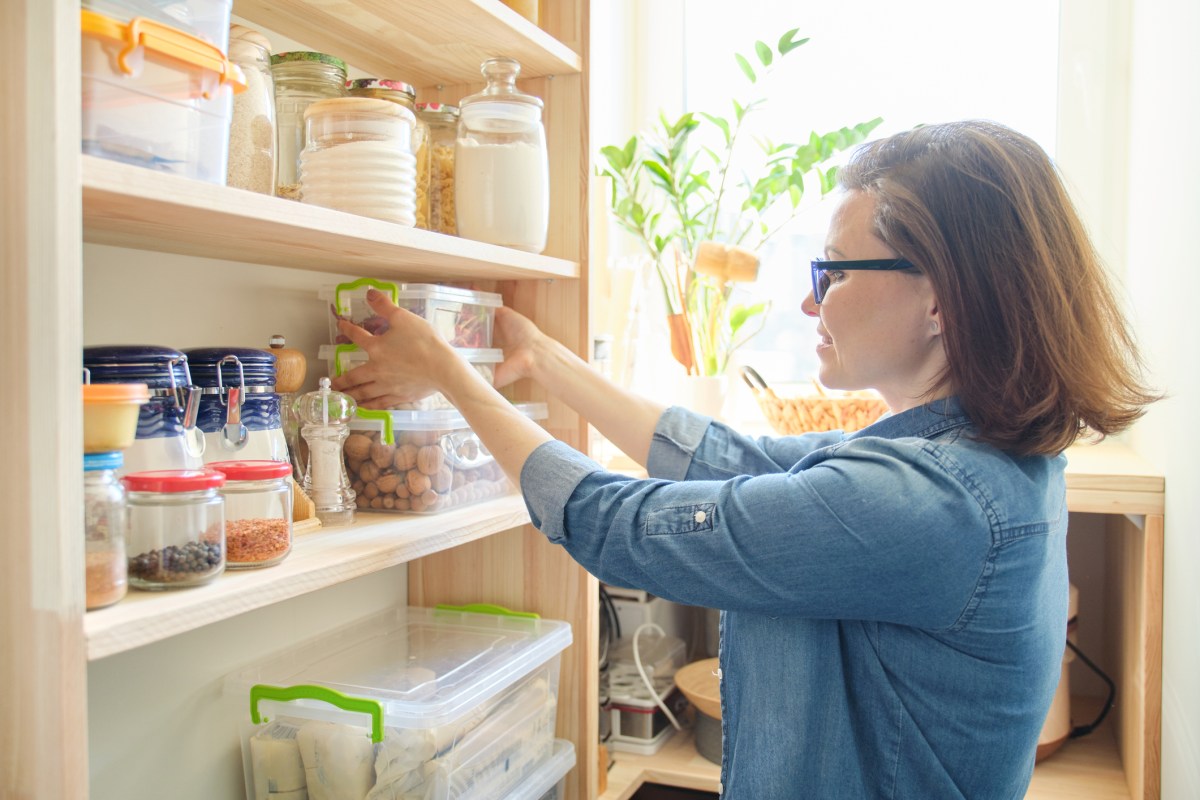 15. Stack flat containers
Who says your dry goods containers have to sit vertically? Flat containers work just as well and allow you to stack things logically. This could be a better way to make use of narrow but tall shelving when you'd otherwise have to shift things around.
16. Use sink caddies for packets
What do you do with all those seasoning packets, water enhancers, and other types of flimsy packaging? They get lost in bins and never stack well on shelves, but a sink caddy attached to the wall can keep them right in view and neatly stored. The same thing you'd use to store a sponge now puts your taco seasonings right where you need it.
17. Hang your snack bags
All those plastic pants and skirt hangers you get from the clothing store don't have to go in the trash, suggests The Kitchn. The clips are perfect for keeping bags closed. Use the wire shelving to hang the bags neatly in a row, utilizing both your under-shelf area and keeping snacks within eye view. Plus, you're reusing a common landfill item. Win, win, win.
18. Repurpose what you have
You don't have to go out and buy fancy organization supplies. You can use an old shoe organizer for door storage or that plastic shelf your sewing supplies used to occupy to hold spice packs. You can even repurpose old baking pans to wrangle supplies and prevent spills.
19. Use a bright color
Painting the back wall a bright color helps make your items more visible, especially if you use clear containers. The contrast between the bright color and the things you've stored gives your pantry, even if it's just a small space, a streamlined and intentional feel, says Bob Vila.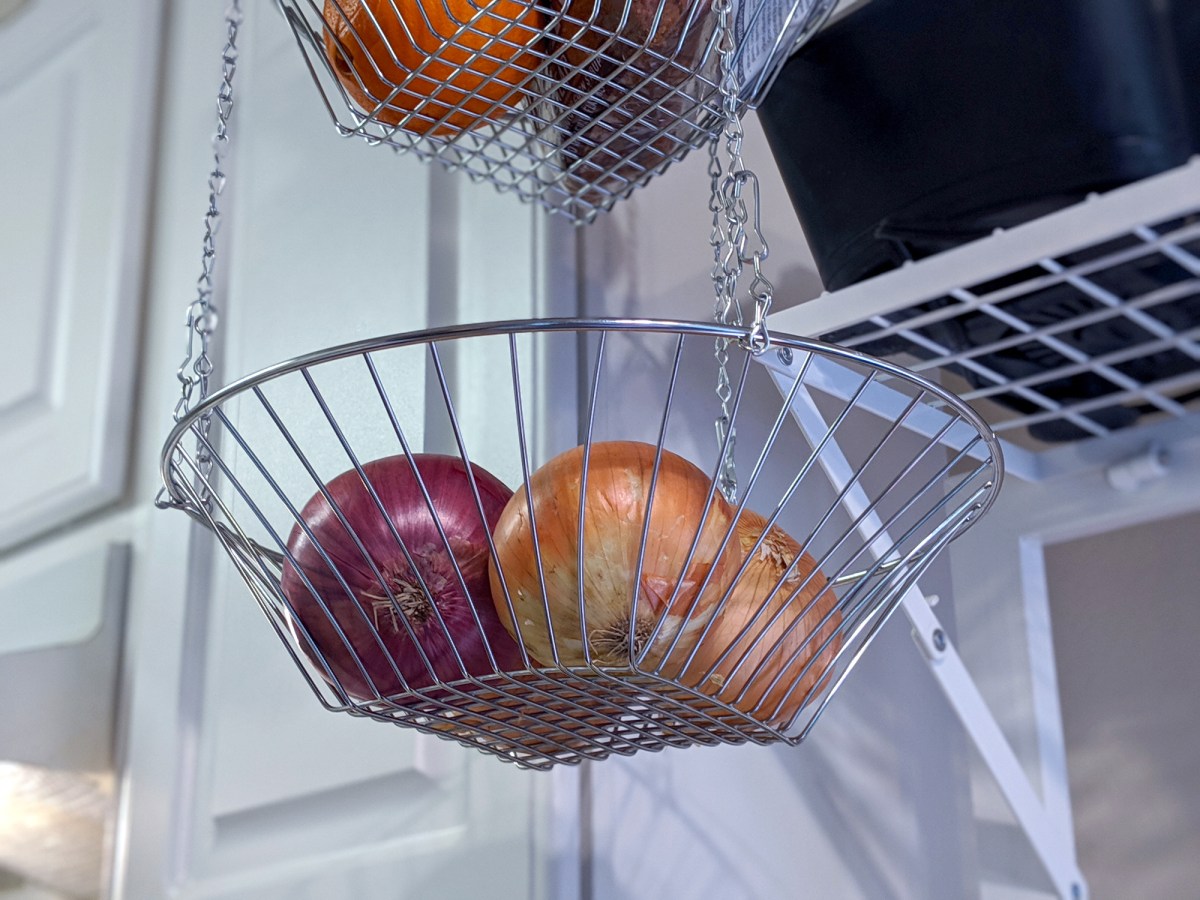 20. Use hanging planters
The Washington Post states, fruit and veggies need air circulation, and what better way to provide that than by using retro wire baskets? Hanging ones free up your counter space and prevents that forgotten bag of apples from going bad in the back of your pantry.
Organize using the whole space
Wherever you can fit small shelves, a Lazy Susan, or another storage hack, you should go for it. When things are organized, labeled, and purposeful, you'll be more inclined to keep your pantry organized. It'll feel bigger and less anxiety-filled in the long run.
Editors' Recommendations