In most homes, the kitchen is where people gather. Not just your family, but when you have guests over or entertain. Because it's where everyone seems to congregate, you need to have plenty of seating available for people to kick back and be comfortable. But it's not like you're entertaining every day, so you want to make sure the seating options and kitchen setup can accommodate extra seating when you need it, but still be functional for your family on a daily basis and not feel overcrowded.
One of the easiest ways to do this is by having a kitchen island with seating that you can add to (or take away from) when needed. Because people work, eat, do homework, and prep food in this room, kitchens need to feel spacious and not overly crowded, but also have enough room to add seating for guests. Here are just a few kitchen island seating trends to get you thinking and planning for your next big get-together.

Consider bench seating
Bench seating has risen in popularity around a kitchen table, but did you know it's become quite a splash around kitchen islands, too? Kitchen island benches, like this one from Pottery Barn, are versatile and make a big design statement. Not only is it functional, but you can fit several adults and even more kids when people come for dinner.
This setup allows for more seating than traditional bar stools and is ideal in a rustic or industrial kitchen. If you want something upholstered and a little smaller to fit your island, consider this one from Wayfair. You can tuck it under an island top and bring it out when additional seating is required.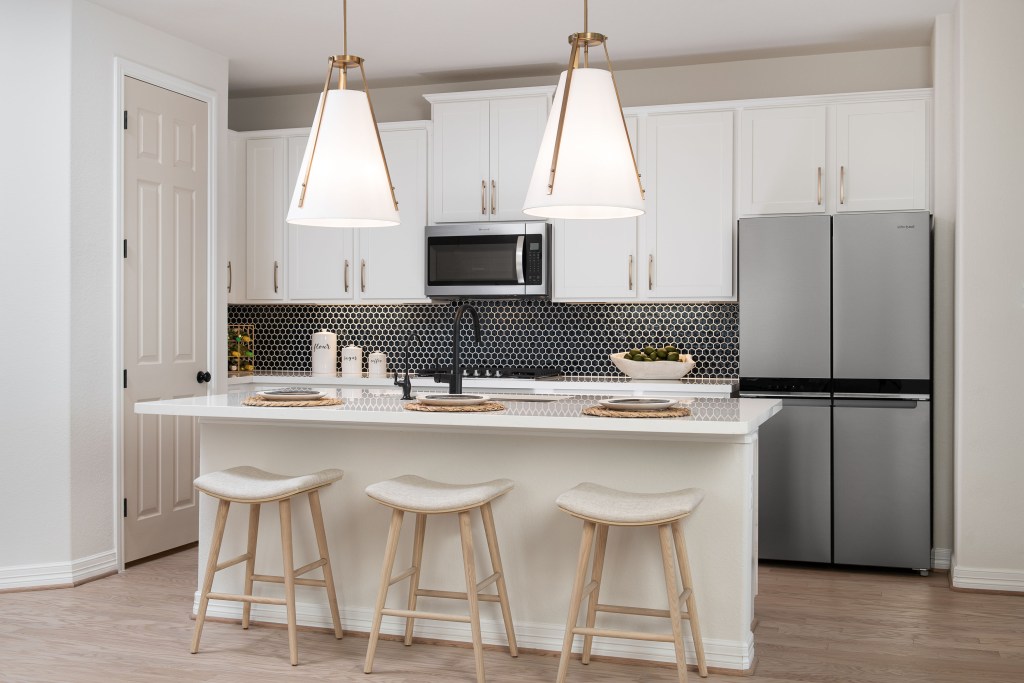 Arm vs. no-arm bar stools
If space is what you're looking for, bar stools with no arms allow for more seating that you can pack around a kitchen island. While seats with arms are traditionally more comfortable and refined, because of their width, you simply can't seat that many people.
I like to have the best of both worlds, so in my kitchen, I have two center bar stools with arms for the weekdays when there are fewer people eating around the island, mixed in with bar stools without arms. We always have spares in the storage room, so when people pop by, we can quickly add more stools around the island.

Mix-and-match seating
Another trend we're seeing is spicing things up a bit by having mix-and-match seating. Whether each metal bar stool is a different color or the same bar stools with mix-and-match fabric, it's a fun way to inject some personality — and color — into your kitchen. Depending on your aesthetic, you could be as daring as you'd like.
We've seen everything from every bar stool being completely unique (i.e., metal, wood, fabric, etc.) to coordinating fabrics in similar hues but different patterns. We also love choosing bold colors like blue, red, or yellow and buying them in pairs so every other one matches another.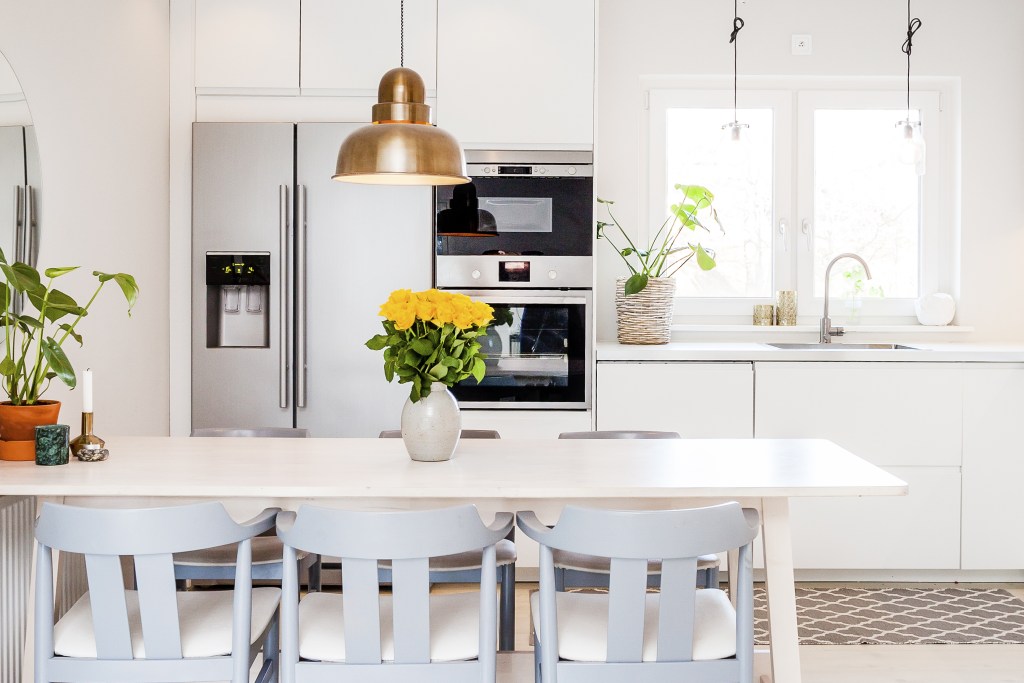 Use your kitchen table
If you aren't using your center island like you'd planned or want something entirely different in your kitchen, consider putting the kitchen table where a traditional island would go. It's been popular in the U.K. and Europe for decades, as kitchens tend to be smaller, and out of necessity, a table was the center of the kitchen.
Functionally, it's a wonderful way to gather everyone together in the heart of the home. It also offers a feeling of connectedness to have everyone in the kitchen seated, serving food to each other in a casual setting. Plus, you can get more chairs around a kitchen table, which works well for large families or those who entertain frequently.
These are just a few ideas to get your creative juices flowing when it comes to kitchen island seating and kitchen seating ideas. The best part — there are no rules for what goes and what doesn't, so use your imagination to design your kitchen seating in a way that works for your family and that considers when others come to visit.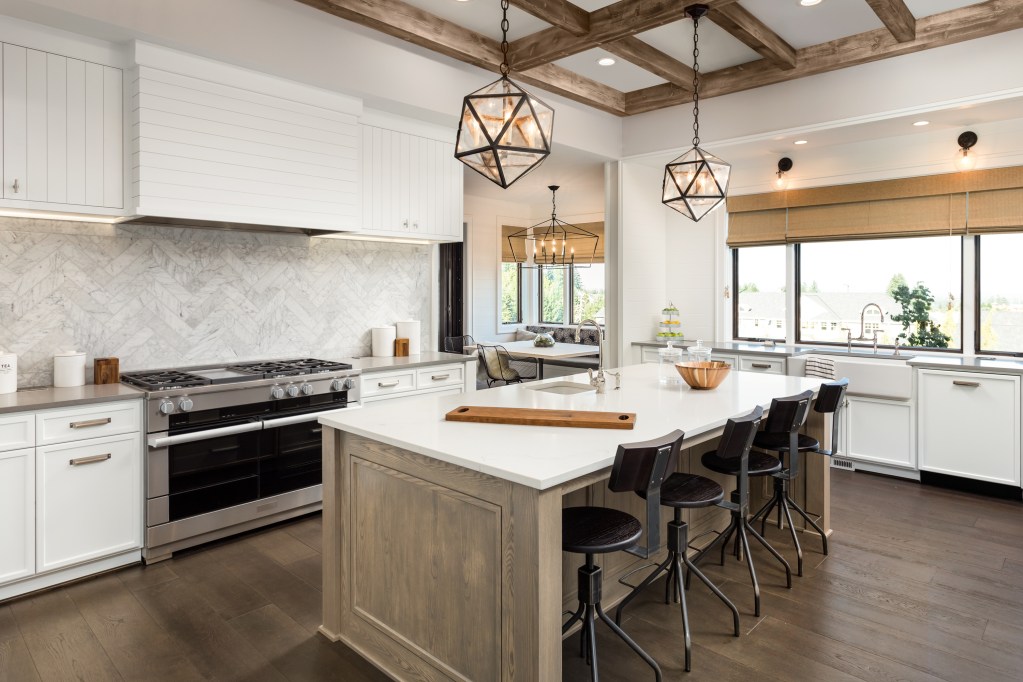 Here are a few things to consider when deciding on your seating. First, does it work for your family? For instance, if you have small kids, you may want to stay away from upholstered kitchen seating to avoid staining. Bench seating around the island may be good for small kids to keep them all in a row for feeding, but may not work if you have teens who are up and down and eating at different times.
Another thought is, what is the overall look you're trying to achieve in the rest of the room? If it's more farmhouse feeling, bright red bar stools may not work. Make sure your seating doesn't distract from the rest of the space. Finally, anyone who spends time sitting in the kitchen wants to be comfortable, so keep that in mind when choosing seating that works for everyone.
Editors' Recommendations