If you have the space in your basement for a bar, then you could have the opportunity to create the perfect entertaining space. Basement bars allow you to make use of your extra square footage to create a designated hangout where you can host gatherings, share a few drinks, and catch up with friends and family. So, today we're sharing six creative basement ideas that will help you create a cozy, inviting space to spend time with your loved ones.
Go for a classic pub style
If you want a classic design for your at-home bar, you can't go wrong with pub style. Pub style is rich, rustic, and perfect for a cozy atmosphere where you can celebrate with family and friends. Try investing in a stunning mahogany wood bar and classic wood built-ins to store drinks and glasses. Pub-style bars tend to have a lot of wood tones to help enhance that authentic, cozy feel. To create a space that wows your guests, opt for wooden stools with leather seats and a gold foot rail around the base of the bar for an added touch. Bring in more character with a carved wooden plaque with your family name, or decorate with some classic family photos to create a homey atmosphere.
Opt for a cozy farmhouse bar
Farmhouse basement bars are quaint and subtle. Light colors, small countertops, and open shelving are some of the most beloved aspects of this style. Try adding a small station made of a few cabinets and a sink to your basement for a simple farmhouse bar. White countertops on gray or washed-out blue cabinetry tend to be a popular color combination. Additionally, have fun adding a simple white backsplash or some open wood shelving to create a timeless drinks station. Glass cabinet doors and wood accents are also ways to incorporate a farmhouse aesthetic. And if you want to go a little further, add some small plants to tie the look together.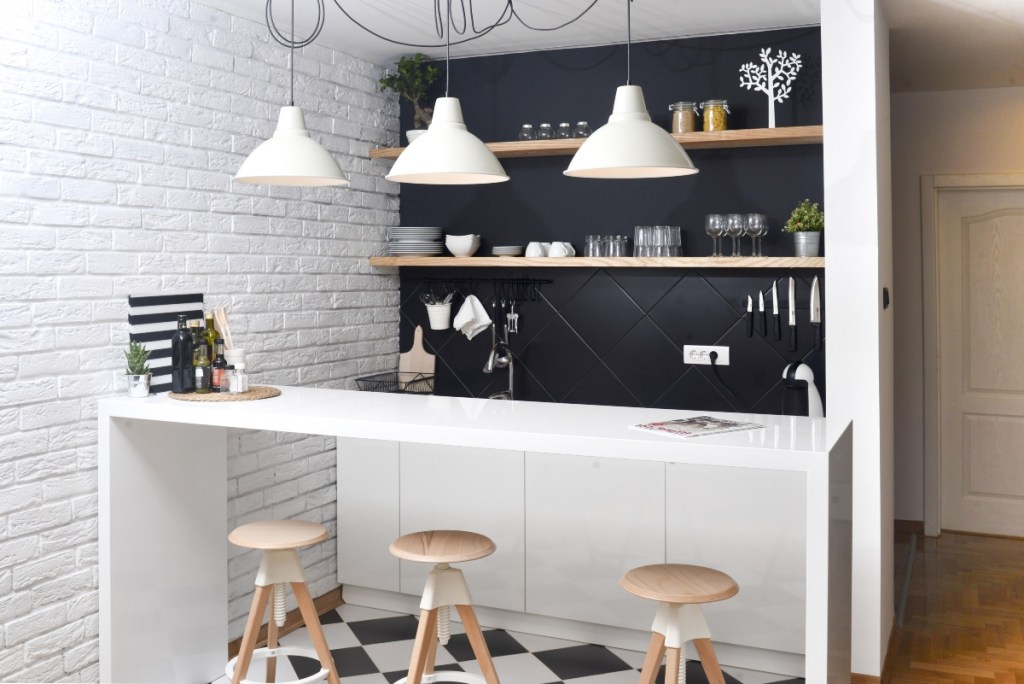 Try something minimal
For minimalists and modernists alike, a simple space with sleek black-and-white cabinetry may be best. Nix the upper shelving for a piece of wall decor and use a simple counter space and some stools for a minimal and modern bar area. Keep things clean by utilizing as much lower cabinet storage as possible, or consider adding a sleek black metal bar cart to your space. This style is also great for homeowners who don't want a large bar in their basement and prefer something small and subtle to accompany movie or game nights downstairs. Additionally, with minimal and modern aesthetics, you don't need to have a large sink or excessive details to pull off a classic look.
Take advantage of a basement kitchenette
If your basement already has a kitchenette, try using it as a part of your basement bar. Whether small or large, updating your kitchenette to suit your needs is a great way to save money. No matter your style, you can create a basement bar that excites your guests and partygoers. Update existing cabinetry by adding a fresh coat of paint. Or, lay down a new backsplash for added detail. Don't forget to add a wine cabinet or open shelving for a modern look. If you have the room, extend your kitchenette to create an island perfect for bar stools and additional seating. Depending on your space, your options could be limitless!
Create a mini bar in a tiny space
If you don't have room for a full bar, try using a bar cart to create a mini station in your basement. Bar carts are great because they are compact and mobile. You can keep your cart in a corner or even in the closet when not in use and pull it out for parties or family gatherings when you're ready to entertain. Alternatively, you could purchase a large cabinet to place against the wall. Choose one with plenty of storage and shelving and a small space to prepare drinks. This is a super affordable, fantastic option for homeowners with limited space.
Try out an industrial style
If you're an industrial enthusiast, you may be looking for ways to bring your style to life in your basement bar. Try adding a brick wall behind your bar if you can. If real or decorative brick isn't plausible in your space, a faux brick wallpaper alternative could be the solution you're looking for. Additionally, try adding open shelving with industrial piping as the support. Metal stools, pendant lighting, Edison bulbs, and raw wood are other design touches you can implement to pull off an industrial look.
If you're wondering what you should add in your basement bar, these six ideas can be the solutions you've been searching for. They're fun, creative, and open-ended to allow you to customize your space as you see fit. So spend time curating a design that reflects your personal style and have fun entertaining your guests!
Editors' Recommendations