The kitchen is the heart of the home. You want it to feel warm and inviting, whether you're cooking, entertaining, working, or catching up with family at the end of the day. If you have an eat-in kitchen, that's just one more consideration when laying out the flow and design of the space. You want to make sure there's enough room to easily access the table and space to serve guests while still allowing for natural traffic flow in the rest of the room.
We'll highlight eight stunning eat-in kitchen designs to get your imagination flowing for what could be possible in a kitchen remodel or redesign for your home. These eat-in kitchen decorating ideas will help you get started, depending on your kitchen's size and your budget.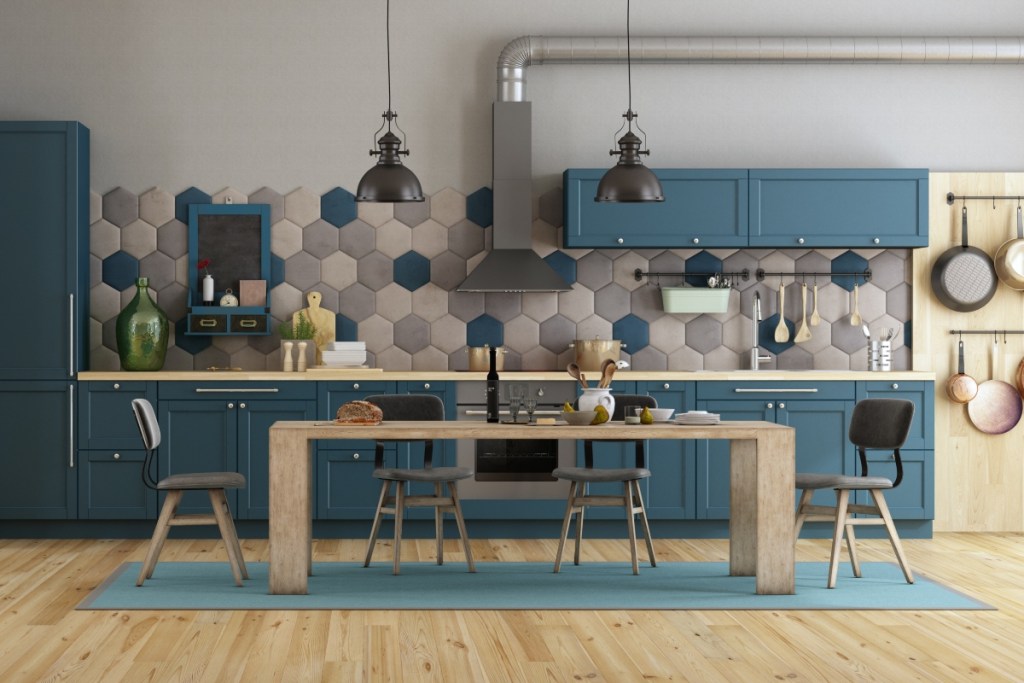 What is an eat-in kitchen?
An eat-in kitchen is a place in your kitchen where you can sit down and enjoy a meal. It is considered more casual than a formal dining room. Many people who built houses in the past decade did so without a formal dining room because they preferred a more casual feel when eating and entertaining. Eat-in kitchens can take many forms, from banquettes to breakfast nooks to seating around a kitchen island. If you have a large kitchen, you could put a kitchen table in as well. However you and your family are comfortable eating meals together is how you should design it!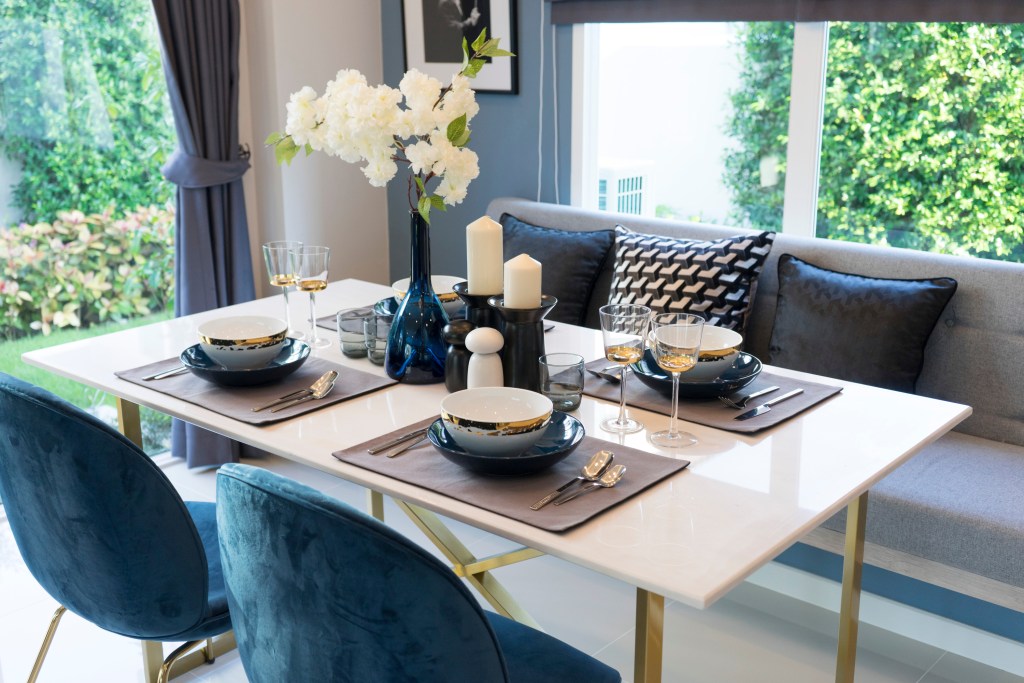 What are some options for eat-in kitchens?
If you are a family that's always on the go, an eat-in kitchen provides the flexibility and convenience you need.
Opt for a corner nook
We love a corner nook banquette with bench seating on one side, so people can slide in and out and feel comfortable while they eat. These are great in galley kitchens at the end of the room next to a big window.
Add a long table for versatility
If you've got a wide, large kitchen and don't need the storage or prep space of an island, swap it out with a long kitchen table instead. You'll still have the flow around the table itself and can easily grab whatever you need from the fridge or surrounding countertops. Plus, the table can easily be moved depending on your needs. Hosting a large function and need to change the layout to accommodate everyone? No problem.
If you don't have as much space, choose minimalist furniture like kitchen chairs or a bench that can be tucked underneath the table for more room.
Go for unique shapes
If you don't have a perfectly square room or are short on space, think about a unique kitchen table shape to get the most out of the space. We love long, oval tables with bench seating on one side and chairs on the other, which work in a more narrow room.
Embrace a monochromatic palette
Another option to consider if you want the room to feel more spacious is selecting a monochromatic design in which your island or kitchen table matches the chairs (think all ivory countertops, tabletop, and chairs). This allows you to highlight other decor in the kitchen rather than focusing your attention on large furniture.
Invest in the details
To add to the comfort of the space, make sure you have an area rug underneath the eating space to give it a warm and inviting feel. Overhead, choose a decorative chandelier or pendant lights that will give you plenty of brightness when you eat and gather. Finally, connect the table decor to the rest of your kitchen with similar colors and styles so the spaces tie together. Once you're done, you'll have a casual, cozy space to work, eat, and play.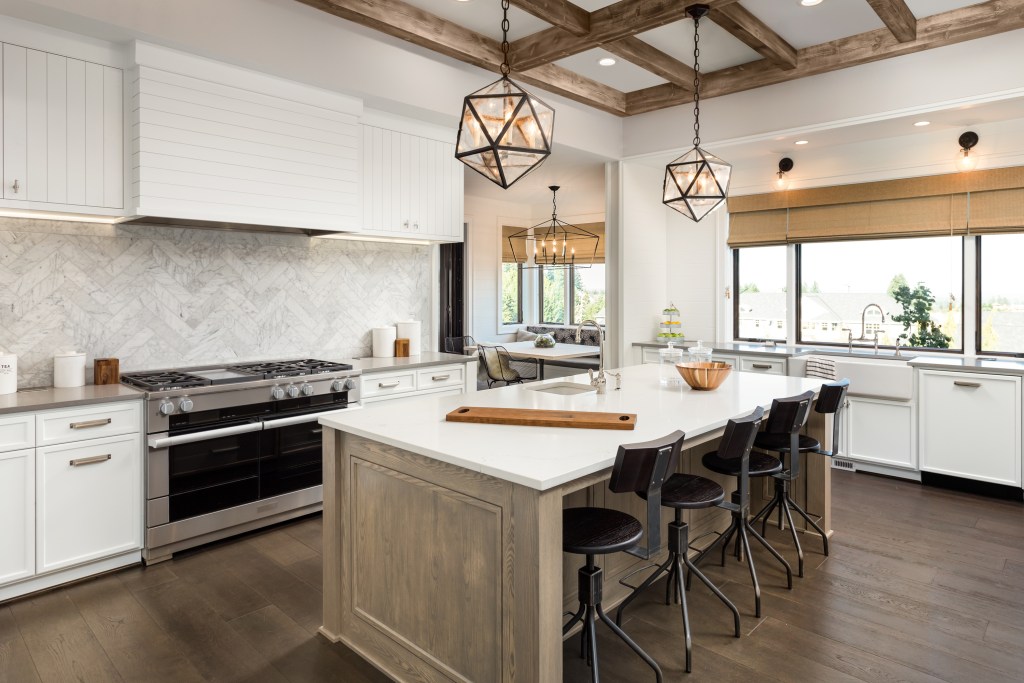 Options for an eat-in kitchen island
We love gathering around a kitchen island to eat. Making sure it's cozy is all in the placement of the furniture.
If you don't want to sit all in a row, add an island with half of it built as a table, so chairs can face each other and then tuck underneath when not in use.
If you are replacing your island countertop, consider one with a rounded end so people can face each other more easily.
Finally, make sure the seating itself is comfortable — we love barstools with back support that provide enough cushion that you can sit and stay awhile.
The goal is to make where you eat fit as seamlessly as possible into your overall kitchen design. That means something different to everyone, but having an area that can be used for both eating and prepping, like a kitchen island, makes the room feel cohesive. Similarly, if you decorate a banquette bench with pillows and other textiles, it can transform into a space for kids to do homework or you to work when you're not eating.
Editors' Recommendations