New Year's Eve is a night for celebrations with friends and family, but your party doesn't have to be expensive to strike the right tone. If you're hosting a New Year's Eve bash and don't want to break the bank doing so, don't worry. Decorating for New Year's Eve on a budget is possible, and we have some great ideas for you — ideas that go beyond the typical 2022 glasses, hats, and signs. And if you're into arts and crafts, we have some excellent ideas to DIY that can be fun for the whole family.
Tack art
Using a black foam board to create festive tack art is an inexpensive way to create a decorative piece and use your imagination. All you need are tacks, a pencil, foam board, and an idea (or print out someone else's design).
Champagne glasses, fireworks, or simply the words Happy New Year 2022 will look great as a backdrop on your mantel, buffet table, an easel stand, or behind your bar. Simply trace your design onto the foam board (making a slight indent is the best way to approach this), and start pushing the tacks into the board along the indentation.
The best part is, if you make a mistake, just pull the tacks out and start again — no one will know. If the tacks end up sticking out of the back of the foam, be sure to put a towel or other padding behind it, so you don't scratch the wall or table.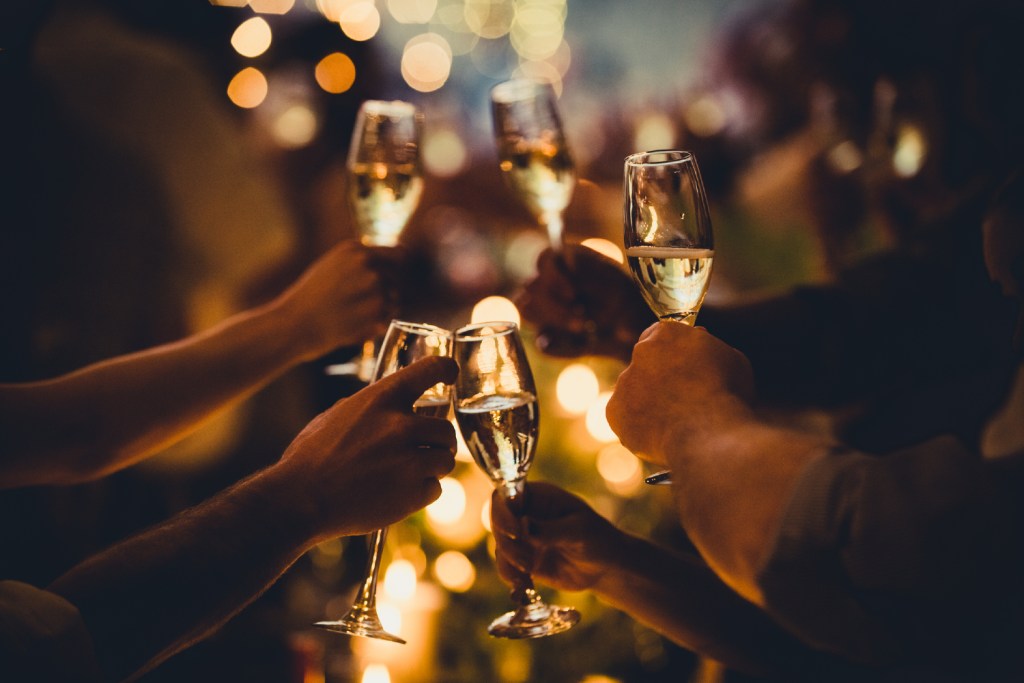 Festive tulle backdrop
If you have a bar area that needs to be dressed up, a great solution is to hang ornaments from tulle as a backdrop. You can use a suspension rod to hang the tulle and ornaments at different lengths (think silver and gold bulbs). If you don't have a bar but still want to use this idea, you can use hooks to suspend clusters of bulbs; or, drape a long strand of tulle across the wall using tacks, and hang the bulbs from that. You could also hang bulbs from an actual curtain rod if need be. If it's within your budget, add a few strands of LED lights, and your decoration will be complete.
Make your own confetti
Throwing confetti is a New Year's Eve tradition, but there's no need to spend money on tiny pieces of paper that will just end up in the trash. You can use pages of magazines you've finished reading or any scraps of paper to create colorful confetti. Use a hole punch or shredder to make confetti out of junk mail or even old sensitive paperwork like bank statements. The pieces will be small enough to keep your personal information safe, and you'll be using paper you would be shredding and recycling anyway. This is a great way to get the kids involved, too — they will love shredding and hole punching all of the paper.
Decorating tips
Don't feel like you have to adorn every square inch of your home. Save money by decorating the main area(s) that your guests will gather in.
Music is critical. Appropriate background music will get the festivities going and keep the night on track. You can turn on the TV as it gets closer to ball-drop time.
Dim the lights and light some candles — this will create a festive vibe in the rooms that you aren't gathered in, like the bathrooms.
Reuse holiday decor — remove the string lights from the Christmas tree and hang them from the walls or ceiling for your New Year's Eve party. You can also reuse sparkly ornaments and bulbs (like we mentioned above).
Repurpose regular home decor items for the night. Turn old wine bottles into candle holders; champagne glasses can hold nuts or candies; and beaded necklaces draped over lights can add some color and twinkle. Get creative!
Hosting a New Year's Eve party doesn't have to be an expensive event. With a little DIY and some imagination, you can create a festive and elegant ambiance without breaking the bank. Most of the ideas above are kid-friendly, which means you can get the projects done while having a fun family day. With a few supplies from the craft store or items you already have laying around the house, you can set the mood for whatever kind of New Year's Eve party you want. Don't be afraid to think outside the box — it doesn't have to be all champagne and noisemakers to be a great New Year's Eve.
Editors' Recommendations