You don't have to spend a ton of money for a complete bathroom remodel. In fact, with some smart styling choices, you can give your bathroom a brand-new look. We'll give you some easy, budget-friendly bathroom-styling tips, from reorganization hacks to window-covering transformations. Our tips cover small, DIY projects to inexpensive decor that won't break the bank.
Replace old bathroom hardware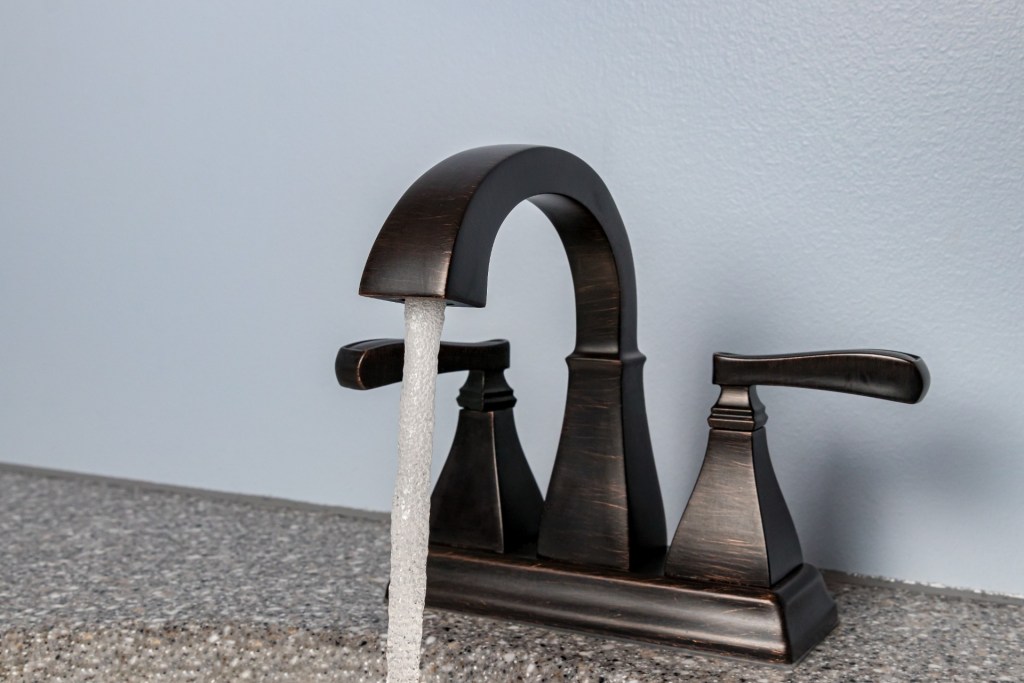 Handles, knobs, and other metal hardware in your bathroom may need an overhaul, but you can liven it up by choosing fixtures made of contemporary brass or stainless steel in a black power finish. Choose minimal, recessed designs to make your bathroom feel more contemporary.
There are additional accents to pay attention to, which include soap dispensers, toothbrush holders, towel racks, TP holder, and shower head. Keep the metal hardware consistent throughout.
Change the wallpaper
Replacing your old wallpaper or putting up a new some over bare walls is a sensible way to revamp your bathroom on a budget. Larger bathrooms can get away with a single accent wall, but smaller bathrooms could benefit from the same wall covering throughout. Anything soft and floral is a safe bet, but don't be afraid of geometric patterns like stripes and diamond tiles.
You can go in any direction with bathroom wallpaper — choose tropical fish patterns to leopard print designs, or even a simple design. Just make sure the wallpaper is approved for bathroom use — that it is durable enough for daily humidity and water splashes.
Go for an unconventional window covering
If there's a window in your bathroom, choose roman shades in neutral tones like blue, gray, or beige. There are also blackout models available if you're concerned about privacy or want a curtain that helps with insulation. If you decide not to go with a traditional window covering, you can place a frosted film on it. It assures your privacy and is very durable in the bathroom. Even then, you can still add a window covering over the film if you want the extra layer of fabric for aesthetic reasons; it's up to you.
Install inexpensive vinyl flooring
Vinyl sheets or vinyl tiles are inexpensive alternatives to more conventional materials. They're also very easy to install and hold up well against moisture and stains.
Honeycomb patterns are especially popular, though other designs like mosaic and aged wood look equally impressive. Another go-to is a two-tone tile scheme if you want to provide a vintage style.
Get a new towel rack
Instead of using wall-mounted towel rings, choose a freestanding tiered towel rack instead. Some resemble traditional standalone racks. Racks that have finishes of black marble, brass, stainless steel, and chrome are all great choices. If you're trying to create the feel of an organic spa, choose wooden ones; bamboo and teak both tolerate moisture well.
Take a cue from the outdoors
Another easy way to style your bathroom is with plants. Bring in a large bird of paradise or split-leaf monstera if you want a single focal point. Or, you can spread out various plant species throughout the room. Just make sure they can hold up to a lot of moisture and humidity. We recommend mixing it up with hanging vines, bushy potted varieties, and tall species. Keep the pots and planters in a coordinating color scheme. This is a great opportunity to add some color your bathroom or introduce some new prints.
Pick a colorful bath mat or rug
If your bathroom is in need of some color, choose a colorful bath mat is a good solution. Abstract circles, rainbow stripes, or geometric patterns — whatever you'd like. You don't have to stick with plain old rectangular or square rugs, either. Play up its lively colors by choosing an irregular shape like an asymmetric circle or teardrop piece.
Mount some open shelving with bottom hooks
You can increase storage space and liven up your bathroom with small open shelving. Install shelves in staggered rows for a quirky look that doesn't look out of place. Mount an additional panel underneath the lowest shelf with hooks for hanging towels and clothes. Keep small items on top or add a small succulent for a dash of green.
Choose unconventional clothing hampers
Replace your aging plastic hamper and invest in some high-quality, natural fiber hampers in intricately woven designs. Sisal, jute, cattail, and bamboo are all long-lasting choices that also make any bathroom look crisp and sharp. Line them with linen fabric and purchase matching sets in different sizes for a cohesive look. Two-tone designs like natural fiber and white stripes are classic, but plain styles give you additional customization later.
Compared to other parts of your home, revamping your bathroom doesn't require buying an entirely new furniture set — unless you're in the market for a new tub. Styling your bathroom on a budget is possible. We hope our styling starter guide has given you some inspiration. Whether it's a different towel rack or new flooring, these tips are sure to give your bathroom a fresh, brand-new look.
Editors' Recommendations