Midcentury modern is a classic style that has quickly risen to popularity (again) in the past few years. Pairing well with minimal aesthetics and those looking to introduce subtle pops of color, the midcentury modern craze brings a welcome splash to interior design. To get you started with this design, we've gathered some of the most important do's and don'ts for a timeless and gorgeous midcentury modern bedroom.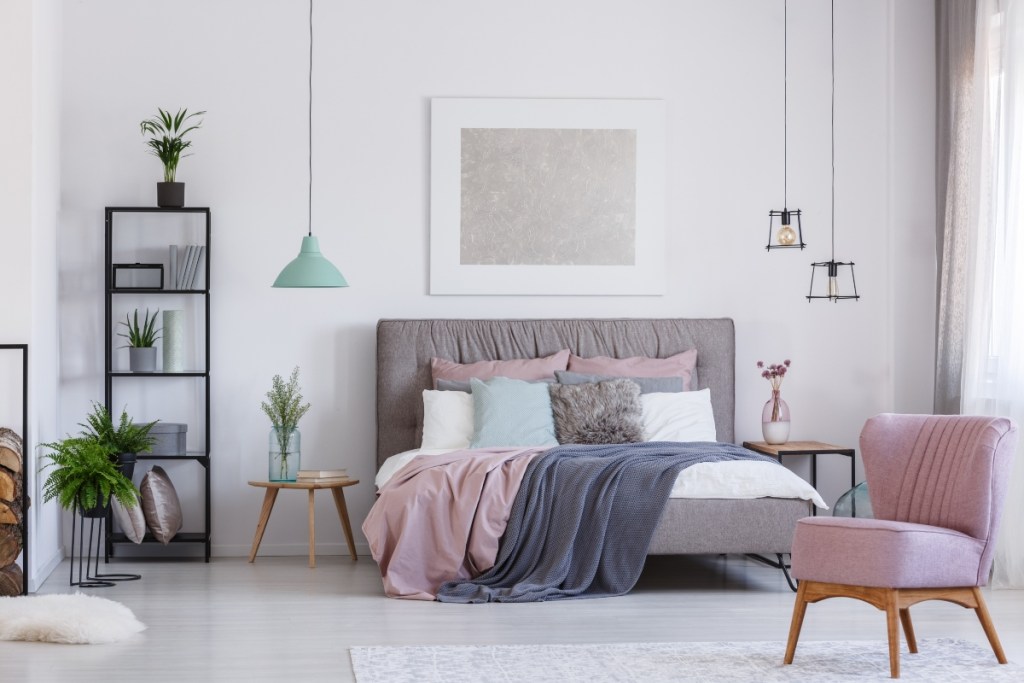 What to know about color palettes for a midcentury modern bedroom
Before you jump right into purchasing all of your midcentury modern furniture to suit your new aesthetic, it's important to nail the proper color palette.
Do use warm colors throughout your palette
Above all, you'll want to stick with warm colors throughout your color palette. Midcentury modern bedrooms look best with warm tones like rust, orange, mustard, red, maroon, or deep brown. Try to opt for a warmer color palette and blend in cool tones to help maintain balance. When choosing cool tones to help balance the color palette, we recommend opting for a modern white or pale cream for a natural look.
Don't go too crazy with pattern
While midcentury and retro design trends interior designers never want to see return are well known for their use of pattern, it's vital your modern take does the same with subtlety. Pick one or two patterns to accompany your design. Geometric styles work best for a midcentury modern look, especially squares and circles, which will allow you to match your furniture pieces in an organic way.
If you choose to use a fun geometric wallpaper, try to limit the number of patterns used throughout the rest of the room. Too many patterns can make your design clash or look kitsch. For a modern look, it's best to keep things minimal.
Do keep your palette simple
Modernity favors simplicity, so it's best to keep your color palette as minimal as you can without allowing your palette to become too barren. We recommend using four to five colors in a midcentury modern palette. A good example of this is to use white, cream, dark brown, rust, and orange. A palette like this will allow you to have a sleek and modern look while also incorporating midcentury details like wood furniture, colorful rugs, or fun wall art.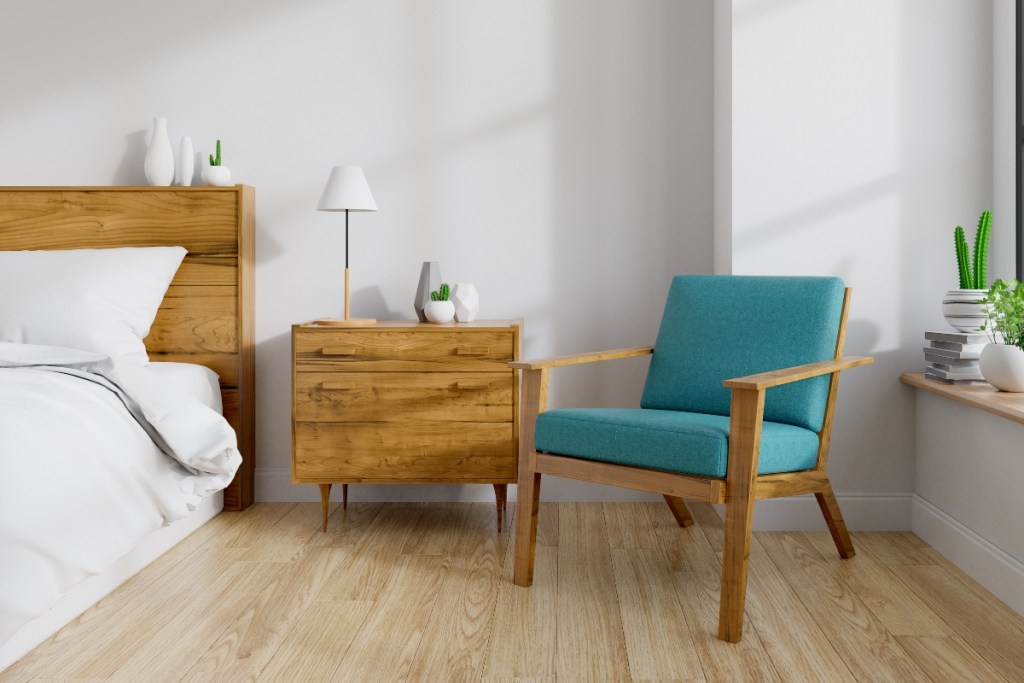 What's the best midcentury modern furniture for your bedroom?
Once you've got your color palette planned, it's time to purchase some midcentury modern furniture. The items you pick will help tie your design together, so investing in the right pieces is important.
Do use raised furniture
Raised furniture was all the rage during the mid-century. Hairpin legs, raised sofas, sleek side tables with pencil-like legs, and modern clawfoot chairs are fantastic examples of how to achieve this. Using raised furniture in your midcentury modern design will also open up the look of your space, allowing it to feel more expansive. This is because your room looks larger when you can see more of the available floor space. Try purchasing some raised side tables or a raised bed to create the perfect look.
Don't stick to only one geometric look
When creating the perfect midcentury modern master bedroom, you can't stick with streamlined furniture. Now is the time to use different geometric shapes and patterns to your advantage. Mix and match shapes throughout your design; for example, pair square side tables with a rounded corner chair. Or, opt for a circular rug beneath your bed. Shapes and geometric patterns are the best way to create a cohesive midcentury look.
Do opt for some fun pieces
Of course, you can't have a midcentury modern space without a few fun and funky pieces. For example, get a bookcase with an odd geometric style. Or, get some funky decor pieces like a retro clock, old movie posters, or a fun vase to make a curated look. Globes, fun wall sconces, circular mirrors, creative bookshelves, and record players are also some fun pieces you can add to your room to create the perfect midcentury-themed look.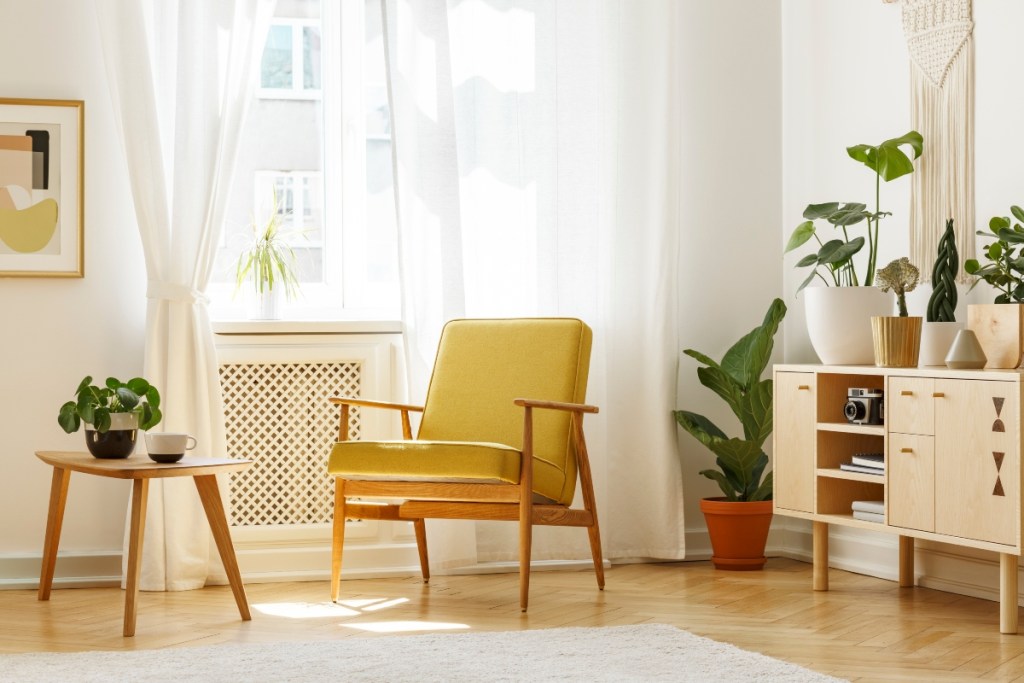 What should you use for a midcentury modern look with lighting?
Lighting is a crucial way to set the tone of a space. The type and style of light you choose will create the mood for the space, and for the bedroom, you must pick something that both expresses your unique style while also serving as a means of relaxation.
Do try something unique
Midcentury modern lighting is fun, spunky, and creative. The light fixtures used in these designs are often unique, ranging from asymmetrical chandeliers to circular pendant lights. If you're looking for a stunning centerpiece for your room, try a special globe light or a geometric pendant light to take center stage in your space. The more eclectic your light fixture, the better it will suit the midcentury modern aesthetic.
Don't take the traditional route
One thing you don't want to do when choosing a light fixture for your midcentury modern bedroom is to choose a traditional light. Traditional lighting can feel out of place in the revolutionary and artistic midcentury space. So, it's best to avoid ceiling fans, classic chandeliers, or half-round ceiling lights. Instead, try to break out of the traditional style and experiment with something more vibrant and exciting.
These are some of our best tips when creating the perfect midcentury modern bedroom. Have fun playing around with warm colors and opt for some unique retro pieces that are sure to make your design stand out.
Editors' Recommendations