Midcentury modern design has remained a popular choice for decades. The clean lines, sharp edges, and built-in symmetry make it a stunning choice for a bedroom, office, dining room, or living room. But because of the stark design of the furniture and decor, this style can come across as feeling cold and uninviting. The good news is that there are ways to create a cozy midcentury modern living room with a few tips and tricks for color and texture.
Start with the furnishings first, and get those set in place in the room. Once you have those picked out, you can add cozy elements throughout the room to support the design choice but still leave it feeling warm and inviting.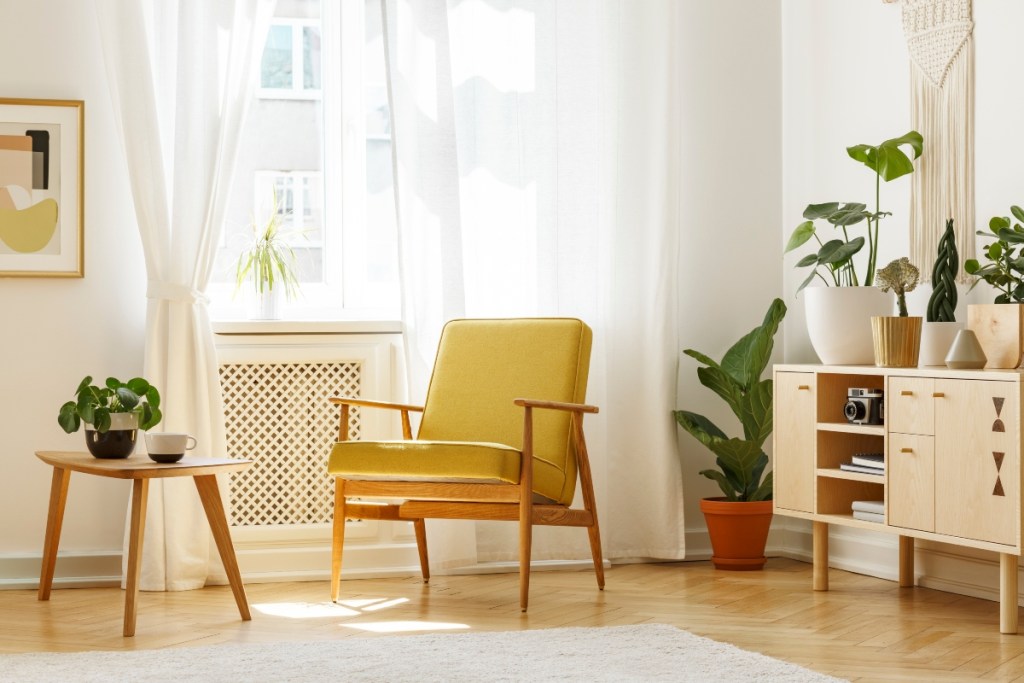 Can midcentury modern be cozy?
The short answer is yes. You can have a foundation of midcentury modern furniture and incorporate other elements to make it feel snug and warm. By following a few (or all) of these tips, you can transform your living room from cold to cozy in no time.
Opt for warm metals and natural wood
Choose tables, lighting, and curtain rods that have warm metallic finishes, like matte gold. This will complement the overall design but make the room feel warmer than, say, stainless steel or chrome. You can also choose natural wood for the coffee table, chair legs, and side table to make it cozier.
Use wallpaper with a geometric pattern
Another idea is to add wallpaper or shiplap to your living rooms walls, either throughout the entire room or on a feature wall, to create some tranquility and character. To keep with the midcentury modern vibe, choose a geometric pattern but pick warm colors like gold, sage, and ivory.
Introduce comfortable touches to your couch
Midcentury modern features clean lines, but the materials can still be welcoming and comfortable. For instance, look at soft leather couches or a tufted pattern to cozy things up. Instead of black or dark grey, choose a brown leather to keep things cozier. Then, you can layer on throw blankets in warm tones of ivory, green, and mustard yellow. You can also add throw pillows with textures like ribbing or tasseled edges.
Include an area rug
Finally, don't forget about the floor. Place area rugs under your midcentury modern coffee table to soften up the space.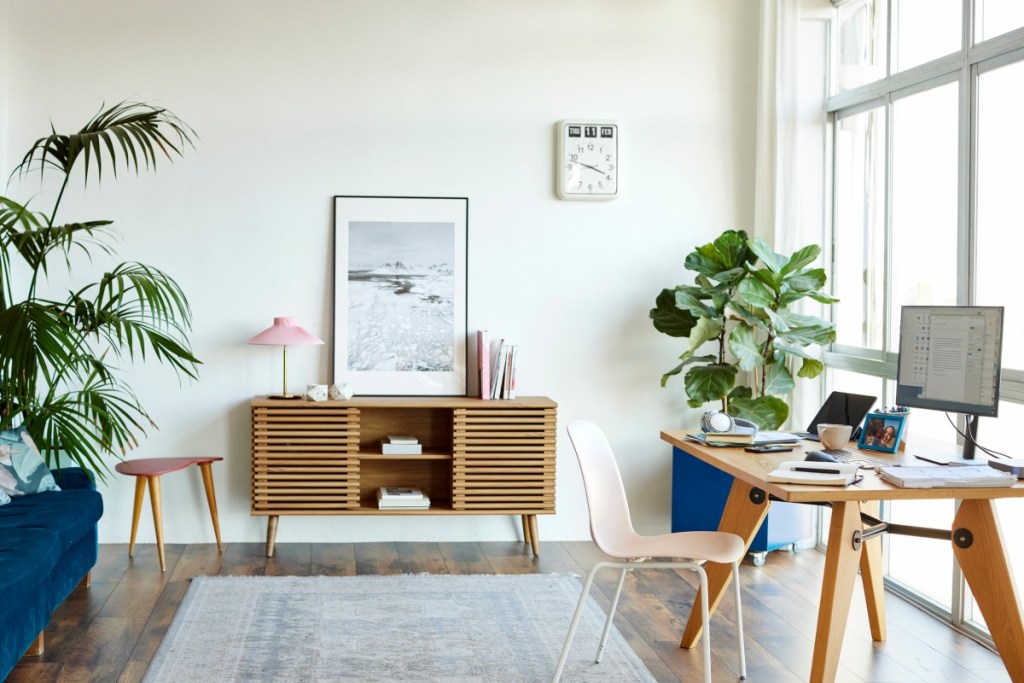 How can I use natural elements for a cozy midcentury modern living room?
Natural elements like house plants, wood decor, jute rugs, and rattan or wicker baskets that house blankets or books are another way to create a cozy environment without giving up the midcentury modern feel of the room. Mix and match warm metals with wood to keep it interesting. Choose earth tones such as midnight blue, grey, or mustard yellow for the wall color or artwork. This helps envelop the room in a natural palette that doesn't stray too far from the tones of a midcentury modern aesthetic.
If you choose darker walls, make sure you have plenty of light coming from windows and light fixtures to keep the space warm and inviting. Perhaps use a see-through curtain in a linen fabric that complements the natural tones but still lets light into the room.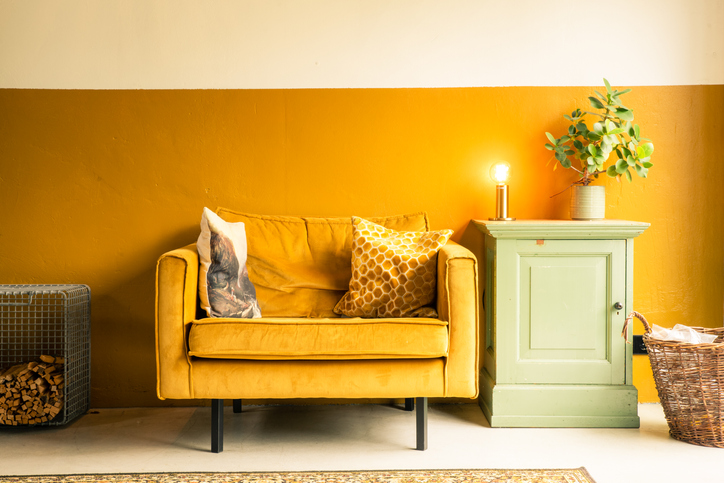 What wall decor should I use for a cozy midcentury modern living room?
You can add more modern elements while still keeping things cozy via framing. As with furniture, mixing warm metallic frames with darker wood ones on a collage wall allows you to use more abstract art that jives with midcentury modern design without the decor feeling cold.
Shelving in one corner with old books and smaller plants can bring the entire look together. You can mix and match designs without losing the integrity of midcentury modern design. Keep it to three or four colors, incorporating them in textiles, couch fabric, wall decor, and wallpaper, for a cohesive look.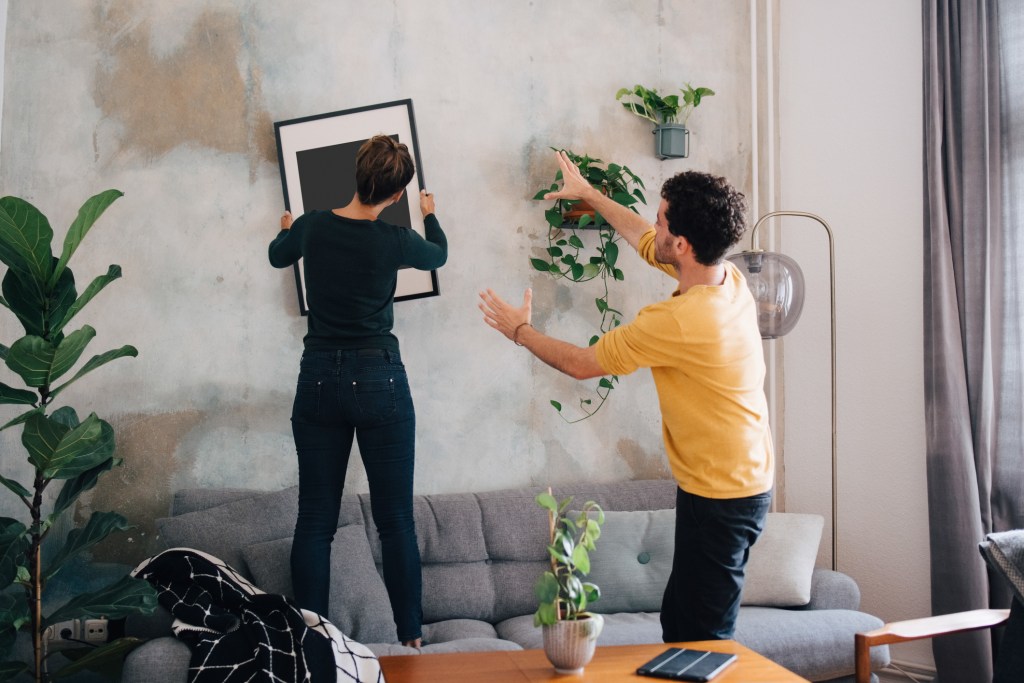 Midcentury modern style is sleek, clean, and a nod to the past while still feeling current. The organic and geometric shapes won't be lost by bringing in cozier elements. In fact, it can complement them in a way that's interesting to the eye. Adding natural elements is a common practice, and items like house plants and jute rugs will play into the aesthetic but keep things warm and inviting for when you entertain guests or have a family movie night in the living room. Topping it all off with candles and dimmers for your lights, as well as hanging string lights above the fireplace mantel, will also go a long way to making the space feel inviting.
While midcentury modern isn't the first thing you think about when you think of cozy, it is easy to transform your space into a relaxed, comfortable place to sit back and relax.
Editors' Recommendations