The artwork you choose to display in your home is an enormously personal choice and one that will absolutely affect your home's design aesthetic. You don't want to just throw a few wooden boards with cliche words up on the wall and call it a farmhouse chic design, right? Instead, your artwork should express who you are and the environment you want to live in. When choosing decorative artwork for your walls, there's no wrong answer, as long as the pieces speak to you.
That doesn't mean there aren't trends and design cycles when it comes to artwork for a home. Just like everything else, art is cyclical. If you're looking for some decorating inspiration, read on to discover what artwork interior designers are choosing to adorn rooms with.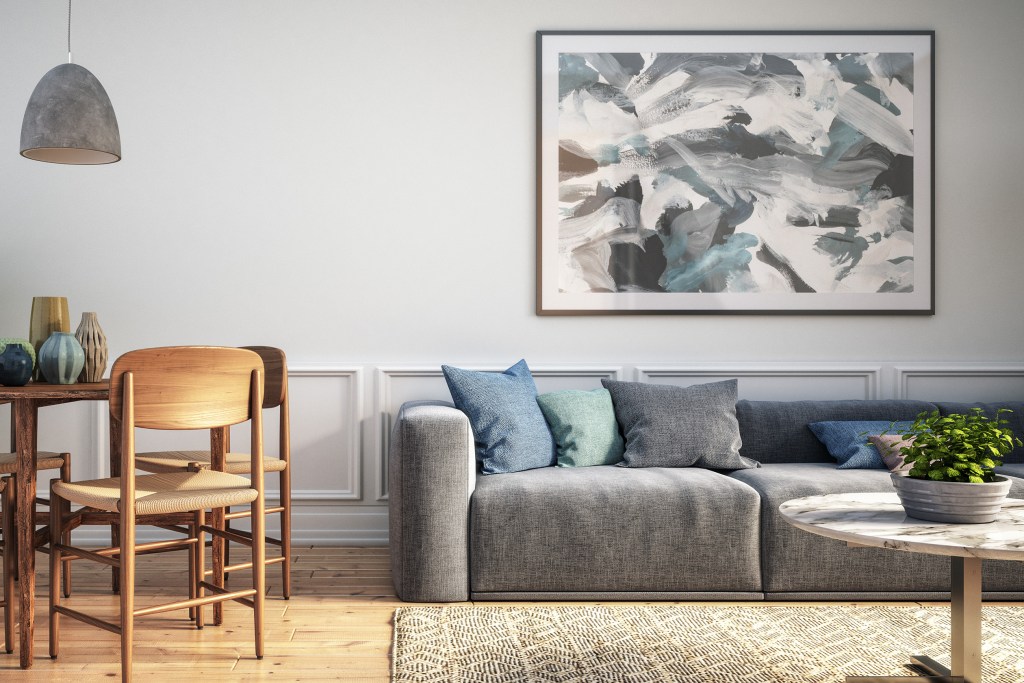 The trendiest art styles today
To gain some insight into this year's biggest design and art trends, we can turn to some design experts. Design marketplace 1stDibs recently released its annual Interior Design Trends Survey. More than 750 design professionals worldwide shared their thoughts on the most prominent color, design, and art trends to look forward to.
Abstract art is still the most popular style today, as it is the only style that a majority (54%) of respondents said they would use. The next two most prevalent types are contemporary and modern styles.
Designers also expected to use more sculpture to decorate, with 48% stating that they plan to use it more and 41% saying they will use it the same amount year after year.
Drawings, photographs, paintings, and prints all remain popular art pieces, with more than half of the designers indicating that they would incorporate them into projects at the same rate every year.
The least popular medium? Posters and ephemera — 17% of designers said they would use less of them in their designs, and 44% said they already don't use them.
How to incorporate art trends into your home design
Redecorating your home is always a fun and exciting prospect. And with current trends, there is so much room to play around and really choose pieces that fit your aesthetic and style. Ready to get started? Use these tips to help you choose and display the best decorative art for walls.
Choose pieces you love
When decorating your home, you should hold one piece of advice above all others: Pick artwork that you love. Don't choose something just because it's trendy or popular; after all, you're the one who has to look at it every day. That said, abstract, contemporary, and modern art styles are fairly broad categories, which makes it simple to find pieces that are both trendy and visually appealing to you.
Don't know where to begin looking for art? Take a hint from expert interior designers. Around 31% of respondents to the 1stDibs survey said they sourced their art online, followed by art galleries and Instagram.
Ease into the abstract with neutral colors
When people think of abstract and modern art, they generally picture canvases abundant with colors and shapes. But these art styles encompass so much more than that. Not every abstract piece looks like a Jackson Pollock painting! To immerse your home in these art styles gently, try to find more minimalistic pieces that use neutral colors. Artwork with simpler graphics can fit seamlessly in almost any room and offer the sophistication of modern art without overstimulation.
Think about scale
In addition to the visual style of the piece, you should also consider the size. Whether you're shopping for wall hangings or sculptures, it's crucial to consider your space first. If you have a small or medium apartment with minimal wall space, a smaller piece won't overwhelm the space. For freestanding sculptures — Hellenistic design is having a bit of a moment — err on the smaller side unless you have vast open spaces in your home. Small statues are easy to place on shelving or in exposed storage throughout your home.
Display your art properly
When hanging wall art, it's generally recommended to place paintings at eye level. For sculptures, make sure you give them plenty of space to breathe so they don't look too crowded. Don't be afraid to get creative with your placement, too. Get inspired by the unexpected nature of abstract art when deciding where in your home to place it.
It's never a bad idea to add more art to your home. Abstract, contemporary, and modern art are the most popular styles of interior design. Media like sculptures, paintings, photographs, prints, and drawings are also trendy right now. But whether you choose a popular style or any other style that speaks to you, you can't go wrong when decorating your house with stunning artwork.
Editors' Recommendations