Farmhouse decor is one of the biggest trends in interior design right now. This rustic style encourages you to get cozy, putting your feet on sofas and allowing children to draw in their coloring books on the coffee table in the family room. It's a family-friendly decorating style that's being embraced not just in rural areas, but in big cities and suburbs, too to incorporate a little country style.
When it comes to bringing a farmhouse decorating sensibility to your dining room, you'll find no better source than Pinterest, where professional decorators and creative homeowners put their creative designs on full display. If you're looking for a few farmhouse pieces to add to your current dining room or you are planning a total re-do, we have some great ideas that are sure to inspire you!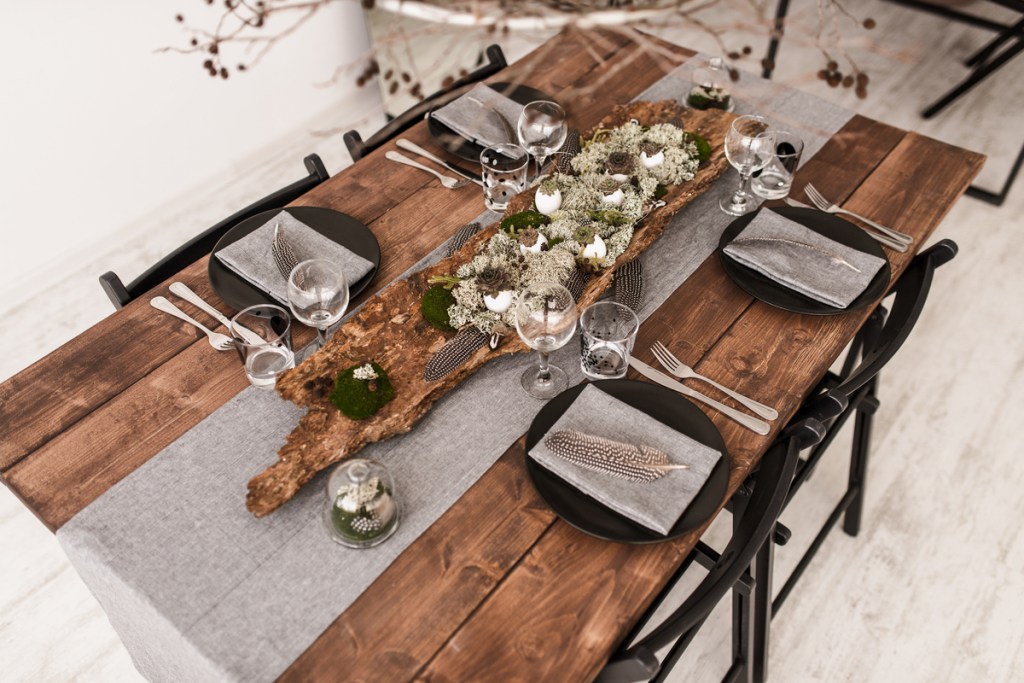 Farmhouse furniture
Live edge dining tables
Likely, you've seen these pieces on design shows and blogs, and they are all over Pinterest. We're talking about live-edge tables, a feature that can make your dining room table a statement piece. Rustic live edge dining tables showcase the natural beauty of the wood in a unique way. In live-edge tables, furniture makers embrace the original gnarled shape of a tree's edge, beneath its bark, rather than sawing it off cleanly as is typically done in furniture making. This style preserves the raw beauty of the wood, giving the furniture a simple, rustic beauty that solidifies the integrity of your farmhouse-dining style.
Swap out dining chairs for dining benches
Many farmhouse dining rooms feature benches in place of traditional dining chairs. Both a design aesthetic and a space saver, dining benches can typically slide discreetly beneath the table when not in use, freeing up floor space in tight areas. They're also great for hosting since you can fit more people around the table. While there are certainly hundreds of online sites that offer dining room benches, you can frequently find great vintage options at tag sales and antique shops. With many dining benches having very simple designs, you can always craft something yourself. This DIY bench will perfectly complement your farmhouse dining room.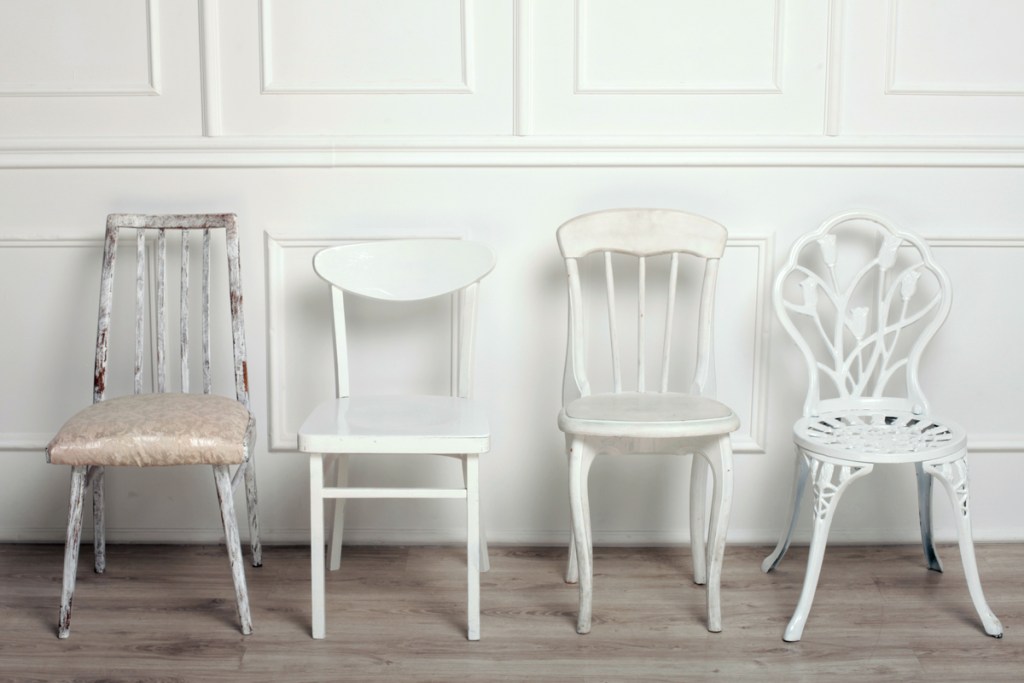 Farmhouse paint & accessories
An abundance of creamy white
One of the prevalent farmhouse decorating trends is incorporating an abundance of creamy white. Whether it's worn wooden furnishings, crisp white walls, or an assortment of toss pillows and throws in varied creamy tones, white is absolutely everywhere. Even if your furnishings are darker-toned wood, you can still incorporate the trend by giving your walls a wash of white. Soften up dark wood floors with oversize rugs and lay a cream-colored runner across a deep brown dining room table. When selecting paint colors, be mindful that farmhouse whites are not the stark whites found in contemporary design, but have a warmer, creamier tone.
Load up on candles
Dining by candlelight? There's nothing better. And, in a farmhouse dining room, there's also no better-decorating accessory. Pinterest is filled with inventive ways to add candles to your dining room. Most feature wooden candleholders, while others use wrought iron and other metallic finishes.
Mirror, mirror on the wall
Mirrors are a common accent in dining rooms, but in farmhouse dining rooms they add a little softness to match the rustic vibe. One of the ideas we see again and again are mirrors crafted from repurposed window frames, and even flanked by shutters or miniature barn doors. Also, consider trying out an irregularly shaped mirror to give the room a more organic and creative look.
Lighting
Pinterest is a great source for lighting inspiration, showcasing ceiling-mount lighting with wooden frames and iron frames. The biggest takeaway for farmhouse lighting is the assortment of innovative shapes — from rectangular boxes to linear shapes, wagon-wheel styles to spherical globes, these are definitely not your mother's cut crystal chandeliers.
Table-setting inspiration
Once you have the furniture, lighting, and accessories in line, it's time to round things out with table settings that reflect your home's new design. For a creative table setting, consider fabric table runners, in plaids or checkerboard patterns, or solid burlap fabric in neutral tones. Keep dinnerware neutral and let your table linens and accessories introduce color, pattern, and seasonal influences. Create a centerpiece borrowed from nature and arrange bowls of pinecones or fruit as well as greenery fresh-cut from the yard. Add dimension with candlesticks, in varying heights, or centerpieces that decorate a table from end to end atop the runner.
Whether you're a 'point, click, shop' kind of home decorator or a DIY master, we're sure these farmhouse styles will inspire you to transform your dining room into the room of your dreams.
Editors' Recommendations