It's that time of year when everyone is thinking about refreshing or remodeling their homes. It makes sense, given most of us have been stuck inside all winter long, both working and relaxing. Now that it's spring and warmer weather is on the way, you're probably sick of looking at the same four walls of your bedroom and may feel inspired to tackle some home projects. The bedroom is a perfect place to start, and wallpaper is the perfect medium to transform it. There are so many colors, textures, and inventive methods to incorporate bedroom wallpaper that will add character and richness to the space while also showcasing your personality.
There are a few things to take into consideration before you land on the perfect bedroom wallpaper.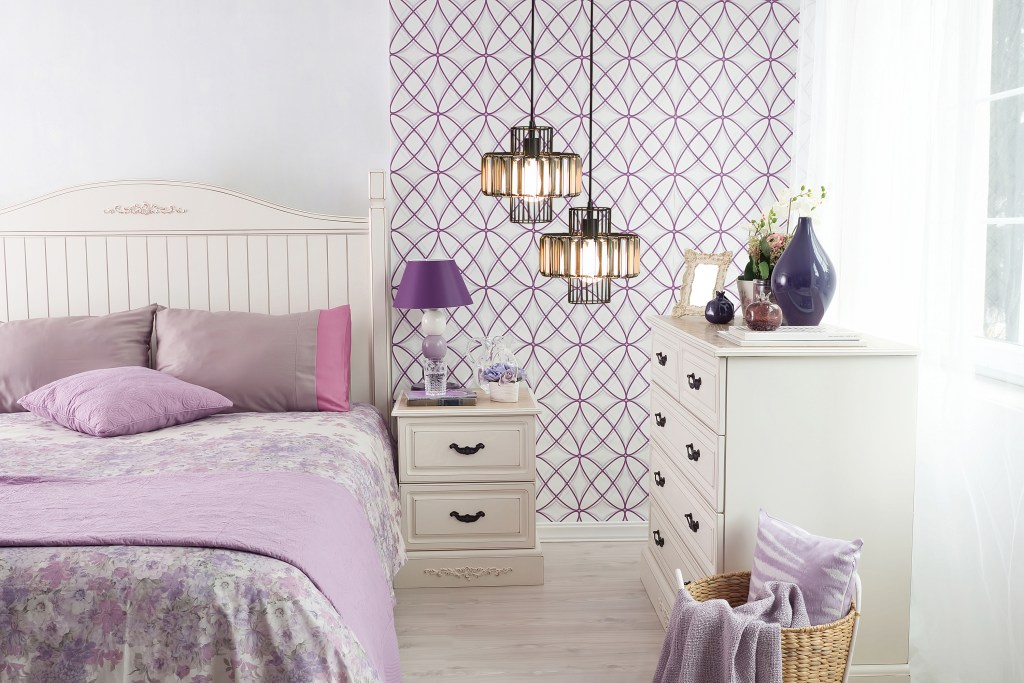 How do I choose the wallpaper?
The first thing you should do is ask yourself these important questions.
How much do I want to spend?
The material you choose depends largely on your budget and desire to tackle the project yourself.
Vinyl is easy to hang and comes in a wide variety of colors and styles.
Paper and fabric wallpaper are more delicate and can rip easily, and fabric rarely comes pre-pasted. If you are a novice, it's best to leave these materials to the experts; of course, this will also add to the cost of your project.
Grasscloth is a natural material and doesn't require patterns to match up, so hanging this is a bit easier because if you make a mistake, you'll likely not notice it.
How often do you change your design?
If you find yourself changing your mind often, you may want to go with peel and stick wallpaper. That way, if you decide a different color or pattern feels more appealing a year from now, you can easily make the change. If you're planning to have pasted or pre-pasted wallpaper, think about the difficulty of working with the material. Depending on the type of paper, you may need to hire an expert to ensure the job is done right.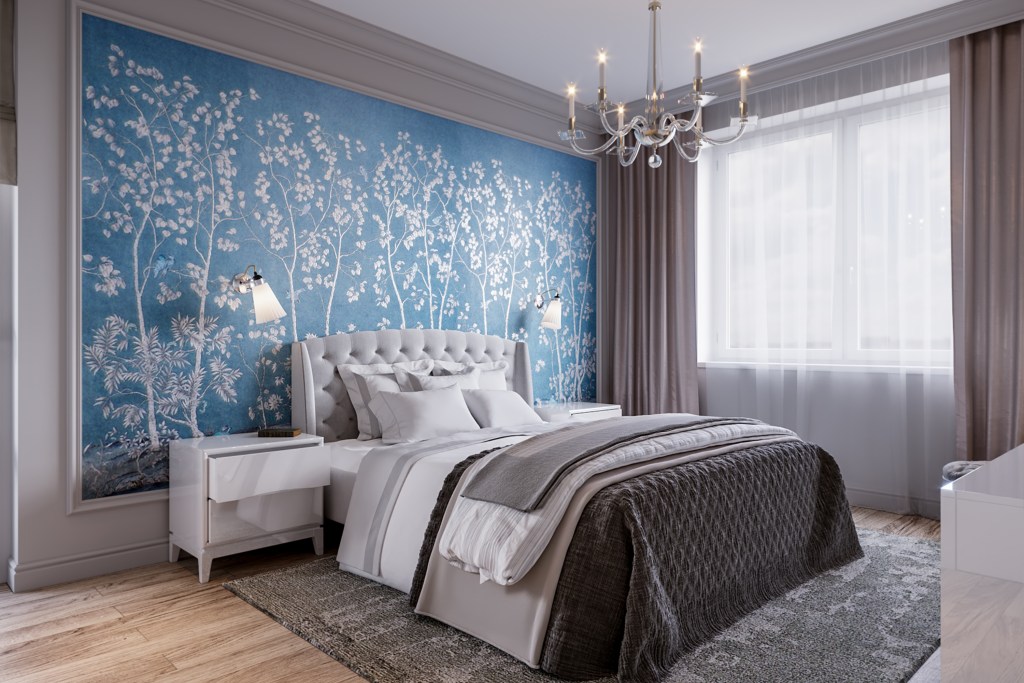 Which wall should have wallpaper in a bedroom?
Try an accent wall. If you're not ready to commit to a fully wallpapered bedroom, adorning an accent wall allows you to test whether you like wallpaper or not. We love using the wall behind the bed as the accent wall because it offers the perfect backdrop.
Break up the pattern. If you want to commit to the wallpaper trend, use wainscoting on the bottom half of each wall and wallpaper on the top. This way, you can incorporate some excitement without overwhelming the space with color and pattern.
Don't put wallpaper on the wall at all. If you'd rather take a more cautious approach, consider wallpapering the inside of a bookcase or the doors of a wardrobe to see if you love the wallpaper choice months from now. If you do, you can commit to an entire wall.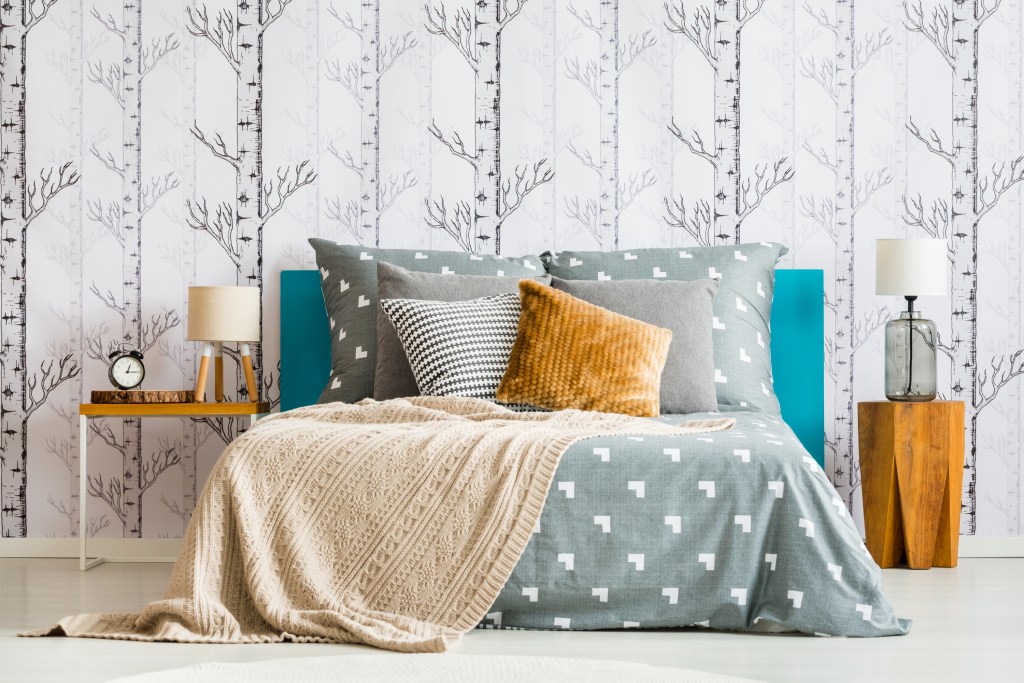 Which color wallpaper is best for the bedroom?
Choosing a color and pattern depends on your design style and preferences. This is your bedroom, your safe and happy place. You should be able to unwind here after a long day and reenergize for the next. As such, you want to surround yourself with colors that make you feel calm and serene.
We love black and white patterns for a bedroom because they are classic and timeless.
We also adore floral patterns in jewel tones like teal blue, emerald green, and gold.
If color isn't your thing, look for calming ivory or light grey tones that are textured, providing a little character and visual interest without committing to a ton of brightness.
What's lovely about bedroom wallpaper is that you can bring attention to the colors in it (or absent from it) to decorate the rest of the room. For instance, if you have a shabby chic-inspired room with a lot of antique and vintage furniture, highlight these statement pieces with a damask print that complements the aesthetic. Using pillows, duvet covers, and curtains too, you can create a dramatic look in your bedroom that you'll enjoy for many years to come.
In a bedroom, you want to strike the perfect balance of exciting yet pleasing to the eye. Since this space is where you lay your head at the end of the day, the goal is to find a color and design that enables you to settle in and get some much-needed rest. Whatever colors speak to you for this purpose are the ones you should embrace. If you're indecisive, don't worry. Many online and in-store retailers will provide samples, so you can try them on your wall to see where you ultimately land. There are no rules regarding what colors, patterns, and textures belong in a bedroom. Just make sure you do your homework to ensure the wallpaper you pick fits the scale of your renovation.
Editors' Recommendations