It's time for fall decorating. One of the best places to start is your front porch. It's where you invite guests into your home and neighbors and passersby can get a sense of your style and personality. You can keep it demure and elegant with touches of cranberry reds, pine greens, and burnt orange, or commit to the fall theme and decorate your front porch with leaves, wreaths, gourds, and maybe even a pumpkin or two for a little Halloween flair.
Fall is the time for color — use it for decor, window trimmings, and on your door. From there, it comes down to looking at all the seasonal options available like chrysanthemums (also known simply as mums), pumpkins, hay bales, and cornstalks. Mix and match until you find a decor that suits your personal style for your front entryway.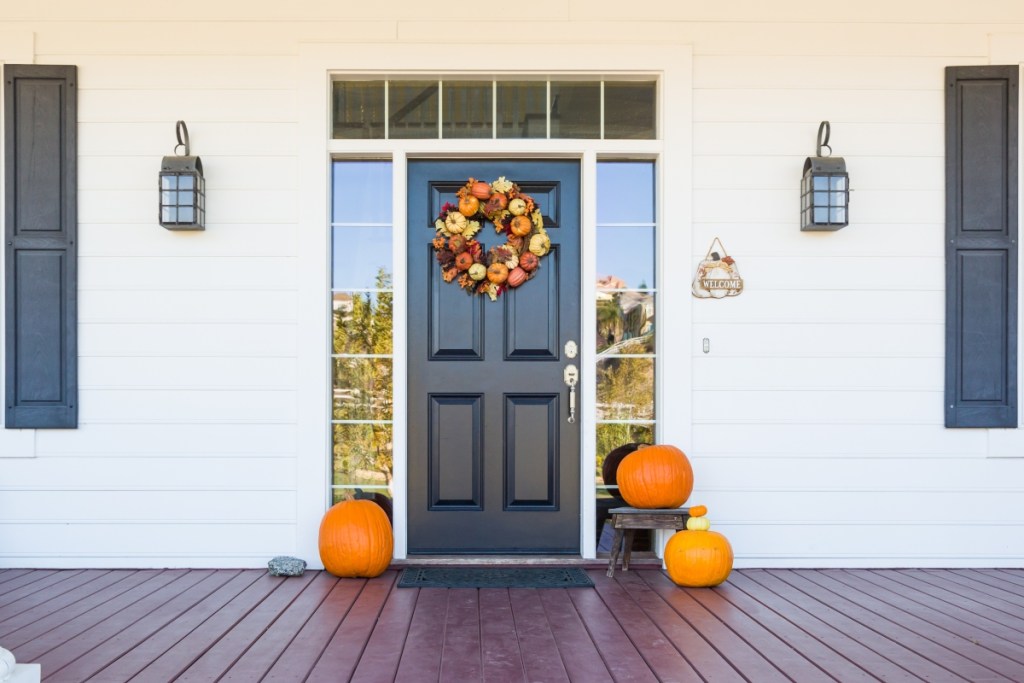 Use what you have
You don't need to swap out everything on your front porch to make it fall-ready. If you have chairs, benches, or rugs on your porch, remove the bright cushions and replace them with pillows in a deeper color palette. This is also a great time to display that old rocking chair you have hiding around. Spruce it up with some earth-toned pillows and throw blankets for a great coffee spot.
For a DIY flower arrangement, dry out your summer hydrangeas and mix them in with chrysanthemums and sunflowers. As the season goes on, you can begin to remove flowers that aren't in bloom anymore and switch them out with seasonal bulbs.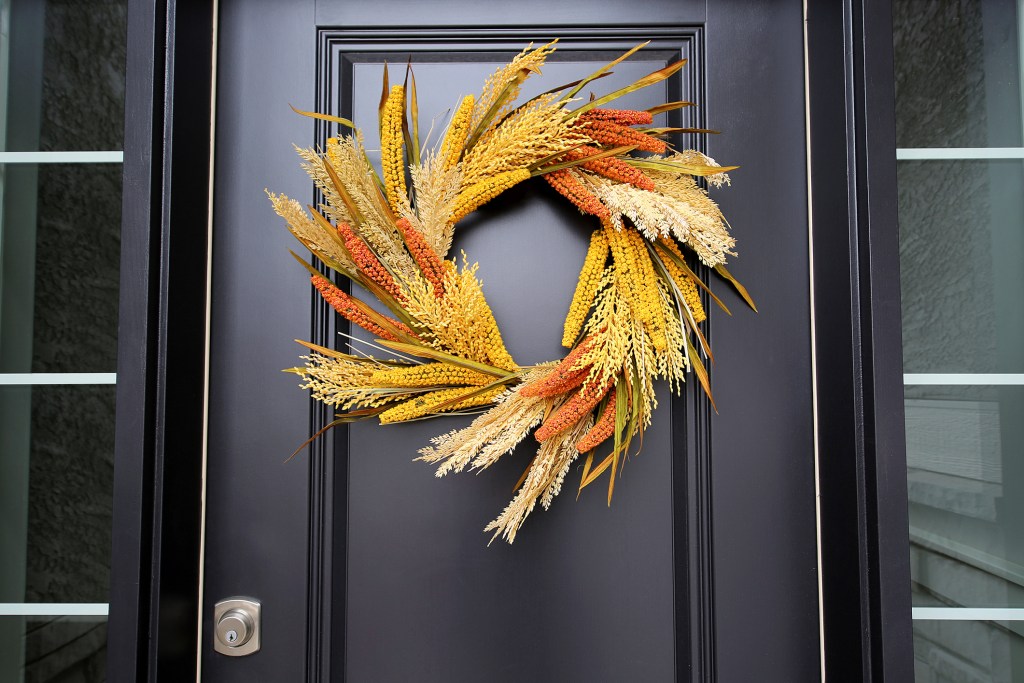 Hang a fall wreath
There are so many gorgeous fall wreaths available that are durable enough to last year after year. We love this Pipberry wreath from Wayfair which is subtle enough to pair well with any busy surrounding decor. It's also available in plenty of color options, so you can customize it based on your existing decoration.
If you want the front door to be the center of attention, we recommend this dried fall leaves wreath from Pottery Barn. It brings in all the colors of the season with large, ornate leaves that look freshly picked. If you're handy, you can also make your own by weaving together leaves, berries, and flowers from your local crafting store.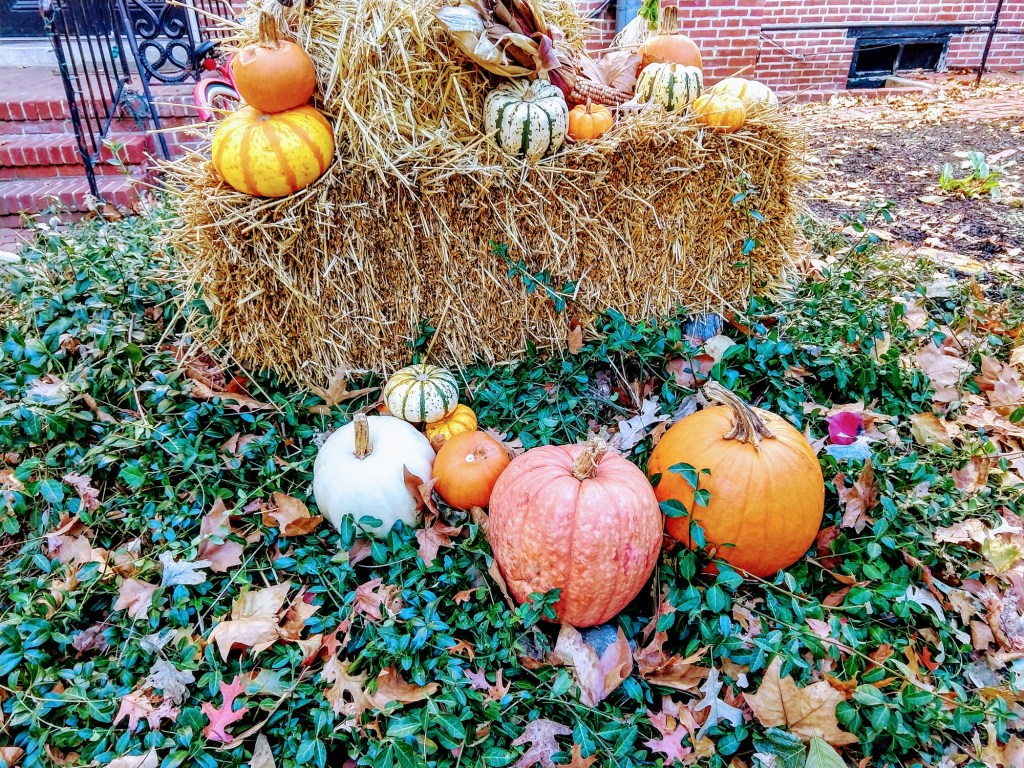 Go beyond the front porch
The fall is the perfect time to plant mums in big planters and display pumpkins of all sizes and colors. Place them alongside the steps and down the pathway to make a real statement. We love pulling in the classic farmhouse feel and adding string lights, dark wood planters with yellow and orange mums, and big white and light green pumpkins. You can also use old wood crates as front porch tables and put them in between two big rocking chairs. If your porch is small, feel free to extend your decorations onto the lawn. This looks especially nice if you place your decor atop bales of hay that sit in the yard.
If you're a fan of the spooky season, start incorporating Halloween decor when October rolls around. There are so many DIY ghosts, witches, goblins, and all manner of creepy lawn decorations that add a little fun to your entryway. You don't need to go over the top (unless you want to), but a few hanging bats, a tin ghost, or a light-up broom rested against a porch corner can add some excitement.
Bring in mixed metals
If you love the look of copper, brass, gold, and silver, bring those elements onto your front porch to balance the fall colors. You can find old barrels or jugs at a local antique store or buy cheap ones online and spray paint them in metallic tones. You can even spray metallic paint on pumpkins and gourds (here's a handy YouTube video on the process) to really make things pop. Just make sure you have a large drop cloth to paint on so it doesn't end up all over the porch and front steps.
The fall is such a gorgeous time of the year — the temperatures are dropping, the holidays are right around the corner, people are heading out to apple orchards and pumpkin patches, and the leaves are falling. It doesn't get much better. Take in everything the fall has to offer by creating a beautiful and comfortable front patio that you can spend relaxing with family or diving into a good book.
The bottom line? You can't go wrong with decorating in the fall, so let your imagination be your guide.
Editors' Recommendations