If you're looking to redesign your outdoor space, you may be weighing the options of a paver patio versus a wood panel patio. There are always pros and cons to every design choice, and it becomes especially important when you're dealing with the outside of your home because the weather adds a tricky and unpredictable factor to your planning.
Depending on the average temperatures in your area and your availability to maintain regular upkeep, one option may be a clear winner. Beyond functionality, you'll also need to consider how you imagine this entertainment space and what aesthetic you have in mind. A patio isn't an inexpensive investment, so let us give you the rundown so you can make the budget and style-friendly choice for you and your lifestyle.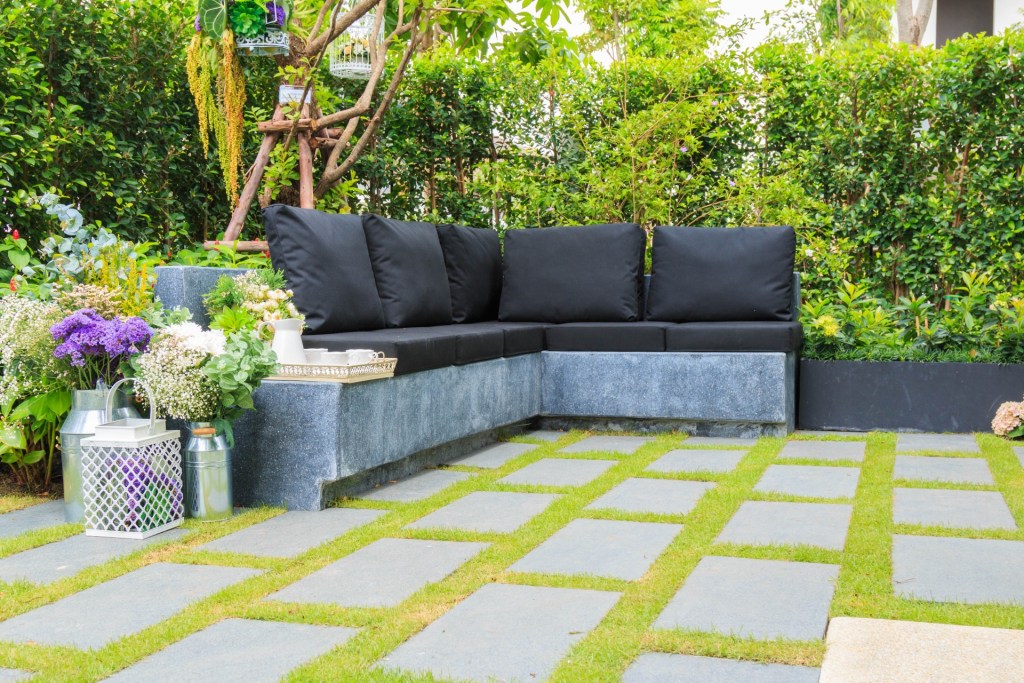 Paver patio
A paver patio is one made from natural stones like clay, concrete, marble, travertine, or porcelain. They are also available in synthetic materials like rubber and plastic. Here are a few considerations to keep in mind before deciding if a paver patio is right for you.
Installation is relatively easy
Pavers can be installed directly on the ground, so if you have a yard that slopes or don't have the space to build out a large wooden deck, this may be the best choice for you. If you're planning to install them yourself, you need to have access to certain tools to excavate the dirt or grass, make it level, and hard compact it. It's not difficult, but it needs to be done correctly.
Pavers are usually less expensive than wood
The cost largely depends on the size of your patio and the material you decide to install. They can run as low as $800 up to over $6000 depending on what you decide. If you use concrete or brick pavers, you'll stay on the lower side of this estimate, while porcelain or stamped pavers laid in a pattern (especially by a professional) will cost more. Regardless, pavers are almost always less expensive than wood, but the return on investment isn't as high.
Pavers are easy to maintain
Overall, pavers of all materials are easy to keep up and maintain. If you are good about sweeping them off, cleaning them with water and mild soap, replacing any tiles that crack over time, and sealing them once a year, you won't run into problems. If you find weeds growing between them, always use a natural weed killer so as to not damage the stone, especially if it's one that's porous.
Wood patio
Wood patios are a classic choice when deciding on an outdoor space. They are elevated, which allows you to enjoy your time outside without dealing with all the bugs and creepy crawlies that stay closer to the ground or around tall grass. Wood may be the way to go if these factors fit your lifestyle.
Installation is usually best left to professionals
Unless you are a woodworker or have a lot of time to learn the craft, it's best to get a professional to install a wooden deck or patio. There's too much room for error, and even small mistakes can leave you with a project that costs way more than intended. This is even more meaningful to consider if you'll be entertaining on it frequently.
Wood patios are more costly, but provide a great return on investment
The cost for a wood deck is around $23-25/square foot, depending on the cost of lumbar in the market. The real cost, however, is the upkeep. Wood decks need to be stained and resealed every two to three years — sometimes more if it gets direct sunlight most of the day. Solid wood tends to have a great return on investment, but only if the beams are in good shape.
Wood patios need a bit more maintenance
As mentioned above, wood decks need yearly maintenance to maintain their look. In addition to sealing and staining, they should also be power washed every year to avoid mildew.
These are just some of the considerations you'll want to keep in mind when deciding on wood versus pavers for your patio. While wood patios have a great return on investment, pavers are a solid choice, too. Either option will look stunning in an outdoor space, but, as with any home improvement project, it's crucial to do your homework beforehand. Knowing your budget, the size of your outdoor area, DIY capabilities, and your ability to maintain the materials under consideration will ensure you make the best decision possible.
Understanding what's expected once the job is done is also critical. As long as you're diligent about cleaning and upkeep, you'll be able to enjoy your patio for many years to come.
Editors' Recommendations