Before you welcome friends and family over for the Thanksgiving holiday, make sure your front door is visitor-ready. If you've always wanted to try your hand at making a holiday wreath but aren't super crafty, you're in luck. Wreaths aren't too difficult to make, and creating a DIY Thanksgiving wreath can save money — some designer wreaths can run you over $100. The best part? You get to decide exactly how you want your wreath to look and take pride in knowing you did it all on your own.
As long as you have a few items at the ready like a wreath form, florist wire, wire cutter, a glue gun, scissors, pruners, and safety gear — you'll be on your way to creating your very own Thanksgiving masterpiece. Here are a few ideas for inspiration!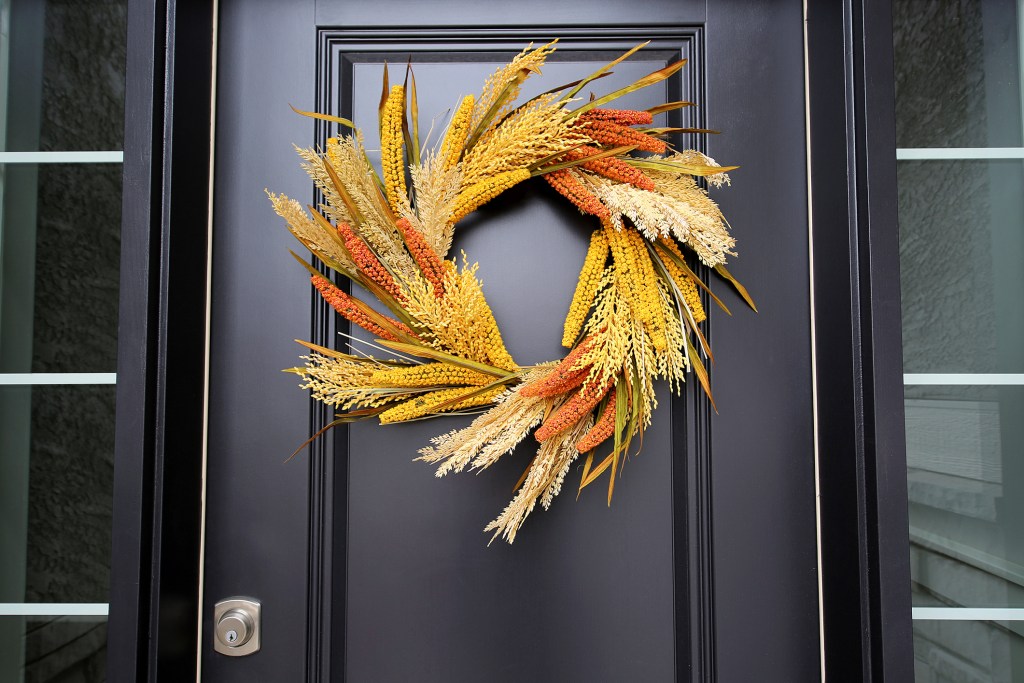 Simplicity at its finest
If you're especially cautious about trying out a DIY wreath for the first time, start small. For this wreath, all you need is 2-7/8-inch Shaker pegs and a 12-inch craft ring. Simply adhere the shaker pegs to the wreath outline with a hot-glue gun and you have yourself a timeless wreath for your front door. You can do the same by gluing old wooden clothespins in varying sizes around the wreath form as well. If the pins are solid wood, be sure to weatherproof them beforehand.
A non-wreath wreath
You don't always need a traditional wreath form to craft your front door's decor. With a tobacco basket or cornucopia (sealed and weatherproofed for the outdoors) you can create a lovely adornment that's just as festive as classic options. Using floral wire, affix seasonal flowers and leaves to the bottom half of the basket. Grab all the best icons of the season like magnolia leaves, mini pumpkins, eucalyptus, and any other colorful and textured elements you desire. Last, use a wreath hanger and secure the basket to the hanger.
If you have kids, send them on a hunt to find materials in your backyard like bark, corn husks, and other fall leaves. It can be a fun way to spend a Sunday outdoors, and it's always great to get the little ones involved in projects around the house!
Go on a pinecone hunt
Pinecones are synonymous with the fall, so why not use the bounty nature gives you at this time of year? Pick around for pinecones of various sizes, then use floral wire to secure them to a craft ring. Feel free to layer them on top of each other until you reach the thickness you desire. To add a little pizzaz, paint the tips of the pinecones in fall colors of red, orange, and gold for an elevated decorative piece.
When decorating, remember to place the pinecones in different directions to create dimension and give texture.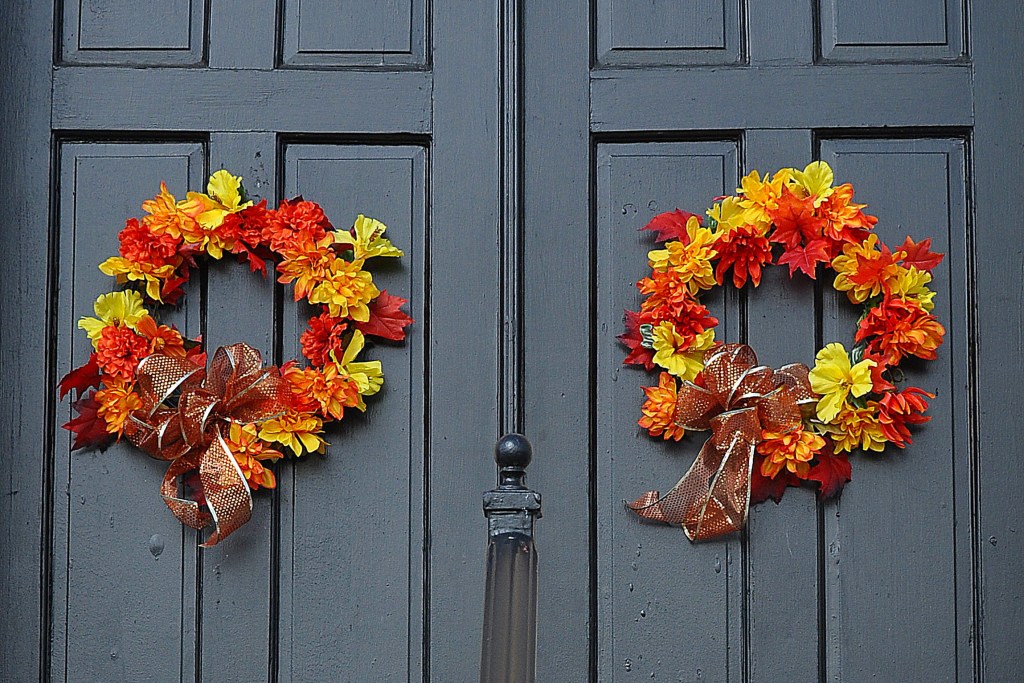 Double the trouble
If you have double front entry doors, utilize the space you have and hang matching wreaths from the top of each via a vibrant plaid ribbon. First, use a glue gun to affix the ribbon around a grapevine wreath. Then, find faux gourds, apples, or pumpkins in varying sizes and either wire or hot-glue them to the wreath (this will depend on the weight of the material). Add a little more color by incorporating leaves and other foliage, adding as many or as few as you desire, depending upon how elaborate you want your wreath to look.
You can also create opposing wreaths that use the same colors but aren't identical. This can make for a more whimsical entryway that's a little more fun.
These are just a few simple ways to get started on a DIY Thanksgiving wreath that will be the envy of all your neighbors and family as they enter your home this holiday. It may seem like an afterthought, but front door wreaths can set the stage for the holidays, displaying your love of the season before people even step inside.
To DIY this classic holiday decoration, all you need is your favorite seasonal elements, a little patience, and a bit of imagination to make your project come to life. While you can certainly visit a craft store for faux leaves, berries, and pumpkins, take a little time this season to celebrate the harvest and work with what nature gives you to create a stunning piece of art.
Editors' Recommendations