Halloween is not just for kids anymore. Sure the little ones still like to go door-to-door in search of candy, but well over 60 percent of American adults participate in Halloween activities too, dressing up in costumes and hosting or attending Halloween parties.
If you've been considering hosting your own spooky bash this year, check out this guide for everything you need to know to throw a sophisticated celebration that's definitely not for kids.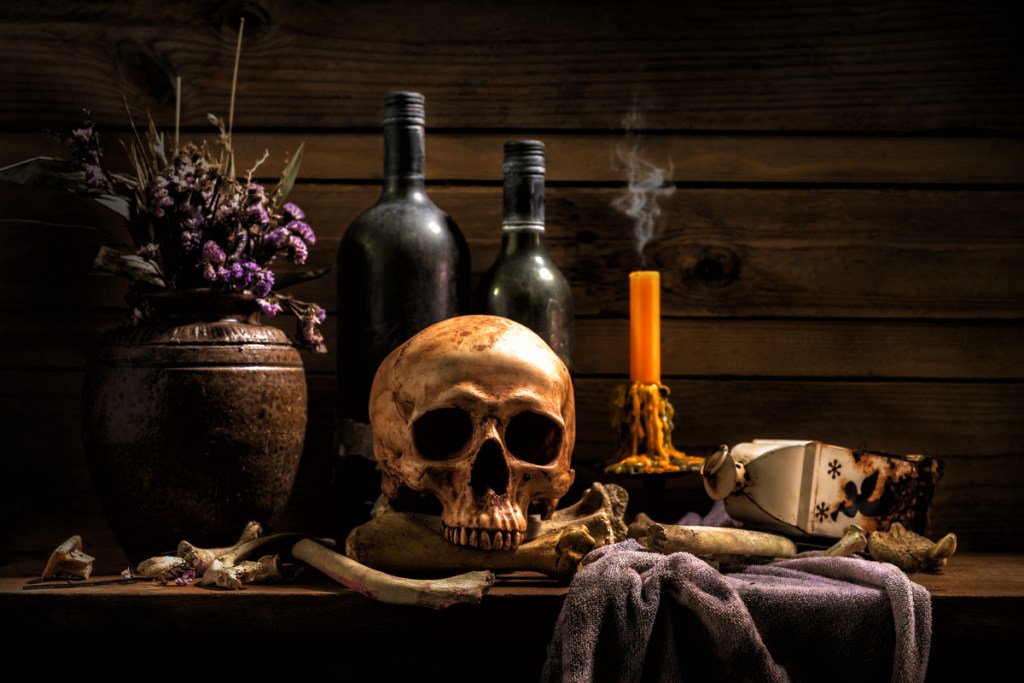 How to host a Halloween party for adults
When hosting a Halloween party for adults, the decor shouldn't look like it's been pulled directly from the Halloween section of your local party supply store. Instead, opt for the spooky ambiance, adding black candles, soft lighting, and a few well-placed vintage pieces. Try to decorate your home like a movie-worthy haunted house, complete with draped crepe across the mantel and tall, ornate candlesticks.
Before Halloween, hit up some tag sales or secondhand shops for a few antique or aged pieces to give your home an extra spooky style. For a few dollars, you may be able to find a vintage candelabra, a spooky painting, or a cracked mirror in a frame that will take your decorations up a notch or two — no plastic tablecloths or cardboard witches for you.
Consider suggesting a costume theme to your guests, such as:
A masquerade ball, complete with masks that don't come off… until midnight
Famous couples — Romeo & Juliet, Sonny & Cher, Bert & Ernie
Zombies, zombies, zombies — see who can be the scariest of your friends
RIP Celebrities — Marilyn Monroe, Michael Jackson, Elvis Presley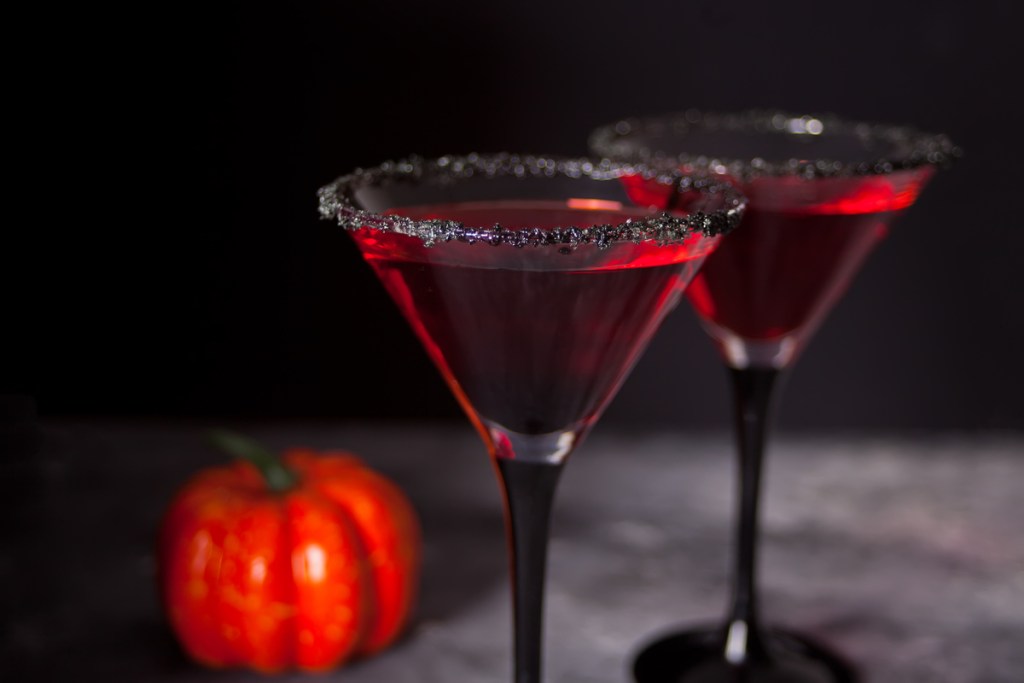 Sophisticated — and spooky — Halloween food & beverages
Halloween parties are just screaming for some over-the-top creative foods. When planning the menu for your gathering, opt for something elegant with a dash of horror.
A charcuterie board is a hit at any social gathering, but for your Halloween soiree, choose dark-colored meats, black olives, sun-dried tomatoes, and a centerpiece cheese ball, rolled in black sesame seeds for a spooky finish. Look for a platter with a little character such as a vintage silver tray, a black or purple ceramic board, or anything else that looks like it would be at home in a haunted manor.
Speaking of themed serving dishes, consider serving main family-style dishes, like a mound of chilled sesame noodles, in a big black cauldron. Always a party favorite, you can order this dish from your local takeout restaurant or make it yourself.
Signature cocktails with a side of spooky
A signature cocktail (or mocktail) will make your party more unique and memorable, and aligning yours with the theme of your event will secure your title as the best host around. Halloween offers so many tasty and eye-catching options, you'll have a hard time choosing just one, but here are a few of our suggestions to inspire you.
The Vampire Kiss Martini
Who wouldn't love a blood-red Halloween cocktail with a side of sparkle? This Vampire Kiss Martini is simple to make, so you can quickly make a few batches ahead of time and not have to play bartender the whole night. You don't need a shaker for this recipe either, and it only requires four simple ingredients:
Raspberry liqueur
Vodka
Sparkling wine
Red sugar, for rimming the glass
The bloody red sugar rim and wax vampire teeth tossed on the bottom add a frightful twist to this martini that your guests will die for.
Black Cauldron Cocktail
If orange is the new black, then black is the new "it" color for Halloween cocktails, and this one gets its inky color from a capsule of activated charcoal.
Fill a cocktail shaker with ice and combine:
1 1/2 parts Black Barrel Tequila
3/4 part fresh lemon juice
1/4 part sage simple syrup
2 dashes of angostura bitters
1 capsule activate charcoal
Shake, strain into a martini or coupe glass, and garnish with a slice of lemon.
It's all in the details…
How do you make an ordinary glass of seltzer spookier? Or a bright orange screwdriver a little more menacing? Creepy black spiders frozen inside ice cubes, of course. To add a festive touch to any drink, order bags of tiny black plastic spiders, drop them inside an ice cube tray, cover with water, and freeze.
A Halloween party can be the most creative party you'll attend all year long, and it might end up being one of the most enjoyable parties to plan, too. Have fun, let your imagination run wild, and don't forget that the little details can make all the difference between a so-so party and a spooktacular bash.
Editors' Recommendations