If Halloween is a family favorite in your household, then you probably go all out every year. When it comes to hosting costume parties or Halloween dinners, your dining room can be the perfect focal point. Styling and decorating your dining room for a spooky Halloween look can be easy, fun, and quick with some of these tips and tricks.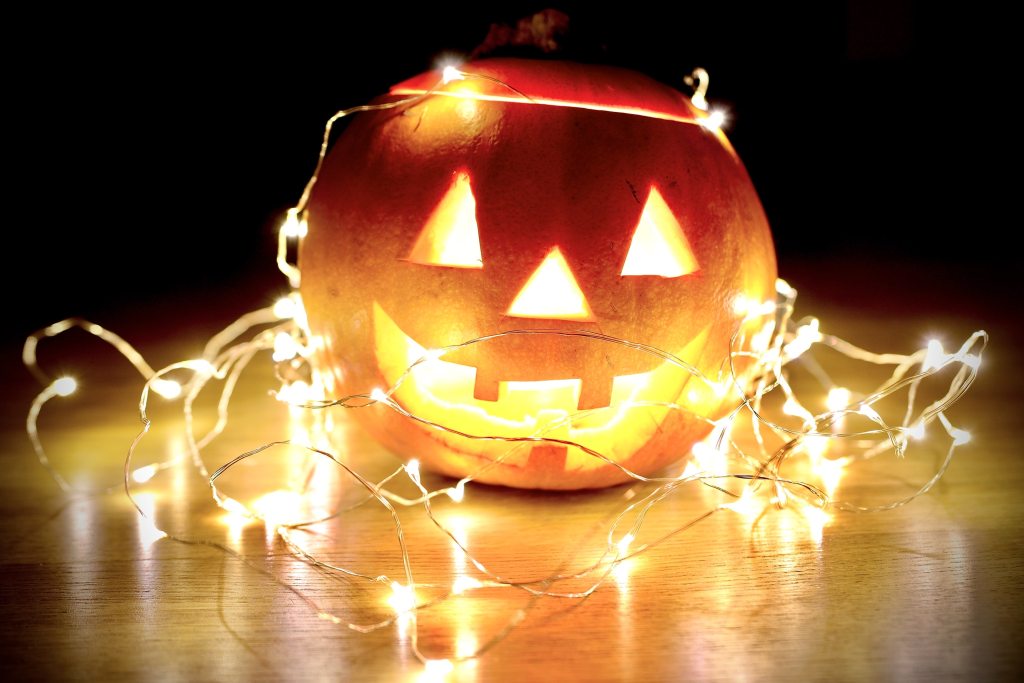 Keep your guests in mind
A Halloween party for a bunch of 6 year olds and a party for a group of adults tend to be very different. Because of this, it is important to decorate according to who you're inviting. There can be a lot more gore and terror at an adult party, so it can be fun to go all out with the Halloween fright. Some fun ways to scare your adult friends include:
Bloody mannequins

Creepy soundtrack

All-black decorations, like Martha Stewart suggests.

Fake insects
If you're looking for a more PG-level party for kids, or just want a less gory look, there are a lot of great options for more inviting Halloween decorations, such as:
Bright Halloween colors like orange, purple, and green

Jack-o-lanterns, skeletons, witches, and other cut-out characters with smiling and welcoming faces

A yummy spread with fun cauldrons and serving trays

Balloons with happy pumpkin faces and fun sayings like 'boo' or 'Happy Halloween;

Paper bats, moons, and other Halloween figures, like Good Housekeeping suggests.

Upbeat Halloween music
Pick a theme
One way to absolutely nail a Halloween dining room dinner party is by having a theme. Themes help you stay on track and tell a story through your decorations. Oprah Mag gives several ideas for adults and kids. Once you pick a theme, you can plan your dining room look accordingly. It can be fun to get ideas and inspiration from scary movies and horror novels, but some other Halloween themes to consider include:
Freak show/clowns

The mad scientist/laboratory gone wrong

Graveyard

Ghosts, spirits, and the paranormal

Out of this world/aliens/extraterrestrial life

Zombies/apocalypse

Mummies/ancient Egypt
To get guests excited about your dinner party, think of a creative name in line with your theme and include it on your invitations. This will also help guests dress accordingly if it's a costume party.
Color scheme matters
The colors you choose for your dining room can impact the whole feel of the party. If you are looking to go all-out scary, black is your best bet. A dark lace tablecloth, black chairs, black chandelier, black webs, and black wreaths are just a few items to get started with. By dimming the lights in your dining room, you can set an eerie feeling throughout the space that your guests will love.
A more upbeat and fun Halloween party will benefit from bright colors like orange, purple, and green. This is the perfect color scheme for a kid's party or a family-friendly Halloween get-together.
If you select a theme for your Halloween dinner party, then decorate your dining room accordingly. For example, with a carnival or freak show theme, use striped white and red banners, clown wigs, and bright balloons. It's all about getting creative, especially when you have a fun theme to work with.
With any theme or party idea, it is important to use the color scheme wherever possible. Some ways to utilize your own color scheme include:
Tablecloth

Plates, napkins, and utensils

Table centerpiece

Chandelier

Wall decorations

Chair covers

Rug
Make the food as creepy as the decorations
As you welcome guests into your creepy dining room, one thing they will expect is some delicious snacks and desserts. Before they are devoured by hungry guests, Halloween-themed dishes can be stunning decorations all on their own. Luckily, there are an abundance of Halloween-themed food ideas that will look stunning on your dining room table. Some of these terrifying treats include:
White chocolate covered strawberry ghosts

.

To make these, simply dip some fresh strawberries into white chocolate. Allow them to cool and draw on some spooky faces with dark or milk chocolate.
Cinnamon bun intestines

.

Start by unraveling your store-bought or homemade cinnamon buns and wiggle them throughout a baking sheet to look like intestines. After baking, cover them in a strawberry jelly or icing for a gory look.
Pumpkin deviled eggs

.

Make a batch of deviled eggs. Color the yolk mixture with a bit of orange food coloring and pipe into the hardened whites. Add a little stem made of chives for a cute little pumpkin snack.
Severed-hand ice

.

Fill up plastic gloves with water and freeze overnight. Take the ice hands out of the gloves and put them in a bowl of red punch for a creepy look.
Regardless of how you decorate your dining room, the important thing is to have fun while doing it. Remember to always think about your guests, the food, the colors, and the theme for a successful Halloween-themed dining room.
Need further inspiration? You can check out our guide on how to decorate your front door for Halloween.
Editors' Recommendations