Patios are a great place to hold outdoor parties, get-togethers, and other celebrations. They provide ample space for folding patio tables, chairs, plants, and so much more. Unfortunately, however, patios are typically made of cement, and cement is typically ugly. Cement patios are definitely sturdy enough for outdoor gatherings, but sometimes you may wish they were a little more stylish. Luckily, there are some quick coverings you can use to hide that old, ugly cement patio for good. Check out these affordable projects that you can do all your own to completely transform your patio into a stunning entertainment space.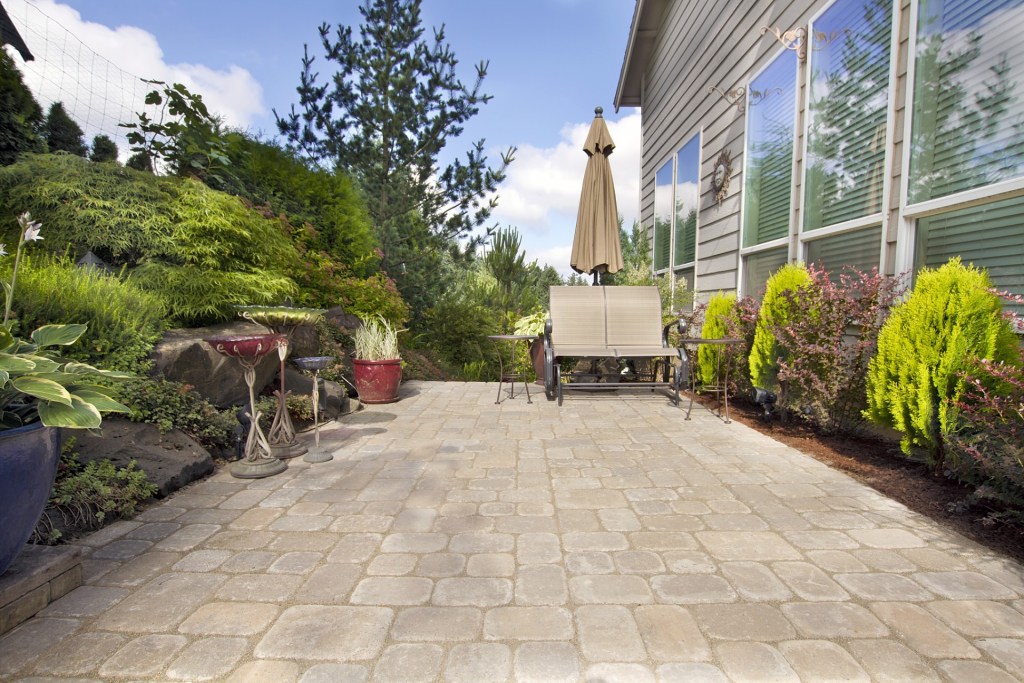 Update with pavers or stones
One of the most drastic ways to completely change the look of your patio is with pavers or stones. Bob Vila displayed several ways pavers transform an outdoor space and leave you with stunning results that you will love for years to come. The installation for this project is simple, but it requires a little bit of time and dedication. You can typically do this project in a weekend, and the results will amaze you.
Pick out your desired pavers or stones. Look for options that match your design aesthetic.
Lay everything out. Pavers are typically rectangular, like bricks, so it is best to line them up in a clean pattern. On the other hand, stones have a more organic shape, allowing you to be more creative with placement.
Fill in the gaps. Sand fills in the gaps between the pieces, helping you to hold everything in place.
Cement the exterior pavers or stones. This keeps everything secure.
Paint your patio
If you want to update your patio with as little work as possible, it's best to go the painting route. Painting your cement patio is affordable and fun. It will leave you with beautiful results that you can customize to your desired look.
Use masonry paint
When it comes to painting cement, it's important to use masonry paint. Masonry paint works because it contains binders that contract and expand, making it adhere to the material with ease.
Experiment with color
You can paint your cement patio with gorgeous neutral colors, bright colors, or geometric patterns using painter's tape. The options are only limited to your imagination. Brightly colored patios are perfect for achieving that fun, beachy look in your backyard. You can also use dark colors and patterns for a more mature and sophisticated look.
For inspiration, look at online pictures of painted cement patios. This can inspire you to think of ideas you may not have thought of otherwise. Regardless of how you paint your cement patio, a fresh coat of paint will surely bring it back to life and give it that fun flair you've always wanted.
The DIY Network lists what types of paints to use on the following surfaces:
Brick
Ceramic tile and porcelain
Concrete slabs
Concrete block and more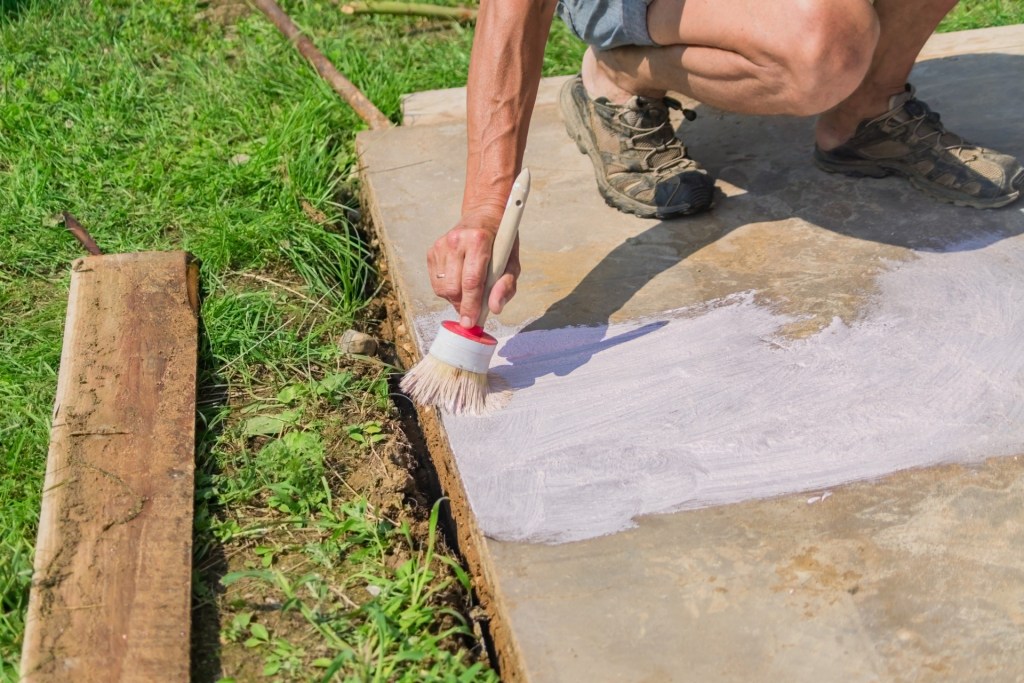 Stain the cement
Staining your cement patio is an easy way to achieve a sophisticated, clean look in your outdoor space. Concrete slabs can look dull, and it can be great to give them a bit of life with a coat of stain.
Choose between the two types of cement stain: acid-based and water-based.
Acid-based stains: Long-lasting and can resist fading over time. They are designed to react chemically with the cement, creating a permanent chemical bond. This way, you never have to worry about chipping or peeling.
Water-based stains: Available in more colors and can be easier to apply. This type of stain fills in the pores and cracks of cement, making a colored film on top. They dry more quickly and feature less toxic chemicals than acid-based stains.
Regardless of what type of stain you choose for your cement patio, it can really transform the space. Stain allows the natural texture and design of your patio to shine through without the lackluster cement color, achieving a beautiful finish. You will love how stunning your outdoor cement patio can be with some great staining options. The DIY Network has a step-by-step guide to follow.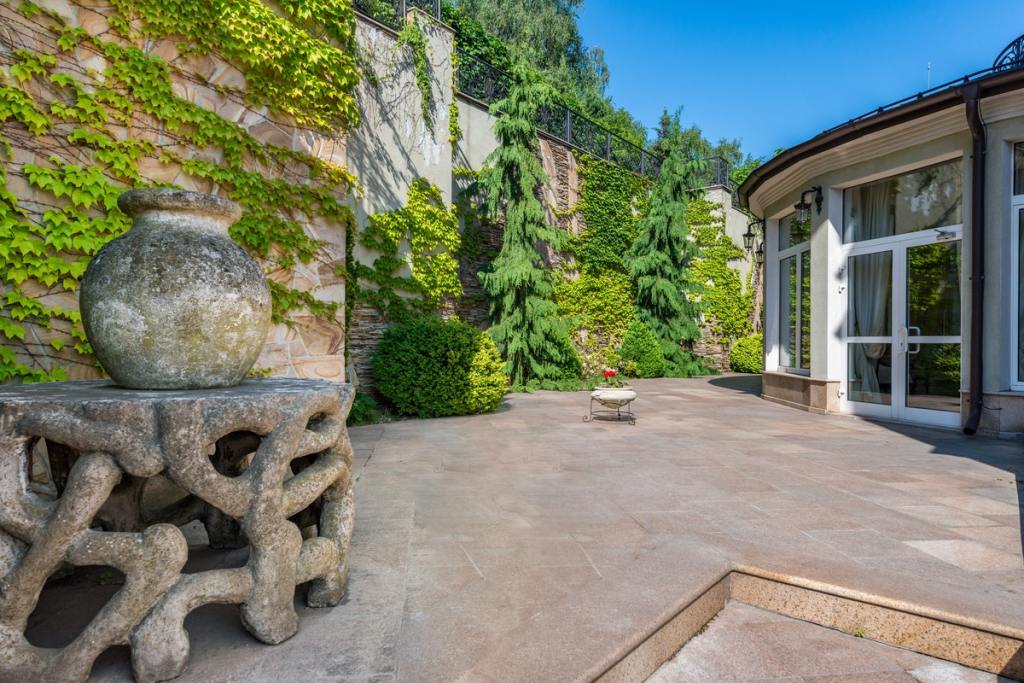 Your cement patio is a great place for hosting guests. It provides you with an outdoor space to throw parties, host a barbecue, or just relax. One thing all cement patios have in common, however, is their drab color. The boring gray with bumps and cracks can make for an unsightly outdoor space. Luckily, there are many easy and affordable DIY projects you can do on your own to cover up your cement patio. Check out all of the fun and affordable options that will get you on the right track to a stylish and sleek outdoor space for everyone to enjoy.
Editors' Recommendations