With the right styling, even the smallest patio can become an inviting, private escape. Patios are meant to be a relaxing, outdoor space that can be perfect for entertaining, unwinding, or quality family time. Home decorating can be intimidating with all the different styles, colors, and finishes to choose from, though. The important thing is to stay true to your design style and let your creativity direct any project.
When it comes to a patio, the whole purpose is to be outside and enjoy nature. Whether you have a high-tech entertainment area or a small concrete slab with some comfy chairs, one quick change will get you more in touch with nature without sacrificing comfort.
The one quick change
One inexpensive and quick addition you can put on your patio is some greenery. There are multiple ways to do this. You can use a variety of beautiful pots or hang up your plants on a wall garden. Wall gardens are a great way to add a little bit of natural color to your patio. These planters may look difficult to make, but they're surprisingly easy when it comes to DIY projects. Alternatively, you can buy them for pretty cheap online. Wall garden potting comes in all shapes, sizes, and colors and can be the thing that totally transforms your patio. You will take home decorating to a whole new level with a little help from nature.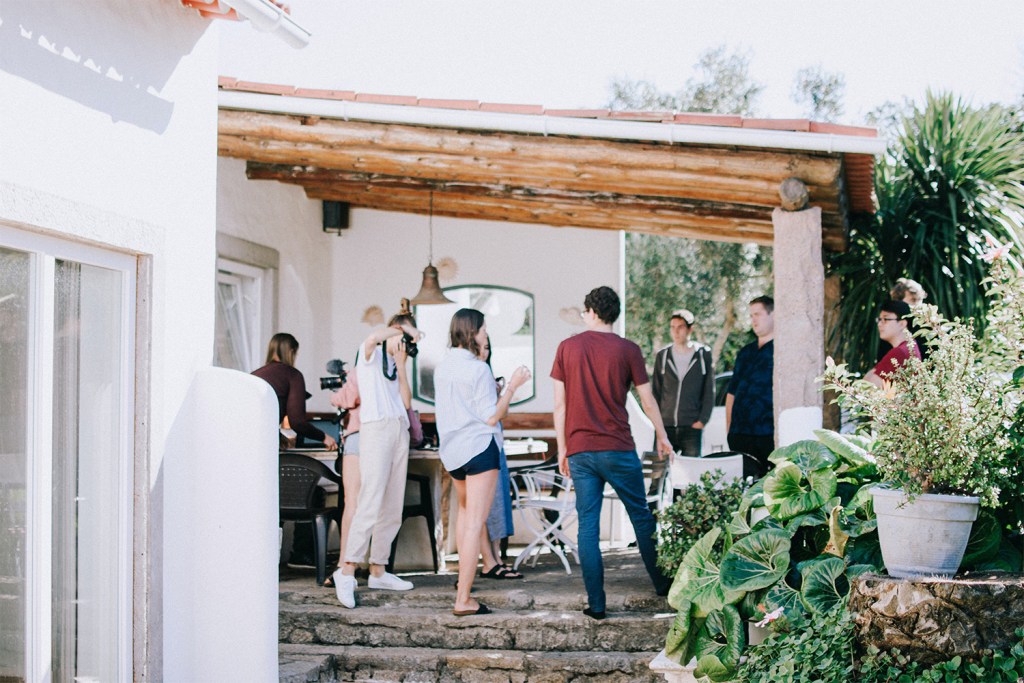 Getting started
Choose your pot or wall garden holder
There are endless pots and wall garden designs to suit different styles, as The Spruce notes. Some patios have pergolas (patio coverings) that are oftentimes made of wood or stone. You can get some modern, vibrant geometric pots that hang easily on your pergola wall for a clean, sleek look. Wall gardens combine the beauty of nature with the modern style of home construction. If your patio doesn't have a pergola, don't worry — you can still create a beautiful outdoor space with plants. Large clay pots can be the statement pieces of your patio. They come in all shapes, sizes, and price ranges, so you can find the ones that are perfect for you. Additionally, if you are set on having a wall garden but don't have a wall, you can build or buy a cheap wall garden mount that can be placed in your outdoor space.
Choose your plants
Choosing your plants can be a super fun process, and there are so many to choose from. You'll want to consider sunlight and watering needs before purchasing your plants. The amount of time and effort you want to put into caring for your plants will help you decide which ones to buy. You can create little cactus gardens that require little to no care or beautiful flower arrangements that may require daily watering. Whatever you decide, pick plants that meet all of your needs without sacrificing the most beautiful things that nature has to offer.
House Beautiful lists some popular choices:
Succulent
Begonia
Four O' Clock
Creeping Thyme
Lavender
Hang or position plants for an outdoor oasis
Lastly, you just need to hang your garden wall or position your pots how you like them. This all depends on the space you have to work with. You can position pots around the perimeter of the patio or place smaller pots on side tables. Your garden wall will be the statement wall in your pergola, so make sure it is placed where all eyes can see it. Have fun with this part of the process. Move things around and see what works and looks best. This project should feel fun and not rushed. Listen to your creative side to create the perfect patio space.
A living wall, vertical garden, or wall garden creates a beautiful collection of wall-mounted plants. These gardens are trending in home design and are the perfect way to bring some nature into your patio space. Don't forget to use pretty potted plants as well to spruce up the space; Country Living gives us a visual. These living walls and potted plants are not only beautiful, but they also improve air quality. Bringing some plants into your outdoor space can make it even more striking than it already is. Use your creativity and follow the design that best fits your needs and your space.
In addition, for transforming your patio into a stunning entertainment space, check out some quick coverings you can use to hide the old, ugly cement patio for good.
Editors' Recommendations