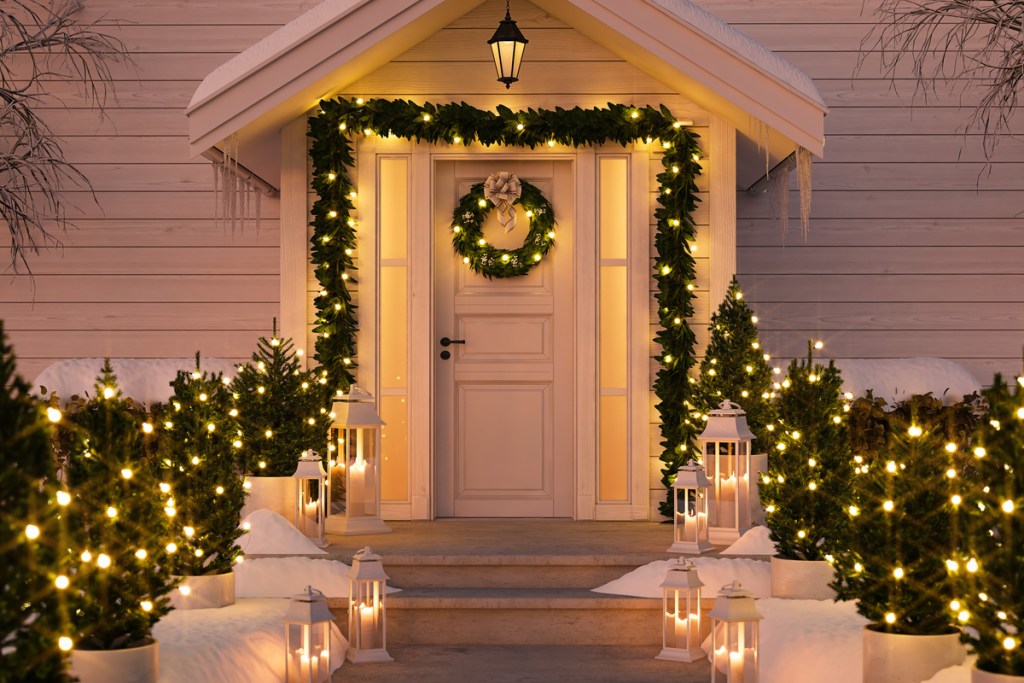 The holidays are almost here, and that means it's time to Ho-Ho-Ho your way into some serious outdoor Christmas decorations. If you're a die-hard Christmas enthusiast, it's been a long year waiting for the festive season, and you don't have to hold back anymore. Now is the time to treat yourself by finding some new holiday decor for the outside of your home that makes it really stand out from the crowd.
Our favorite festive outdoor Christmas decorations
Many festive designers concentrate their efforts on decorating the inside of the house, which makes sense given it's a season of hosting friends and family for holiday events. That being said, the exterior of your home can benefit from more than just a string of lights. To take your outdoors to the next level, check out some of our favorite yard decorations for this season!
1. Outdoor topiaries
We're obsessed with these colorful outdoor topiaries from Grandin Road. They make such a statement and work perfectly in a corner by themselves or as a pair book ending your front door.
We recommend investing in these pieces because:
The whimsical color and design remind us of a holiday storefront
They are handpainted and weatherproof
You can weigh down two of the sections with sand so it doesn't tip or move
The pieces make a statement standing alone, but can also add color when set inside large topiaries
2. Santa's sleigh
Spread joy this Christmas by giving passersby the classic image of Santa in his sleigh. This understated silhouette option from Pottery Barn sells for $199, and it's a quick and easy way to add a little whimsy to your design.
The metal yard is durable enough to survive the harsh conditions of the season
The piece is easy to install with enclosed yard stakes
It's lead and latex-free, making it family and animal safe
3. Yard deer
Don't worry, these aren't the plastic yard deer you're used to seeing in classic family holiday movies. We love the antique look of these Montresor Deer from Ballard Designs. They range in price from $229 to $359 depending on which size you choose.
The vintage, weathered finish looks elegant and sophisticated
There are three styles to choose from, including fawn, sitting, and standing
Tie a red or plaid ribbon around their necks for added effect
The pieces are lightweight and easily moveable
4. Christmas bubble light
Hammacher Schlemmer is paying homage to the original Christmas light that has adorned many a family Christmas tree — the bubble light. This four-foot, $150 version is meant for the outdoors and is sure to be the talk of the neighborhood.
Anything nostalgic is a holiday season win
The light is complete with 115 twinkling red, green, and white LED lights
It has two metal stakes for easy installation
5. Oversized gingerbread men
Another amazing Grandin Road find, this set of three oversized gingerbread men is an adorable addition to your porch or other covered outdoor structure. The classic and well-known cookie-cutter design will melt hearts and bring about the nostalgic memory of the classic gingerbread cookie. These elegant and timeless pieces come in either a classic silver color or a lovely copper tone that compliments a rustic Christmas decor for your outdoor space.
A classic, chic design for the elegant outdoor space
The feet are flat so they are sturdy when placed
Includes fabric bows and faux greenery to place around necks
All these options are easy to install and bring the joy of the season to any home's outdoor space. Be sure to adhere to safety practices for outdoor Christmas decorating and, to protect your investment and your design, ensure every pieces is properly secured so they don't break or blow away in the blustery winter weather.
Editors' Recommendations