The entryway is often a forgotten space, but it can make or break the first impression of your home. If you don't have a dedicated entryway space, you can use some of these quick projects to help create an inviting space to greet your guests.
Each of these projects can happen in just one hour or less with some experimentation and creativity. Here's what you need to know.
1. Highlight with paint
Create an inviting space without the struggle of complicated molding or shiplap. Use white or a lighter color on the bottom with a darker color on top. Use your coat rack as a clue for where to separate the colors.
First, mark a line on the wall where you want your coat rack to be. Draw a straight line and paint everything from under the line to the floor with your lighter color. Above and to the ceiling, you should paint your darker color. Hang your coat rack, and enjoy your cute entry.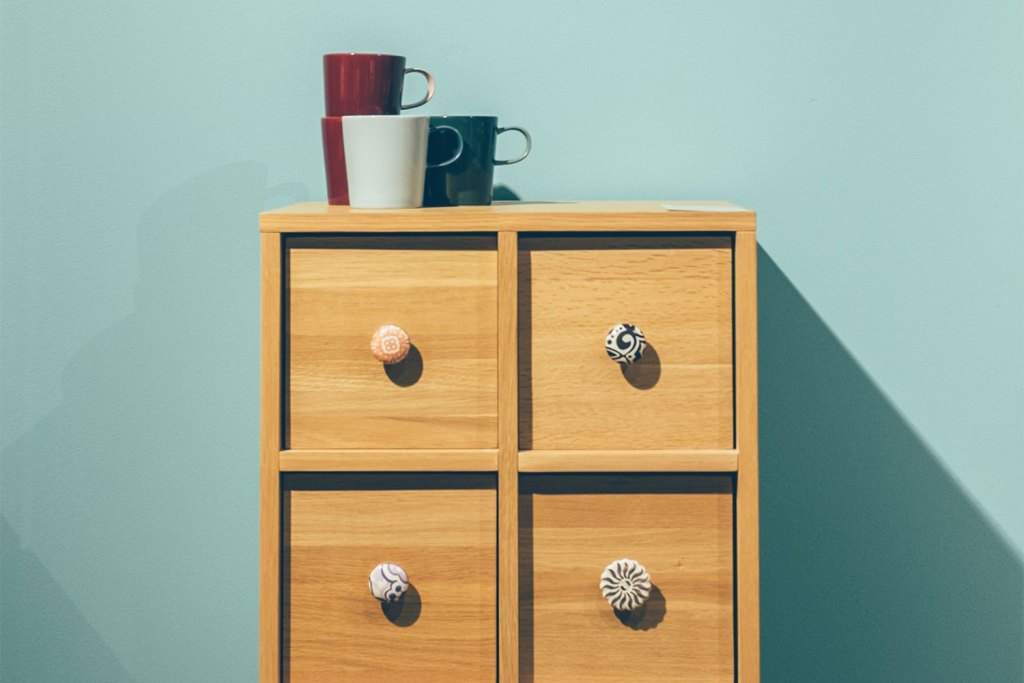 2. Add a piece of furniture
If you've got the space for a bench or a sideboard, the entryway is a great place to put a piece of furniture like this. Make sure it has plenty of storage and keep the top clean with a single lamp or some simple photographs and a plant.
If you don't have space for a full piece of furniture, you can fake it. Cut a side table in half and mount it to the wall for a quick place to put your keys. Or, hang a ledge shelf and paint the silhouette of a side table underneath to fool the eye.
3. Add a boot tray with storage
If shoes are always cluttering up the entryway, find a place to wrangle them. Use a large basket or container for people to toss shoes they're wearing that day to help keep them out of the floor and paths.
For larger shoes like boots or winter seasons when shoes are wet and dirty, use a boot tray to keep the mess at bay while also having an organized place to store those shoe. You'll save your floors and be able to find your shoes when you need them.
4. Change your door
If you've got some room in your budget, a new door can also be an upgrade to your entryway. If you've got a standard, flat door, upgrade to a door with beautiful windows or panel features. Add a heavyweight doorknob to knock the luxe factor up another notch.
You can also paint your door with a darker color of paint to help it look more expensive, or choose a fun, unexpected color for an nice pop of color.
5. Transform a bookcase into lockers
Take two or three simple bookcases with removable shelves and mount them to the wall. Take out the middle shelves and add a hook to provide a place to hang bookbags or coats. Add a decorative basket to the top shelf for odds and ends and use the bottom shelf to store things like shoes. You can also customize the shelves to your liking.
6. Add a floating shelf
A single floating shelf can also help upgrade an entryway or fake one when you don't have it. A simple floating shelf above some hooks for coats or bags allows you to place photographs or plants on the shelf to create a visual impact. It's an easy way to designate a space on a wall for an entry or upgrade a formal entryway, says Better Homes & Gardens.
7. Turn a shelf into cubbies
For bookshelves that don't have adjustable or removable shelves, you can create a super quick storage bench. Simply turn the shelf on its side and add decorative baskets or containers to hide clutter.
On the top, a simple outdoor cushion could help make it a comfortable place to sit, or you could paint the top a different color to fake a cushion.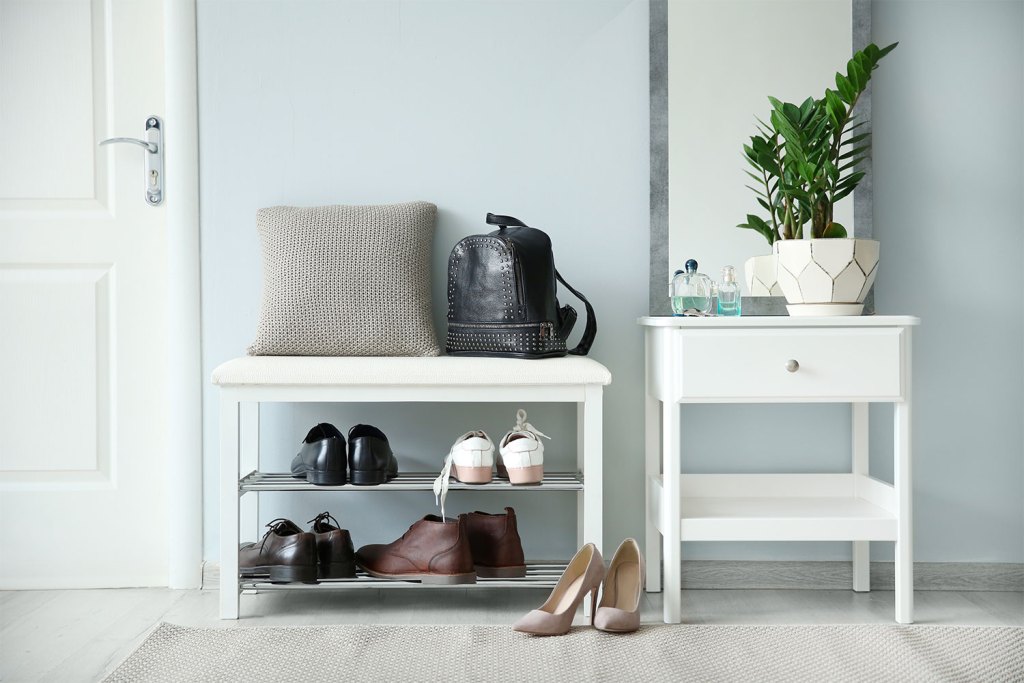 8. Create Mail Holders
If paper clutter often clutters your otherwise beautiful entryway, help organize it right at your door. Take a floating shelf and attach metal or wooden magazine holders underneath. You can organize mail coming in for different members of the household or use one for outgoing and one incoming.
9. Hang Crates For Storage
If you've got some simple, small crates, spray paint them for a fun, colorful pop, or keep the natural wood for a country design feeling. Mount them on the wall in a fun pattern to provide simple storage for pictures, plants, or even shoes.
You could hang three in a row for a simple, classic look with hooks underneath or scatter them over the wall in a fun gallery pattern. Whatever you choose, they're visually pleasing and give you storage.
10. DIY Entry Bench
For a smaller bench with some flair, mount a door to the wall for security. Attach a simple cubby to the bottom for an impromptu storage bench like what used to be common in mudrooms.
Finish it up by adding hooks to the top third of the door and attach a floating shelf at the very top of the door for a display. Baskets in the cubby keep clutter hidden and add a fun potted plant to the side; Bob Vila shows how to make your own.
11. Change Your Light Fixture
If you've still got the same, boring light fixture that came with your house, upgrading it to something with more design flair can also add a lot to your entry. If you've got tall enough ceilings, adding a small chandelier is a great first impression.
You could also choose a modern, sculptural light fixture for impact or add a trailing light to help guests transition from your entryway to your living area.
Upgrading Your Entry
Taking just one hour to focus on your entry could give you significant changes. Because this is often such a small area, less intense changes tend to have a considerable impact. Whether you're sprucing up the dull welcome by designing an inviting entryway or you're trying to create a small space to function as one, it is most certainly possible to achieve a beautiful entrance in your home.
Editors' Recommendations