A sideboard by any other name would be a credenza, buffet, or even a hutch. A sideboard is a piece of furniture, traditionally near the dining room table, used to store extra items. It may or may not have a hutch on top. Your grandparents probably called it a china hutch, referring to the whole piece of furniture. Technically, a hutch is a set of shelves or cabinets placed on top of a piece of furniture, which would be a sideboard.
Sideboards defined
In the Middle Ages, a sideboard was just a side board: a board placed near the table, sometimes anchored to the wall or set on some sort of support. It held extra cups and plates as well as extra food.
Over time, it evolved into a cabinet that includes drawers, shelves, and doors to store dining linens and table service items. Common features include:
Plenty of storage. People store ornate cutlery in fabric-lined boxes and tablecloths with beautifully embroidered edges inside. Most contain many of the items you need to set the perfect dinner table.
Short, stubby legs. Some don't have legs at all.
A hutch on top. This includes glass doors and shelves for storing fine china.
Room for decorations. When it isn't in use for food service, the top is decorated with candles, special serving plates, photos, and perhaps a lamp. Items like these can be easily moved to put the sideboard back in service during dining.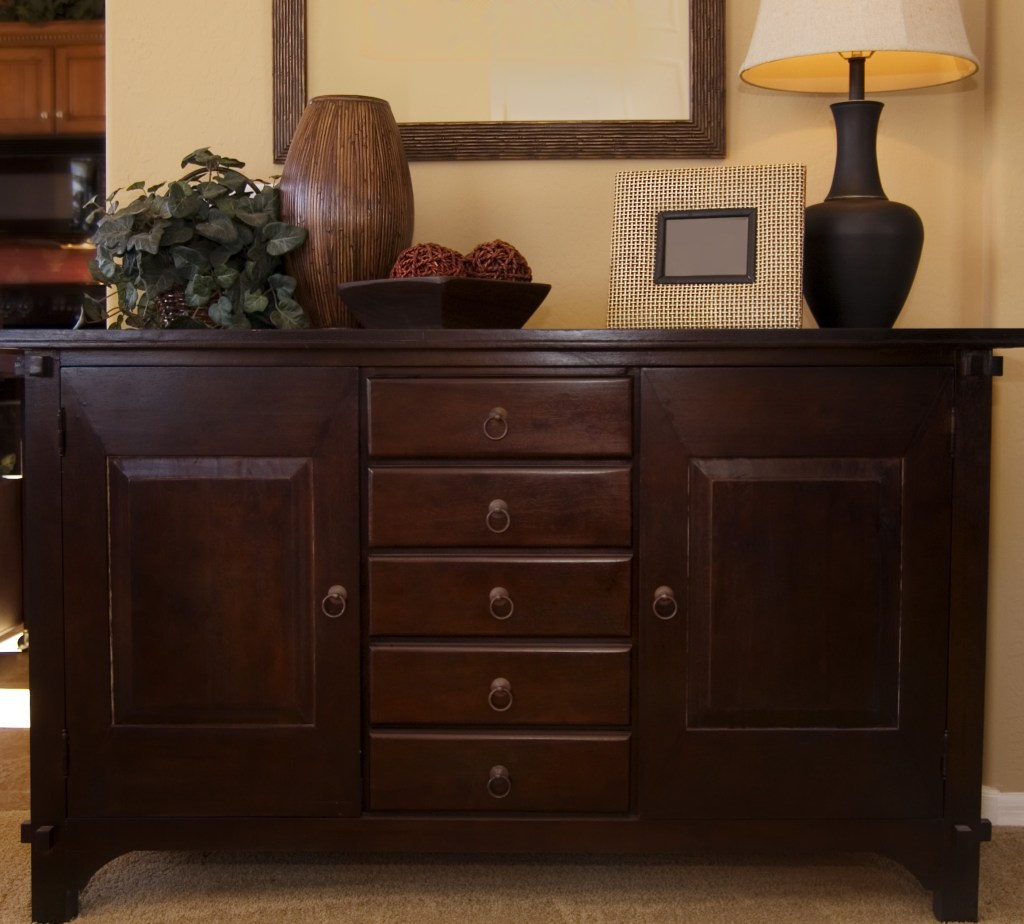 Credenzas and buffets
A buffet is a narrow table with tall legs used for extra serving dishes. It may or may not have one narrow drawer under the top and doesn't necessarily have any cabinetry. It's often decorated with small items when not in use. Buffets are not usually used anywhere but in the dining room.
The main difference between a buffet and a sideboard is versatility.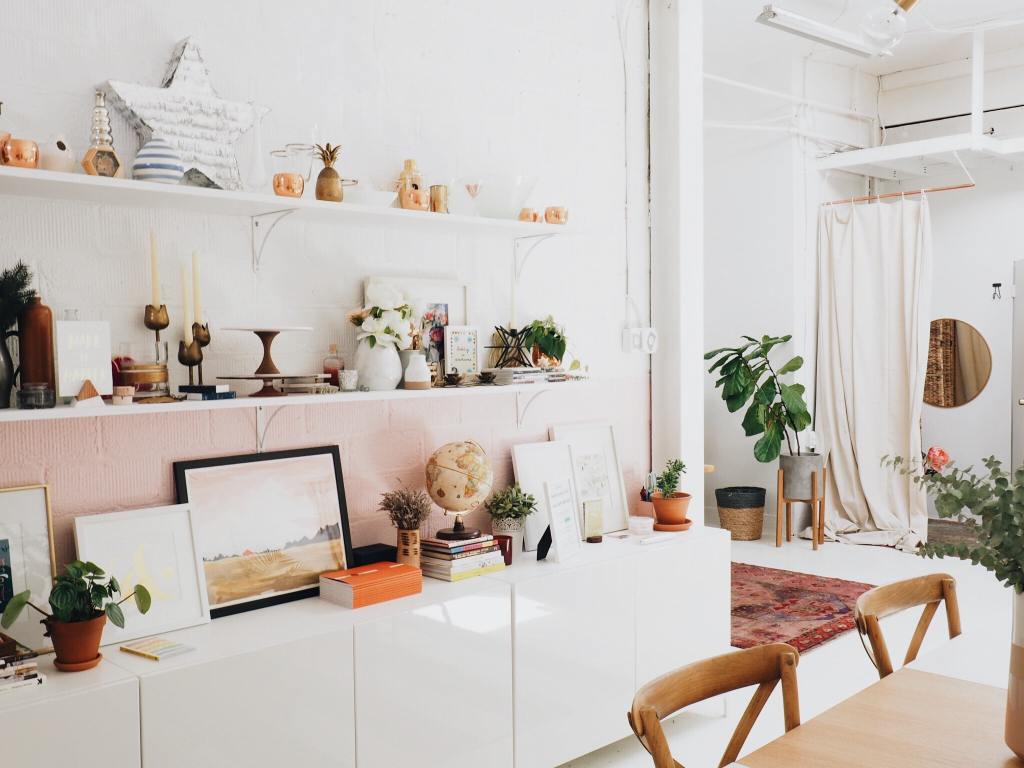 A credenza is lower than a buffet or sideboard and usually has sliding doors and no drawers. Credenzas have a more modern look and have evolved into office storage units.
Modern sideboards
You can find them anywhere. Use them as accent tables in an entryway, behind a couch, or along a hallway. You can match them to your existing furniture or display them as an eclectic side piece.
Since sideboards traditionally hold serving dishes, they are taller than dining room tables. The standard height of a dining room table is about 28 inches tall, and a sideboard is usually 34 inches to 38 inches tall. You sit at a table and eat, but stand at a taller sideboard to dish out the food.
The length of a sideboard is about 60 inches long, which is the average length of a dining room table, although many dining room tables can be 48 inches long.
Sideboards are usually between 22 inches and 24 inches deep, and you place a sideboard, buffet, or credenza at least 24 inches from the dining room table. If you think you need that extra piece, check your dimensions.
Since a sideboard has upper and lower cabinetry, remember to make allowances for opening the cabinet doors.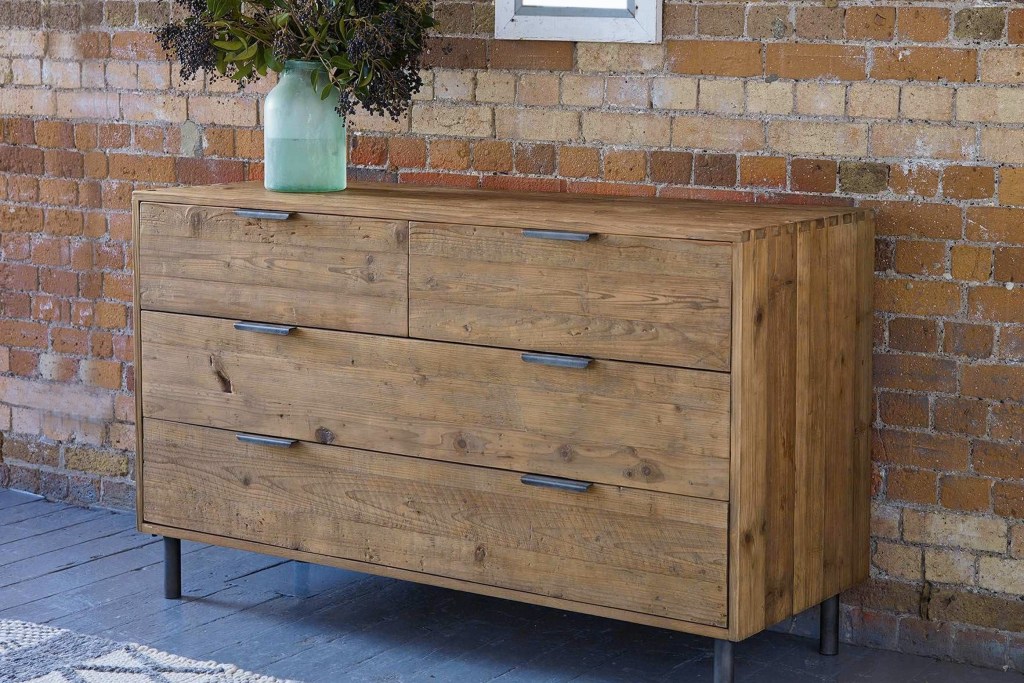 Do you need a sideboard?
If you have a formal dining service and an everyday dining service, a sideboard is a nice storage option. Do you host dinners for family and friends and find yourself stacking serving dishes in the kitchen or on the counter and telling people to go help themselves? A sideboard would be a better option; it's close enough for you to reach over, pass a dish, and then put it back.
If you're looking for a narrow, attractive piece of furniture that you can use for storage, then think about a sideboard. They work great as a storage/display option in the living room or family room. They sit flush to the wall, you don't see what's inside the lower cabinets, and you can display items on top.
Are you searching for something lighter? There are sideboards available that have lower shelves without doors under the drawers. Not having the cabinet doors will make the sideboard appear less hefty, which might fit into your design plans a little better.
The beauty of a sideboard, buffet, or credenza is that they add storage but take up minimum space. That does limit them for storage purposes, but they are quite versatile.
Editors' Recommendations