If there's one thing to know about Southern cooking, it's that Southerners love their greens. Because they are easy to grow, versatile, and nutritious, cooking and serving collard greens is a long-standing tradition in Southern kitchens. A member of the cabbage family, collard greens have a long history in Southern cooking and with African Americans in particular. Collard greens and black-eyed peas are two of the most common dishes served for Kwanzaa and to welcome the new year.
Often cooked along with ham or bacon, collard greens make the perfect rich, homestyle meal, but they don't require meat to taste delicious. Here's how to make fantastic vegan collard greens.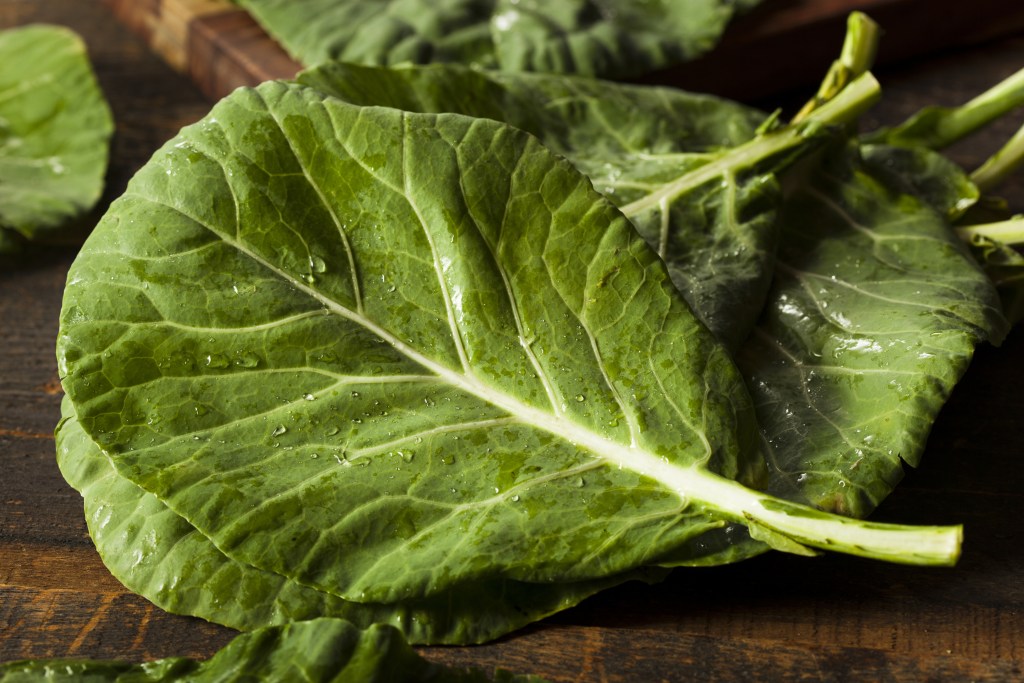 How to cook collard greens like a pro
How long are you supposed to soak collard greens?
Collard greens have veiny crevices on the back of their leaves that can harbor sand and dirt, so washing them well before cooking is crucial. The best method for cleaning collard greens includes a nice long soak in your kitchen sink.
Here's how to do it:
Fill your kitchen sink with cool water. Add a little vinegar and salt. (Note: Vinegar has antibiotic properties, making it a natural alternative to many vegetable cleaners.)
Place the greens into the water and swish them around a few times, scrubbing with your hands to help loosen any dirt.

Allow them to soak for 15 to 20 minutes, giving them an additional scrub midway through the soak cycle.
After soaking, rinse the greens thoroughly in cold water before cooking.
How do you get the bitterness out of collard greens?
By nature, collard greens tend to be pretty bitter. In order to take the bitterness out of the collard greens, there are a few things that will do the trick.
Cook them for a very long time. Depending on the size of your batch of collard greens, you may need to cook them for between one and two hours. Don't worry about taking the nutrients out of your collard greens; the long cooking method is how they are meant to be prepared.
Add a teaspoon each of salt and lemon juice. This method, in combination with the long cooking method, should remove all of the inherent bitterness of the collard greens. After adding the salt and lemon juice, stir it up and taste the greens. If they are still a bit too bitter, add another teaspoon of lemon juice and salt, and keep repeating until it passes the bitterness taste test.
Skip the salt and lemon juice method and use vinegar instead. Vinegar will help coax the best flavor out of your collard greens. The tangy taste of the vinegar helps to brighten up the flavor and cut the bitterness. You can also add a tablespoon of sugar to help balance out the flavors.
What to serve with collard greens
Collard greens are a versatile, leafy vegetable and can be a wonderful addition to so many dishes. Make a vegetable stir fry and add collard greens to the assortment of veggies, or as a replacement for lettuce or kale in wraps or salads. Chopped collard greens also add flavor and texture to soup (plus the longer cooking method of soup allows the greens to get soft and tender while simmering in the pot).

This vegetarian southern collard greens recipe is made without chicken broth or smoked meat, but it's so tasty you won't miss the meat at all. The savory broth is the key, and it's achieved through slow, slow simmering. Adding smoked salt gives that smoky, bacon-like flavor, minus the meat.
Here's what you'll need:
1/2 of a small yellow onion, diced
3 cloves of garlic, minced
2-3 cups of vegetable broth
1 tsp. of applewood smoked salt (another kind of smoked salt will also work)
1/2 tsp. of red pepper flakes
2 lbs. of collard greens
Black pepper
Hot sauce
Instructions
Start by sautéing onions in a deep skillet coated with vegetable oil. Then add the garlic and continue cooking until nice and fragrant (about two to three minutes).
Add vegetable broth, smoked salt, and red pepper flakes. Make sure to taste the broth and add more seasoning if desired.
Bring to a simmer before reducing heat and adding the collard greens (don't worry if it seems like a lot of collard greens; they will wilt down during the cooking process).
Simmer for about an hour to an hour and a half. Check doneness periodically. When fully cooked, collard greens are dark green and tender.
Add additional smoked salt, black pepper, red pepper flakes, and hot sauce! That's it!
You don't need to be in the South to enjoy some good, old-fashioned collard greens. Follow this recipe and our cooking tips, and you'll be cooking like a Southerner in no time!
Editors' Recommendations