Thanksgiving is all about bringing family together and eating an indulgent meal filled with everyone's favorites. Once you have the main protein figured out (turkey, ham, prime rib, etc.), you need to fill the table with side dishes that accompany the main.
Since preparing a bunch of Thanksgiving sides at once can be a daunting task, it helps if you can work in some super fast recipes, so you're not tied to the kitchen all day. Besides, Thanksgiving is about food and family, so you'll want to actually spend some time with your guests. The four recipes below come together in 10 minutes or less and are good enough for any Thanksgiving table.
Quick glazed carrots
Vegetables may not be your favorite part of Thanksgiving, but this carrot dish could change your mind. The honey helps bring out the carrots' natural sweetness, and the Dijon mustard rounds out the flavor and will leave your guests wondering what precisely those flavors are.
Ingredients
2 cups of baby carrots
1 cup of water
2 tablespoons of honey
2 tablespoons of Dijon mustard
Directions
Combine carrots and water in a microwave-safe dish and cook on high for 5 minutes.
Check the carrots to be sure they are fork-tender and drain any excess water from the dish.
Stir in the honey and mustard and toss to coat.

Pan-roasted mushrooms
Mushrooms are a great way to please any vegetarian guests you may have at your Thanksgiving table, but the carnivores will love them, too. Soft, buttery, and hearty, these pan-roasted mushrooms could just become the star of the show.
Ingredients
2 pounds of mixed mushrooms
1 tablespoon of olive oil
Salt and black pepper to taste
2 cloves of garlic, minced
1 tablespoon of butter
1/4 cup of chopped fresh parsley
Directions
Remove the stems and clean the mushrooms with a damp paper towel.
Cut the mushrooms into large, equal-sized chunks.
Heat the olive oil in a large cast-iron skillet over medium to high heat.
Once the oil is hot, add the mushrooms in a single layer and season with salt and pepper. (Be sure not to crowd the pan, or the mushrooms will steam rather than roast — work in batches if necessary.)
Cook mushrooms until they begin to brown, which will take about 5 minutes.
Stir in the minced garlic and butter and then cook for a few more minutes to soften the garlic.
Remove from heat, add fresh parsley, and serve.

10-minute mashed potatoes
Mashed potatoes are the most popular Thanksgiving side dish for most people, but they are usually a labor-intensive and time-consuming recipe. Don't think it's possible to make mashed potatoes in ten minutes? You'll be changing your tune once you try this recipe.
Ingredients
4 (6-ounce) baking potatoes, peeled and cut into 1-inch pieces
1/2 cup of sour cream
1/2 cup of milk
2 tablespoons of minced chives
Salt and pepper to taste
Directions
Place potato pieces in a microwave-safe bowl and cover them with plastic wrap. Cut a 1-inch slit in the plastic wrap to vent.
Microwave on high for up to 10 minutes.
Let stand in the microwave for 2 minutes and then add the remaining ingredients to the bowl.
Stir to combine, top with a sprinkle of the chives, and serve.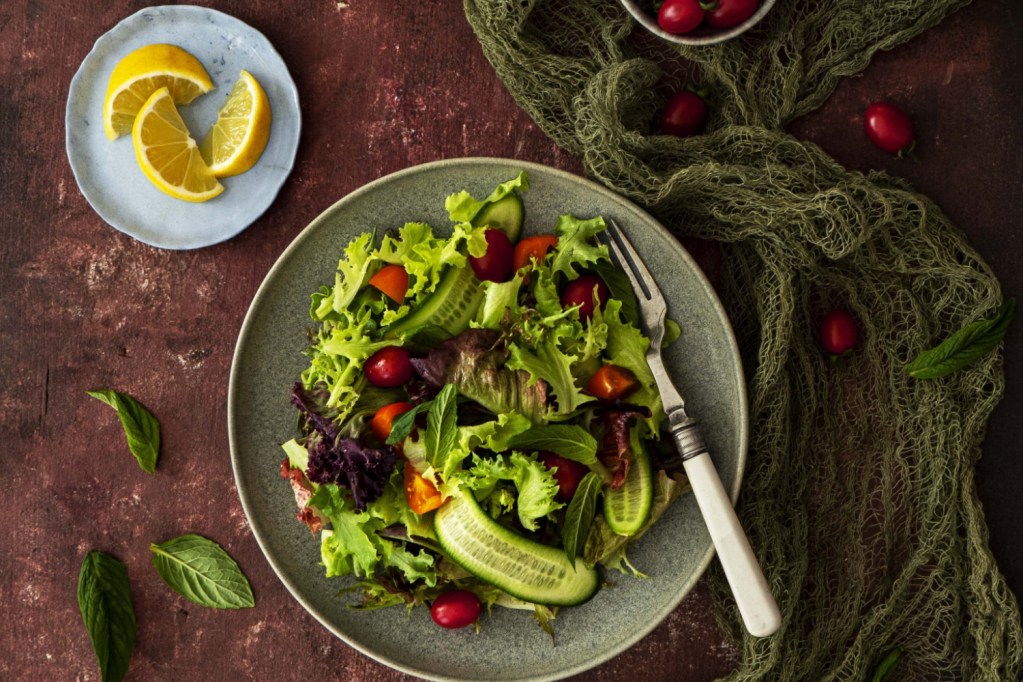 Mixed greens salad with pumpkin vinaigrette
Mixed greens salads are definitely not the most looked forward to Thanksgiving dish, but this salad is looking to change the game. The pumpkin vinaigrette makes this salad festive enough for the Thanksgiving table, and the greens bring something healthy to the meal.
Ingredients
1/4 cup of cider vinegar
3 tablespoons of canned pumpkin
2 tablespoons of pure maple syrup
2 tablespoons of olive oil
1 teaspoon of grainy Dijon mustard
1/4 teaspoon of salt
1/4 teaspoon of black pepper
9 cups of torn mixed greens (baby kale, baby chard, spinach, and romaine)
2 pears, cored and sliced
1/2 cup of slivered red onion
12 whole Medjool dates, pitted and quartered
1/2 cup of toasted walnut pieces
Directions
In a jar with a tight-fitting lid, combine vinegar, pumpkin, maple syrup, oil, mustard, salt, and pepper to make the vinaigrette.
Cover and shake well to combine the ingredients and emulsify the dressing.
Combine the mixed greens with 1/3 cup of the dressing in a large bowl and toss to coat.
Divide the greens onto serving plates and top with the pears, onions, dates, and walnuts.
Serve the remaining vinaigrette on the side.
Thanksgiving is a day for treating yourself to a rich meal and spending time with the people you love. In order to maximize the time spent with loved ones, spending less time in the kitchen is ideal. The side dish recipes above save on time but don't lack in flavor — some are even made with under five ingredients. If keeping it simple is your goal for this year's Thanksgiving, try out one (or more) of the recipes above and we promise you won't be disappointed.
Editors' Recommendations