Be nicer to the environment and say no to plastic. Be nicer to yourself and avoid toxic endocrine-disrupting chemicals. Be nicer to your wallet and start taking your lunch to work. Use the microwave to reheat and freeze food with confidence knowing your health is not at risk. Check out our favorite glass food-storage containers and upgrade the way you keep your food.
Another big advantage of glass containers is the ability to see their contents when opening the fridge. When people see their leftovers, they tend to eat them before they spoil. The form factor is also a top feature as they stack nicely to maximize space. For extra convenience, they are dishwasher safe, and their durability makes them valuable houseware.
Utopia Kitchen Glass Food Storage Containers
Best overall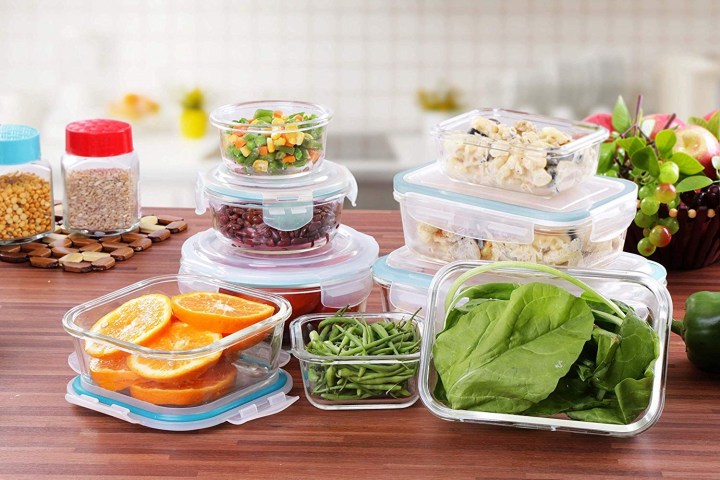 Keeping your food tasting fresh and delicious is now easy with the Utopia Kitchen Glass Food Storage Containers, a set of 18 pieces for a complete solution to fridge organization, to start your batch-cooking routine and freeze food for later use. The modern design will bring some style to your commuter lunch, and you will be able to heat your food in the microwave, too.
Pyrex Meal Prep Glass Container Set
Best multicolored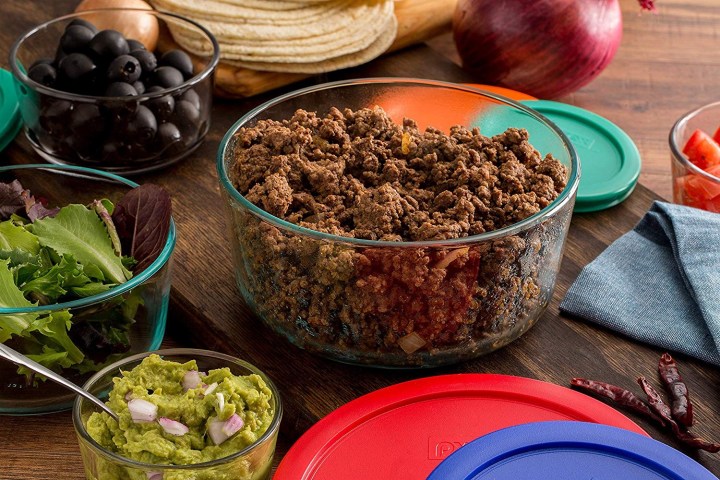 Color code your food storage with the Pyrex Meal Prep Glass Container Set. This useful set includes nine containers of different dimensions with multicolor lids for easy organization of different types of stored food. Green for raw food, red for cooked meals, blue for leftovers, and orange for sweets is a useful system to prevent cross-contamination when handling food.
Bayco Glass Food Storage Containers with Lids
Best for durability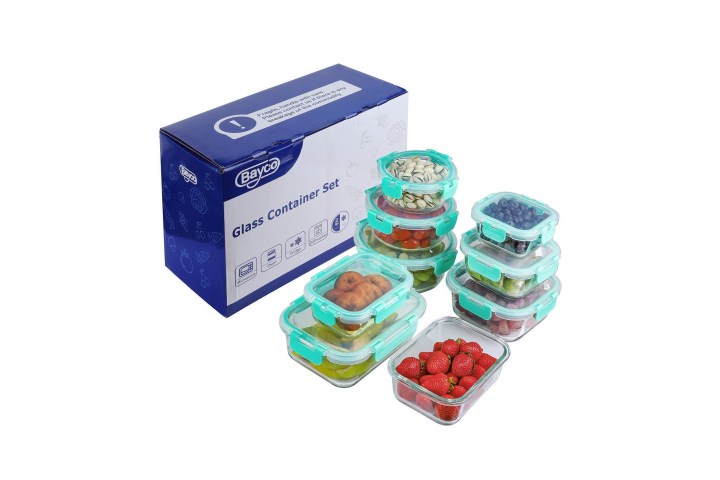 Find an almost-permanent solution to your food-storage needs with the Bayco Glass Food Storage Containers with Lids, the most durable kit we could find. With nine bento boxes with lids for each box, this is the best solution for both storing food and serving family-style meals. Heavy-duty glass is one of the most resistant we've reviewed, and the lid has an incredible seal.
We invite you to try using glass food-storage containers and experience the benefits of a clean, sustainable, and efficient alternative to flimsy, outdated plastic options. This versatile kitchenware can help you with advanced food prep, portion control, and potlucks.
Editors' Recommendations