As Thanksgiving quickly approaches, it's time to consider how to best prepare for a family celebration in your home. While your to-do list may be filled with foods to make, pies to bake, and presents to purchase, you can't forget to arrange your decor! It's easy to become distracted and neglect to adorn the table for the holidays, but doing so can add a much-needed sense of coziness to your festivities.
In this article, we'll share four super simple Thanksgiving table decor ideas that are sure to delight a crowd. So whether you're looking for something Pinterest-worthy or simply need a quick solution to fill the space on your table, we've got just what you're looking for.
Layer your plates
For those who don't want to crowd the table or need a quick solution to make their Thanksgiving feast look more appealing, layering your plates can add a touch of detail that is sure to wow your family and friends. When layering, don't be afraid to add a bit of color or pattern into the mix. Around Thanksgiving, combining traditional fall colors like orange and bronze with nature-inspired hues like navy and green looks especially stunning. Likewise, patterns like plaid, stripes, and florals add texture and visual interest to the table.
To adorn your dining table, we recommend starting with a placemat, raw wood table charger, or a circular woven mat to add a natural element to the look. Then, place a large plate on top, and stack a few smaller dishes atop that. Two or three plates are typically sufficient. Also, be sure to use at least two colors, like white and navy blue, for example, to make the scene stand out.
For finishing touches, add a napkin, some silverware, and a glass or two to create a curated and sophisticated look for your Thanksgiving dinner.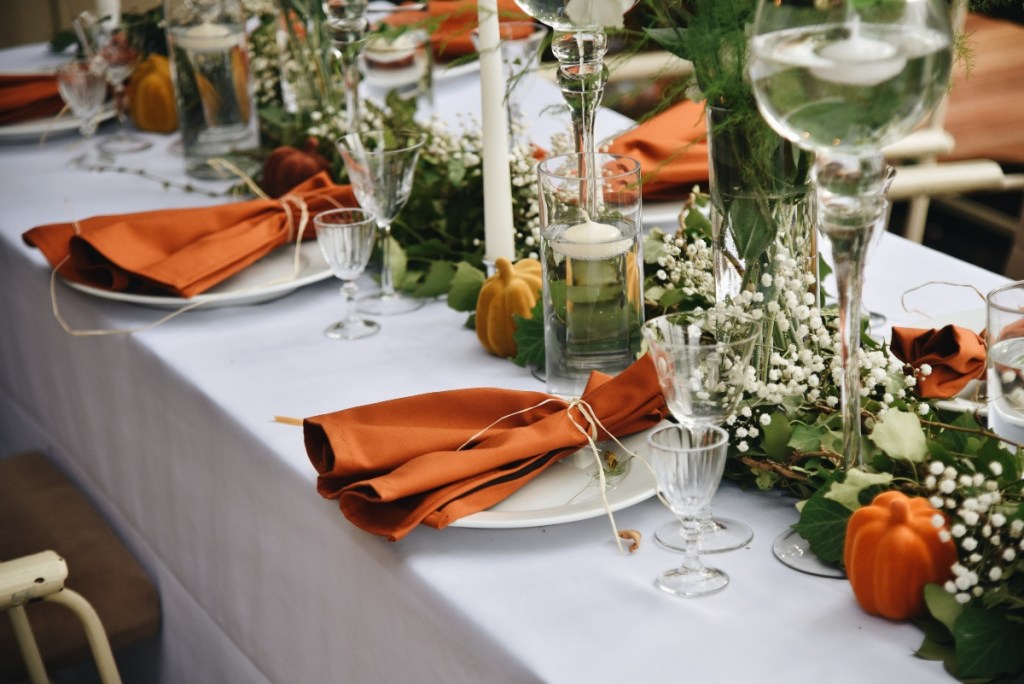 Add a center garland
For many people, the center of the dining table is often left barren and empty. Rather than leaving your table exposed and lackluster, add some life and texture with a stunning centerpiece. Table-length garlands look elegant atop most dining room tables. They are vibrant, natural, and small enough that people can still chat with one another across the table!
When choosing a garland, find something that matches your existing home decor to prevent the designs from clashing. That being said, evergreens, faux-vine leaves, and winter sprigs tend to look the most appealing. Then, drape the garland over the center of the table and add a few pumpkins, candles, or other small decorations to accentuate the design.
For a more sophisticated look, use decorative pieces like candle holders, candles, beads, vases, and white pumpkins. For those eager to dive into cozy fall decor, incorporate small logs or table chargers, candles, orange pumpkins, and fall leaves to celebrate the harvest season.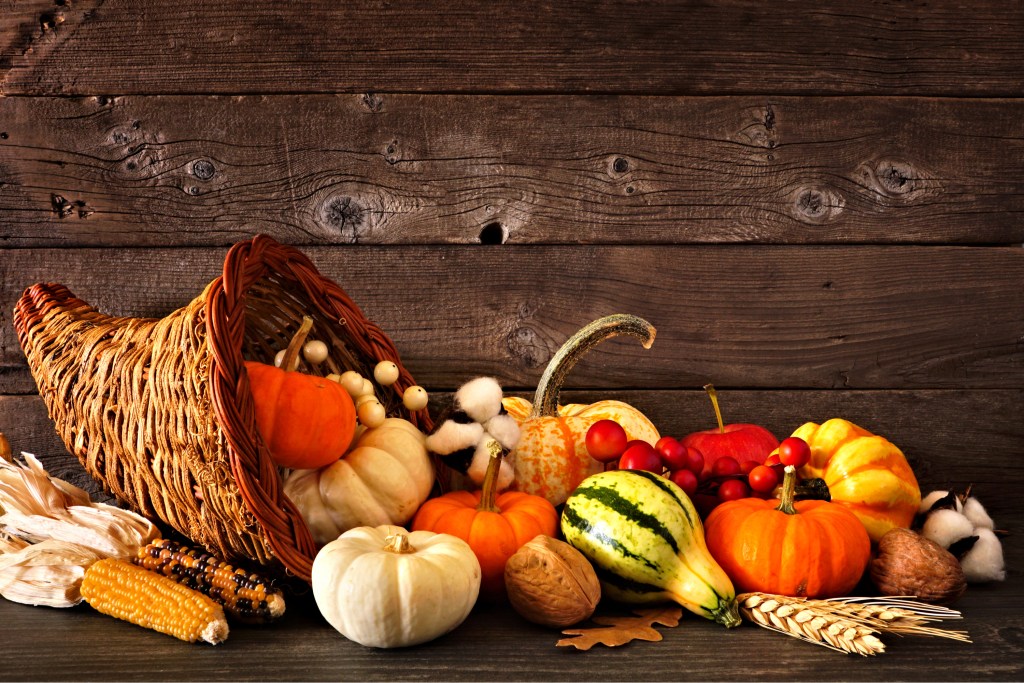 Go old-fashioned with a cornucopia
As a well-loved tradition, cornucopias are the perfect addition to your Thanksgiving table decor. Vintage, rustic, and contemporary style lovers alike will adore this centerpiece. These centerpieces are easy to customize, so you can include whatever pieces best complement your existing decor and holiday style.
To begin, set down a table runner or tablecloth beforehand to soften the dark colors or wood tones of your table. Then, place your empty cornucopia in the center of the dining table and add small pumpkins, leaves, twigs, evergreens, and beads inside your cornucopia. For a more modern look, go for a monochromatic look, only including pieces of your favorite shade like ivory, forest green, or copper.
Arrange the pieces so that the items look as if they're overflowing from the cornucopia, but be sure not to go overboard with this step. You don't want your table to look cluttered or stuffed, so decorate in moderation. Adding additional pumpkins, leaves, and candles around the outside of the cornucopia can also tie the entire look together.
Use candles and Lazy Susans for smaller tables
Not everyone has a large table suitable for lengthy garlands or massive cornucopias. If you're working with a small or square table this Thanksgiving, remember that less is often more. Use a placemat or small table runner on your table as your base. Then, place a multi-tiered Lazy Susan in the center of your table. By decorating vertically, you can save table space and still incorporate all your favorite decorative elements into your design.`
Place candles on top or around the Lazy Susan and surround them with miniature pumpkins, pine cones, leaves, grapes, and other natural elements to pull off the design. For a more minimalist approach use only white or cream pumpkins, candle holders, and beaded garlands to create a more streamlined look.
Decorating the Thanksgiving table often goes toward the bottom of your holiday to-do list. After all, arranging the guest rooms, planning the meal, and coordinating schedules are top of mind. However, styling your dining room table doesn't have to be a chore. By adding some eye-catching centerpieces and incorporating natural elements, you can wow your family and friends this year with a sophisticated table design that reflects your personality and love of the season.
Editors' Recommendations