Christmas is all about traditions — from treasured family decorations to Grandma's cookie recipes, right down to when and how you open your Christmas presents. But if the idea of another Christmas dinner of turkey, baked ham, and all the fixings has you saying "bah humbug," we have some ideas that are definitely thinking outside the Christmas box.
If you're ready to break the cookie-cutter mold of traditional holiday meals, we have an assortment of unique Christmas dinner ideas that will inspire your taste buds and bring your holiday meal to a whole new level. Want something a little bit different for Christmas? Try these menu ideas.
Buffet-style Christmas dinners
When you have more dinner guests than you have dining chairs, or when you expect visitors to drop in at various times throughout the day, a buffet dinner gives you the opportunity to treat your guests to a more casual (yet still elegant) Christmas dinner.
Christmas tacos
Everyone loves tacos, so why not have them as part of your Christmas Day feast? A Christmas taco buffet works particularly well if you're hosting a larger crowd, where a sit-down dinner might not be feasible. And, these aren't just ordinary, everyday tacos. This Christmas taco recipe features braised short rib beef and a holiday-worthy pomegranate pico topping.
The short ribs get their tenderness in a slow cooker (so the cooking happens while you're busy doing other fun holiday things), with pomegranate juice, chiles, and cinnamon giving it a unique flavor. Fresh pomegranate seeds are used to make a flavorful and colorful pico that provides the finishing touch. Set up a taco-building station for guests, with corn tortilla, cilantro, lime, cotija cheese, crema, and other toppings.
Christmas pasta
Pasta is always a good way to feed a large crowd: It's hearty, tasty, and when you follow this Rachel Ray recipe, it's absolutely irresistible! As a bonus, you can make the sauce on Christmas morning or even a day or two in advance. With pancetta, hot Italian sausage, ground beef, pork, and veal, this meat-lover sauce will be an unexpected yet delicious way to refresh your standard Christmas menu. Plus, no many how many times you reheat it, the sauce only gets better and better, so you can whip up batches of pasta for last-minute drop-ins (use about half a pound of pasta for every three people).
Add a big salad and a few loaves of crusty Italian bread for a filling comfort-food dinner that will feed holiday guests without stressing you out as host.
Make-ahead Christmas soup buffet
Nothing beats a steaming bowl of savory soup on a blustery winter day. Set up a make-ahead holiday soup buffet with two or three different soup varieties (make sure one is meat-free for your vegetarian guests). Then line up the pots, soup tureens, or Crock-Pots with ladles, stacks of sturdy bowls, spoons, and festive cloth napkins.
Place baskets of bread or rolls on the buffet table, island, or countertop, and provide an assortment of toppings and garnishes, including popcorn, croutons, goldfish crackers, chopped fresh herbs, grated cheese, sour cream, and even salsa, depending on your soup varieties. Looking for a new soup to try? Add this delicious broccoli cheddar recipe to the assortment of some of your tried-and-true soup recipes.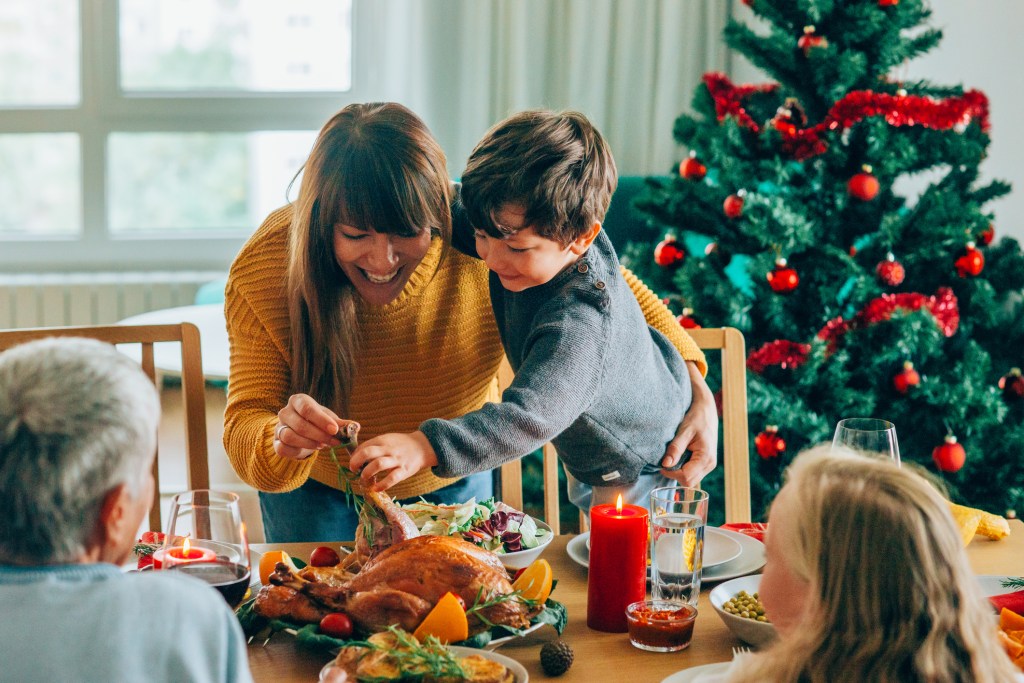 Sit-down Christmas dinners
Always better for smaller numbers of holiday guests, a sit-down dinner lets you bring out your fancy or holiday-specific china and set a splendid table complete with cloth linens and Christmas-themed napkin rings.
Cumin-spiced roast chicken
If your Christmas crowd is too small for a turkey or ham, but you still want to do a sit-down dinner, this roast chicken with pork and pistachio stuffing is just right for a family of four. Way more special than a standard roast chicken recipe, this one has salted pistachios for amazing flavor and texture and a spice rub that's mixed with sweet grape molasses for crispy, flavorful skin. Add garlic roasted potatoes, some roasted root vegetables, and a side salad for a filling and delicious meal that is worthy of the Christmas holiday.
A vegetarian Christmas
While roast beef, turkey, and ham may all be popular holiday dinner choices, a meatless meal can be every bit as festive, delicious, and filling. We've pulled together a few drool-worthy vegetarian Christmas dinner recipes that are sure to please your holiday guests — even the die-hard meat-lovers! Get ready to wow with this meat-free holiday meal featuring caponata flatbread, warm roasted cauliflower and spinach salad, and butternut squash and turmeric soup. You won't miss the meat one little bit.
Sure, Christmas is a time for traditions, but our outside-the-box dinner ideas may very well be the start of new holiday traditions you'll continue for years to come. With family and friends around to share the joy of the season, your home-cooked cuisine will form the backdrop for new Christmas memories.
Editors' Recommendations