If you're looking for the perfect fall or winter treat, carrot soup is a must! This warm and delicious dinner side is perfect for cozy nights indoors or evenings by your fireplace. Whether you're looking for a light appetizer, a side dish to complement your meal, or a simple dinner for a laid-back chilly evening indoors, carrot soup is a wonderful choice.
The best part about carrot soup is that it's extremely easy to make and is a perfect addition to a winter dinner meal. Here's our favorite recipe for carrot soup to bring you warmth and comfort this season.
How to make cream of carrot soup
If you're asking yourself, "What can I make with a lot of carrots?" then carrot soup is the answer. Here's a delicious cream of carrot soup recipe that we're sure you're going to love.
Step 1: Add the cubed butter to a Dutch oven and set it to medium heat.
Step 2: Once the butter has begun to melt, add the carrots, potato, onion, celery, chicken broth, and ginger to the pot.
Step 3: Cover the dish and allow the ingredients to cook. You'll want to stir occasionally to disperse the heat and prevent anything from sticking to the bottom. Additionally, check the vegetables to ensure that they are tender. This will take about 30 minutes.
Step 4: Once the vegetables are tender, you can allow the soup to cook for an additional 5 minutes or remove it from heat immediately, depending on your preference.
Step 5: Remove the lid and allow the soup to cool for 15 minutes.
Step 6: Once cooled, transfer the soup to a food processor and blend until smooth. This might need to be done in smaller batches depending on the size of your food processor. Use a separate bowl if necessary to fully blend the soup.
Step 7: Return the soup to the Dutch oven and stir in the heavy whipping cream.
Step 8: Add curry powder, salt, and black pepper to the soup.
Step 9: Cook over low heat for roughly 10 minutes to fully blend the spices and cream with the soup.
Step 10: Once it's finished cooking, transfer your soup to serving bowls and enjoy!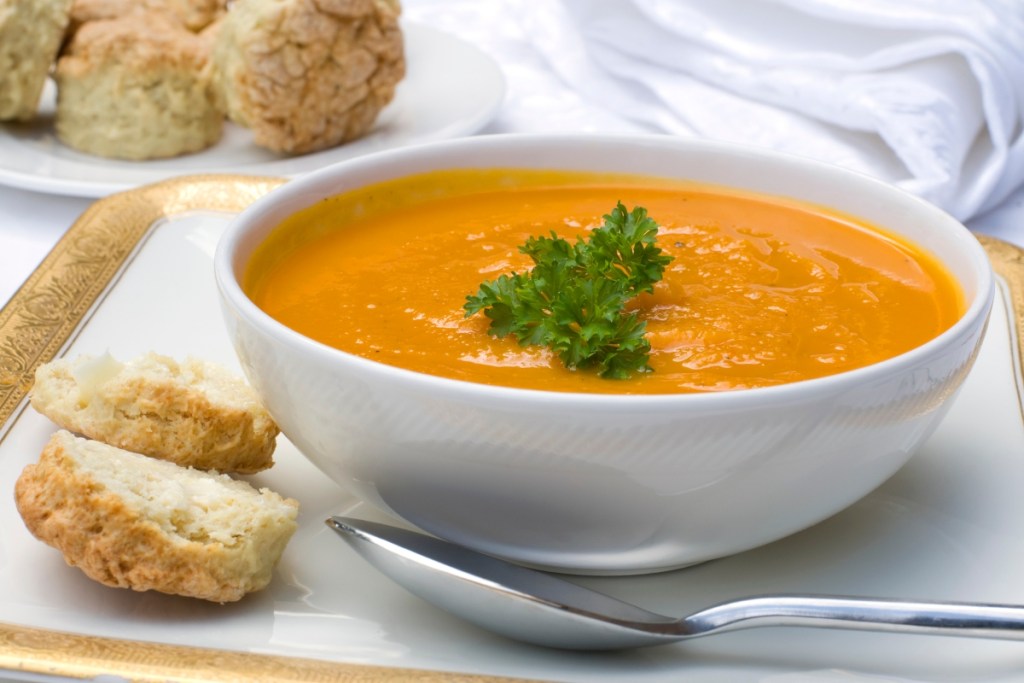 What goes best with carrot soup?
Carrot soup can be a great meal on its own, but it can't hurt to pair it with a few delicious sides. If carrot soup is your main course, we suggest pairing it with a side of bread or bruschetta. Baked sweet potatoes and marshmallow-covered sweet potatoes are also wonderful sides. Alternatively, try roasted butternut squash to accompany your meal. Sweet potatoes and squash go perfectly with carrot soup.
If you prefer to use carrot soup as an appetizer, follow up with a main course of butternut squash pasta or a cozy roasted chicken dinner. Winter vegetable sides like baked potatoes, roasted paprika-covered broccoli, and honey-coated brussels sprouts are also perfect additions to your meal.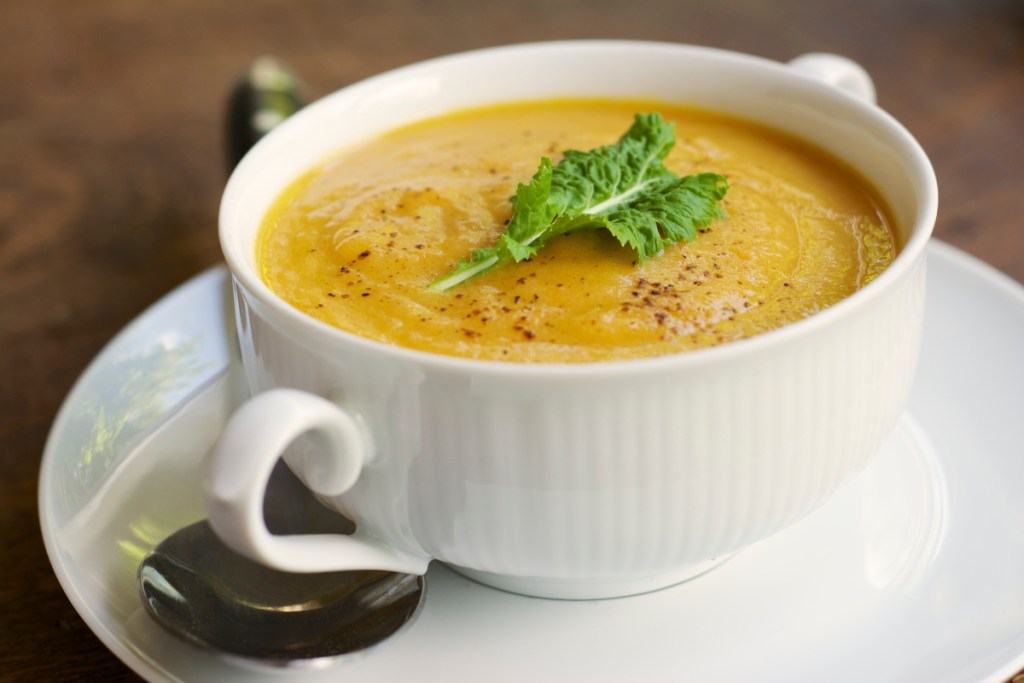 Is carrot soup good for your health?
One question that many people have is whether carrot soup is good for your health. According to the Mayo Clinic, one medium carrot provides more than enough vitamin A and carrots are also a good source of fiber.
Carrot soup has a low-calorie count, so it's a wonderful meal idea for those who may be on a weight-loss journey. Additionally, since carrots are a good source of fiber, they can help everyone's digestive system. So, why not try some carrot soup this season to help boost your health and well-being?
Carrot soup is a delicious and flavorful meal perfect for cozy nights and those eager to capture its health benefits. We recommend trying it out, whether as an appetizer or as a main course, to take part in this delectable seasonal treat!
Editors' Recommendations