Cabins radiate warmth and coziness while offering some exciting interior design possibilities. When decorating a cabin bedroom, your first instinct may be to go all out to fit the rustic, camping-esque theme. But designer beware: This can start to look tacky if you're not careful.
There are some DIY do's and don'ts when it comes to striking a stylish balance in a cabin bedroom. From the right colors and furniture to statement pieces, here are six rules for keeping your cozy cabin bedroom from looking kitschy.
Use light, bright colors
First, let's talk color schemes. Cabins, with their signature log and wood structures, already have dull and dark browns galore from the floor to the walls to the ceiling. The primary decision anyone designing a cabin bedroom should make is a color scheme that will liven up the room.
Choose colors for the bedspread, rug, or anything large you might be planning for the walls. They will set the tone for the whole room. Neutral colors can work if you're going for a natural, woodsy look — just make sure they're light. Brighter colors, when used sparingly, can also work here.
If you want to stick with red, blue, or green, which are often seen in rustic patterns, choose just one of these and pair it with a neutral color. Pairing any of these strong colors together can often cross the kitschy line.
Avoid pattern overload
One tendency for cabin decorators is to introduce as many rustic patterns as possible, but don't get too ahead of yourself. There's a fine line between tasteful use of those fun, geometric patterns and the room becoming too campy.
That's not to say you can't use them at all. A rustic pattern can look great in a bedspread or a rug (but not both), especially if you stick to the first rule above. We suggest a white and beige patterned comforter.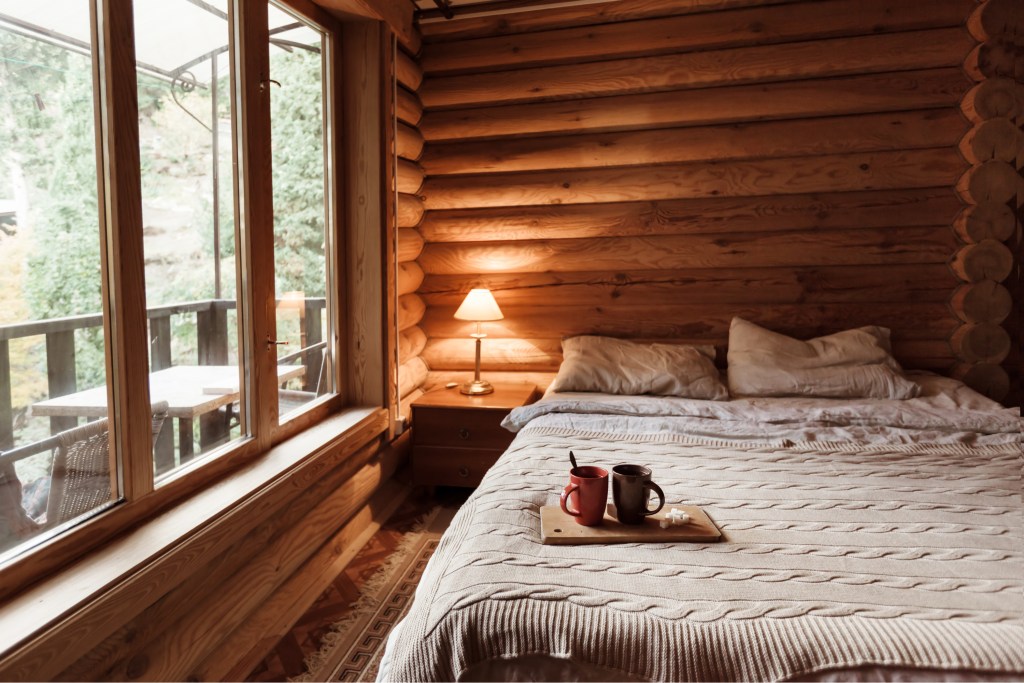 Decorate sparingly
Similar to using patterns, decorate your walls and shelves in moderation. Too many knickknacks in your bedroom can be too on the nose for a cabin. One or two statement pieces around the room will easily do the trick. Some ideas are either a simple flower in a vase or houseplant, a large poster or tapestry, or a cozy chair or small couch that adds a pop of color.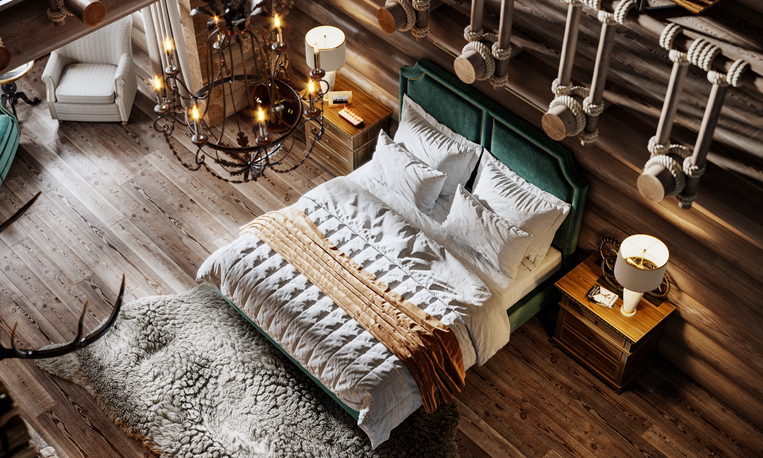 Incorporate modern pieces
Another great way to keep your cabin bedroom from looking kitschy is to lean into modern sensibilities instead. Since cabins are rustic by nature, inserting modern decor can offset the cheesy campfire vibes while still keeping it super cozy.
Adding an understated lighting fixture or floor lamp, for example, can go a long way. We also suggest some modern wall art to set that simplistic tone.
Don't go overboard with wood
As mentioned earlier, cabins are already rife with wood, so it's important to think outside of the box with your furniture. The wood-on-wood look, especially if it's the same style and color, can look a bit tacky. If possible, get more simple furniture that's made of steel, fabric, sideboard, or some other material.
If you can't avoid wood furniture and fixtures, repaint them a different color from the color of your cabin walls. White, gray, or any super-light colors can all work great.
Avoid clutter
This is easier said than done, but avoiding clutter in a cabin bedroom is key to making it feel fresh and cozy, rather than drab and kitschy. We all struggle with this on a daily basis, yet there are ways to make sure your belongings don't detract from the vibe you want for your bedroom.
The solution to clutter is smart storage. There are so many innovative ways to store your stuff. For a cabin bedroom, we suggest hanging some floating cube bookshelves on the wall. We also suggest a cornered desk with plenty of drawer space to hide any clutter.
Decorating a cabin bedroom is full of potential for creating a warm and cozy space. However, there are pitfalls to avoid and ways to beautifully transform this woodsy space. When putting a cabin bedroom together, it's easy to get excited about the rustic aesthetic that many of us love so much. But it's best not to go overboard if you don't want your room to end up looking kitschy.
When it comes down to it, you want your space to feel calm and inviting. Stay away from too many overwhelming patterns and colors, flip the script and go modern, and hide any clutter to turn your cabin bedroom from tacky to tactful.
Editors' Recommendations