Brown furniture sometimes gets a bad rap for being boring or outdated, but it can be a surprisingly classic and classy addition to the home. Some may even argue that brown furniture is stylish and coming back into vogue. This is because brown is a versatile choice for both dining and living room furniture, as it's neutral enough to complement several different aesthetics. The secret to bringing out the depth and soul of your brown pieces is the appropriate color palette. So what wall color goes best with brown furniture?
The color palette you choose will ultimately depend on the function and style of the room itself. A room with brown furniture can be warm and inviting, elegant and earthy, or luxe and glamorous. Decide on what feelings you want to evoke in the room, and, for inspiration, check out some ideas below.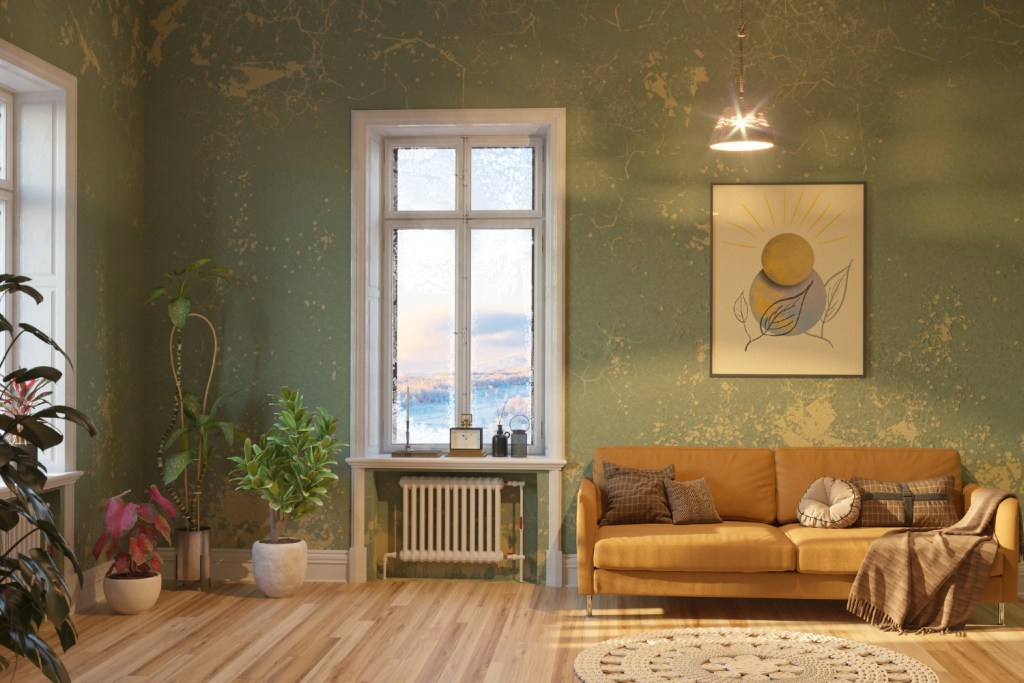 Natural
If you typically take inspiration from natural or earthy elements, pair your brown furniture pieces with a color palette that makes you want to go on a hike or picnic. Earth tones tend to create an inviting atmosphere, and there's enough versatility in these shades to craft a room that can be either moody and woodsy or bright and beachy.
Think warm peach tones and burnt umbers for a southwestern or desert vibe or a combination of grays and off-whites to mimic a rocky landscape. You could also incorporate blues to bring water or sky elements into the room — lighter blues work well with dark browns, and dark blues pair best with lighter browns.
Don't stop at colors, either. Textures are essential when decorating with nature in mind, so keep an eye out for natural fiber rugs, textured wallpaper, clay pots, etc.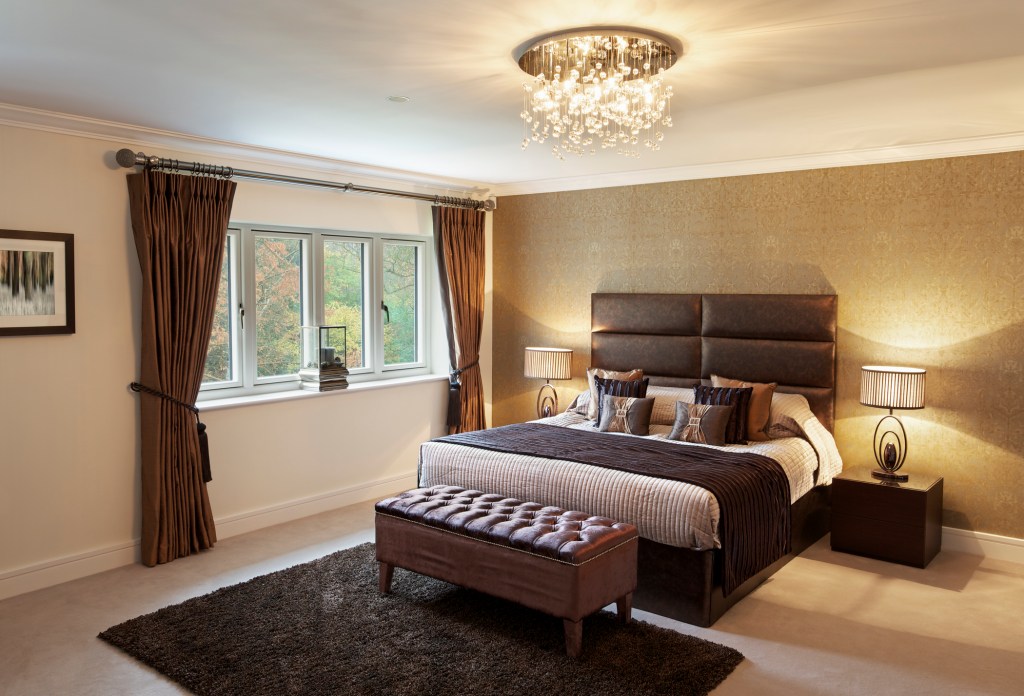 Elegant
Brown may be the last color you think of when it comes to curating elegance, but, when handled properly, this hue can be as chic as the classic black and white scheme. To bring more elegance to your brown furniture, set them alongside ivory walls. The creamy shade contrasts with the depth of the brown to give a clean, upscale vibe.
Accent this with a sophisticated shade of blue for a pop of color, or keep it simple and stick with subtler accents of toffee, sand, camel, and cocoa shades. Be sure to choose a color that has a soft and mellow undertone — if the color is too close to pure white, it will create a stark contrast that's too harsh on the eyes.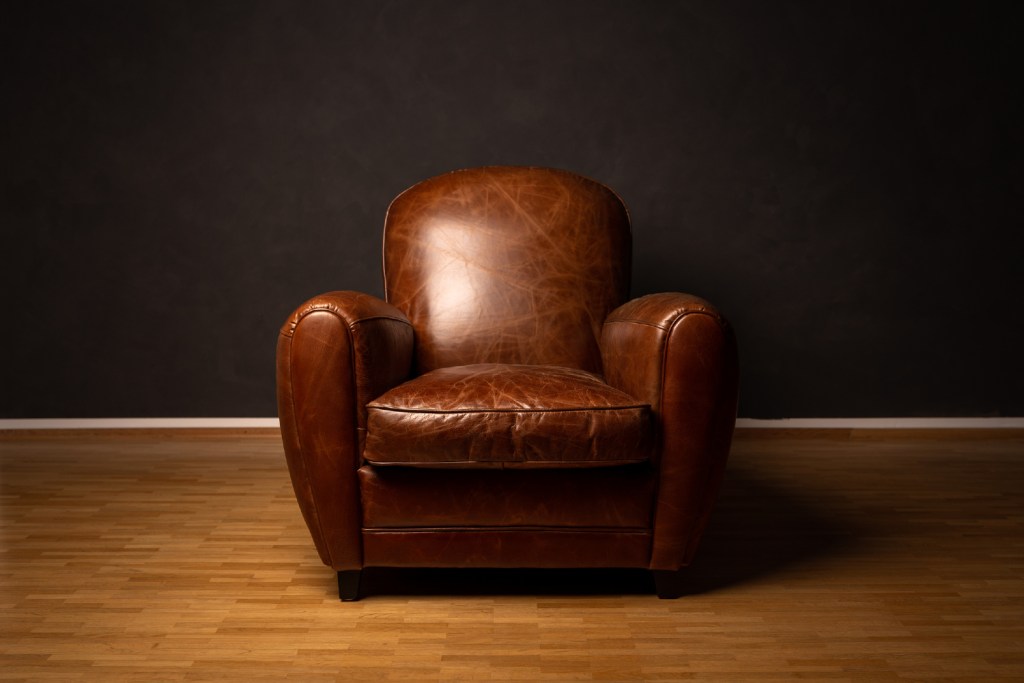 Glamorous
If you want to go bold, brown furniture is the way to go. Pairing deep browns with natural oranges is upscale 1970s chic all the way. Orange adds a dash of energy to any space, especially when it's a pure, bright shade. Don't worry — you don't have to paint all of your walls the color of tangerines to pull this off. You can paint an accent wall and use throw pillows and other furniture or decorations to complete the look.
If you absolutely do not want an orange room but still want to design a contemporary room, consider a deep, glossy brown for the walls. Brown on brown may seem redundant, but switching up the sheen can add interest while maintaining a sense of continuity. Plus, a high-gloss paint will reflect light and open up the space, as opposed to creating a cave-like atmosphere.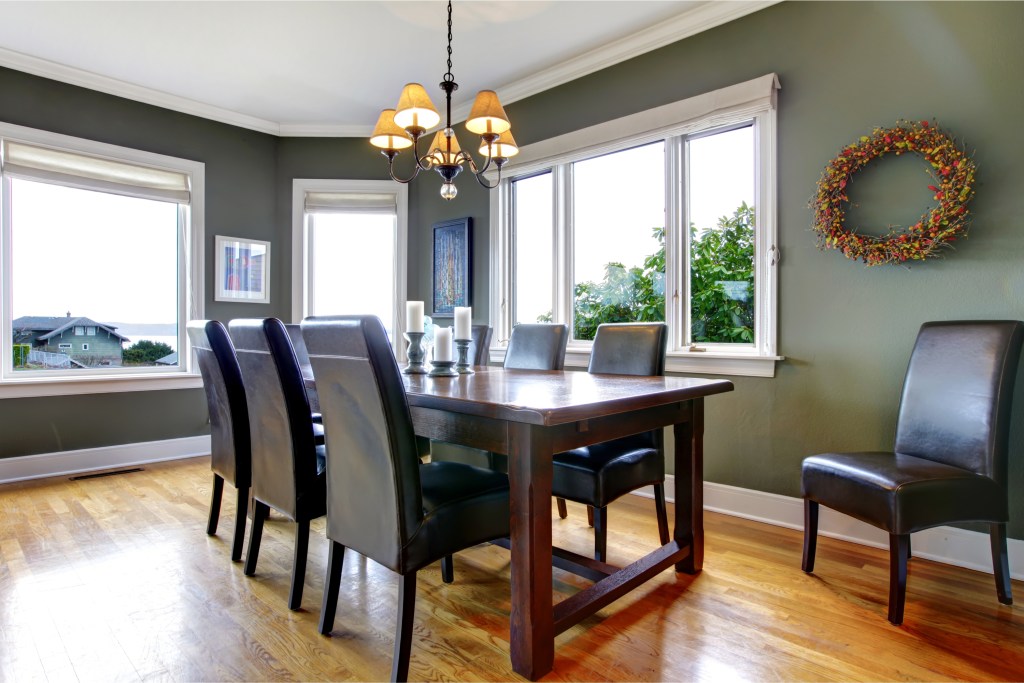 Calming
If you enjoy warm nights in front of the fire and would rather stay in and watch a movie than go out on the town, this soothing vibe is for you. If you have dark brown furniture and want the room to be your sanctuary, mid-tone walls are the way to go. Think about incorporating golden yellow, soft blues, grayish-greens, soothing greys, and creamy beiges. With these tones, the walls seem to welcome you in rather than pop for attention. If your sofa is a lighter brown, use deeper shades for the walls like navy blue or slate grey.
Brown furniture doesn't have to be boring or reminiscent of hand-me-downs. Brown can be sophisticated, warm, earthy, soothing, glam, elegant, and more, depending on your vision for the space. Whether your furniture is wooden and naturally brown, upholstered, or painted, you can transform it into an envy-inspiring statement piece. You don't need a full-scale renovation to design the room of your dreams, either. All you need is a coat of paint and a little creativity.
Editors' Recommendations