Winter was made for crockpot cooking — easy, hearty recipes that cook while you're out of the house. Just add your ingredients into the crockpot, or another slow cooker, in the morning, turn it on, and when you get back home, you'll have a piping-hot meal just waiting for you. Crockpot cooking is all about ease — ease of cooking, ease of clean-up (only one "pot" to clean), and a whole bunch of easy recipes. We gathered together a few of our favorite crockpot recipes, each beyond tasty, and each using just four ingredients.
Get ready to warm up this winter with some hearty crockpot meals that are really simple to make.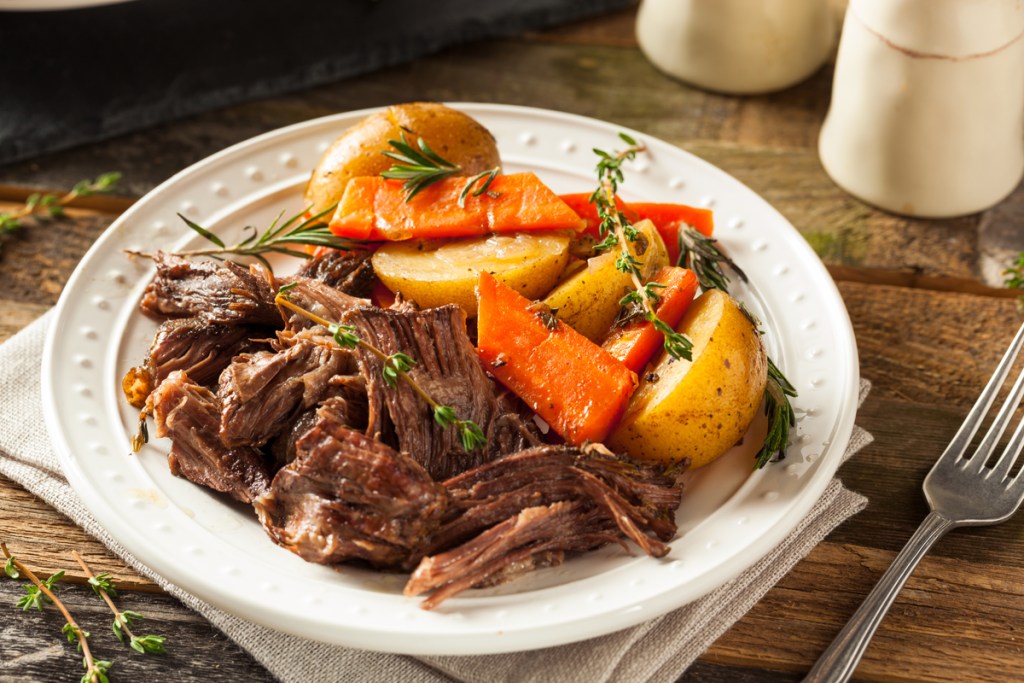 4-ingredient crockpot recipes
It's always good to have a few packets of onion soup mix on hand, and they'll really come in handy when you have a craving for a good old-fashioned pot roast. This one is a breeze to make. Just add the meat, a packet of onion soup mix, a can of cream of mushroom soup, and water. Turn the crockpot on and you'll return home to the very definition of comfort food. You can add chopped carrots, mushrooms, or potatoes for a little extra pizazz and to help round out the meal.
It doesn't get much easier, or tastier, than this crockpot lemon chicken. Three pantry staples — cream of chicken soup, lemon pepper seasoning, and lemon juice — combine with boneless skinless chicken breasts for a flavorful dish that's destined to become one of your family's most-requested meals. Serve over rice for a filling and tasty dinner, minus the work.
All you need for this tasty recipe is a fully cooked ham (which will simply heat up in the slow cooker), plus a can of cola, some brown sugar, and Dijon mustard for a mouthwatering glaze. It might feel holiday-fancy, but it's so easy to make you can have it on any random Wednesday night. The sweet cola and tangy mustard give the ham a flavorful outer crust. Serve with your favorite vegetables and a side of mashed potatoes for a hearty winter meal you'll fall in love with.
If you're looking for easy — and delicious — it just doesn't get better than this. Boneless chicken breasts, jarred Alfredo pasta sauce, and a teaspoon of dried Italian seasoning is all it takes for a hearty chicken dinner that does the cooking for you. We like adding sliced carrots to the recipe for some added texture and color. Add a side salad and some crusty rolls and you've made something the whole family will crave.
Winter nights are made for these 4-ingredient slow-cooker soups
This four-ingredient potato soup preps in just 15 minutes and transforms some basic pantry items — potatoes, onions, butter, and milk — into a comforting bowl of goodness you won't believe came out of your crockpot. Plus, it's made without flour, so it's naturally gluten-free. Add bacon, shredded cheese, green onions, or croutons for added panache, or serve it just the way it is. Either way, you've stretched your grocery budget and delivered a delicious home-cooked meal.
4-ingredient keto Mexican chicken soup
This keto Mexican chicken soup has just four ingredients: boneless, skinless chicken thighs (a bit fattier and juicier than chicken breasts); jarred salsa; chicken bone broth (store-bought is OK); and a little cheese (either Monterey or pepper jack). Talk about delicious — and low carb, too. Just dump in the ingredients in the morning, and let your crockpot do all the cooking. Come dinnertime, you'll return to a bowl of deliciousness that's as good tasting as it is good for you.
A few tips:
Cube or shred the cheese, so it melts consistently.
Feel free to substitute leftover rotisserie chicken in place of the skinless chicken thighs. You can shred the chicken before putting it into the crockpot, and then you'll just need to heat the soup until it's hot enough to melt the cheese.
Add sliced jalapeños to the top of each bowl for a touch of heat.
We love the ease of crockpot cooking any time of year, but never more than during those chilly winter months when we're craving some hearty comfort food. These four-ingredient recipes make it easier than ever to enjoy tasty home-cooked meals that do all the heavy lifting themselves while you're busy doing other things.
Editors' Recommendations