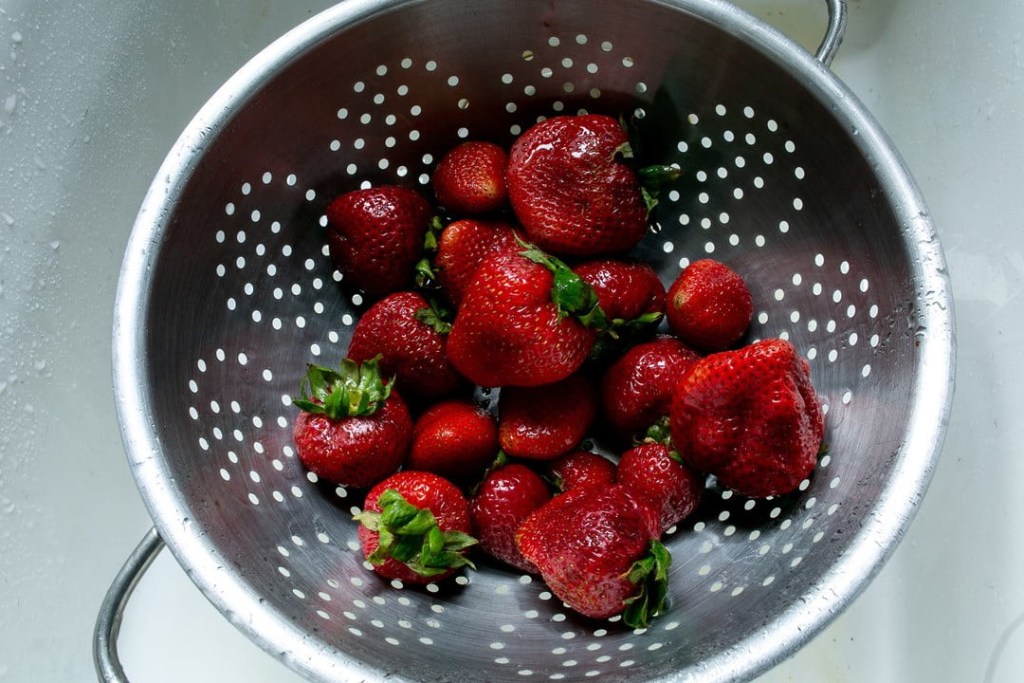 You know the awesome feeling you get when you find locally grown and harvested fresh fruits and vegetables, particularly if you're lucky enough to have a farmers market nearby. Perfect for whipping up delicious salads, side dishes, and desserts, a bounty of fresh summer produce has to be one of the best parts of warmer weather — and strawberries are one of the very best farm stand treats.
Few fruits compare with the juicy, sweet taste of ripe, red strawberries. Sliced and added to salads, blended into smoothies, atop a homemade dessert, or picked fresh and eaten straight from the plant, strawberries are versatile, healthy, and delicious.
Why settle for grocery store strawberries when you can have locally grown and freshly picked strawberries instead? After all, the best part about the farmers market is the freshness. Here's why you should pick up a few extra strawberries this weekend and how you can add them to this week's meal plan.

Growing seasons of strawberries in the U.S.
In the U.S., strawberry season is practically all year long, although not in every region at the same time. Strawberries are in season somewhere in the U.S. every month but in December. The three states that are the main growers of strawberries are:
Florida, where winter strawberries grow from November until April
Texas, which has a shorter season of three months (February through April)
California, where the growing season runs from February to November
If you're looking to grab locally grown strawberries, this chart will help you determine when to find them in season at a farm stand near you.

Health benefits of strawberries
Strawberries are not just sweet and tasty — they're good for you, too. These berries are packed with vitamins and fiber, and they have high antioxidant levels. Sodium-free, fat-free, and cholesterol-free, they're also low in calories and fit perfectly into any healthy diet. In addition, they can help protect your heart, lower your blood pressure, increase good HDL cholesterol levels, and possibly even guard against cancer.
To pick the best strawberries, look for berries that have:
Bright red color
A natural shine
Fresh green caps
To preserve freshness, refrigerate strawberries and keep them dry until just before serving, then rinse them under cold water, keeping the green stems in place. Strawberries are one of the most versatile fruits, able to go from breakfast smoothies to lunchtime yogurt parfaits and from dinner salads to glorious desserts.
Make strawberry jam like a pro
If you got a little carried away at the farmers market and perhaps bought more strawberries than your family can handle, or if you've always wanted to try making homemade jam, you will be thrilled to know that making strawberry jam is easy and produces amazing results. You can find plenty of strawberry jam recipes on the internet, but there are always a few questions people have:
Is strawberry jam good for you?
Although most jam recipes contain a significant amount of added sugar, they also contain a significant amount of nutrients from the fruit used, so whether jam is "healthy" depends on how you look at it. Either way, making jam at home will ensure that you are using only the finest, freshest ingredients with no additives or preservatives.
If you have an abundance of strawberries on hand (or any other berry, for that matter), homemade jam will help use up your surplus and make you a kitchen hero to your entire family.
Should you use pectin in your strawberry jam recipe?
Despite what you might have heard, there is no evidence to suggest that pectin will prolong the shelf life of your jam. Pectin is used to help the jam set more firmly, impacting the gelled consistency of your final product and making it a bit thicker than jams made without pectin.
While many jam recipes include pectin in the ingredients list, though, you can still make a delicious jam that's perfect for spreading on toast, muffins, croissants, and more, without using pectin.
Tips for making strawberry jam
With these tips, you'll get prize-winning strawberry jam:
Make sure your jars are sterilized. This should go without saying, but sometimes people forget this includes the jars, the lids, and the tongs that handle the hot jars.
Crushing or cutting is completely your choice. It all depends on if you want larger chunks or a smoother finish at the end. (If you'd like really smooth jam, get your blender or food processor involved.)
Stir in the same direction. This will reduce the amount of scum at the end of the process.
Since fruit is imported from around the world to your grocery store, you can always find strawberries in stock. However, these locally grown farmers' market berries are a whole new level of deliciousness. Buy them when you can, and get creative with new and inventive ways to eat them because when it comes to farm stand berries, when the season is over, it's over!
Editors' Recommendations