If you often find you have no time to cook for yourself, you definitely need to buy a Crock-Pot. Crockpots allow you to make home-cooked meals even on busy days when you're running around from work to activities to home. Most crockpot recipes take very little time to prep, and some have just a handful of ingredients. Just pop them in before you leave in the morning and when you get home, you'll be greeted with a home-cooked meal.
Now, if you're wondering if a slow cooker is the same thing as a crockpot, you've come to the right place. A crockpot is a type of slow cooker, but not every slow cooker is a crockpot. The term "crockpot" refers to a specific brand of stoneware pot (Crock-Pot) surrounded by heating elements. Someone traditionally made a slow cooker of metal and sits atop a heated surface. Both cook food slowly over hours, producing amazingly tender, hearty meals.

Crockpot chicken FAQs
Can you put frozen chicken in the crockpot?
It's not recommended to put any type of frozen meat into a slow cooker. Too much time is needed for the chicken to thaw and arrive at a safe temperature, which will allow the chicken to be at a dangerous, bacteria-conducive temperature for too long. On the flip side, it's perfectly safe to put raw chicken in your slow cooker.
How long does it take to cook chicken in the crockpot?
While each recipe varies, it usually takes about four hours to cook a chicken breast in a crockpot or slow cooker on the low setting, allowing the chicken to reach the optimal internal temperature of 165 degrees Fahrenheit.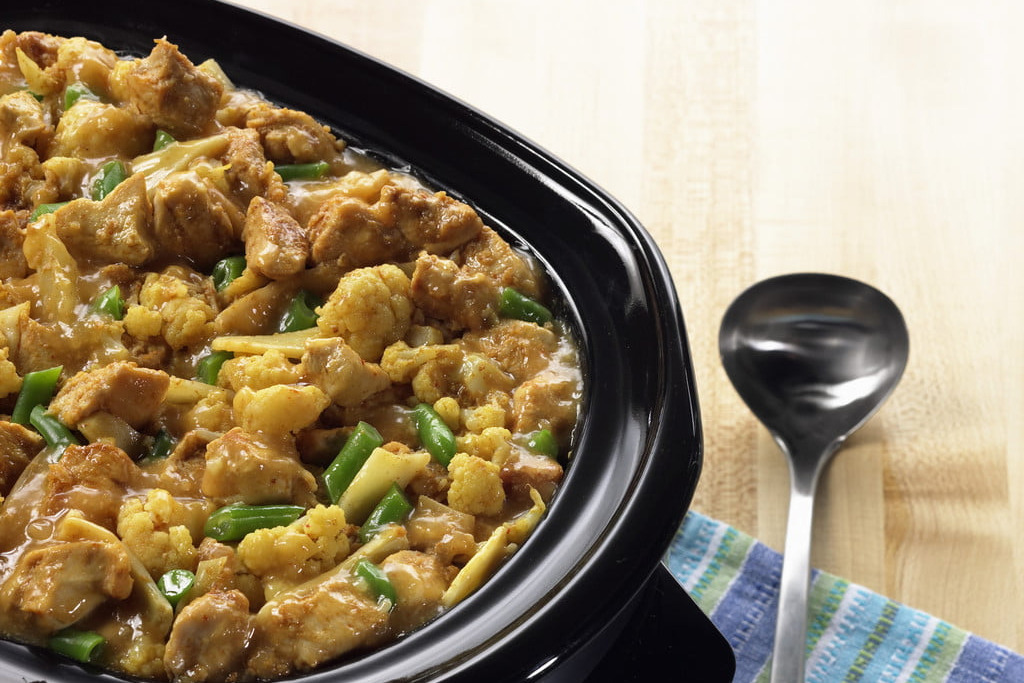 7 days of quick chicken crockpot recipes
These versatile crockpot chicken recipes make the perfect dinner any night of the week.
Butter chicken is one of the most popular Indian dishes in the United States. It is less spicy than many other Indian recipes, with a creamy lightness that will remind you of a creamy curry. It's best served over a bed of hot rice, topped with snippets of fresh cilantro, and paired with warm garlic naan bread as a side dish.
This recipe has everything you love about pizza and more! Turn simple boneless chicken breasts into a flavorful Italian restaurant-style entree. Simply place chicken, jarred pizza sauce, and classic pizza toppings (sliced mushrooms, black olives, pepperoni, or whatever you like) into your crockpot. Just before it's done, sprinkle it with mozzarella cheese for a kid-pleasing meal that cooks itself in four to five hours.
It's hard to believe, but this creamy crockpot recipe is actually low in fat. Light sour cream and low-sodium chicken broth are the secrets of a decadent sauce that is rich in taste but low on guilt. To make it, load up your crockpot with chopped potatoes, carrots, and onions, place the chicken breasts on top, and cook it slow and steady all day long. The sauce is added shortly before you're ready to serve. Bonus: This recipe freezes really well for a great make-ahead family meal option.
Cold winter nights were made for homemade chicken noodle soup, but this one makes itself while you're out of the house at work or running errands. It's super easy to make, and you just can't beat the smell of made-from-scratch chicken soup. Loaded with veggies and satisfying noodles, you'll definitely go back for a second bowl.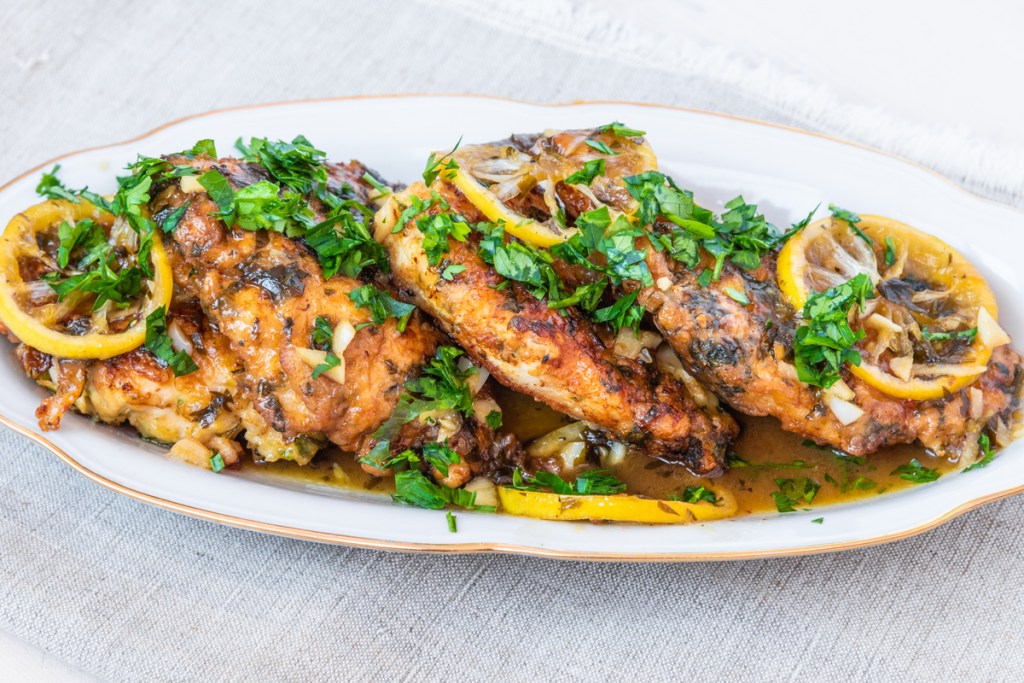 You read that right. With just two ingredients, you'll create a succulent, tasty dinner the whole family is going to love! Place boneless chicken breasts, along with your favorite salsa, inside your crockpot (that step will take all of two minutes). Turn your crockpot on, and let it perform its special brand of magic. Once it's done, shred the chicken with a fork and then spoon it over rice bowls or wrap it into burritos. Or pop it in the fridge for simple lunches all week long.
Chicken and gravy is a timeless favorite, but this one doesn't require you to stand in front of your stove for hours on end. Just place the chicken in your slow cooker and season with salt, pepper, and maybe a little garlic salt. Then whisk together some cream of chicken soup with a couple of envelopes of chicken gravy mix and then add the mix to the crockpot. When it's ready, serve it over rice for delicious comfort food without the stress.
Brown the chicken in a skillet first, and then use your crockpot to do the rest. The flavors of garlic, oregano, and lemon juice really wake up your tastebuds. Serve with a side of brown rice and some steamed veggies for a mouthwatering — and healthy — dinner that's sure to be one of your go-to recipes.
With a little bit of planning ahead and even less time preparing, your crockpot allows you to make hearty, home-cooked meals every single night of the week — even on days when you don't think you have time to cook.
Editors' Recommendations