If you're a Costco shopper, you likely know the Reddit subpage r/Costco. It's a wealth of information about all things Costco, from favorite foods to weekly deals to much, much more. If you're looking to eat healthy and want to stick to a budget, this Redditor's meal prep system just may be for you. It's healthy, super easy to follow, and he said he only spent $67 to cook 24 meals—that's just $2.80 per meal! The best part is he used fresh protein from the big box store and was able to make meals for himself and his girlfriend for a fraction of the cost they would be in a restaurant.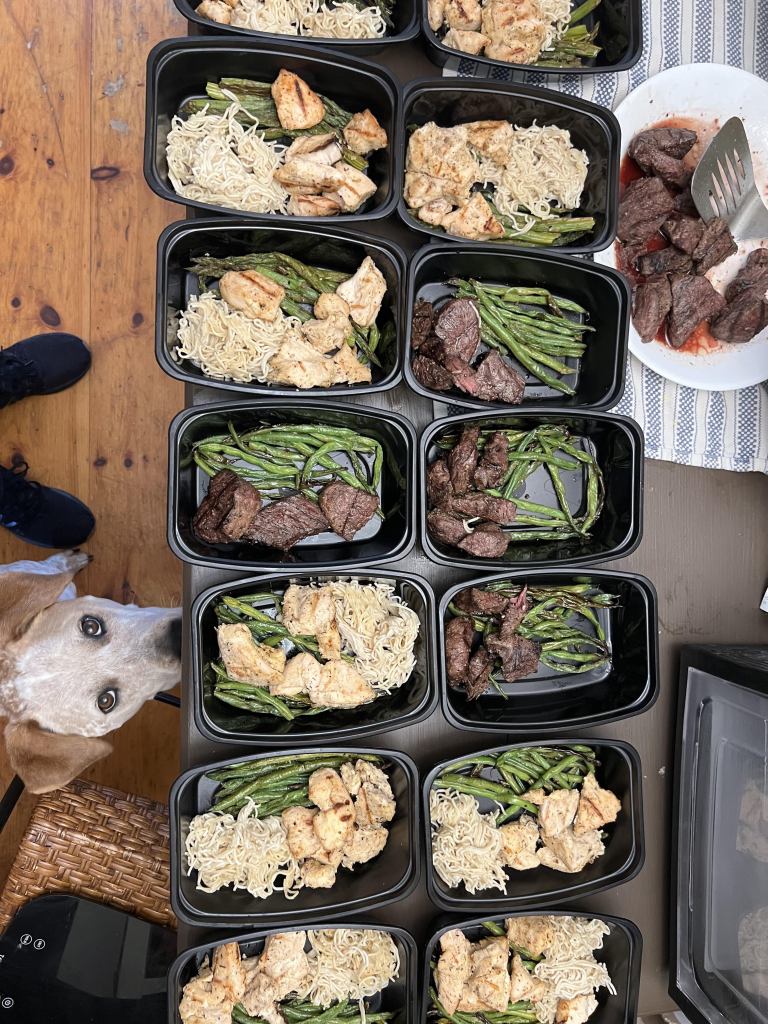 What he bought
According to his post, Redditor CraigBeau made all the meals "exclusively with ingredients bought at Costco." He started by prepping everything with avocado oil, garlic, and herb seasoning (buttery steakhouse for the Sirloin and Pork Barrel BBQ) for the chicken. It's worth noting he did not add the cost of the avocado oil or seasoning because he had them handy in his kitchen, but most kitchens come with seasoning of some kind on hand. The rest he listed out with the prices included:
Steak $39 half $19.90 (only used half of what he bought)
Organic Chicken $28.89
Brown Rice Ramen $8.99 1/4 $2.25
Organic Asparagus $7.49
Organic Green Beans $6.99
Of course, for those who like a little more variety, you can add in fruits, different veggies, or other items for a little more money.
How long it took
According to the post, it only took this Redditor three-and-a-half hours over two days to make all 24 meals for himself — 14 for him and ten for his girlfriend — which isn't bad, considering how long it would take to make an average weekday meal. He also said he Sous vide the meat, which took about 30 mins, then let it marinate overnight. He was also efficient, cooking the rice ramen and veggies at the same time. Once the meat was done, he took 15 minutes to sear them on the grill for extra flavor. He did mention in the past, he spent a little bit more buying precooked protein, but that resulted in a much quicker prep: 45 minutes versus over three hours.
He also gave readers some insight into the rest of his weekly meals, which include protein shakes, eggs, gluten-free pita bread, and almond butter, all coming from Costco. Buying everything you need for a week's worth of meals from one spot is also a time saver, and with anything bought from Costco, you will likely have extras left over for the following week.
The bottom line is this health-conscious shopper was able to buy really good, vitamin-packed ingredients, spend an afternoon in the kitchen, and come out with meals that are tasty, healthy, and inexpensive. That sounds like an afternoon worth spending to me!
Editors' Recommendations