It's America's birthday, and what's a birthday party without some incredible desserts? Whether you're hosting a July 4th gathering or you're a guest, Independence Day is a great time to try out some new dessert recipes that are sweet, refreshing, and guaranteed to earn rave reviews!
Not sure what to make? We've done the searching for you! Here are eight sizzling 4th of July desserts that are so easy, virtually anyone can make them — from baking novices to dessert wizards. Before the fireworks even start, you'll have everyone cheering for these party-enhancing red, white, and blue desserts.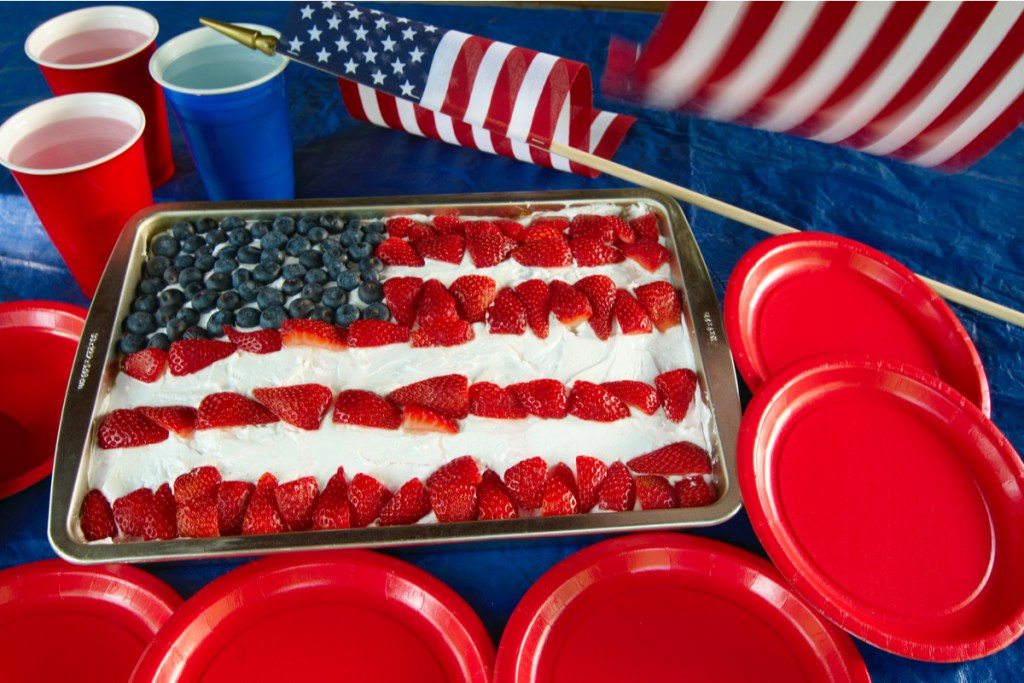 Try these fantastic red, white, and blue desserts
What's Independence Day without some festive red, white, and blue accents? Once you've decorated your party space, it's time to decorate the dessert table! Here are our favorite 4th of July-colored desserts that are quick, easy, and festive.
A festive take on a fruity favorite!
Ingredients:
1 (18.25 ounces) package yellow cake mix
1 (8 ounces) container frozen whipped topping, thawed
1 pint blueberries, rinsed and drained
2 pints fresh strawberries, rinsed and sliced
Directions:
Prepare the cake according to package directions and bake in a 9-by-13-inch pan. Let the cake cool completely.
To make your fruit-rich American "flag," frost the cake with whipped topping, then place the blueberries in a square in the corner (those are your "stars"), and arrange the sliced strawberries as stripes.
Chill until ready to serve.
This 4th of July dessert takes a bit of extra time to make, but it's guaranteed to be the showstopper dessert of the holiday.
Ingredients:
3 (10.25 ounces) packages white cake mix
9 egg whites

1 cup vegetable oil
3 3/4 cups whole milk
2 tablespoons clear vanilla extract
2 tablespoons red food coloring
1 tablespoon blue food coloring
1 cup white chocolate chips
10 cups fluffy white frosting
1 tablespoon white chocolate chips, or as needed
2 tablespoons white sugar, or as needed
4-inch round paper or cardboard stencil
Directions:
Preheat oven to 350 degrees Fahrenheit. Grease and line four 8-inch round cake pans with parchment paper.
In a large mixing bowl, combine all three packages of white cake mix, egg whites, vegetable oil, milk, and vanilla extract. Beat with an electric mixture for 2-3 minutes until the batter is slightly lumpy.
To make the red cakes: Measure half the batter into a separate bowl and whisk in red food coloring. Transfer red batter into 2 of the 8-inch prepared cake pans.
To make the white cake: Transfer half of the remaining uncolored batter into a 3rd prepared cake pan.
To make the blue cake: Add blue food coloring to the remaining uncolored batter; fold in 1 cup of white chocolate chips until combined. Transfer the batter to the remaining prepared 8-inch cake pan.
Bake all four cakes in the preheated oven for about 30 minutes. Cool completely and remove from pans, peeling off the parchment paper. Use a sharp knife to trim cake tops, so they are flat and even.
Cut both the red cake layers and the white cake layer in half horizontally, so you end up with four thin red cake layers and two thin white cake layers.
Place a 4-inch round stencil on top of one thin red cake layer and cut out a 4-inch red cake round. Repeat the process with one of the thin white cake layers.
Center the 4-inch round stencil on the blue cake; cut out and remove the center portion covered by the stencil to make a blue cake ring.
To assemble the cake, you will need:
2 thin 8-inch red cake layers
1 thin 8-inch white cake layer
1 4-inch thin red cake circle
1 4-inch thin white cake circle
1 blue 8-inch cake ring
Reserve the leftover thin red cake layer and other cake pieces for making crumbs for decorating.
To assemble the cake:
Place one 8-inch thin red cake layer on a cake pan and frost the top generously with white frosting.
Place the thin 8-inch white cake layer on top of the red one, and frost the top.
Place the remaining 8-inch thin red cake layer atop the white one. Frost the red layer.
Place the blue ring cake on top of the second red cake layer and carefully frost the inside of the blue cake ring.
Gently fit the 4-inch white cake layer into the blue cake ring. Frost the top of the 4-inch white center.
Place the 4-inch red cake layer on top of the white one. Gently press small cake circles flush with the top of the blue ring.
Frost the entire outside of the cake generously with the remaining frosting.
Crumble red and blue pieces of leftover cake into two separate bowls. Make an American flag design on the top of the cake by scoring lines into the frosting with a kitchen knife (create a 2-inch square at the upper left for blue field and white stars, and seven thick horizontal stripes about one inch wide on the rest of the cake).
Fill the square field at the upper left with blue crumbs and press 1 tablespoon of white chocolate chips upside-down into the blue crumbs to make "stars." Fill the bottom stripe and every other stripe with red crumbs to make red stripes. Sprinkle white sugar generously into the white stripes to make them stand out.
The classic trifle may have originated in England, but this red, white, and blue dessert is pure Americana!
Ingredients:
3 pounds fresh strawberries, hulled and sliced
1/4 cup white sugar
1 quart heavy cream
1 (3.3 ounces) package instant white chocolate pudding mix
1 (6 ounces) container lemon yogurt
2 tablespoons coconut-flavored rum, or to taste, divided (Optional)
2 (16 ounces) prepared pound cakes, cubed
2 pints fresh blueberries, or as needed
Directions:
Stir strawberries and sugar together in a bowl, set aside.
Place a large metal mixing bowl and beaters in the freezer to chill.
Pour cream into the chilled mixing bowl.
Add white chocolate pudding mix, lemon yogurt, and about one tablespoon of coconut rum (cheers!).
Beat at medium speed with an electric mixer until fluffy.
Time to build your trifle:
Spread a layer of cubed pound cake into the bottom of a glass 10×15-inch baking dish, sprinkling with another tablespoon of coconut rum.
Add a layer of strawberries and a sprinkling of blueberries.
Add a thick layer of whipped cream on top of the berries and repeat the layers several times, finishing with a layer of strawberries sprinkled with blueberries (don't forget to receiver a cup of whipped cream for dolloping on top of each serving.

Leftovers — as if you'll actually have leftovers—can be refrigerated for later!
Served with a dollop of whipped cream on top, this fruit crisp is the perfect mix of tart and sweet for your 4th of July dessert.
Ingredients:
1 1/2 cups fresh blackberries
1 1/2 cups fresh raspberries
1 1/2 cups fresh blueberries
4 tablespoons white sugar
2 cups all-purpose flour
2 cups rolled oats
1 1/2 cups packed brown sugar
1 teaspoon ground cinnamon
1/2 teaspoon ground nutmeg
1 1/2 cups butter
Directions:
Preheat oven to 350 degrees Fahrenheit.
Gently toss blackberries, raspberries, blueberries, and white sugar in a bowl and set aside.
Combine flour, oats, brown sugar, cinnamon, and nutmeg in a separate bowl, adding butter until crumbly.
To make a crust, press half of the mixture into the bottom of a 9-by-13-inch pan, then cover with berries.
Sprinkle the remaining crumble mix on top of the berries.
Bake for 30-40 minutes. You'll know it's done when the fruit is bubbly, and the topping is golden brown.
A sweet twist on the popular board trend, a charcuterie board is a must-have at any gathering. And you can easily incorporate red, white, and blue into your 4th of July dessert board!
Ingredients:
1 cup fresh raspberries
1 cup fresh blueberries
1 cup fresh blackberries
1 cup fresh strawberries
1 (16 ounces) prepared pound cake, cubed
1 package shortbread cookies
1 package white chocolate-covered pretzels
1 package red, white, and blue candies
1 package Cool Whip
Directions
Empty the contents of the Cool Whip container into a serving bowl with a spoon.
Wash and dry fresh berries.
Open all storebought packages
Aesthetically arrange all items on a large wooden board (a large cutting board will work).
Place tongs and serving spoons in various places around the board to ensure guests can pick items up in a quick and sanitary fashion.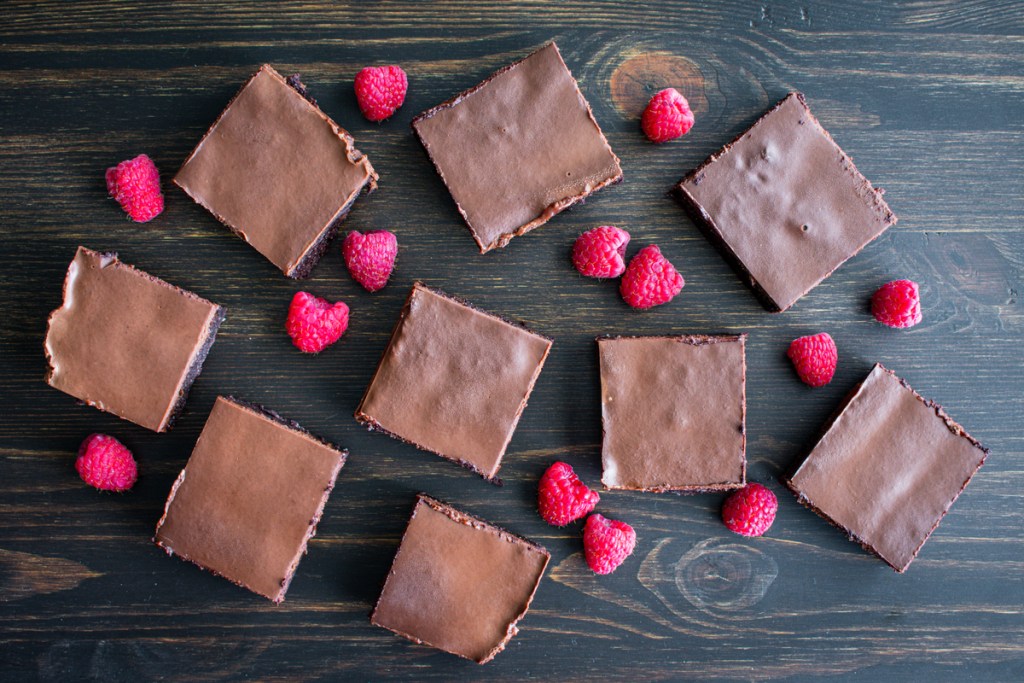 Other 4th of July desserts that are sure to please!
The Fourth of July is about celebrating freedom and honoring tradition. With that in mind, your desserts don't all have to bear the colors of the flag, but they should be traditional American eats! Here are three traditional desserts that will have your 4th of July guests swooning.
The only thing better than the chocolatey goodness of a freshly made brownie is a freshly made brownie with homemade chocolate frosting!
Brownie ingredients:
8 (1 ounce) squares unsweetened baking chocolate
1 cup butter
5 eggs

3 cups white sugar
1 tablespoon vanilla extract
1 1/2 cups all-purpose flour
2 cups chopped walnuts
Directions:

Preheat oven to 375 degrees Fahrenheit.
Grease a 13-by-9-inch baking pan.
Melt baking chocolate and butter in a microwave-safe bowl (about 2 minutes at a high setting). Stir to blend.
Beat eggs, sugar, and vanilla extract in a large bowl, at high speed for 2 minutes using a hand mixer or a handy stand mixer.
Reduce the mixer speed to low, and add the melted butter-chocolate mixture.
Slowly add the flour, beating until just combined. Stir in walnuts and spread batter in prepared pan.
Bake until a toothpick inserted into the center comes out with fudgy crumbs (about 35 minutes). Cool completely before frosting.
Frosting ingredients:
1 1/4 cups white sugar
1 cup heavy cream
5 (1 ounce) squares unsweetened baking chocolate
1/2 cup butter, softened
1 teaspoon vanilla extract
Directions:
Combine sugar with heavy cream in a saucepan over medium heat, and stir until sugar dissolves and simmers, about 3 minutes. Reduce heat to low, and allow the mixture to simmer for 7 minutes without stirring.
After removing the cream mixture from the heat, stir in baking chocolate and butter until melted and blended. Add vanilla extract and whisk until smooth.
Refrigerate, stirring every few minutes until chilled and thick, about 30 minutes. After frosting the cooled brownies, cut into squares.
These are a delicious way to sneak a bit of veggies into dessert time!
Ingredients:
3 eggs
1 cup vegetable oil
2 cups white sugar
2 teaspoons vanilla extract
2 1/2 cups all-purpose flour
1/4 teaspoon baking powder
2 teaspoons baking soda
1 teaspoon salt
2 cups grated zucchini
1/2 cup margarine

1 (3 ounces) package cream cheese, room temperature
2 1/2 cups confectioners' sugar, sifted
Directions:
Preheat oven to 350 degrees Fahrenheit.
Grease a 9-by-13-inch pan.
Mix eggs, oil, sugar, and vanilla in a large bowl until well blended. Then, combine the flour, baking powder, baking soda, and salt and stir into the sugar mixture. Mix in the zucchini and spread the batter evenly in the pan.
Bake in preheated oven until a toothpick inserted into the center comes out clean, 20 to 25 minutes.
To make the frosting, blend margarine, cream cheese, and confectioners' sugar until smooth. Spread over warm cake and allow the cake to cool completely before cutting into bars.
Love making pies? You'll adore this recipe. It's the 1999 American Pie Council's National Pie Championship first-place winner in the Fruit and Berry Category.
Ingredients:
2 cups all-purpose flour
1 cup shortening, chilled
1/2 cup cold water
1 pinch salt
2 cups pitted sour cherries
1 1/4 cups white sugar
10 teaspoons cornstarch
1 tablespoon butter
1/4 teaspoon almond extract
Directions:
To make the crust:
Cut the shortening into the flour and salt with the whisking blades of a stand mixer until the crumbs are pea-sized.
Mix in cold water by hand until the dough holds together.
Divide the dough in half and form it into two disk shapes.
Wrap in plastic and refrigerate until chilled through, 30 minutes to one hour.
Roll out one disk of dough into an 11-inch circle.
Line a 9-inch pie pan with pastry.
Refrigerate until needed. Roll out the dough for the top crust, transfer it to a plate or baking sheet, and refrigerate.
To make the filling:
Add cherries, sugar, and cornstarch to a medium-sized non-aluminum saucepan. Let the mixture sit for 10 minutes or until cherry juices start to ooze.
Bring to a boil over medium heat, stirring constantly, then lower heat and simmer for 1 minute, or until the juices thicken and become translucent.
Remove pan from heat, and stir in butter and almond extract. Allow filling to cool until lukewarm, then pour into the pie shell. Cover with top crust, crimp the edges to seal, and cut vents for steam.
Place a baking tray in the oven and then preheat to 375 degrees Fahrenheit.
Bake on the baking tray for 45-55 minutes or until the crust is golden brown. Allow the pie to cool completely before slicing.
These Fourth of July dessert favorites will help to finish off your Independence Day drinks, snacks, and meals on a sweet note. Try one or try them all! You and your guests may actually love these more than the fireworks show.
Editors' Recommendations