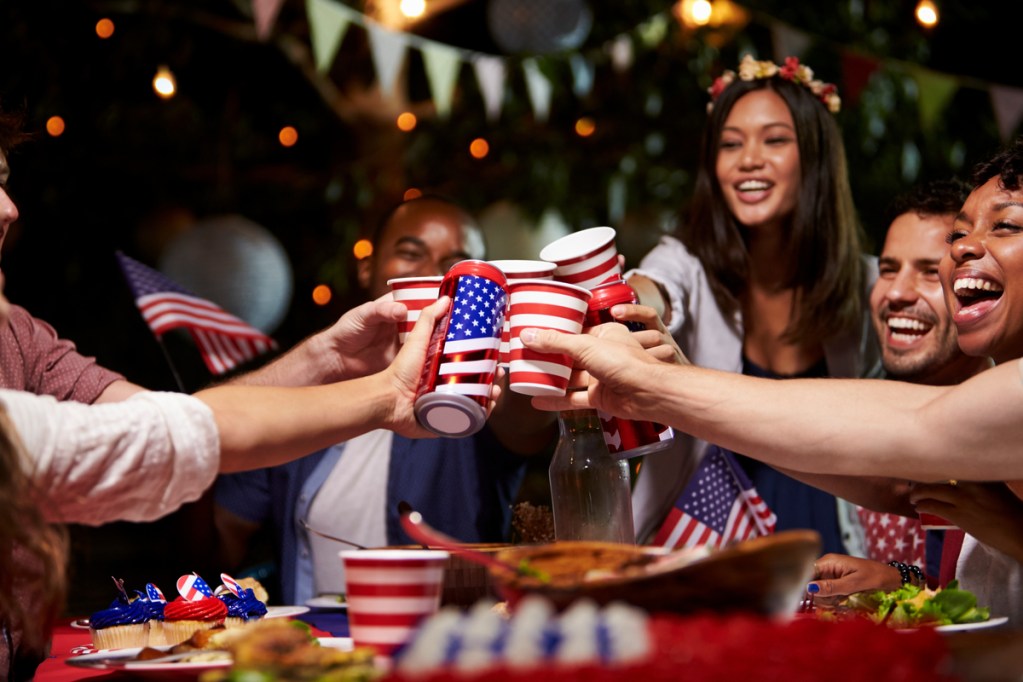 Don't you just love summer? The long hot days, the laid-back fashions, and the endless array of weekend barbecues, watermelon, and corn on the cob. In our opinion, every summer party is a good party, but few rival the fun and festivities of Independence Day parties.
Whether you're hosting this year's gathering, or you've been invited as an honored guest, if you're searching for 4th of July party ideas, you'll find dozens of DIY hacks, decorating tips, and oodles of recipes for salads, slaws, grilling, and red, white, and blue desserts.
We're taking the fun up a notch with our pick of the eight best-tasting, best-looking 4th of July drinks — if you're into adult cocktails or just want a refreshing (and festive) drink to celebrate our nation's birthday!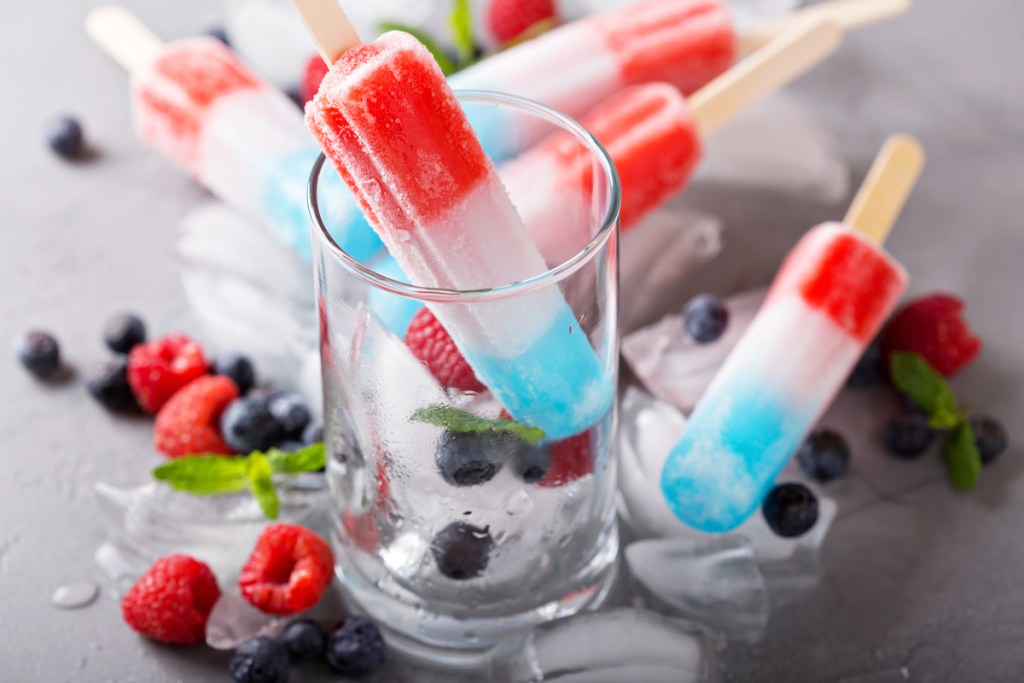 4th of July drinks for partygoers of any age
This patriotic bomb pop cocktail can be made with or without alcohol for a festive treat anyone can enjoy at your Independence Day party! Two ingredients are all it takes to put a little extra patriotic flair into your 4th of July bash!
Ingredients:
Something Sparkling — champagne, prosecco, sparkling water, seltzer, or lemon/lime soda
Bomb Pops — those red, white, and blue ice pops you'll find in the freezer section of your grocery store
Directions:
Right before you're ready to serve, place popsicles inside the glass — stick end up.
Top off the glass with the sparkling beverage of your choice and serve immediately!
Swap out the pineapple vodka for soda, seltzer, or even pineapple juice, for a family-friendly version of this tasty 4th of July cocktail. The secret for its eye-catching look? Raspberry and blue raspberry syrup that add vibrant color and a yummy taste, too!
Ingredients:
1 cup partially crushed ice
1 shot red raspberry syrup

1 shot pineapple vodka
1 shot blue raspberry syrup
Directions:
Pour red raspberry syrup into a champagne flute, then fill the glass to the top with ice.
Add the shot of pineapple vodka (or a non-alcoholic replacement). Note: The vodka shot and the red raspberry syrup will mix slightly, but that's to be expected.
Just before you're ready to serve, add a shot of blue raspberry syrup and serve!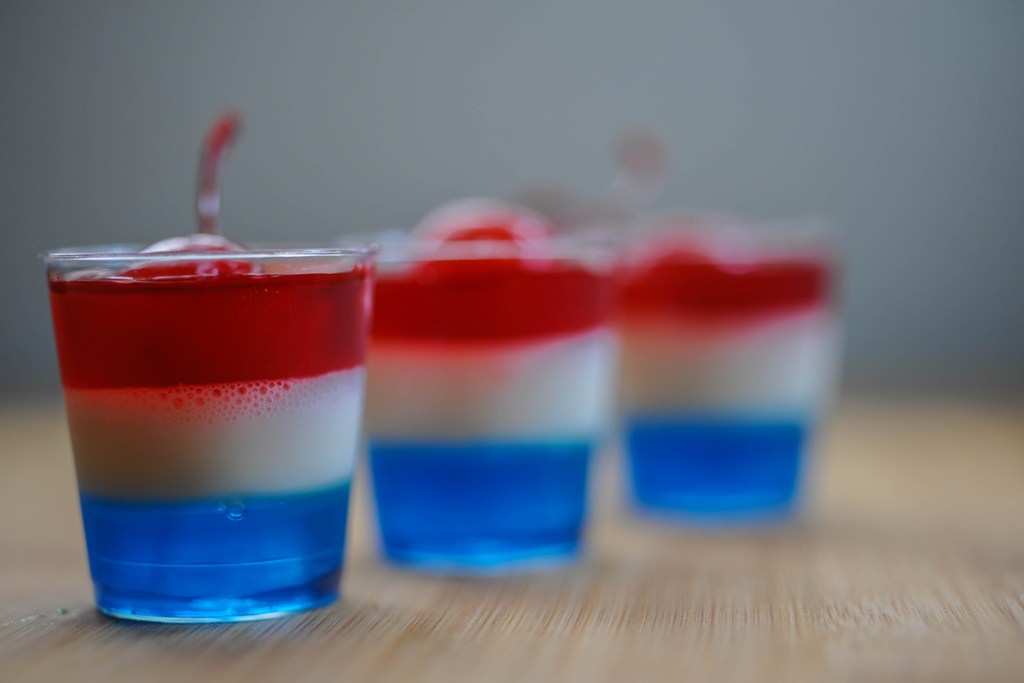 4th of July cocktails for those 21 and over
There's always room for Jell-O, and this time, your childhood favorite has a decidedly grownup makeover. This 4th of July drink recipe yields a batch of 20 shots, so get ready to party.
Ingredients:
Blue layer
1/2 cup water, boiled
1 box instant berry blue Jell-O
1/2 cup vodka
Red layer
1/2 cup water
1 box instant cherry Jell-O
1/2 cup vodka
White layer
1 envelope gelatin
1 cup milk, divided
3 tablespoons granulated sugar
1/2 teaspoon pure vanilla extract
1/2 cup vodka
Directions:
Combine boiling water and berry blue Jell-O mix in a small bowl, and stir until completely dissolved. Stir in vodka. Then, repeat the process with the cherry Jell-O mix in another small bowl. Allow both mixtures to cool.
To make the white layer, sprinkle gelatin over 1/4 cup of milk in a medium bowl. In a small saucepan, bring the remaining 3/4 cup milk to a simmer over medium heat. Turn off the heat, then stir in sugar, vanilla, and vodka.
Pour the heated mixture over the plain gelatin mixture and stir until the gelatin is completely dissolved. Let cool for 10 minutes.
Lightly spray 20 2-ounce plastic shot glasses with cooking spray.
Spoon about 1 tablespoon of berry blue Jell-O mix into each shot glass, then refrigerate until set but not completely firm (about 15 minutes).
Top with about 1 tablespoon white gelatin mixture and refrigerate until set, about 10 minutes.
Finish each shot glass with about 1 tablespoon of cherry Jell-O mixture and refrigerate until firm, about 2 hours.
Cheers!
This recipe whips up about eight cocktails, so it's a great option for an Independence Day gathering with your friends. We love the mix of tequila with ice-cold all-American beer and how it gives this festive, fruity cocktail a little extra kick!
Ingredients
1 small watermelon peeled and diced
8 ounces tequila
4 ounces orange liqueur
3 limes, juiced
3 tablespoons coarse salt
4 cans pale beer (we recommend Pabst Blue Ribbon)
Fresh lime slices
Fresh watermelon wedges
Ice
Directions:
Puree watermelon chunks in the blender and then pour the juice into a tall pitcher, using a fine mesh strainer to catch and discard all of the pulp.
Pour tequila, orange liqueur, and the juice of two limes into the watermelon juice and stir until combined. Place in the refrigerator to chill for about 30 minutes.
Prep your glasses by juicing the remaining lime into a shallow dish. Pour salt into a separate dish. Coat the rims by dipping the glasses upside down into the lime juice, followed by the salt.
Fill each glass with ice and pour the watermelon and booze mixture about half full, then top off the glass with beer and garnish with a slice of lemon and a watermelon wedge.
Every gathering deserves a signature cocktail. This one is yours. Summer-fresh produce takes the tart sweetness of ripe blueberries and blends them in a holy alliance of flavors with bone-dry gin. This 4th of July drink recipe is for a single serving, so you can make them to order.
Ingredients:
2 ounces gin
1 ounce fresh lime juice
1 ounce simple syrup
7 fresh mint leaves
5 fresh blueberries
Ice
Directions:
Combine ingredients in a cocktail shaker and shake vigorously.

Strain into a glass using a fine-mesh strainer.
Garnish with a mint leaf and serve.
It tastes every bit as good as it looks! The semi-frozen consistency of this lemonade slushy makes it so easy to layer colors on top of each other. You can make homemade lemonade to really impress your guests or make it easier on yourself and use bottled lemonade from the refrigerated aisle of your grocery store. Makes 1 to 3 servings.
Ingredients:
Blue slush layer
2 cups of ice
2 ounces Blue Curacao
1 cup lemonade
Blend together until smooth. Store in a freezer until ready to build your cocktail.
White slush layer
2 cups of ice
2 ounces Smirnoff Red, White & Berry Vodka
1 cup lemonade
Blend together until smooth. Store in a freezer until ready to build your cocktail.
Red slush layer
1 1/4 cups of strawberries, quartered
2 ounces Smirnoff Red, White & Berry Vodka
1/4 cup homemade lemonade
Blend together until smooth. Store in a freezer until ready to build your cocktail.
Directions:
Add a blue slush layer to the bottom 1/3 of your glass (mason jars work really well), followed by a white slush layer in the middle 1/3, and a red slush layer for the top 1/3.

Serve immediately or store in a freezer until ready to serve.
Everyone loves homemade sangria, but when you're making a batch for Independence Day parties, it might be time to pull out all the stops! This sparkling red, white and blue sangria is jam-packed with delicious flavors, not to mention strawberries, blueberries, and star-shaped apple slices!
Ingredients:
1 bottle of dry white wine (no need for a high-priced wine when making sangria, but try not to select one that's too sweet)
1 bottle of sparkling white wine (cava, prosecco, or champagne)
Berries: strawberries, raspberries, and blueberries (for the red and blue portion of the recipe)
Apples: For an easy option, you can add regular slices of your favorite apple variety. But, for Independence Day parties, we like to use a small star cookie cutter to cut apple slices into festive star shapes.
Liqueur: Brandy is the most traditionally added liqueur for sangria, but you could also use cognac, orange liqueur (such as Grand Marnier, Cointreau, or Triple Sec), white vermouth, or another liqueur you have on hand.
Ice for serving.
Directions:
Stir together white wine, strawberries, blueberries, and raspberries in a large pitcher.
Cover and refrigerate for one to four hours so that the sangria can chill and the fruity flavors can meld together.
When you're ready to serve, add the sparkling white wine, apple slices, and a handful of ice.
Pour sangria into a glass, over ice, and enjoy!
When you're looking for Independence Day party ideas, don't forget about the beverages. Whether you're into 4th of July cocktails — or mocktails — our fun and festive drink selections will cool you off while making you look cool, too. Happy 4th of July!
Who doesn't love something refreshing in the summer? This mojito has muddled blackberries, simple syrup, and white rum, all together with fresh mint to keep it light and bright.
Ingredients:
2 ounces white rum
2 ounces club soda
1/2 ounce lime juice
6 mint leaves
3 blackberries
3/4 ounce simple syrup (you can easily make this at home!)
1 cup of ice
Directions:
In a handheld shaker, muddle together the limes, mint leaves, blackberries, and simple syrup.
Add rum and ice and give it a shake (above the head if you want to impress your guests).
Pour it into a glass (no straining) and top with 2 ounces of club soda of your choosing.
Garnish with the mint, blackberries, lime, or even a salted rim.
Editors' Recommendations