Halloween is one of the most exciting times of the year. Who doesn't love watching kids and adults alike dress up as their favorite superheroes, witches, princesses, and movie stars? Even better are celebrations centered around candy and other sweet treats. While the kids go door-to-door getting candy from neighbors, you can take the time to craft your own show-stopping desserts.
Why settle for ordinary cupcakes when you can make monster cupcakes? Why serve boring cakes when you can decorate one with edible ghosts, tombstones, eyeballs, and more? For your next Halloween party, make your guests shriek with delight first with the decorations, and then with the dessert! These recipes will surely inspire you to expand your culinary repertoire and try out a creative Halloween dessert.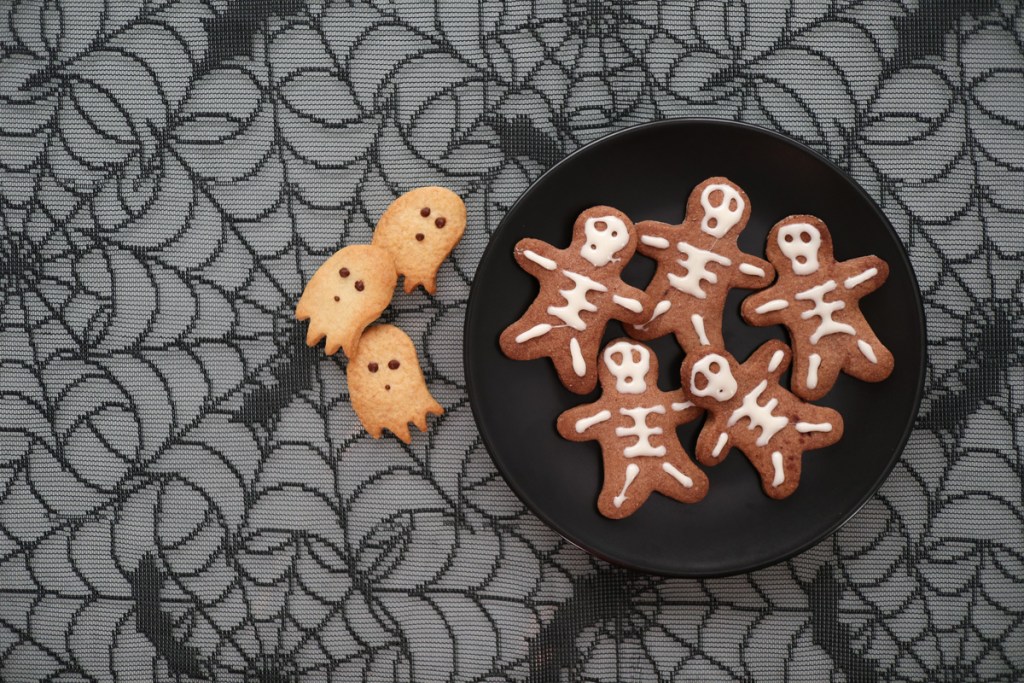 Spooktacular Halloween dessert ideas
Break out your gingerbread cookie cutters a couple of months early to make frightfully good chocolate cutout cookies. Simply draw a little skeleton on your cookies with piped white icing for an easy grab 'n go dessert that will be loved by boys and ghouls of all ages.
Whether you make your cupcakes from scratch, from a box mix, or buy them at the bakery, make these treats stand out with the bloody broken glass topping. We like using red velvet cupcakes because the deep red color works with the spooky theme, but regardless of the flavor you choose, stick with vanilla or another light-colored icing to really make the drips of edible "blood" (corn syrup and red food dye) stand out. Top each cupcake with broken shards of sugar glass, pour your "blood" on top, and just wait for the shrieks of delight.
Candy corn is synonymous with Halloween, and that's what makes this candy corn pie so perfect for your Halloween gathering. The three colorful layers mimic those in the beloved candy, and the whole pie is just bursting with flavor from the lemon, mango, and coconut milk layers. Finish off the pie with sky-high fluffy meringue toasted with a kitchen torch, then decorate it with real candy corn for a more sophisticated Halloween dessert.
A Halloween variation on the classic dirt pail dessert, this recipe uses Oreo cookies, cream cheese, vanilla pudding mix, and frozen whipped topping to create a spooky, but oh-so-delicious cemetery complete with edible cookie tombstones.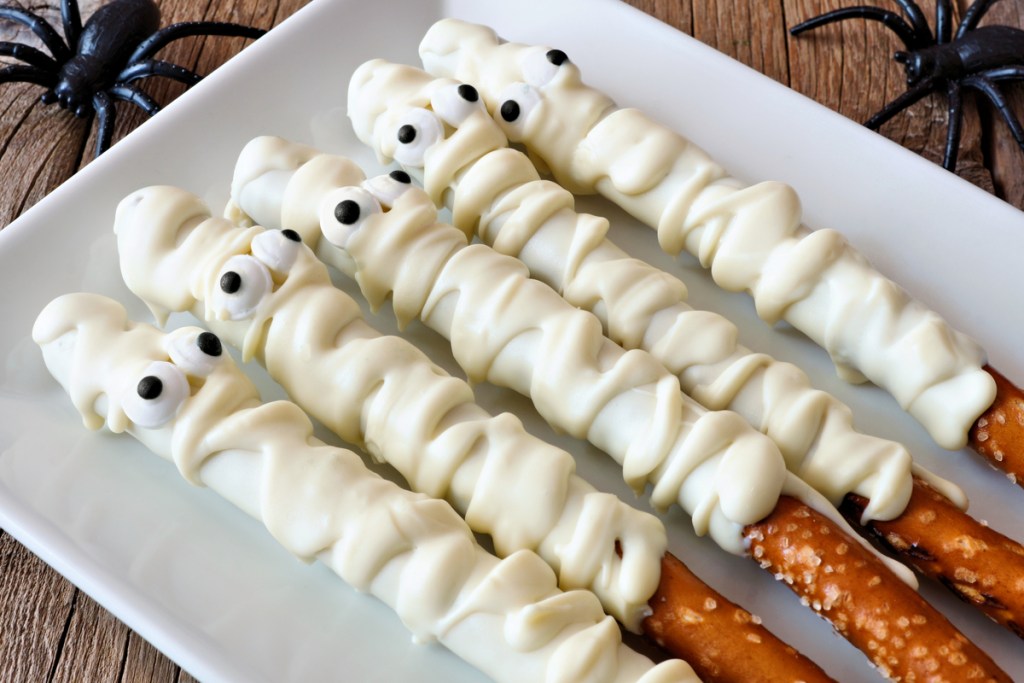 Halloween party recipe ideas that don't require any baking
Even if you're not into baking, you can still serve up some pretty spooky Halloween desserts. All it takes is some store-bought treats and a little imagination.
These satisfy the salty/sweet cravings of your ghoulish guests and look cute on your dessert table, too. All it takes is white candy coating, shortening, pretzel rods, and candy eyeballs. Trust us, they taste even better than they look.
We love these, and we're guessing you will too. You can pick up most of the main ingredients at your local grocery store and the rest at a craft store.
Here's what you'll need:
Marshmallows
Oreo cookies
Dark chocolate candy melts
Candy eyeballs
Lollipop sticks
Black gel icing
Arranging these skewers is fun and easy to do, so get your younger kids involved in the kitchen to help you arrange this fun treat.
Halloween-inspired Chex Mix
Everyone likes Chex Mix, but why not dress it up for the holiday? Keep these ingredients on hand to whip up a snack-time favorite in no time at all — it's sweet, salty, and sinfully good. All you need is a box of regular Chex Mix, peanuts, candy corn, and Reese's Pieces. For a little extra fall flavor, feel free to toss in apple chips, brown sugar, nutmeg, or sprinkled cinnamon. Bowls of this popular snack will go quickly, so be sure to stock up!
This is a classic autumn snack, but the recipe adds roasted salted peanuts and candy corn for a Halloween-inspired twist. It's super simple to make, taking under an hour from start to finish, and it adds a little color and Halloween flair to your dessert table.
When it comes to Halloween, there's no such thing as too much spirit (pun intended). When hosting a party this season, let your imagination run wild and incorporate festive touches to your invitations, decor, outfits, and, of course, desserts. Whatever your skill level in the kitchen, it's easy to pull together Halloween desserts that are all "treat" and no trick.
Editors' Recommendations