Putting together your own Halloween decorations can be a great way to spend time with the family and give your home some creepy holiday style. We've pulled together a few of our favorite DIY Halloween decoration ideas that can easily be done by crafters of any age and they won't cost an arm and a leg to make!
Get ready to have some fun and give your home a spooky makeover just in time for Halloween!
DIY scarecrow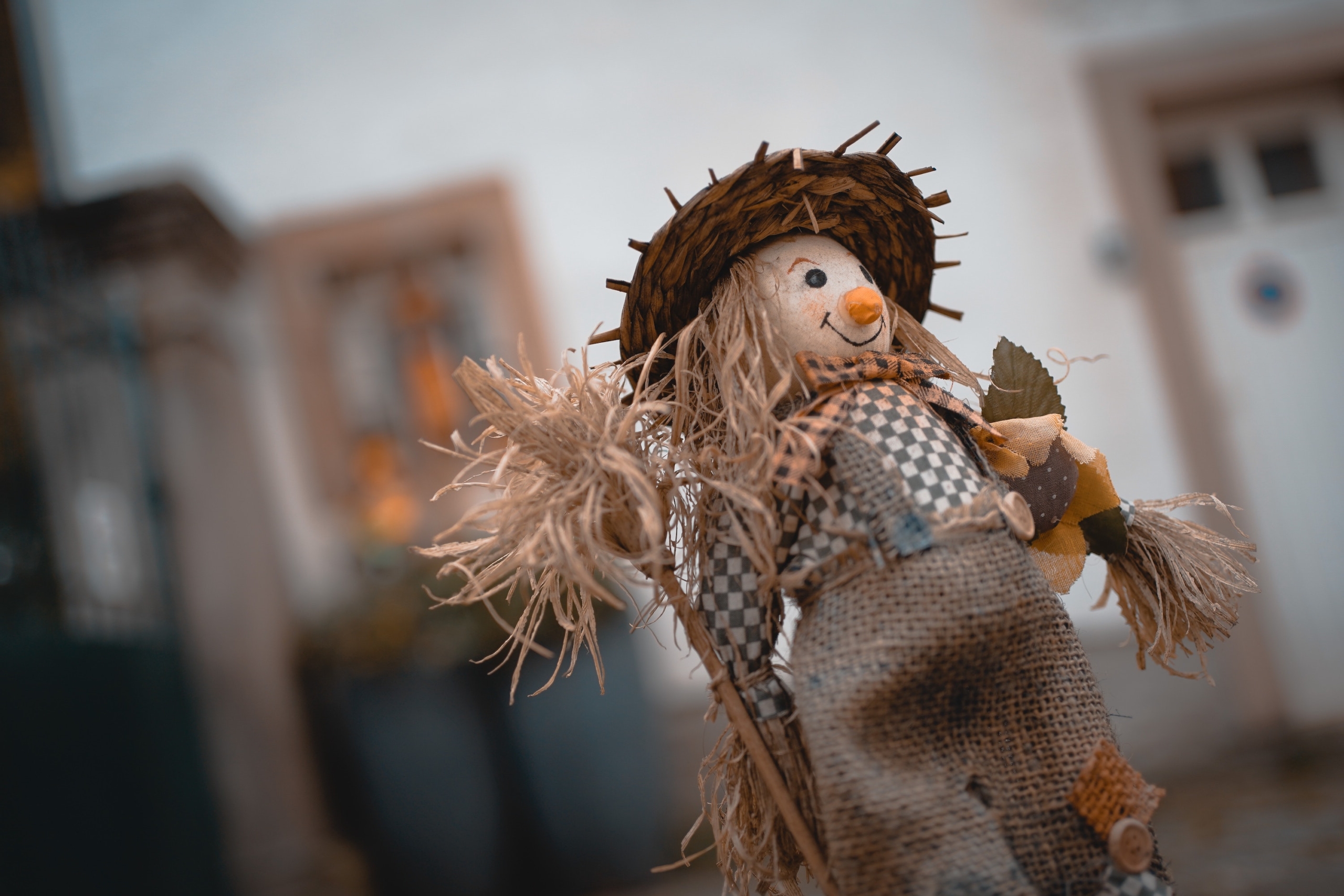 When it comes to classic Halloween decorations, you can't beat the ease and timeless appeal of a good old-fashioned scarecrow. Want to know the best part? You can make one using things you probably already have around the house.
Rummage through your old clothes and find a button-down shirt and a pair of jeans; no need to worry if they have tears or stains, because your scarecrow won't mind a bit. Don't have the right kind of clothes just lying around the house? A quick trip to your local thrift shop should do the trick!
Stuff the shirt and pants with crumpled newspapers to make your scarecrow nice and plump. For the head, you can use a jack-o-lantern, a plastic pumpkin head from your local dollar store, or you can even make one out of a piece of burlap. Add a straw hat for the finishing touch.
If you have a garden center nearby, you can pick up some straw to add extra filler at the collar and sleeves, or get a pre-packaged bunch of straw from your local costume or party store. Seat your scarecrow on a chair by your doorway and anchor the shirt to the pants with a piece of rope or an old belt.
DIY tip: Place a speaker under or behind the scarecrow and blast out scary sounds for added effect!
Ghostly milk jug luminaries
This one is so easy to do that kids of all ages can help! Start by gathering a few empty plastic milk gallons. Need extras? Ask friends and neighbors for a few. If you're planning to use the luminaries outside, fill the jugs with a few rocks to weigh them down against howling Halloween winds. Next, you'll want to draw faces on the empty cartons with a black sharpie. Make sure you do a variety of different faces, from scary to outright funny.
Using a knife, carefully cut a hole at the bottom of the jug on the opposite side from where you drew the ghostly face. If you're grouping a gaggle of ghosts together you can place string lights inside or use battery-operated tea lights for cord-free illumination. It's a great Halloween decoration for lining a walkway or welcoming ghouls and goblins to stop in for a treat or two.
Wicked witch legs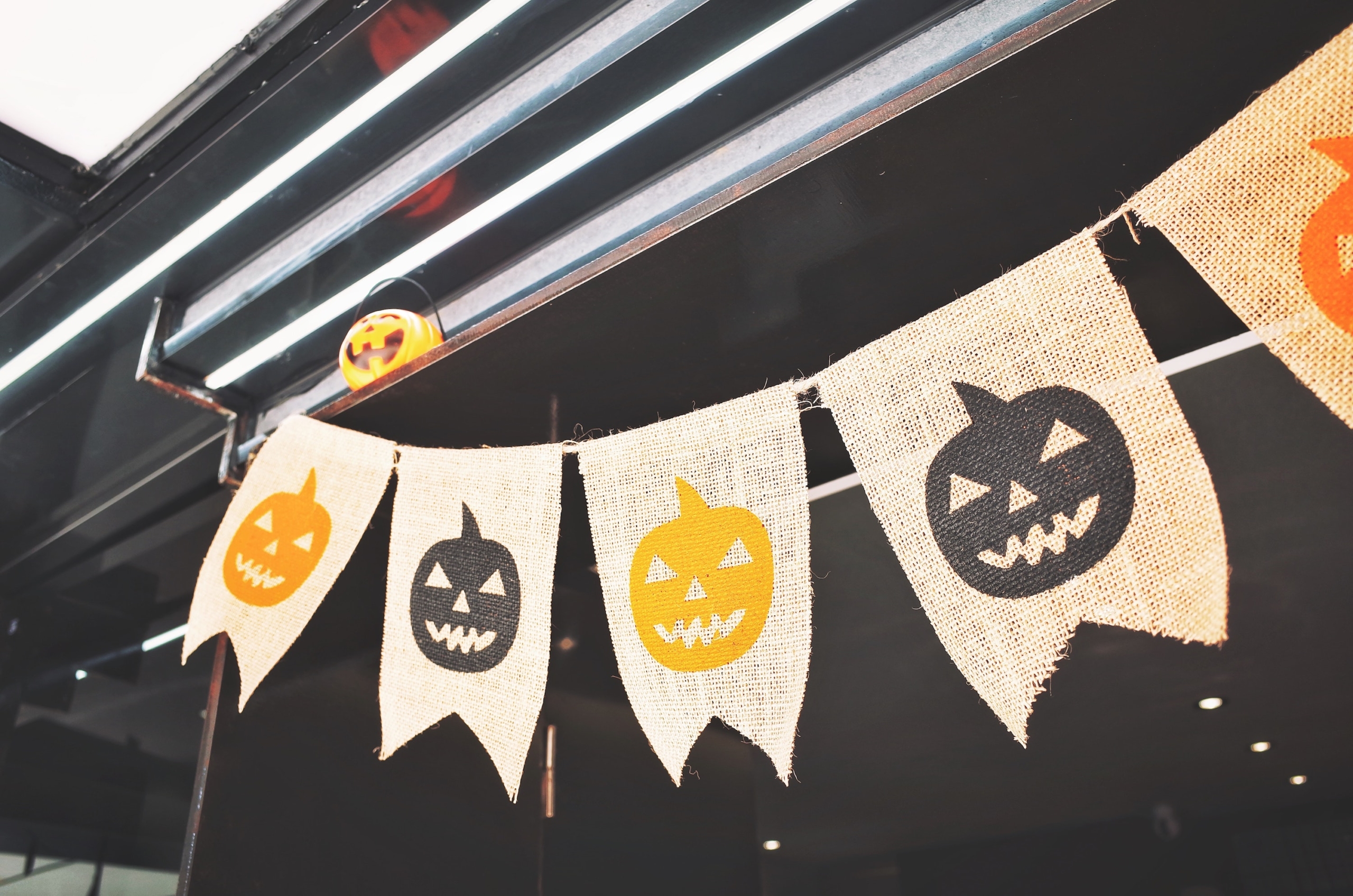 With this wicked witch legs lawn decor, you'll let trick-or-treaters know where they can stop for the best spooky fun. You'll need a pair of boldly striped socks, black shoes or booties, styrofoam rods, and two wooden dowels.
Add some crumpled newspaper into the foot part of the socks and then stuff the legs with the styrofoam rods. Push a wooden dowel into the top of each styrofoam rod and stake the rods into an oversized flowerpot or even on your front lawn. Place shoes on the feet and make sure they are securely attached. These upside down witchy legs are sure to delight trick-or-treaters of all ages!
Spooky hand soap dispenser
Bring the Halloween decorating indoors with this super easy idea that will bring a smile every time you wash your hands. Start with a clear glass mason jar soap dispenser. Add a handful of eyeball ping-pong balls and top with your favorite clear liquid hand soap. Simple and so very festive, plus after Halloween you can switch things up by taking out the eyeballs and putting in accents for other holidays and occasions throughout the year!
Wine bottle candle holders
Put those empty wine bottles to good use and create a spooky Halloween decorating idea that will add a ghostly candlelit glow to your holiday. Pick out an array of different shaped wine bottles. Coat with matte black spray paint. Once the bottles are dry, insert orange tapered candles and group them together on a mantel or tabletop for a frightfully festive touch.
See… It's easy — and fun — to give your home a spooky Halloween look and you don't have to spend a lot to do it. Just grab a few supplies, put your favorite scary movie on the TV, and spend a few hours with your family as you create your very own Halloween decorations.
Editors' Recommendations